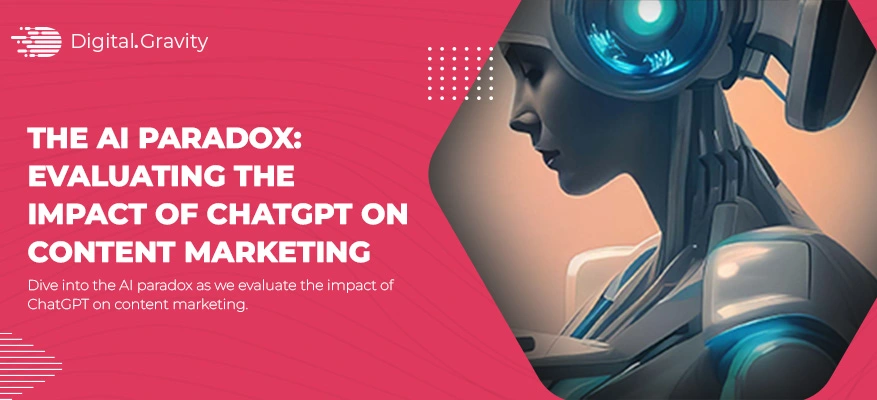 Everybody is talking about the wonders of AI, its present state, and its future. And the recent launch of ChatGPT has amazed everyone, bringing AI's true potential to the limelight. It's incredible, once taught and programmed, what robots can do. While everyone is excited to interact with ChatGPT, content marketers, in particular, see it as a game changer for their day-to-day marketing tasks. AI content creation is a hot topic these days.
If we talk about content marketing only, ChatGPT can do wonders. From generating content ideas to content creation, research and a lot more is at the fingertips of content marketers now. But it's not like ChatGPT is perfect or has no flaws; in fact, when it comes to content creation, ChatGPT still lacks the human touch. And for Google, any form of AI-generated content (irrespective of its quality) will be considered spammy content.
So if we talk about the overall impact of ChatGPT on content marketing, what would be its role? Is it beneficial for content marketers or not? And in what ways will it harm or benefit content marketing?
We know you have a lot to ask. So without any further ado, let's dive straight into it!
ChatGPT – Your Virtual Assistant For Content Marketing Automation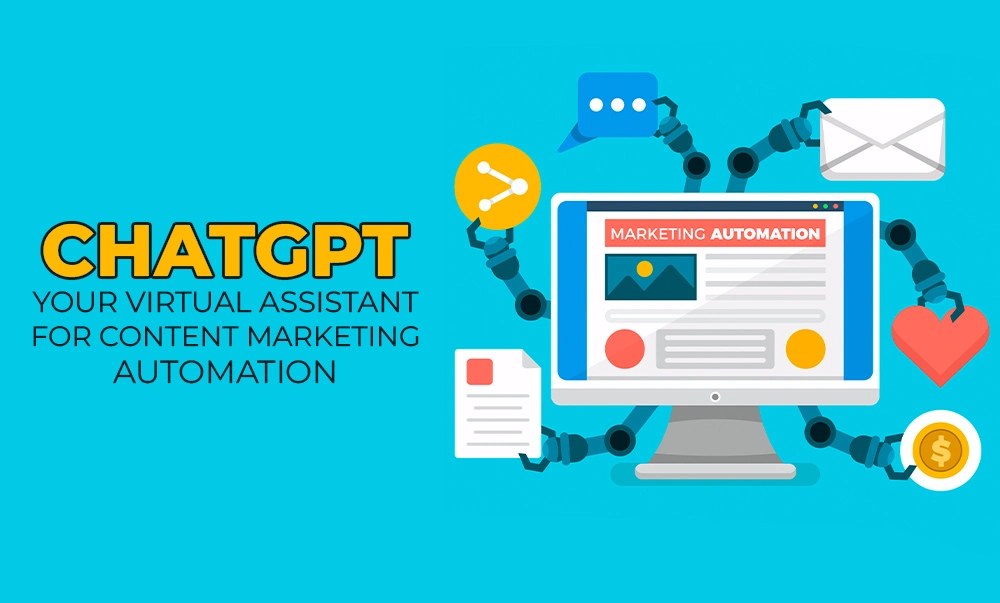 Since the launch of ChatGPT, brands have become more consistent with their content production. That's due to the fact that brands now have a tool that can generate content ideas for them, perform basic research, bring valuable customer insights to their attention, and even create content on their behalf. Amazing, isn't it?
Here's an overview of what ChatGPT can do for content marketers:
Blog post ideas: Before writing a blog post, content marketers have to run keyword research and create a suitable title for the post. ChatGPT is intelligent enough to suggest a few blog post ideas as per the provided keywords.
Research: Do you hate research? At times it feels so boring to research the same topic for hours. ChatGPT can do the same research within a matter of seconds.
Headlines & taglines: Your content's headlines and taglines can make or break your content marketing campaign. ChatGPT can devise hundreds of unique taglines and headlines for you according to the provided guidelines.
Social media content: While AI-generated content can lead to penalization by Google in the form of a drop in rankings, there's no harm in using AI content for social media branding. ChatGPT can curate content for Facebook, Instagram, Twitter, LinkedIn, and several other such platforms.
Content refining: Do you often struggle with content editing and refining? ChatGPT can even take care of this aspect of content marketing. Just tell it what kind of tone of voice, vocabulary, and sentence structure you are looking for and leave the rest on it.
The Downside Of Using ChatGPT In Content Marketing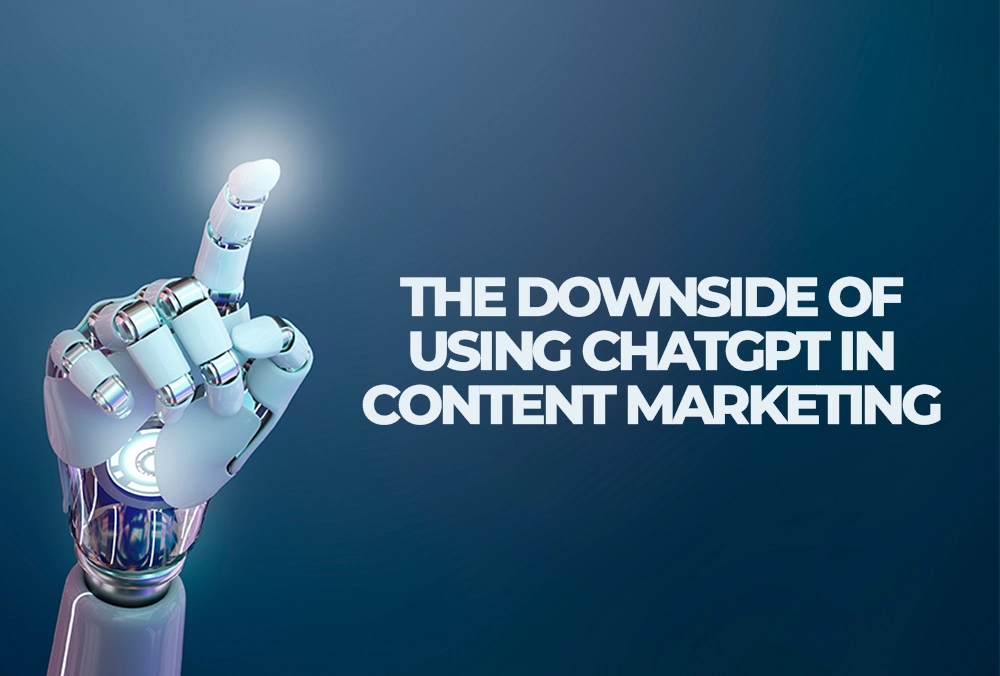 Well, if we talk about the downsides of using ChatGPT, there are two scenarios: one is using ChatGPT for complete content creation, and the other is seeing ChatGPT as your assistant.
In the first scenario, your content wouldn't be as engaging as you want it to be and may even miss the human touch. In the second scenario, which is the ideal use of ChatGPT, you'd be using ChatGPT for research and generating ideas — hence there's no harm in it.
Here are some of the major downsides of using ChatGPT for content production in content marketing:
It lacks the ability to articulate clearly
It often confuses you with wordy answers
It Is unnatural because it's not divergent
It contains a bias toward being neutral
It is still in training
It takes literal meaning too seriously, which is why it can give you completely wrong answers
Research work by ChatGPT may not have detailed facts, statistics, and studies
How To Use ChatGPT In A Safe & Effective Way For Content Marketing?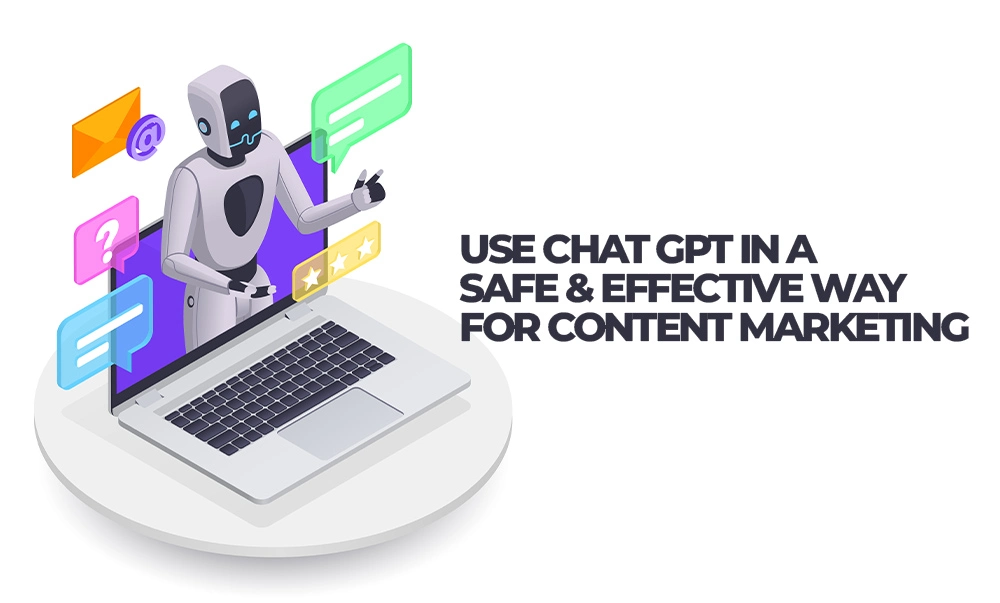 Well, after reading about the drawback of using ChatGPT for content production, you might be wondering how you can use ChatGPT in a safe manner. Content marketers all over the world are leveraging this AI wonder to pace up their content marketing efforts and stay ahead of their competitors. You can follow their trail in the following ways:
Generate Content Ideas
One of the best and safest uses of ChatGPT is content idea generation. You can generate tons of content ideas for social media, websites, and print media. Just tell your objective to ChatGPT, and it will come up with unique ways to set yourself apart from the rest by creating interesting content for your target audience.
Create Social Media Captions, Brand Taglines, And Headlines
Do you struggle with social media content creation? Creating short and punchy content on a daily basis is not a piece of cake. But a tool like ChatGPT can make it super easy for you to engage with your social media audience and grow fast. Don't forget to infuse your creativity into ChatGPT's work; a blend of AI and human-generated content can do wonders.
Write Emails On The Go
As a marketer, you might be writing dozens of emails daily. Some for cold outreach, some for collaboration opportunities, and some for your team members. No matter what type of email it is, all you need to do is pass on the email-specific instructions to ChatGPT, and it will take care of the rest. Email marketing automation is one of the best use cases of ChatGPT.
Get Market/buyer Insights
Knowing your customer or ideal prospect is one of the first steps in setting up an effective marketing campaign. Whether you are writing PPC ads, content for organic reach, or captions for social media, you need the persona of your ideal customer in mind to be able to hit their pain points and desire. This is where you can leverage ChatGPT. It will tell you almost everything about your target audience if you know what prompt to give to it.
Get Practical Solutions For Your Marketing Problems
It may sound funny to you, but ChatGPT can act as your personal assistant. It even knows the solution to some of your most pressing problems — including the obstacles and challenges you face with your marketing operations. Ask out everything that's bothering you, and ChatGPT won't disappoint you.
AI Content Marketing, The Future?
A general notion among AI users is that tools like ChatGPT will replace human marketers in the future. We can't say anything for the next 100 years, but in the near future, it's not possible. No matter how well-equipped AI gets, it will still need human minds behind it to nudge it in the right direction.
The future belongs to those marketers who can use AI tools to improve the efficiency of their work. Whether you are a digital marketer in Dubai or a CRO agency in Dubai, you can use AI for content creation in a clever way —- such that your content feels natural and has value for the readers.
Apart from content creation, ChatGPT has an array of use cases for CRO services in Dubai and digital marketing services providers.
Conclusion
Are you still not sure whether to use ChatGPT in your content marketing strategy or not? Well, we suggest you give it a shot. Without experimenting and seeing where AI fits in your content marketing funnel, you won't be able to figure out if it fits into your marketing funnel or not.
FAQs (Frequently Asked Questions)
1. What are the benefits of ChatGPT in content marketing?
When it comes to content marketing, ChatGPT has various benefits. The biggest of all is hassle-free basic content creation that saves your time and helps you become more efficient.
2. How does ChatGPT affect content creation?
ChatGPT has positive effects on content creation. For example, now you can compile statistics and facts on a topic in a short time, create outlines for content, create compelling hooks, and do a lot more to improve the efficiency of your content marketing efforts.
3. How does ChatGPT affect social media marketing?
ChatGPT is a great tool for creating content for social media platforms — especially Facebook, Instagram, Twitter, and LinkedIn. Overall, it has simplified the jobs of social media marketing and enabled brands to stand out on social media with better and consistent content.
4. How is ChatGPT used for content strategy?
You can ask ChatGPT to create a media plan for you or a content marketing plan for the entire month — including when and at what time you will be publishing that content. However, you need to be very specific in this regard when giving a prompt to the ChatGPT.
5. Does ChatGPT produce original content?
Well, a lot about ChatGPT is still unknown. Nobody knows if it shows the same copy-paste content against the same prompt to each user or a unique version of the same answer. It is essential to understand that ChatGPT's primary role is not content creation, but it's here to act as a mini search engine or one's personal assistant. Content creation is its secondary job, and ChatGPT shouldn't be used for content creation when you need unique and credible content for the web.

We are a digital agency has experience working with top notch clients. We provide web designs, web application, mobile application and all digital marketing services. We work with individual clients and also agencies.
- admin