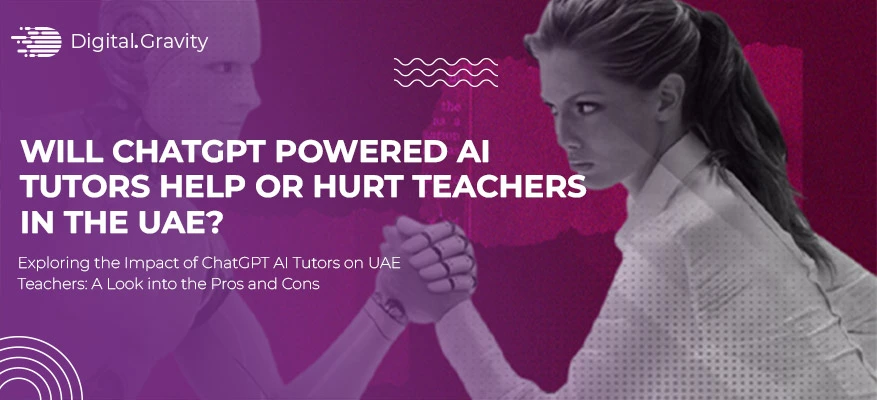 Emerging technology has changed the traditional teaching style and classroom. Among these different innovative technologies, ChatGPT is a massive development that extends support to teachers and students across the globe. It is the most incredible AI in education that is contributing toward a brighter and more accessible future in education.
Despite the numerous benefits that ChatGPT offers, it faced some challenges. Thus, this blog will highlight the potential advantages and disadvantages of using ChatGPT in education and will examine its impact on the teaching profession in UAE.
Real-Time Assistance For Teachers
ChatGPT is a useful resource that helps teachers by providing real-time assistance and support. This tool significantly contributes to improving the teaching experience and enables teachers to provide better educational outcomes for their students. For example, if a student has a question that the teacher is unable to answer, the teacher can input the question in ChatGPT and can get a detailed answer.
This will not only save time but also make the learning process more interactive and engaging as the teacher can give an instant response to any question of their students and can plan a class activity to minimize their student's queries. This will reduce distractions and delays as teachers can respond to any query in the same class lesson.
By leveraging ChatGPT's advanced language capabilities, teachers can optimize their teaching practices and provide a more personalized learning experience for their students.
Surplus Teaching Material
ChatGPT helps teachers with content creation for their classrooms including ideas for lesson plans, class activities, and projects that align with specific learning objectives and curriculum standards. This ensures that the content is relevant and meets the educational needs of students by providing quick access to educational resources which leads to an effective learning experience.
Moreover, ChatGPT creates educational materials that include quizzes, presentations, worksheets, and other useful materials that fulfill students' needs and provide them with support 24/7. These quizzes and presentations are designed to make students expand their knowledge and information about a particular topic.
Designing Syllabus Outline
ChatGPT helps design and update a syllabus outline that allows students to learn and explore while balancing academic and practical subjects.
This AI tool can create and organize a course outline that will broaden the knowledge and understanding of students and will help them build the skills and expertise required to succeed in different fields.
ChatGPT can help with the following when designing a syllabus outline:
Setting goals and objectives for each course
Planning lessons and activities
Topics to be covered in classrooms
Identifying and creating educational resources
Grammar and Writing Check
ChatGPT is used as a paraphrasing tool and grammar checker by students and teachers. It can identify potential grammatical errors, spelling mistakes, and incorrect word usage. In addition to this, it provides suggestions for the improvement of sentence structure.
This generative AI can add clarity and coherence to students' writing and also assists in rephrasing the sentence while adding synonyms to remove unnecessary and overused words. Apart from proofreading and editing, ChatGPT can generate writing samples to explain the grammar rules and punctuation usage to facilitate students in improving their writing.
This aid students in making their work better by developing stronger writing skills before submitting their final project for grading. Moreover, teachers can easily use ChatGPT to generate examples related to any course content or topic.
ChatGPT Capabilities For Research
You can also use ChatGPT for research purposes as a browser. It can streamline your research process for any course assignment or project. You can quickly and efficiently collect a huge amount of information in a few seconds from credible sources that include research papers, literature reviews, academic journals, and various websites.
This will fasten your research process and will save significant time and effort. In addition to written text, ChatGPT can provide researchers with a wider range of data including images, videos, and other multimedia sources. Apart from providing information, it enables researchers to analyze and interpret data.
It further facilitates the following tasks:
Deciding research topics
Collect background information on any industry or sector
Identify reliable resources
Organize and align information
Assist with proper citation format
No Such Need for a Physical Tutor
At the Alef Education Summit held at the Museum of the Future in Dubai, Mr. Al Falasi, the Minister of Education, delivered a keynote speech that said: "As developments in science and education technology accelerate around the world, the traditional methods of teaching have been transformed, with innovative tools revolutionizing the classroom through interactive and distant learning."
With its excellent functions, a chatbot has removed the need for a physical tutor. Although there is no replacement for physical tutors in all situations, some students do not need further assistance if they find little support. These students can easily search their queries and can find a complete solution for any question or problem.
As ChatGPT is not only available 24/7 but it gives personalized assistance catering to the specific needs of every individual learner. This means learners can get personalized support and guidance that can aid their learning experience while eliminating the need for a physical tutor.
Master A New Language
ChatGPT is a priceless tool that can support learning a new language by offering translations, grammar explanations, and vast vocabulary that will assist you in practicing and improving your language skills.
ChatGPT has translation capabilities that can translate one language to another and can facilitate you in reading or writing a foreign language. It can additionally help you to understand unfamiliar words and phrases.
This AI tutor will completely guide you and will assist you in conversation practice sessions to learn a new language. You can frequently practice and enhance your writing and speaking skills in a foreign language.
ChatGPT can provide you with feedback and suggestions on your grammar and vocabulary usage, allowing you to improve your skills over time. You can also learn about the culture and traditions of the country where the language is spoken, this will contribute to building a deeper understanding of the language, its words, and the people of that country.
Limited Domain Knowledge
ChatGPT is a question-answering chatbot that relies on the information and data stored in its database to respond. However, due to its limited scope, it may not always be able to give answers that fully address the specific needs of a user.
Consequently, there may be situations where users are unable to obtain the information they require. It is also possible that ChatGPT gives inaccurate results as it does not have expertise on every course content.
Even though ChatGPT offers step-by-step guidance and assistance, it may be necessary for users to seek out additional resources to supplement their queries.
Limited Scope Of Expertise
Even though ChatGPT is a valuable resource for providing users with theoretical and statistical information, it is limited in its ability to offer practical implementation of knowledge, given its AI-based nature.
As a result, it may not be able to provide students with the comprehensive market insights that a teacher can offer through their personal experience and expertise.
Teachers can impart their knowledge more holistically, supplementing textbook learning with real-world examples and case studies, which can enhance students' understanding of the subject matter.
The Decline In Critical Thinking & Problem-Solving Skills
In today's world, students have become increasingly reliant on AI technology, which may be contributing to a decline in their critical thinking and problem-solving skills. AI tools provide instant answers to students' questions, making them more appealing than the trial-and-error process that requires effort and deep thinking to arrive at a solution.
However, this overreliance on technology could be depriving students of the opportunity to develop the cognitive skills necessary to make decisions in real-time. Therefore, it is essential to encourage students to challenge themselves to think critically and engage in hands-on learning to develop the skills needed to tackle complex challenges in the real world.
Conclusion
ChatGPT has been of remarkable use for education purposes in UAE and across the globe. This AI tutor provides learning assistance to students and aids teachers with tasks associated with preparing their lectures. But on the other hand, AI tutors reduce interaction between teachers and students and to some extent replace teachers.
However, the success of AI tutors requires the expertise of web development agencies to build a platform with the necessary features and functions that support AI technologies. Web development services help in developing AI tutor systems that are user-friendly and enhance the learning experience for its users. Therefore, web development agencies have the expertise and skills that contribute toward successful AI tool integration.
FAQs (Frequently Asked Questions)
Q1. How does artificial intelligence affect teachers?
Ans. AI educational tools are beneficial for both teachers and students as they provide various learning resources that are accessible from any place at any time. It optimizes the learning process while increasing the efficiency and quality of lesson planning.
Q2. What are the benefits of AI in education?
Cost-effective
Task automation
Quick answers
Personalized learning experience
Smart content creation
Self-paced learning
24/7 access to learning
Q3. Will artificial intelligence take over teachers?
Ans. Despite the numerous benefits of artificial intelligence, there is still no replacement for physical tutors. It can assist in the teaching and learning process but there is no way AI can replicate the essence of teaching.
Q4. Is AI helping or hurting society?
Ans. The effects of artificial intelligence on civilization are widely discussed. Many argue that AI enhances daily life by performing complex tasks more effectively than humans can, thereby making life simpler, safer, and more productive.
Q5. What is the biggest problem in AI?
Ans. Top challenges in AI tutors:
Computing power
Accuracy and reliability issues
Limited knowledge
Data privacy and security
Decrease in critical and imaginative thinking