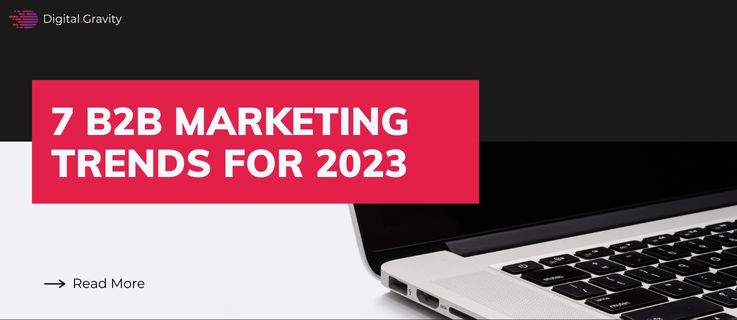 The B2B market in the Middle East is consistently getting about $500 million of funding for the last two years. As a result, the B2B marketing landscape continues to evolve. And new B2B marketing trends keep emerging.
When leveraged wisely, B2B marketing trends assist you in achieving all your ROI goals. Are you interested to know how you can work out a powerful B2B marketing strategy to accelerate your growth in 2023? If yes, continue reading.
7 B2B Marketing Trends for 2023
The following B2B marketing trends can turn the tables for your business: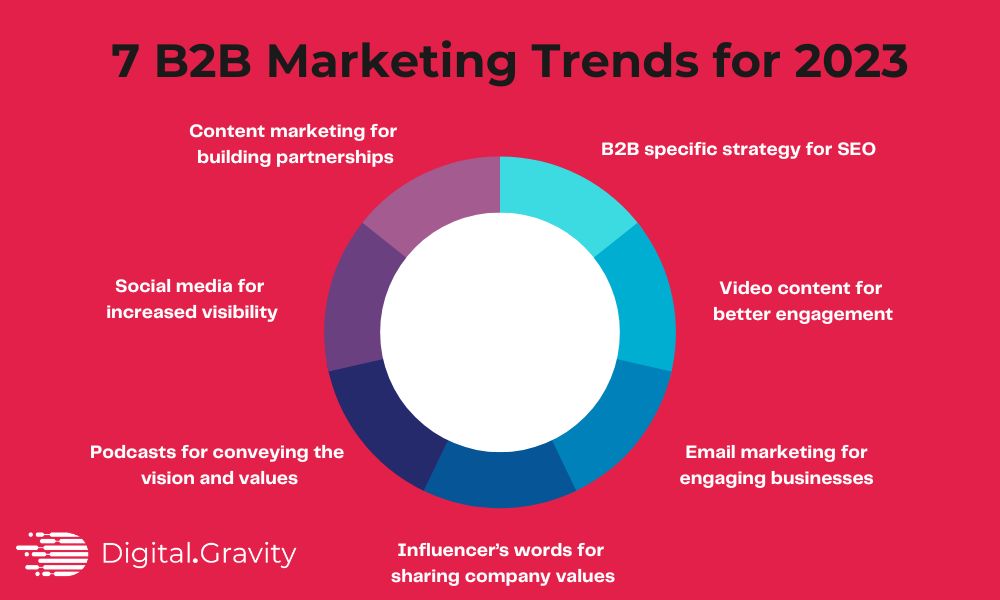 Content marketing for building partnerships
Content marketing is not just for the B2C industry; it works equally well for the B2B business. According to a survey, 60% of people feel inspired to buy a product after reading about it. A blog post, e-book, podcast, and basically any form of content, when prepared for the right businesses, can help you establish profitable partnerships.
Marketing experts predict that the content marketing industry will be worth $584.02 billion by 2027. Hence, we can say content marketing is going to be a big trend in the B2B industry. More businesses will hire digital marketing companies to leverage digital channels for B2B marketing.
If you want to up your B2B digital marketing game, consider investing in content marketing. The more trustworthy and engaging content you create, the more businesses will be interested to work with you.
Social media for increased visibility
Social media has always been considered an integral part of the B2C digital marketing strategy. But, did you ever wonder you will interact with other businesses on social media and pitch your solutions? In 2023, social media is going to be a part of the B2B online marketing strategy.
Our comprehensive blog delves into the staggering statistics of social media, exploring the massive user bases of platforms like Facebook, Twitter, Instagram, TikTok, LinkedIn, and Snapchat, not just for individuals, but for businesses as well.
TikTok videos, Instagram and Facebook reels, LinkedIn ads, and Snapchat stories can be game changers for your B2B marketing strategy.
Podcasts for conveying the vision and values
While creating content for podcasts and editing those can be time taking, podcasts have various benefits for B2B marketing:
Podcasts let you reach new audiences.
Podcasts enable you to portray your brand as more than just a business.
Podcasts help you in creating new partnerships.
Podcasts build trust and help you stand out as an authority.
Podcasts are like an indirect business pitch. The stakeholders of a business share their mission, vision, and the value of a brand, building a subtle connection between businesses eager to find trustworthy partners for trading.
Influencer's words for sharing company values
In 2023, influencer marketing expenditure is forecast to reach $4.6 billion in the United States. The same is the trend worldwide. It takes time to attain organic traffic through social media. Likewise, you only get business through paid ads as long as you keep those ads running.
Hence, influencer marketing is a hot trend these days and is expected to get more popular in the B2B landscape in the years to come. When an influencer endorses your product or service, it builds trust among people and businesses who follow that particular influencer.
With influencer marketing, B2B marketers can get relevant traffic which is highly likely to convert.
Email marketing for engaging businesses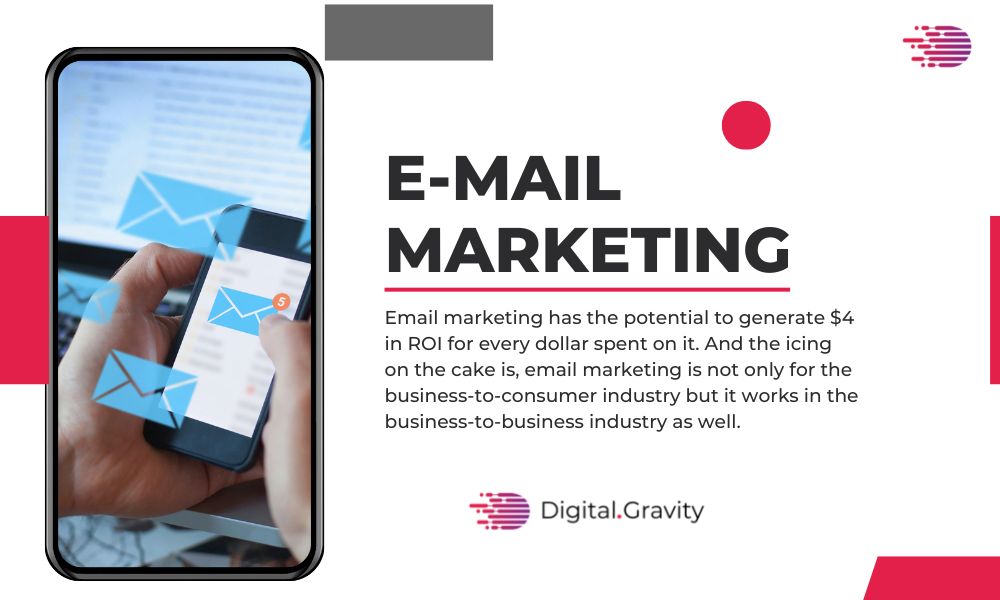 Email marketing has the potential to generate $4 in ROI for every dollar spent on it. And the icing on the cake is, email marketing is not only for the business-to-consumer industry but it works in the business-to-business industry as well.
About 77% of B2B companies use an email marketing newsletter to engage with their clients. Statistics also suggest about 79% of B2B marketers find email the most useful channel for content distribution.
So, do you have an email list? If yes, give email marketing a shot. In case you need help with email marketing in Dubai, we can help in building a list and creating optimized and automated email marketing campaigns for your business.
Video content for better engagement
According to Oberlo, 86% of marketing professionals use video marketing to create awareness and depict the benefits of a product. Consumers love videos, whether they are on social media or websites, online videos are found to be the most effective type of digital content.
Consumers expect more video content from the brands they follow as videos are easy to consume compared to plain text. The same is the trend in the B2B industry, to forge more partnerships and attract new clients, you need to create more video content.
Through videos, you can convey your USPs better and set yourself apart from your competitors.
B2B specific strategy for enhanced search engine optimization
Do you want your business to be found online by other businesses, with which you have a chance to do business? Then there's no other way than investing in search engine optimization in Dubai.
About 60% of B2B organizations use SEO to get organic traffic. And when it comes to creating an SEO strategy for a B2B business, it's important to choose the right keywords; you don't want to be found out by consumers but by businesses.
A B2B SEO strategy can lead to mind-blowing results when executed with perfection. B2B SEO is going to be one of the trends to watch out for in 2023. Here's how you can nail B2B SEO:
Create business personas
Understand your marketing funnel
Conduct B2B exclusive keyword research
Map our clear user journey
Build scalable content strategy
We Can Make Your B2B Grow & Thrive Online!
Are you looking for ways to grow your B2B business online? Well, we can help. At Digital Gravity, we have search engine optimization, social media, and paid marketing professionals who can help you get noticed online with the help of a scalable digital marketing strategy.
Want to talk to our B2B marketing professionals in Dubai? Let's have a chat. We would be more than happy to understand your business objectives and target market, and work out a plan to grow your business online.
FAQS
What is B2B marketing?
B2B marketing is used by one business to target and sell to another business. For example, if you are the manufacturer of a product, you will be looking to find other businesses that might be interested in selling your product through their retail shops. Basically, a B2B business does not sell a product to consumers but to another business.
How do I advertise B2B online?
There are various ways for a B2B business to advertise online. Some of the primary options include:
Company website
Search engine optimization
Social media
PPC campaigns
Influencer marketing
What does a B2B marketing specialist do?
A B2B marketing specialist or a company is responsible for the development and management of B2B marketing programs. The ultimate goal behind B2B marketing efforts is to meet KPIs such as:
Customers generated
Average customer lifetime value
Conversion rate
Lead value
Leads generated
Lifecycle stage progress report
Source/medium reports
Is it worth spending on B2B marketing in Dubai?
Of course, if you want to attract big businesses for trading, you must spend on B2B marketing.
How can Digital Gravity help me with B2B marketing?
We can create paid and organic marketing campaigns for your B2B business on social media and search engines. We also have a team of email marketing experts who can use Mailchimp and Klaviyo to automate the email marketing campaigns for your business.