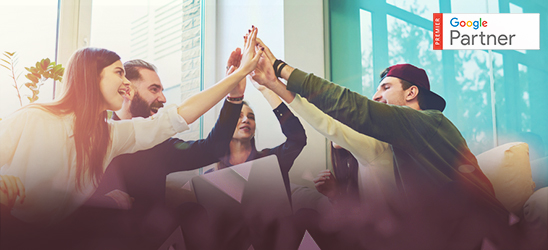 At Digital Gravity, we're pleased to announce being officially recognized and rewarded as a Google Partner agency. We have completed the necessary certifications, achieved optimization score above 70%, maintained a 90-day ad spend across managed accounts. We have successfully met all of the requirements to become a certified Google Partner agency.
It's Impossible to Imagine a World Without Google
For the majority of businesses and brands that we work with, Google factors heavily into their digital marketing ecosystem. Google Partners is a programme for advertising agencies, digital marketing professionals and other online consultants who managed Google Ads accounts. The Google Partners status certifies that employees have been assessed for their skills and expertise through Google's ongoing assessments and training programme.
What is a Certified Google Partner Agency?
Certified Google Partner agencies, marketing professionals and online experts are rewarded by Google to have successfully and professionally managed their AdWords accounts. In choosing such agencies for managing your Google AdWords accounts, you are confident that the company is healthy and their customers are happy.
Finally, Google Partners must be able to demonstrate that they have performed well as a business by maintaining and growing their client base and revenue. Criteria for eligibility include:
Client revenue growth

Client retention

Overall revenue growth

Growth in number of advertisers
At Digital Gravity, our team have also achieved certification as experts within the following domains:
Search Advertising – We can help you create and optimize ads that show up on Google Search, and can also advise on keyword strategy as well as budget planning.

Display Advertising – We can help you create compelling visual ads that reach potential customers on above a million websites and mobile apps.

Mobile Advertising – We will connect you with potential customers on mobile devices through text, image and video ads.

Shopping Advertising – We'll help you place your products on Google Search, set up your inventory on Merchant Centre and create Google Shopping campaigns.
Benefits of Working with a Google Partner Agency
At Digital Gravity, other than attaining the coveted badge, we have access to the latest tools, techniques, training and support resources from Google which further enable us to maintain an advanced level of knowledge and expertise, using the latest features to help our clients maximize ROI on every campaign. With access to dedicated support, we are also able to resolve queries relating to our client's accounts efficiently.
You may also like to read: Google AdWords: A Detailed Guide for Beginners & Pro