The launch of Google Ads happened two years post coming of the biggest search engine giant in the world, none other than Google itself. Although the advertising platform was introduced back in October 2000, rebranding and tweaks that happened in 2018 revised the name to Google Ads. The guide here will let you explore about the Google Ads, what and how to advertise and all the useful features to optimise your campaign for achieving the best results once the ads have been rolled out.
Compelling Reasons to Advertise on Google
With approximately 3.5 billion search queries per day and rising, Google has become one of the world's leading search engine. And with Google Ads platform been out for almost 20 years, it holds a higher ground in the area of paid advertising. When a user performs a search query, it's answered with a combination of paid advertisements and organic results.
Another good reason from Google itself is profit advertisers make which is for every $1 spend on Google Ads, earning is around $8 and rising. With hundreds to thousands of competitors on the digital front now using Google Ads to win the game, you need to do the same but more creatively and strategically.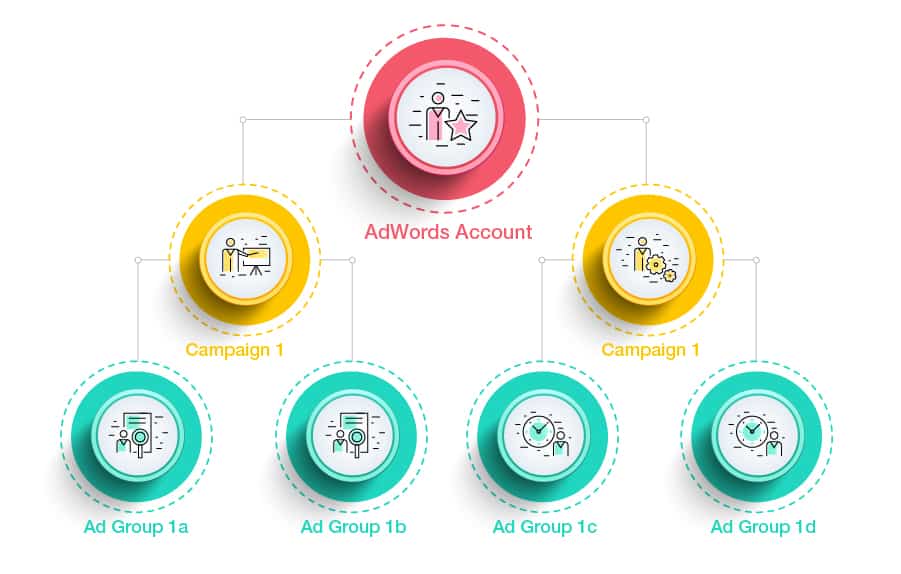 Google Account Organisation/Structure
Before you begin creating more ads, it's better to understand Google Ads three-layer design. Collaboration between these layers would surely help you organise the ads, keywords and ad groups in a more strategic manner for more effective campaigns, set for the appropriate demographics. That said, Google Ads is organised into three layers that are:
Account:

Which is associated with a unique email address, password and billing details. I would suggest Automated Billing works very well..

Campaigns:

Each campaign has its unique budget and setting which determines placement and appearance of the ads
Ad groups:

Ad can be of two types Search Ad & Display Ad. Each ad group contains a specific set of similar keywords and ads
For the video ad campaigns, ad group includes ads with common bids and targeting criteria. It must be noted that ad group may have video clipping but only of the same format. TrueView in-stream and in-display video ads need two separate groups to run.
Ad Extensions
Google ad extensions are free and give users all the value-added information which makes your ad more interactive. The extensions would be any one of the five as defined below:
Sitelink extensions

: Simply extends the ad, get you notified, helps you stand out and provide additional web links to your website which further encourages users to click.

Call extensions:

Let you incorporate phone number in the ad, providing users a means to get in touch with you instantly.
Location extensions:

Both geographic location

(physical address)

and phone number is included in the ad letting users to find you on the map.

Offer extensions:

Much preferred for businesses promoting something to entice users in clicking and buying as compared to the competitors.
App extensions: Simply provide a link to download the application, targeted for mobile users which reduces the hassle of performing a fresh search in the app store.

Performance Planner
Through Performance Planner, advertisers can change the bids and budget in optimising a particular metric across the ad campaigns. A few benefits of performance planner are:
The Summary Graph:

All the real-time results against an ad campaign can be tracked through the summary graph, displaying every information in a clean, clear and dynamic manner.
The Metric Comparison Table:

The key and target metric alongside the spend are sectioned against

"planned"

and

"existing"

for each of the campaign. This is a high-level view from which seen the true growth potential in the campaigns.
The Comparison Tab:

This particular feature lets advertisers see the planned projections compared to the existing setting and past performance in a chart format. All the data is visually appealing, simple and insightful.
Once the ad campaigns have been set up and tracking enabled, it's time for bidding to start. Do remember that your ranking in Google Ads depend on how you bid which is defined by the budget and goals. Bidding strategies that you should be aware of for the paid campaigns are:
Automated Bidding:

Here,

Google

is in the driver's seat allowing the platform to manage the bid against that of the competitors. However, you can set a maximum budget where

Google

would do the homework in providing the best range and greater chance at winning the bid.

Manual Bidding:

You get to set the bid amounts based on the ad groups and keywords while letting you reduce spending on ads that are already performing poor.
How to Bid on Branded Search Terms
Branded terms are associated to your company and/or unique products. At one point, bidding on brands to yield organic results is considered a waste of money. On the flip side, it gives you authority on the search results pages while helps in converting prospects. The third aspect is that if you won't bid on the branded terms, your competitors might do so and take the winning lead.
Manual CPC
Manual Bidding  method which allow you to set maximum cost per click (CPC) for your ads on your own thereby giving you control to set a maximum amount for each click on the ads.
Automatic CPC
This particular bidding strategy allow Google to adjust the bids automatically which helps in giving the ads more clicks within your daily budget for that specific campaign. It's quite convenient and preferred when budget needs to be reduced drastically without losing impressions all too quickly.
Enhanced CPC
Here, Google has the freedom to increase or decrease the bids automatically by 30% using historical conversion data and algorithms to predict the most convertible searches.
Target ROAS
Google manage the bids to average out cost per conversion goals based on history of the conversion volumes and Google Ads account. The ROAS bidding requires at least 15 conversions in 30 days to activate. On successfully meeting the criteria, ROAS bidding can be held back only by the possible budget caps.
Cost Per Thousand Impression (CPM)
The CPM bidding model lets you define the target bids accumulating after a thousand impressions; available only for the Display Network campaigns such as remarketing. Although the CPM wouldn't charge you for the clicks, it'll for ad impressions.
Set Up Conversion Tracking For:
To set up conversion tracking requires generating a fraction of HTML code in the Google Ads which is pasted into the page of the website that customers visit immediately after being converted. All you need to do is:
 

Go to the conversions section of Google Ads account, click the

"+"

button.

   

Select an action.

   

Enter all the relevant information about the specific conversion.

   

Conversion window is next. This when someone interacts with your ad on completing a conversion. You're  able to select whatever best fits your business; best practice is 30 days

   

Tag setup is next and can be tricky, as there are three different options to choose from:

a)

   

Self-install the tag with the code giving you the global site tag that'll be displayed put on the entire site.

b)

   

Create conversion snippet and place the code on every page of your website

c)

Yet another way to setup conversion tracking is through the

Google Tag Manager

which sits on your website and can house multiple other tags.
Webpage: If customers need to complete an action on our webpage to proceed
Call on-site: If you wish the customers to call you via phone number
App Download: If you want the user to download your application
In the Analytics, begin by clicking on the Admin tab in the sidebar then:
Select

Goals

in the

Admin Dashboard

Click

New Goal
From the options that appear in front of you, perform the following:
Select

Template

Enter the goal name, make it descriptive for ease of understanding when viewing the reports later.

Goal Slot ID

indicates number of a particular goal from the total 20 that can be assigned at a time

Pick

Destination

as the goal type
Next steps are:
Enter page URL for the fresh leads to land on

Click on the verify link to test the goal your conversion setting

Click on

Create Goal

button to begin tracking
According to a Senior Digital Marketing Specialist "Grill Brogan" he works with many web design agency Dubai, the above suggestions and procedures are sure to make you a pro at Google AdWords. Learn more from our experts, how do you win clients for your agency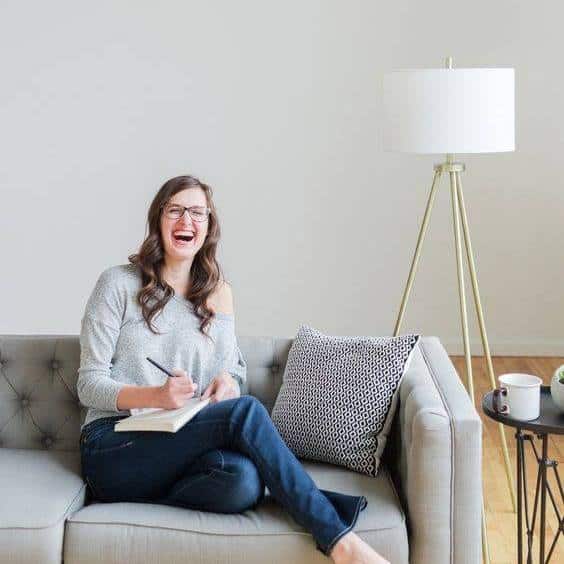 Debora John is a professional digital content creator, SEO and editor having years of experience working for many different industries and recently working in the Digital Marketing department at Digital Gravity. In her free time, She loves to watch movies, read books, and play console games.
- Debora John