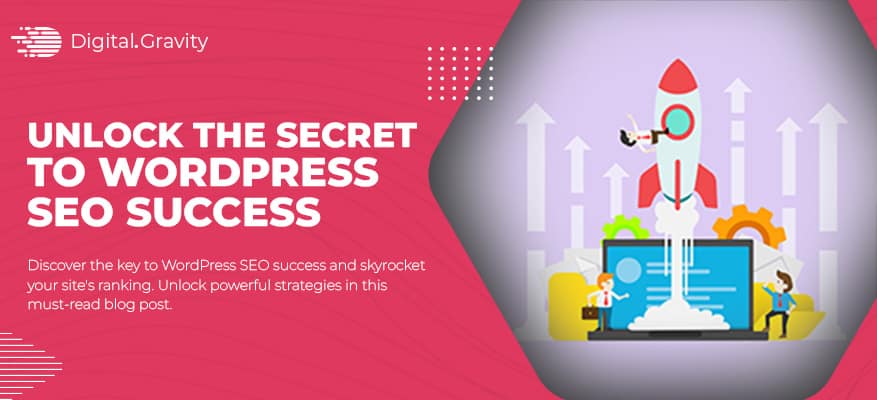 WordPress is the most popular website-building platform. This is why we have dedicated this piece to WordPress SEO. It entails why SEO is essential for your WordPress website and how you can optimize it to increase its rankings in search results.
Creating and managing a website on WordPress is easy, but it won't make much of an impact until you optimize it for search engines. Yoast SEO is a must-have WordPress SEO plugin to improve rankings in search results and has more than 176 million downloads till now.
But, of course, not all Yoast users can rank on the top spots in SERPs. The top spot earners do something unique that makes their pages shoot straight to the first ten positions.
We are going to open their secret in this blog! Join us for an exciting adventure of innovation and creativity to jump up the search rankings and leave your competitors behind.
Benefits of SEO for Your WordPress Website
Before we start unpacking the secrets of improving the ranks of a WordPress website, first understand why it is necessary in the first place.
Here are the three core benefits of performing SEO for your WordPress website:
1. Help Search Engines Find You
You need to direct search engines toward your site so that they can crawl and index them. Only after that do you have a chance at winning higher rankings. Your target audience won't find your business online if your site's pages aren't crawled and indexed.
2. Increase Your Visibility in Search Results
SEO is a long-term game where you should be patient and consistent in your efforts.
A well-thought-out SEO plan allows you to increase the visibility of your WordPress site in search results. It directs your ideal customers toward your business website.
3. Boosts Organic Traffic
SEO is the key to driving quality traffic. When you use relevant keywords in your content, you attract people searching with those queries. Resultingly, you get qualified visitors interested in your products.
Ways to Improve WordPress SEO
1. Manage Your Visibility Settings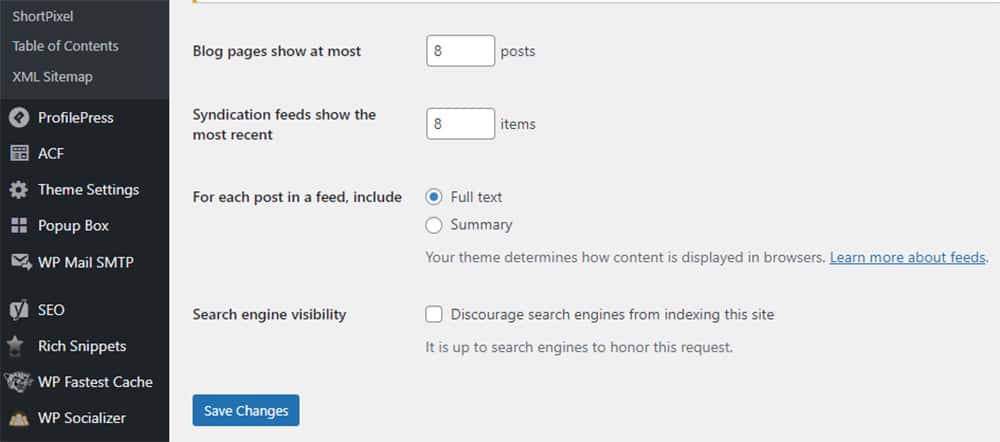 WordPress settings enable users to conceal their site from search engines. So, whenever you are developing or redeveloping your website and want to hide your work in progress from visitors, head to your WordPress dashboard and open "Settings > Readings".
You will see an option <Discourage search engines from indexing this site> on the new window. Just make sure its box is unticked. Otherwise, your SEO won't work.
2. Alter Your Permalinks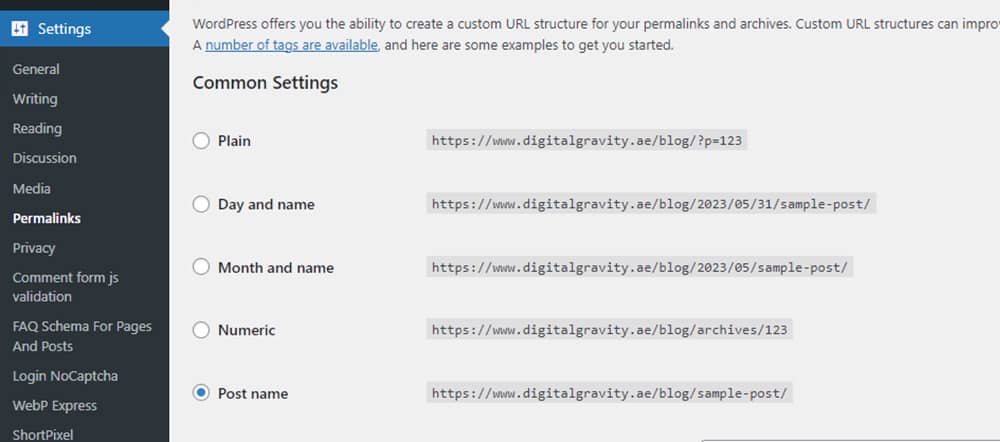 Permalink refers to the complete URL or link users view and use for a certain page, post, or another content piece on a website. Such URLs explicitly show what a page, blog, or post is (in the link itself) to tell people what they will see once they click.
Marketers should optimize their permalinks to enhance the user experience and their site's search rankings. Google algorithms read permalinks to identify if your page can fulfill specific search intents.
For instance, if you have a real estate business website with a page on furnished 2-bedroom apartments, your permalink will be www.mysite.com/furnished-2-bedroom-apartments.
You can add a precise explanation of your page by going to "Settings>Permalinks" within your WordPress dashboard and hitting the big blue button "Save Changes".
3. Utilize Categories and Tags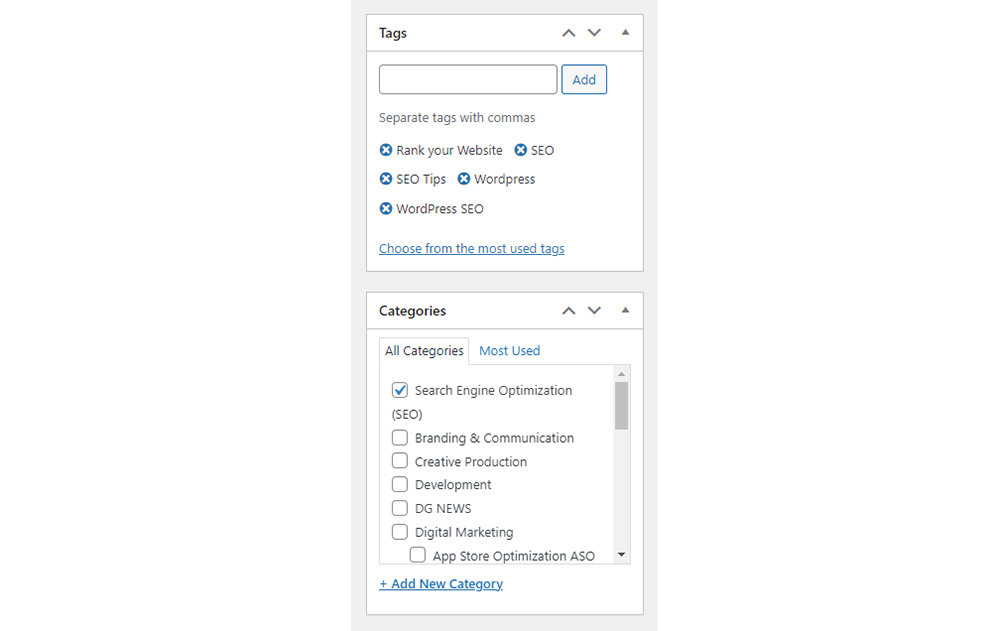 Categories and Tags let you organize your site's content and pages into broad and close groups, respectively. It helps search algorithms figure out your site's architecture and the blog posts your site has.
Pro tip: Categories and tags also amplify user experience by letting them quickly find whatever they are looking for and simplify managing your website content for you.
Tags:
Tags are tools site managers can use to categorize their content, depending on similar details. These are typically located in the sidebar or under a post. 
A cosmetics company's website may have tags like "Lip colors, "Foundation" or "Eyeliner" You can make tags or see the existing ones in your dashboard by hitting "Posts" and "Tag"
Categories:
They help users arrange blog posts so visitors can get the purpose of a post and spot relevant content that comes under the same categorization.
In the case of a coffee shop's website, the categories may be "Latte", "Caffeine Allergy" or "Americano". Click "Writing" under WordPress "Settings" to create a category. Here, you will find your existing categories as well.
4. Employ XML Sitemaps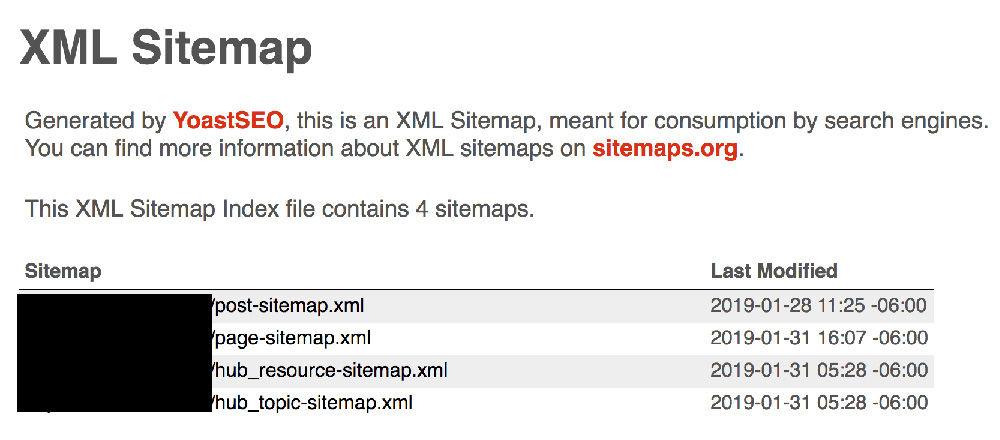 An XML sitemap is a code file on a web server containing every page of a site. Search engines use XML sitemaps to recognize, assess and rank the posts on a website.
Are you worried you don't have people with great coding skills to manually build an XML sitemap? Installing an SEO plugin can save your day. For example, Yoast SEO or Google XML Sitemaps can automatically create sitemaps for your site. 
5. Use Internal Linking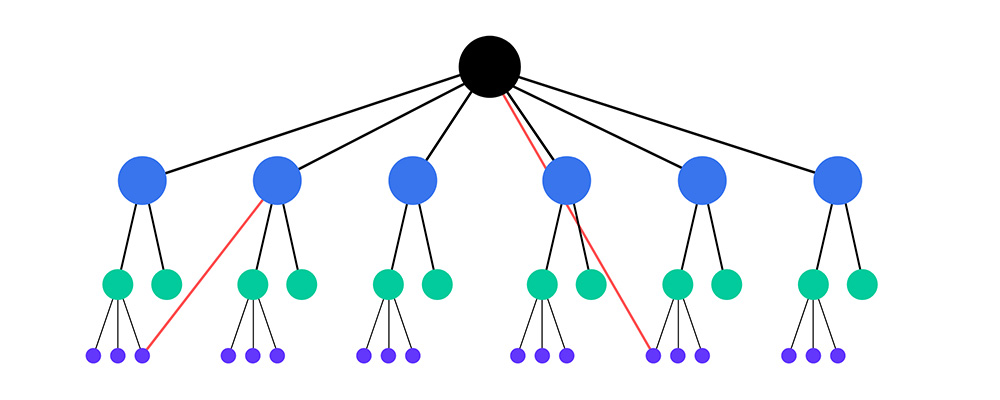 Google notices how many times you have internally linked your pages or content with each other and measures your site's authority by it to rank you accordingly.
How can you internal link in WordPress? Simply highlight the phrase on the page where you wish to put the link, hit the "paper click" symbol in the toolbar, and copy and paste your desired URL. 
6. Optimize Your Images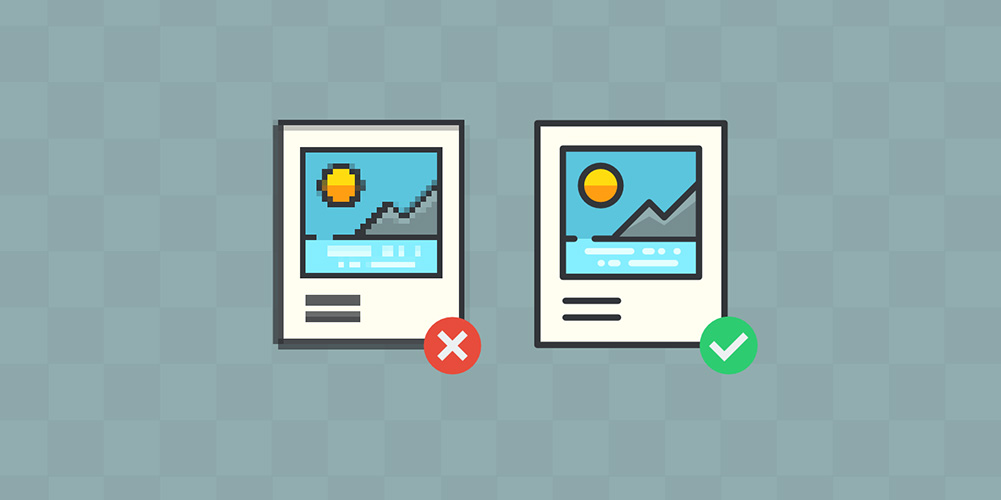 Do you create your Imag-Alt-Text, meaning your images' descriptions? If not, start optimizing them right away as search bots notice them to figure out if your pictures bear the answers users are searching for.
WordPress plugins like SEO Optimized Images offer the simplest way to include Image-Alt-Text in your pictures. If you have a few plugins installed, check if they have a feature to add Image-Alt-Text.
Don't forget to separate words with dashes if your Image Alt Text is many words long.
7. Ensure Robust Security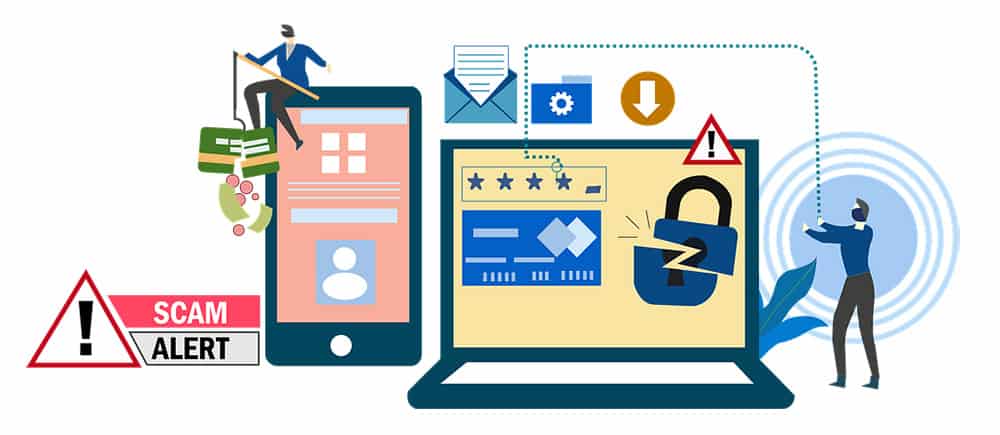 Secure Sockets Layer or SSL is a regular safety method that handles an encrypted URL between a browser and a server. SSL ensures that the data shared between a site and its users stay protected.
For instance, if a consumer enters their credit card information on your website while placing an order, SSL will make sure their details are not breached by a criminal along the way.
Google rewards websites with secure and encrypted connections. Currently, all sites on WordPress.com have SSL certificates automatically put by the platform.
But if your site is built on WordPress.org, you should handle all your security aspects manually. Then, you should download an SSL plugin like Real Simple SSL.
8. Link Your Content to External Sources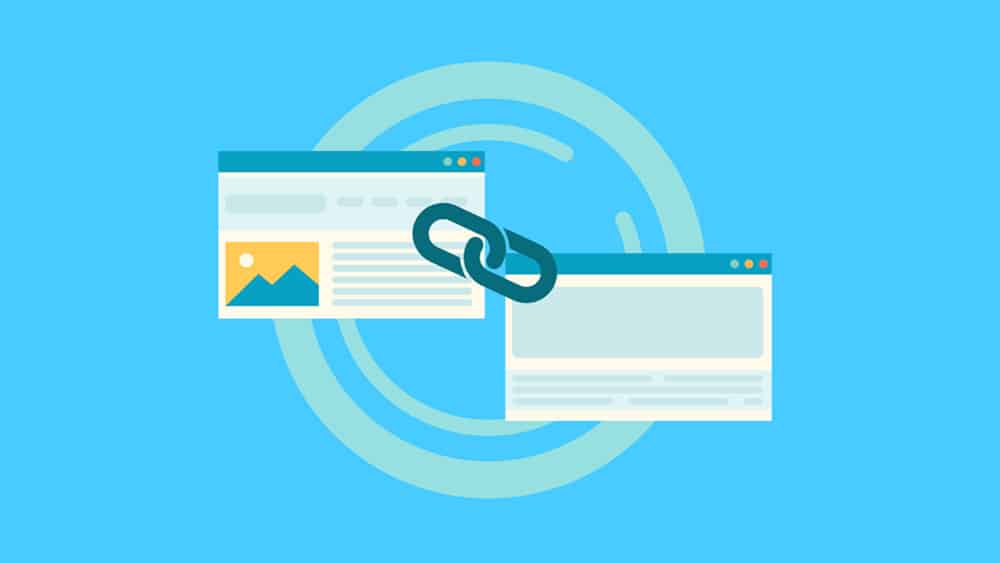 Does it ever happen that you created a killer piece of content on a topic you think your readers want to know about desperately but couldn't cover fully in the piece? 
In that case, you can link to other resources in your niche to give your consumers more content to benefit from. 
Giving no-follow external links will not only help those websites that you link to gain authority but also improves your SEO. 
However, external links not only save your website from content spam but also stop Google from following those links to the resources you have linked to, so you only enhance your site's visibility and authority.
You can add a no follow link in three ways:
Manually add it to your site

Simply write "no-follow" in the field called "Link Relationship" while putting a hyperlink to your key phrases or words

Install a no-follow plugin from the WordPress plugin library
9. Install Security Plugins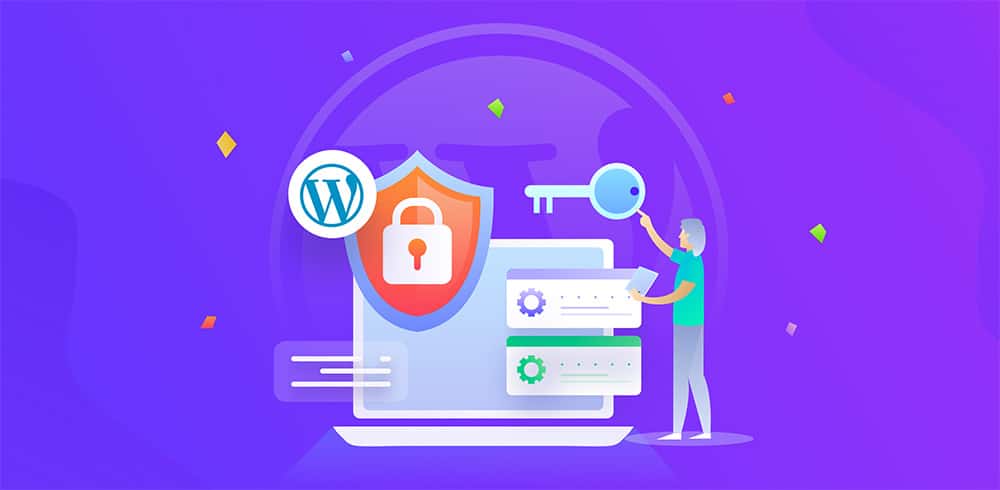 As we have established earlier that search engines prefer secure sites and rank them higher. If your WordPress plan doesn't include security features, install plugins like iThemes Security or Wordfence Security to strengthen your website's security.
10. Optimize Your Comments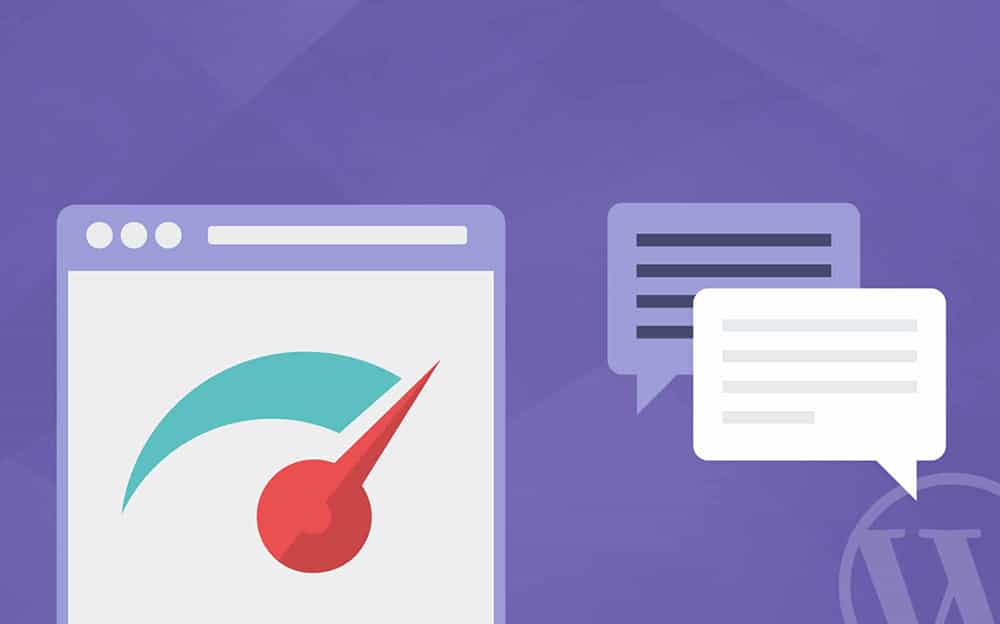 Comments by your visitors help you know their thoughts on your content, which can lead to more traffic, engagement, and link sharing, thereby boosting SEO.
But it is a double-edged sword, as spammy comments can negatively impact your SEO efforts, so make sure you get honest comments from actual people.
Are there any WordPress plugins to prevent spammy comments and other unsolicited stuff like defective subscriptions, form submissions, orders, etc.?
Some plugins even allow you to obstruct habitual frauds so they cannot comment on your content again.
11. Pick WWW or Non-WWW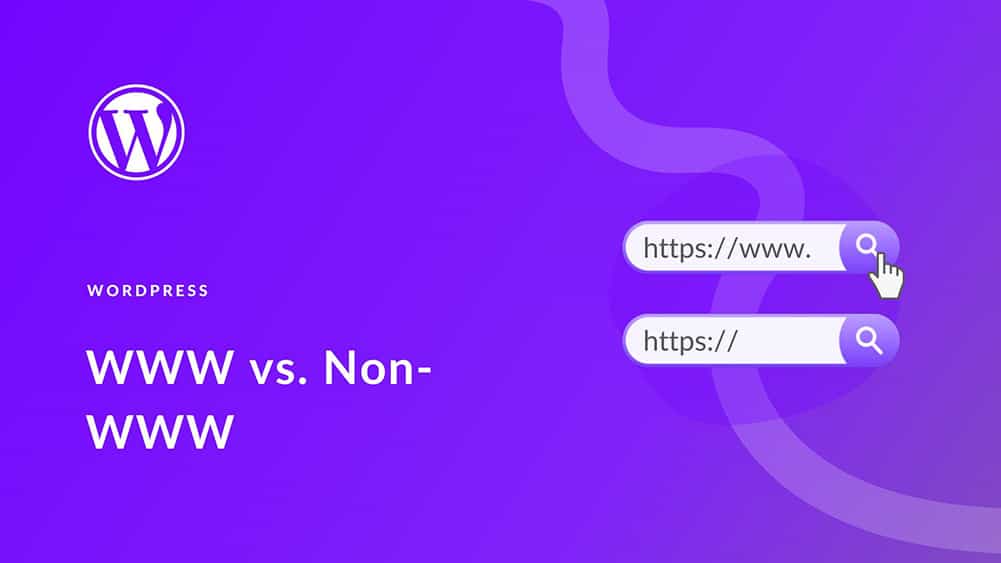 Searchers can access sites on the web in either of two ways:
With "www" like "

www.mysite.com"

Without "www" like "mysite.com"
Google crawlers look at these two ways of searching as completely different websites, although they are just different official domain names.
Your job is to select one (your choice won't affect your rankings) and stick with it. You can link to your URLs internally and on social media and email externally. 
It will show search engines that you consistently use and link to one domain name, and they will think of you as more authoritative, ranking you higher.
And it also simplifies finding your website for visitors. To select an option, go to your WordPress dashboard, hit "Settings" > "General" and the new window will show the form fields for your site address.
Bottom Line
The WordPress SEO strategies, tips, and tricks discussed in this article will help your site be more visible on search engine result pages. By sticking to these best practices, you can drive more organic traffic, elevate your site's ranking and eventually accomplish your website's goals.
If you want to boost your traffic, conversions, and sales, take the SEO services in Dubai, trusted by the industry giants! Digital Gravity is a renowned name in the digital marketing industry and is helping multiple businesses soar to new heights. Contact us today to be one of them!
FAQs (Frequently Asked Questions)
1- What is WordPress SEO?
WordPress SEO deals with optimizing a website developed using the WordPress platform to be more visible in search results.
2- What are some of the common WordPress SEO techniques?
Popular WordPress SEO strategies involve using relevant keywords, increasing site speed and functionality, creating quality backlinks, optimizing meta descriptions and meta titles, utilizing suitable tags and categories, and ensuring the site is responsive and mobile-friendly.
3- What is the purpose of WordPress plugins?
WordPress plugins improve your site's performance by incorporating features that are not built into the software. You can install plugins from thousands of available options on the WordPress platform.
4- Can I optimize my website using WordPress plugins?
Yes. WordPress SEO plugins like All In One SEO Pack, Yoast SEO and SmartCrawl Pro have features to develop XML sitemaps, apply tags and categories, optimize your content and titles with keywords and key phrases, manage your website's breadcrumbs and benefit from Google Analytics support.