The 42nd edition of the GITEX Global, the world's biggest tech event, is all set to kick off on October 10, 2022. It will host more than 5,000 companies at Dubai World Trade Center from October 10 to 14.
Every year more than 100,000 visitors from 150+ countries visit the event, which is why visiting the GITEX Global tech show is a must for every tech enthusiast.
And this year's event is going to be one of a kind because of the recent Metaverse, FinTech, and AI developments. 
All in all, for anyone who has grabbed a ticket for the event, it's going to be a lifetime experience.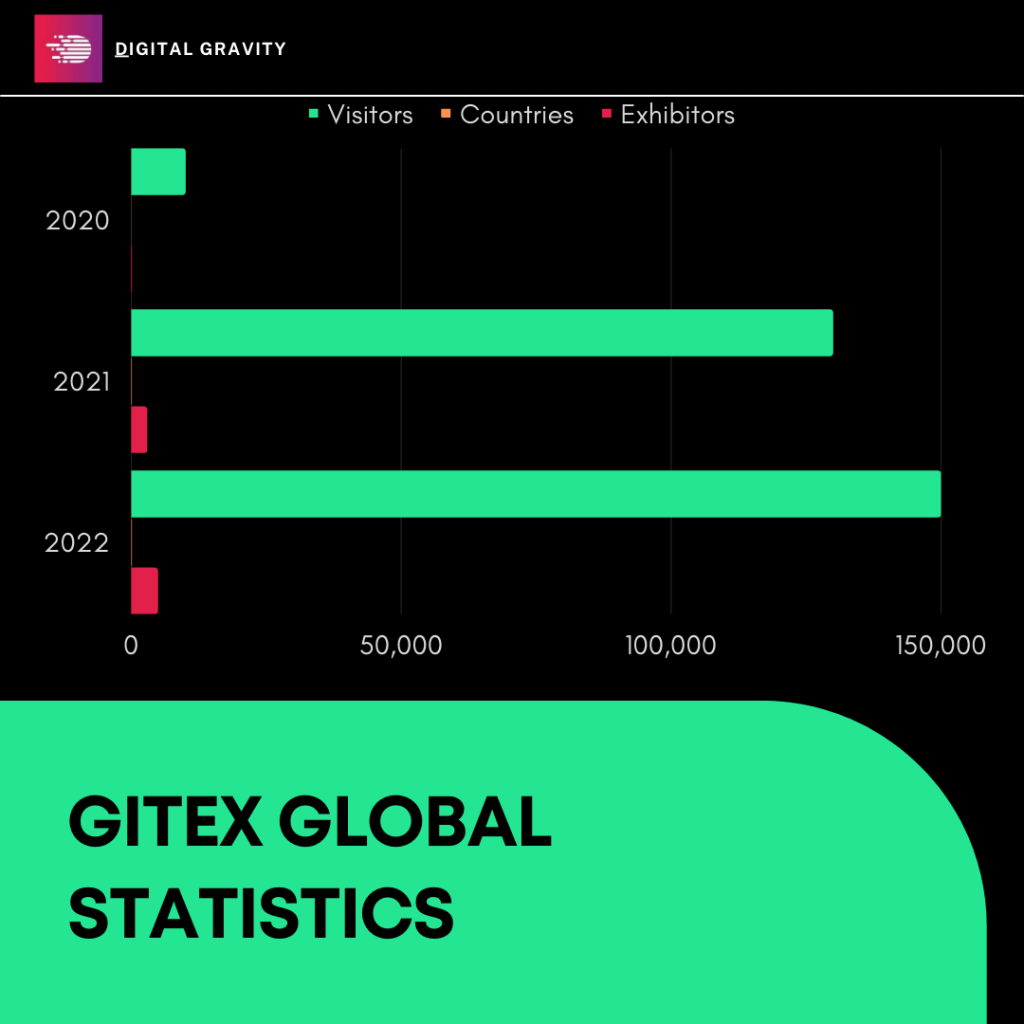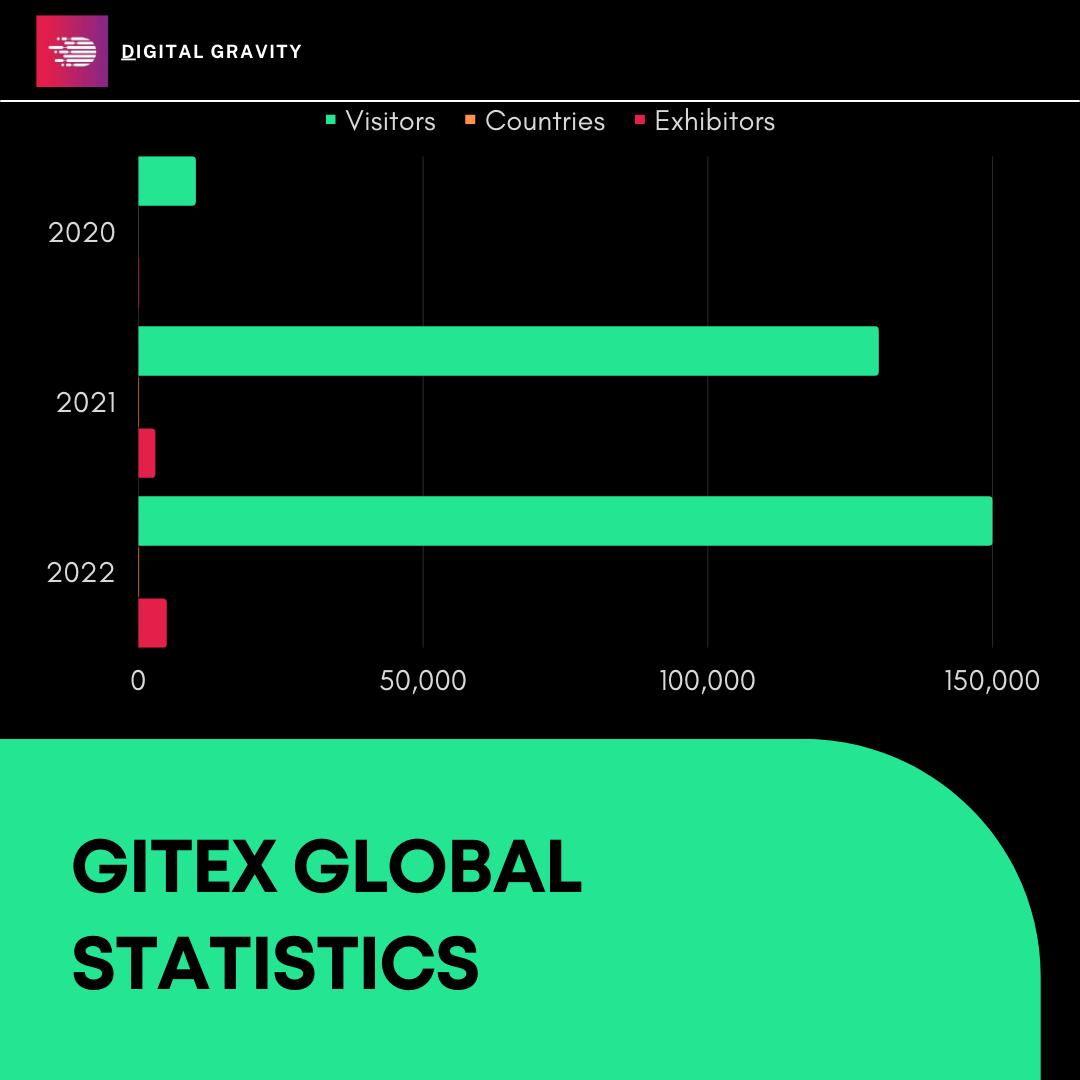 What's Exciting in This Year's GITEX Global?
As a leading mobile app and web agency in Dubai, we visit GITEX Global every year to learn about future technologies so we can serve our clients in a better way. 
As per the organizers, the most interesting parts of this year's GITEX will be:
 X-Verse 
The upcoming edition of the GITEX Global will host X-Verse in which 28 experimental brands from all over the world will curate highly immersive metaverse experiences to give the audience an idea of our future world.
Global DevSlam
Another interesting event to watch out for in the upcoming GITEX is Global DevSlam. More than 10,000 coders and developers from the world's biggest technology firms will share innovative product ideas and deliver thought-provoking talks, making this event one of a kind in the history of tech exhibitions.
North Star Dubai
Previously known as GITEX Future Stars, the event has been renamed "North Star Dubai". Event organizers say this will be the world's biggest start-up show now, featuring more than 1,000 start-ups from all over the world.
Fintech Surge
Since everybody is talking about FinTech, there's no way you can leave it out of a tech exhibition like GITEX Global. FinTech Surge show will bring together innovators, investors, and FinTech experts to discuss the growth of different payment solutions.
New Brands Attending GITEX for the First Time…
This year's GITEX is going to be the biggest tech exhibition in history as some of the world's leading tech brands are coming to the show for the first time. 
Some of the notable names include:
Cisco

Microsoft

Amazon Web Services

Huawei

Nokia

Dell

Bosch

Oracle

Honeywell

China Mobile International
Certifications Being Offered in GITEX 2022
For someone who is eager to learn about emerging technologies from the world's best tech professionals, GITEX Global is like a once-in-a-lifetime opportunity.
 You can enroll in some high-value tech workshops being conducted by the experts in the tech field at the GITEX Global 2022:
AI Practitioner
Do you want to pursue a career in artificial intelligence and programming? If yes, get enrolled in a small certification program offered at GITEX Global and learn to identify AI and ML solutions for business problems.
NFT Developer
A dream opportunity for anyone who wants to build a career as an NFT developer. At GITEX Global, anyone can learn all about NFT development at the Global DevSlam Pycon MEA Stage and work alongside experienced NFT developers to get hands-on experience.
Metaverse Expert
Eager to learn about the metaverse? Develop a comprehensive overview of connectivity and human interface technologies by participating in the metaverse workshop being offered at GITEX Global. In less than 8 hours you will learn all about the connectivity technologies considered essential for building a metaverse infrastructure.
Robot Programming
You can't become a robot programming expert in five days. But you can easily acquire the basic knowledge and get a custom roadmap for pursuing a career in this field from the world's renowned robot programming experts. At GITEX Global 2022, you can meet the world's renowned robot engineers and learn from them.
(These are just four of the most notable workshops being offered at GITEX Global 2022. You can also register for various other workshops in the AI, ML, Metaverse, Blockchain, and digital transformation domain.)
Why Visit GITEX?
GITEX isn't just a tech event but an opportunity for coders, creative designers, data scientists, online entrepreneurs, innovators, and students to meet with like-minded people and have a few glimpses of the future.
In fact, irrespective of your profession and interest, you must visit this annual exhibition to get an idea of the digital transformation our world is going through.
How Can You Attend the GITEX Global?
To register yourself for the world's biggest tech exhibition, click here. Students and people registering in groups are being offered special discounts. 
Our representatives look forward to meeting you there and having an interesting discussion with you on anything digital!