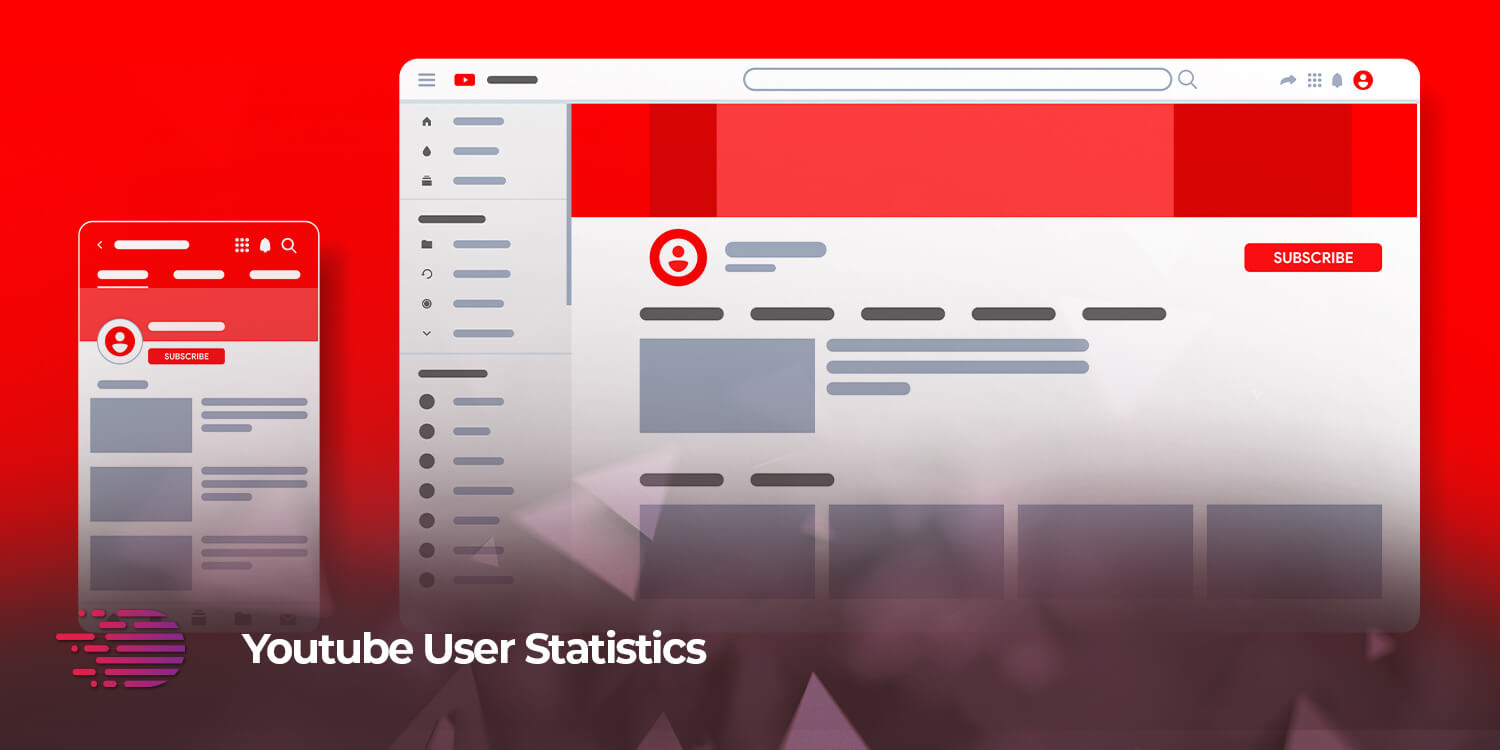 Imagine a day without YouTube. You can't watch the content shared by your favorite content creators. You no longer have easy access to entertainment videos. And if you are a tech-savvy person who learns from free YouTube videos, you are left with no alternative but to learn from paid courses—-or worse, from lengthy documentation.
The world's biggest online video-sharing platform YouTube was founded by Steve Chen, Chad Hurley, and Jawed Karim in 2005. It's a long story about how they made a fortune by selling YouTube and how it evolved into an irreplaceable online hub of videos…YouTube today is owned by Google and it hosts millions of online videos.
If you are curious to learn more about the popularity of YouTube and its diverse user base, this article is going to be an interesting read. In this blog, we have compiled some intriguing YouTube Statistics for 2022-2023. These YouTube user statistics cover the total number of YouTube users in 2022-2023, to demographics and more.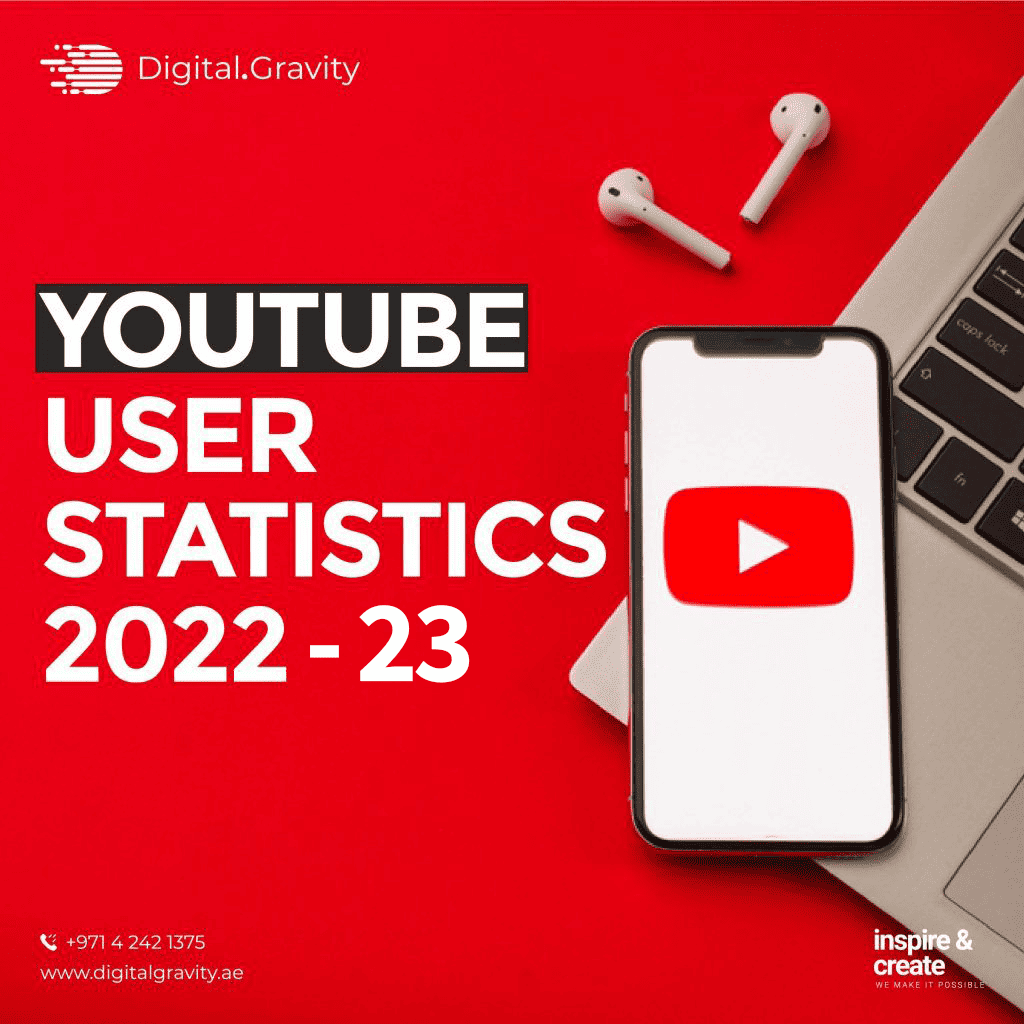 Intriguing YouTube Statistics 2022-2023
Total YouTube Users in the World
Have you ever thought how many people in the world are YouTube subscribers? As expected, it has a massive user base. The most recent estimates suggest YouTube's active user base has surpassed 2.5 billion in the first quarter of 2022. 
Here are some of the leading countries based on YouTube audience size as of April 2022: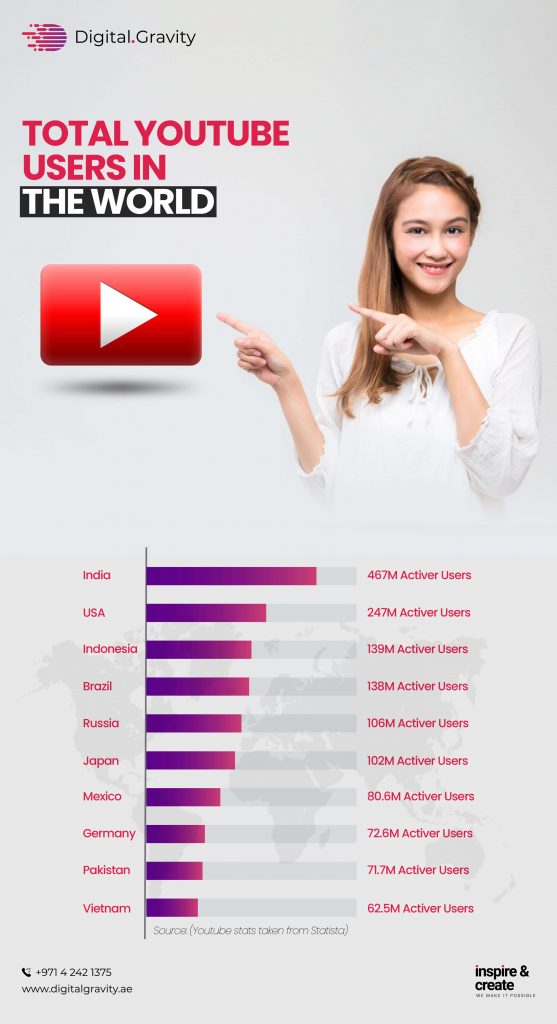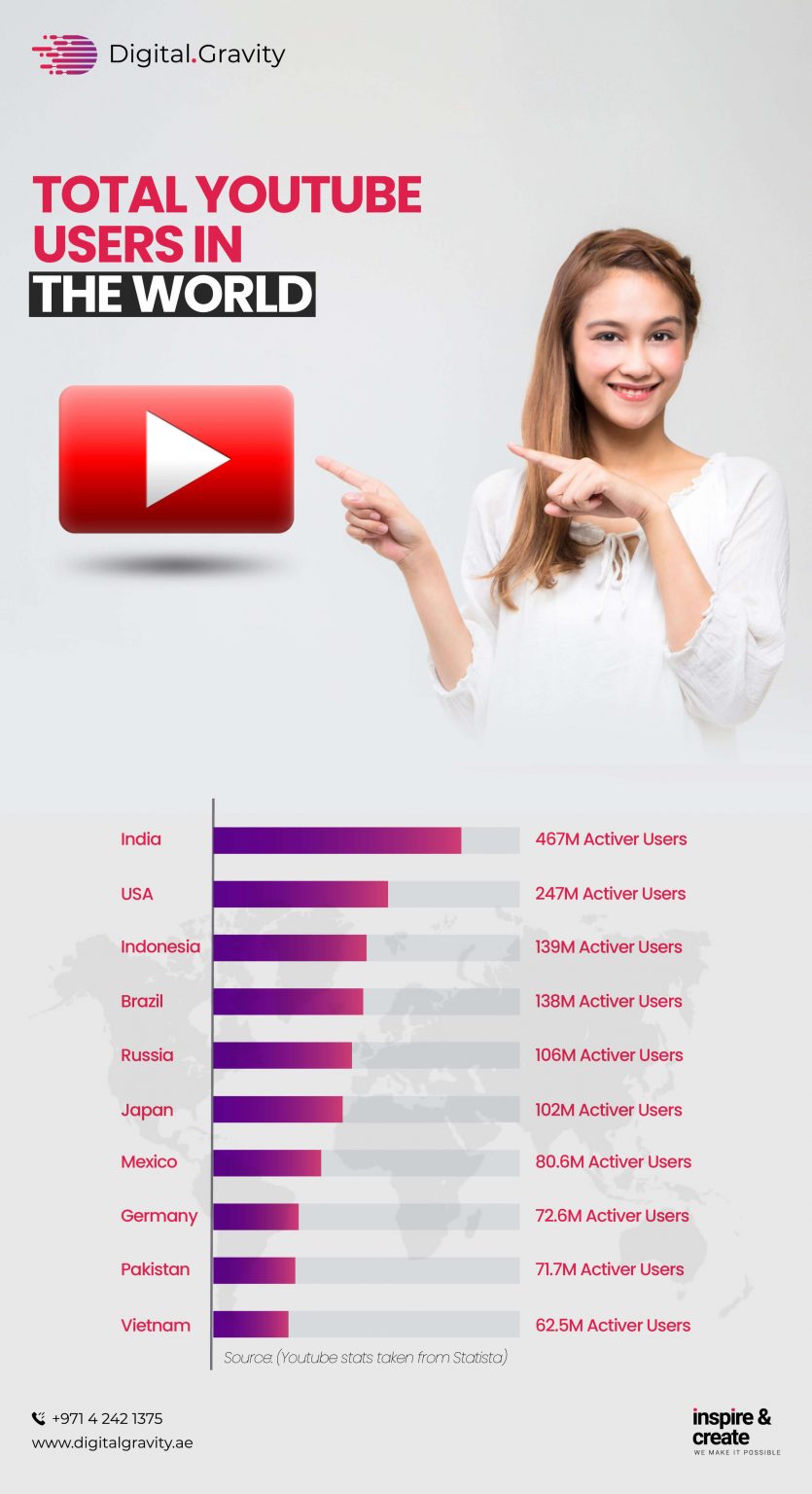 Due to its small population in the UAE is not among the top 10 YouTube users in the world. But don't think YouTube isn't popular in the UAE; more than 90% of the UAE residents use YouTube for entertainment and learning.
Over nine million people in the UAE have access to the internet, and a whopping 8 million of them are YouTube users. Some statistics suggest YouTube is even more popular than Facebook in this region.
Countries Where YouTube is Ubiquitous
Now that we have talked about YouTube's popularity in terms of the audience size, it's time to look at YouTube statistics with respect to its popularity or usage percentage among the locals: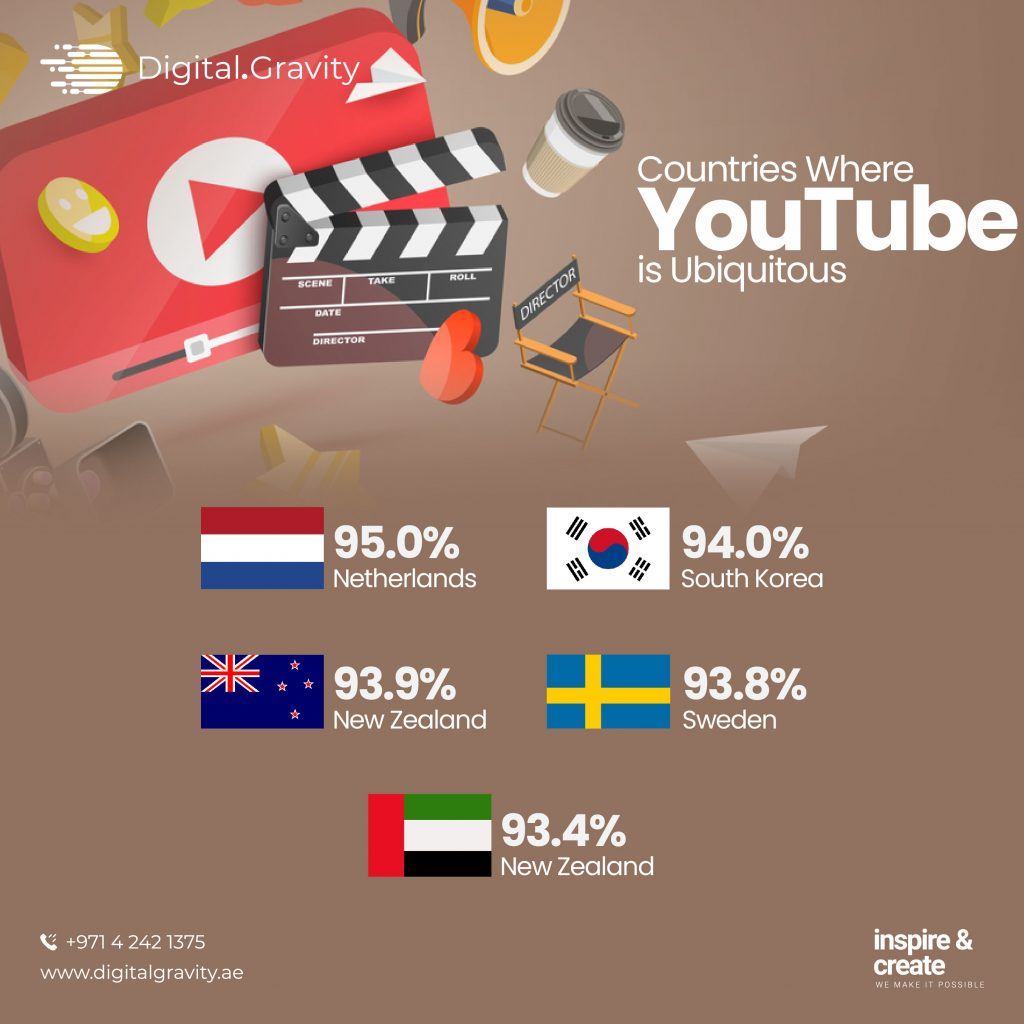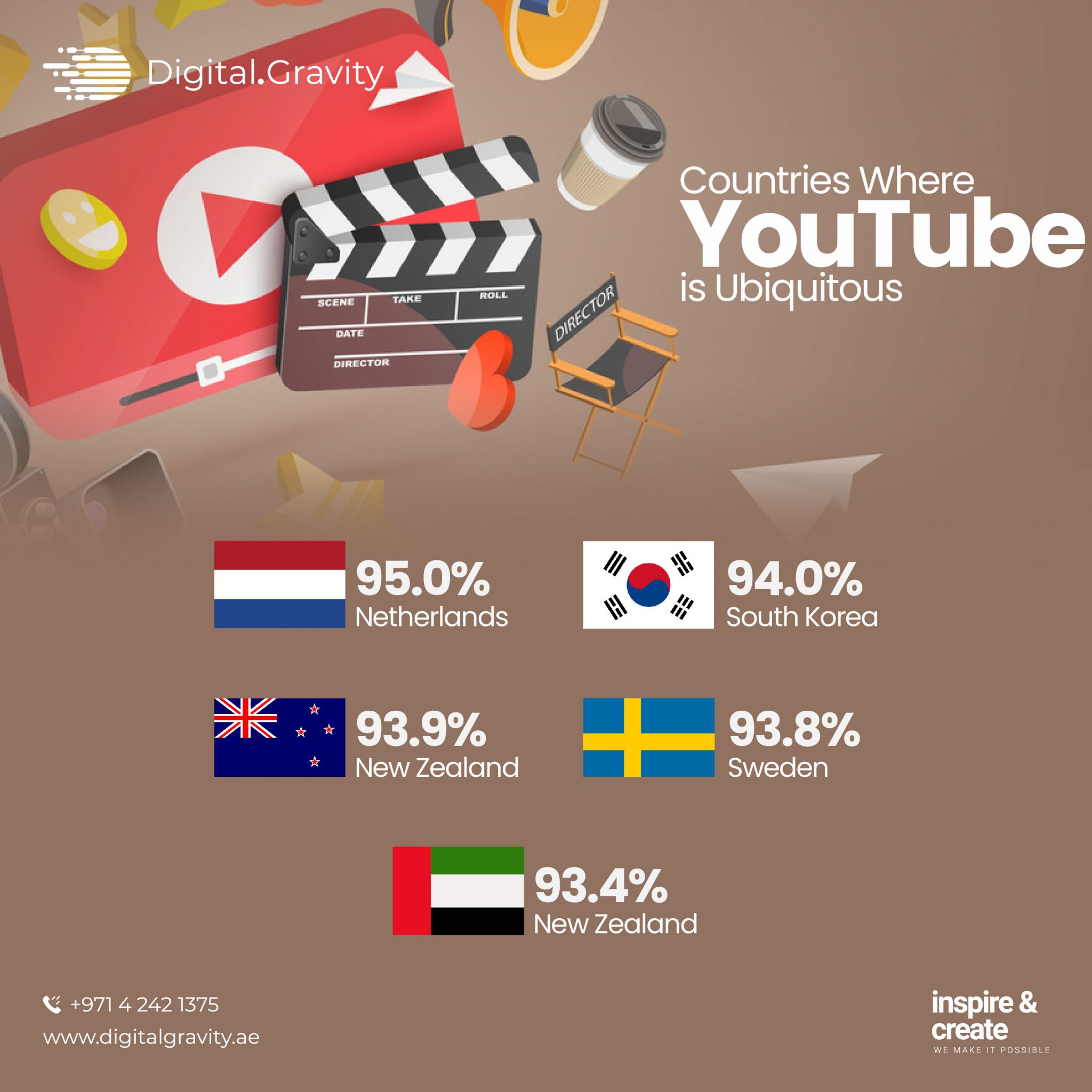 YouTube Age Demographics
YouTube age demographics reflect the growing influence of YouTube content globally on kids, teenagers, adults, and even aged people. According to the latest data available, we have prepared a table for your ease of understanding: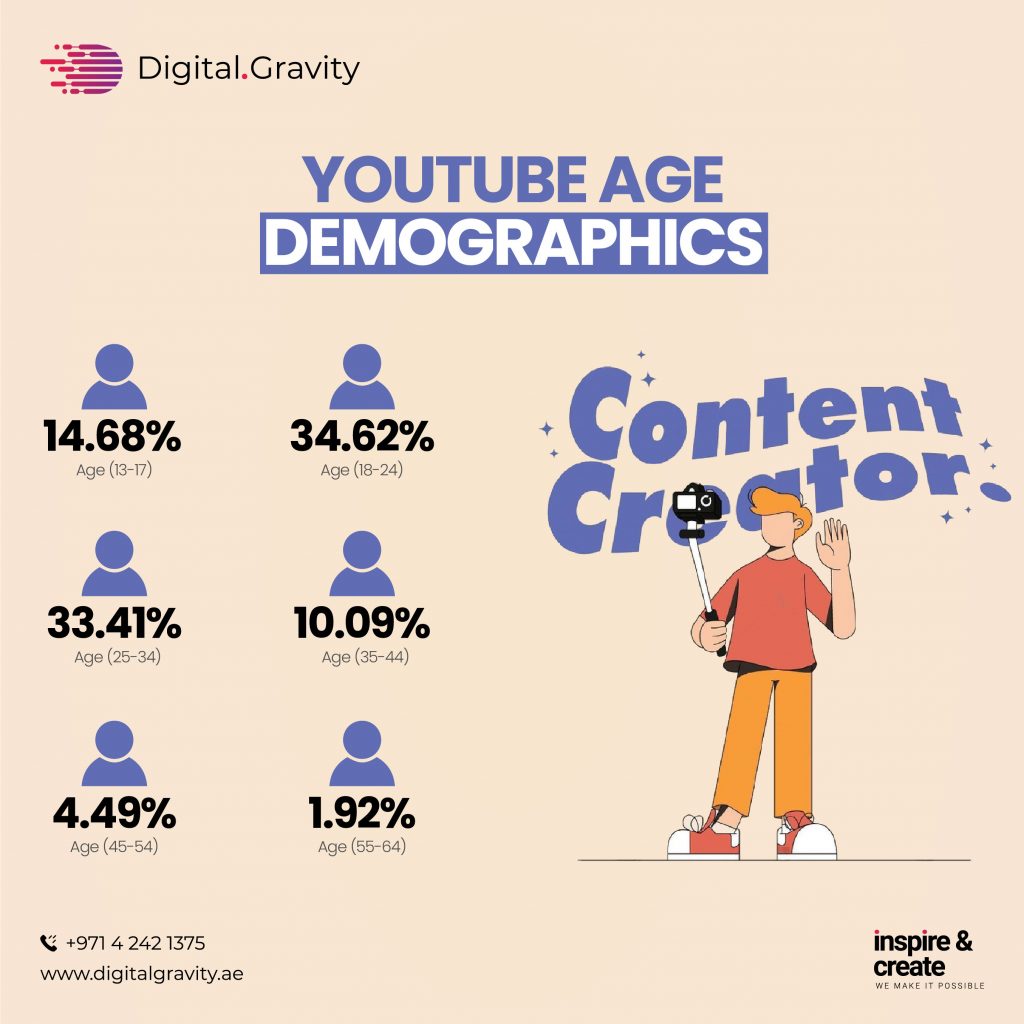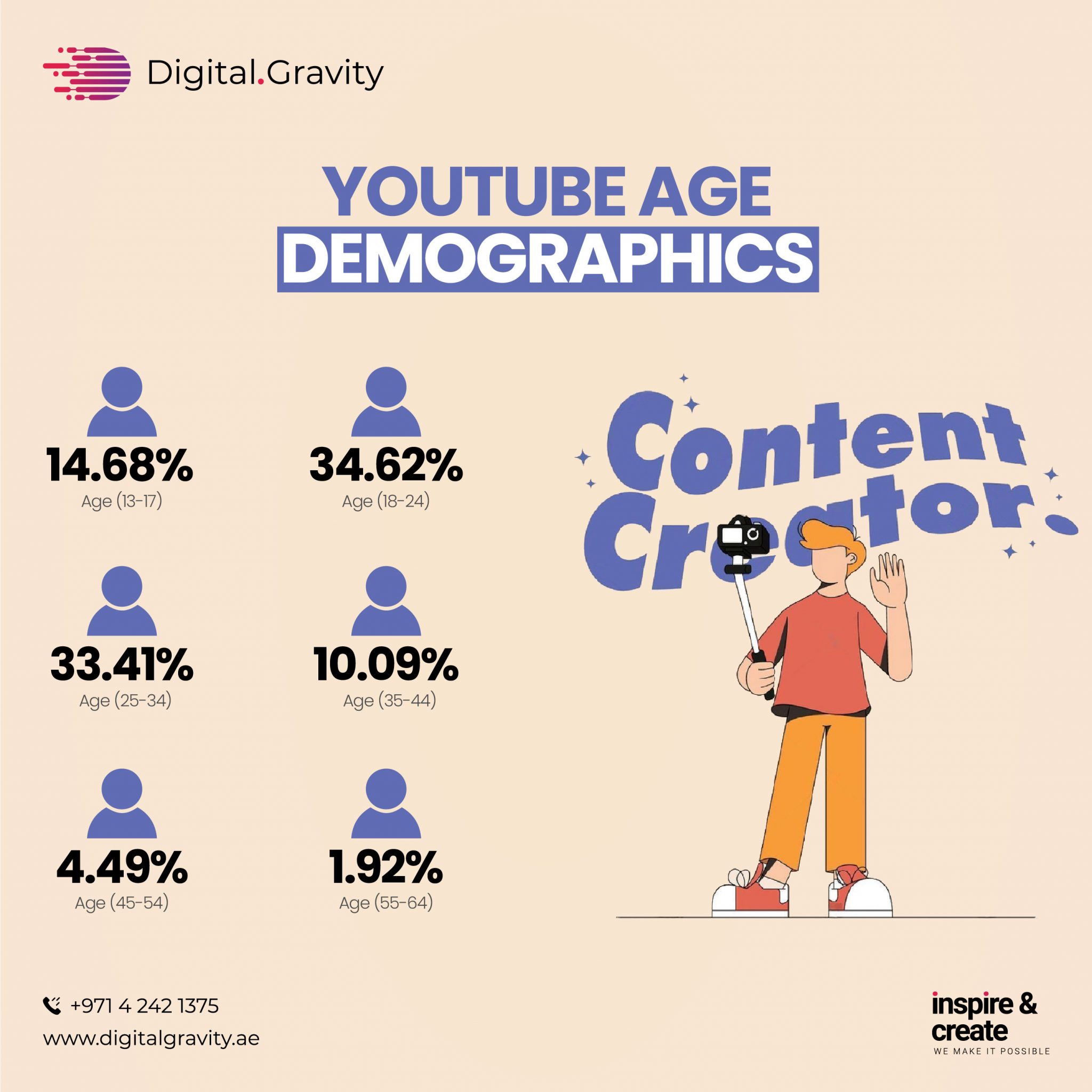 Kids under 13 are not included in this data but it is believed that a huge population of under thirteen kids are avid YouTube users. Otherwise, the top YouTube channels that only create content for kids won't have billions of followers.
YouTube Gender Demographics
According to Statista, as of April 2022, 53.9% of global YouTube users were male while 46.1% were female. This is a negligible difference because a lot remains uncovered due to the increasing global population and access to the internet even in the most remote regions of the world.
Generally, women too are quite addicted to YouTube. Some watch entertainment videos while some learn to cook through YouTube; some explore beauty and fashion trends and some even create content on YouTube to earn a few bucks without going for a typical 9-5 job.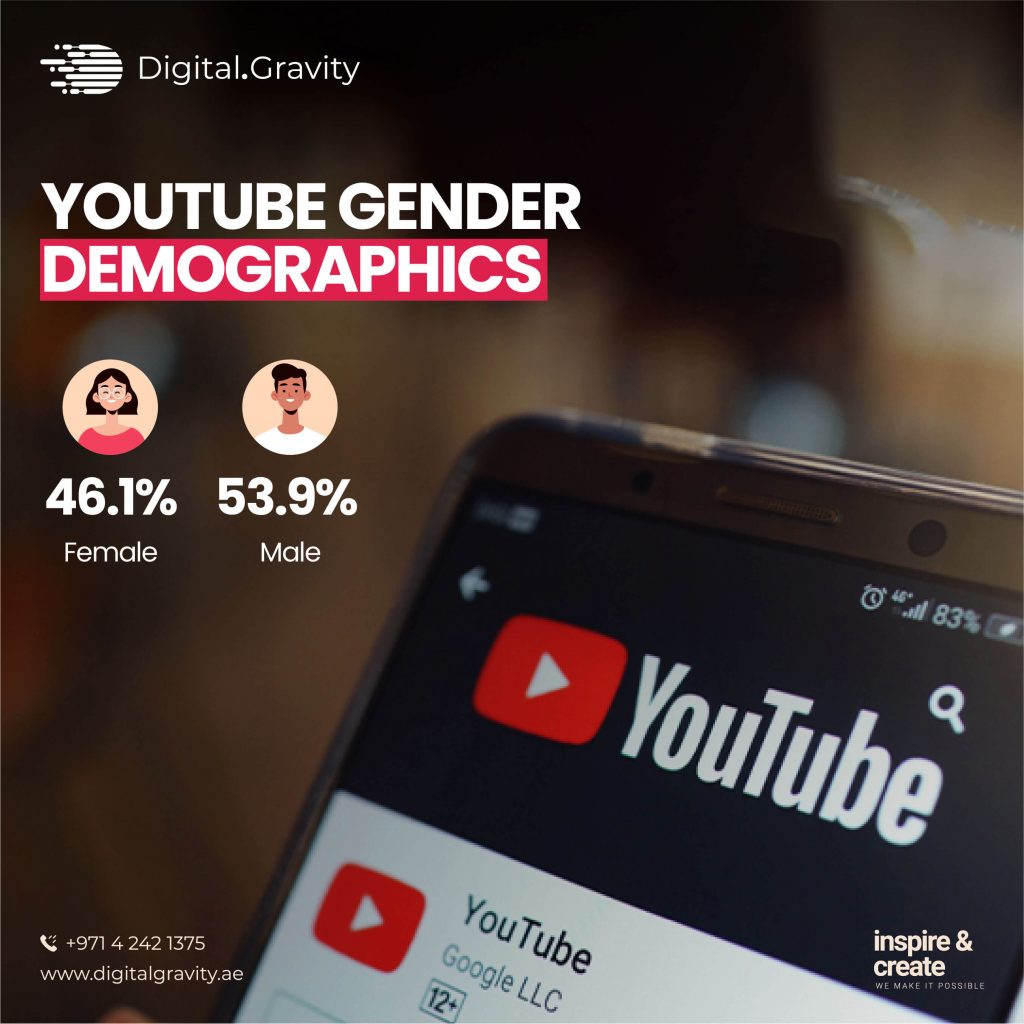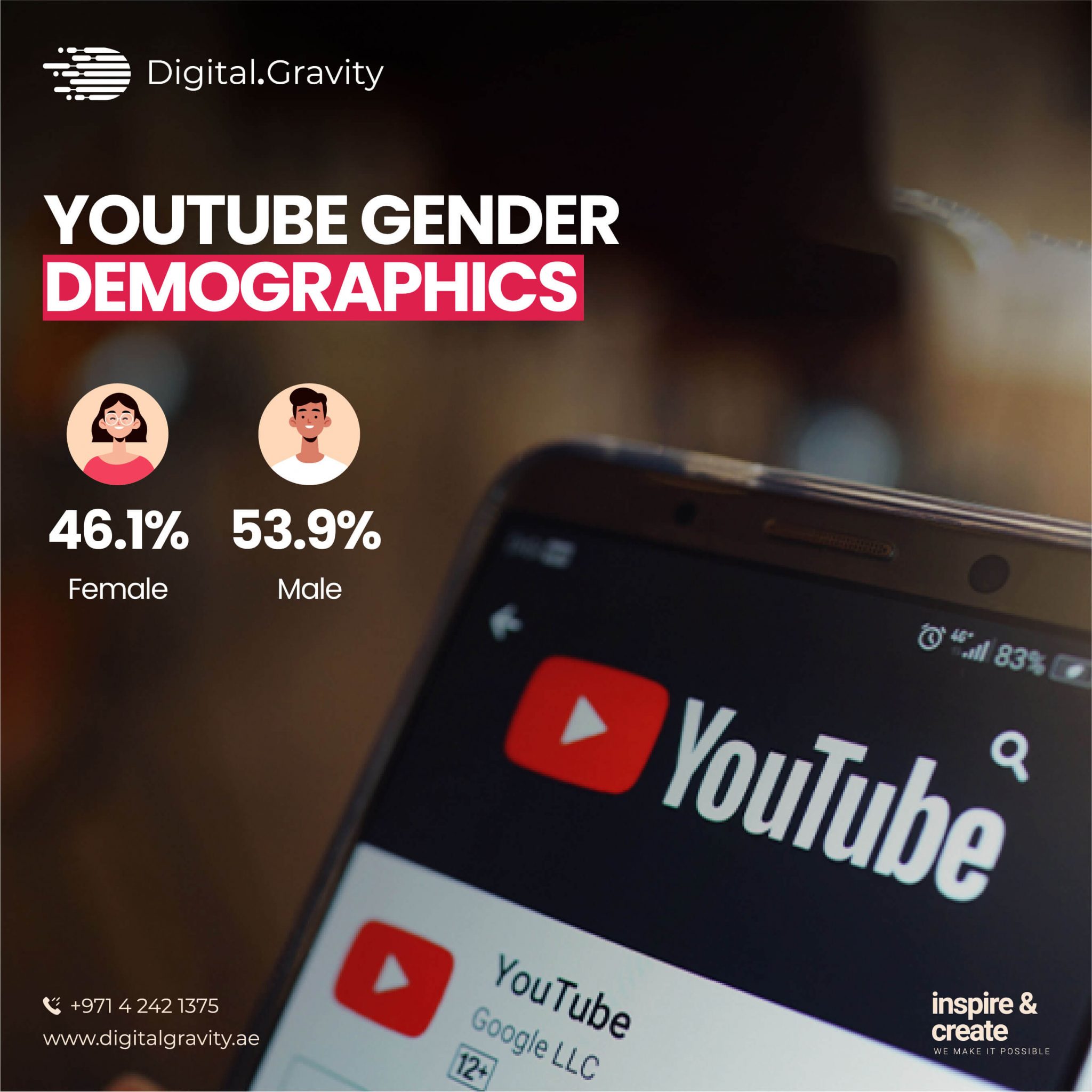 Some of the Biggest YouTube Channels
When you talk about the biggest YouTube channels, there are quite a few. And almost every YouTube user knows them. The top YouTube channels have millions of subscribers and they didn't acquire those overnight but after several years of persistent efforts.
 The criteria to judge the size of a particular channel is the number of subscribers. The channel with the most YouTube subscribers will be considered ahead of all.
As of today, 5th September 2022, the famous YouTubers channels are: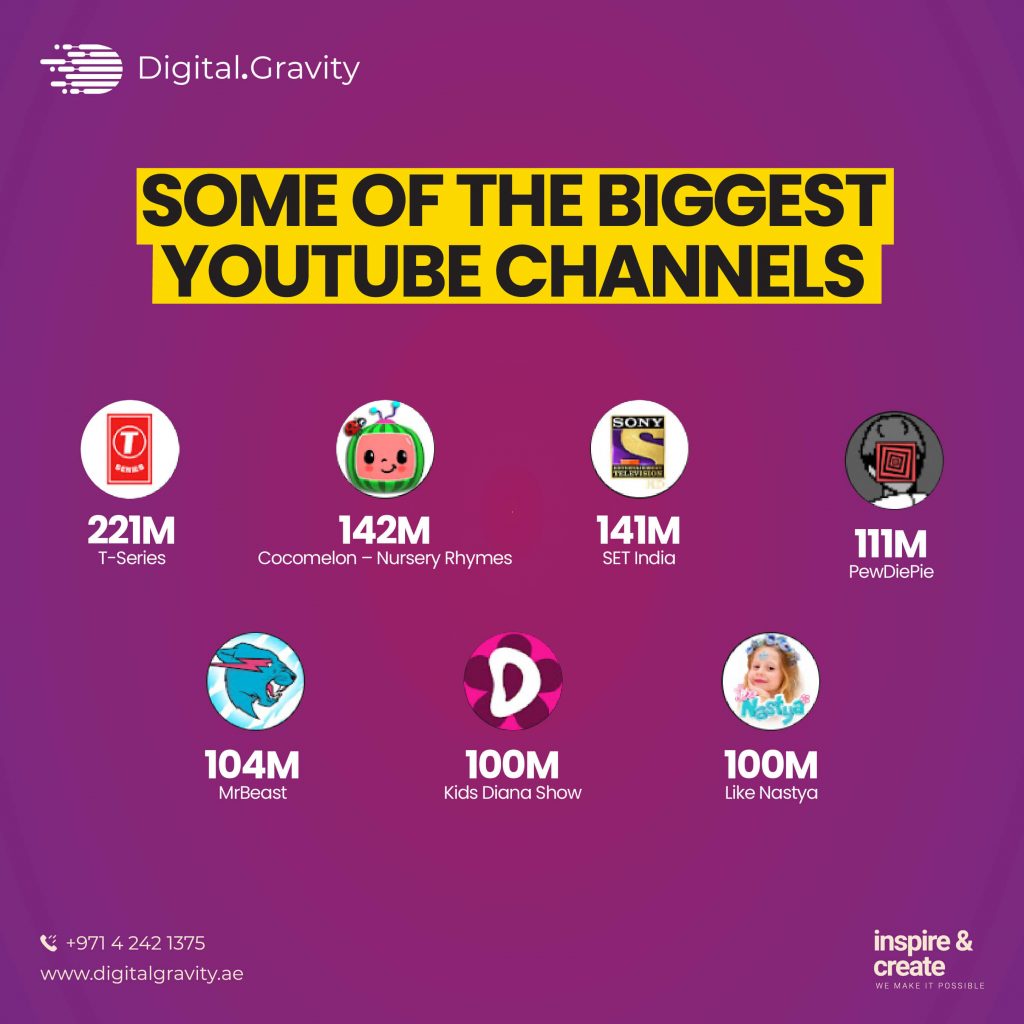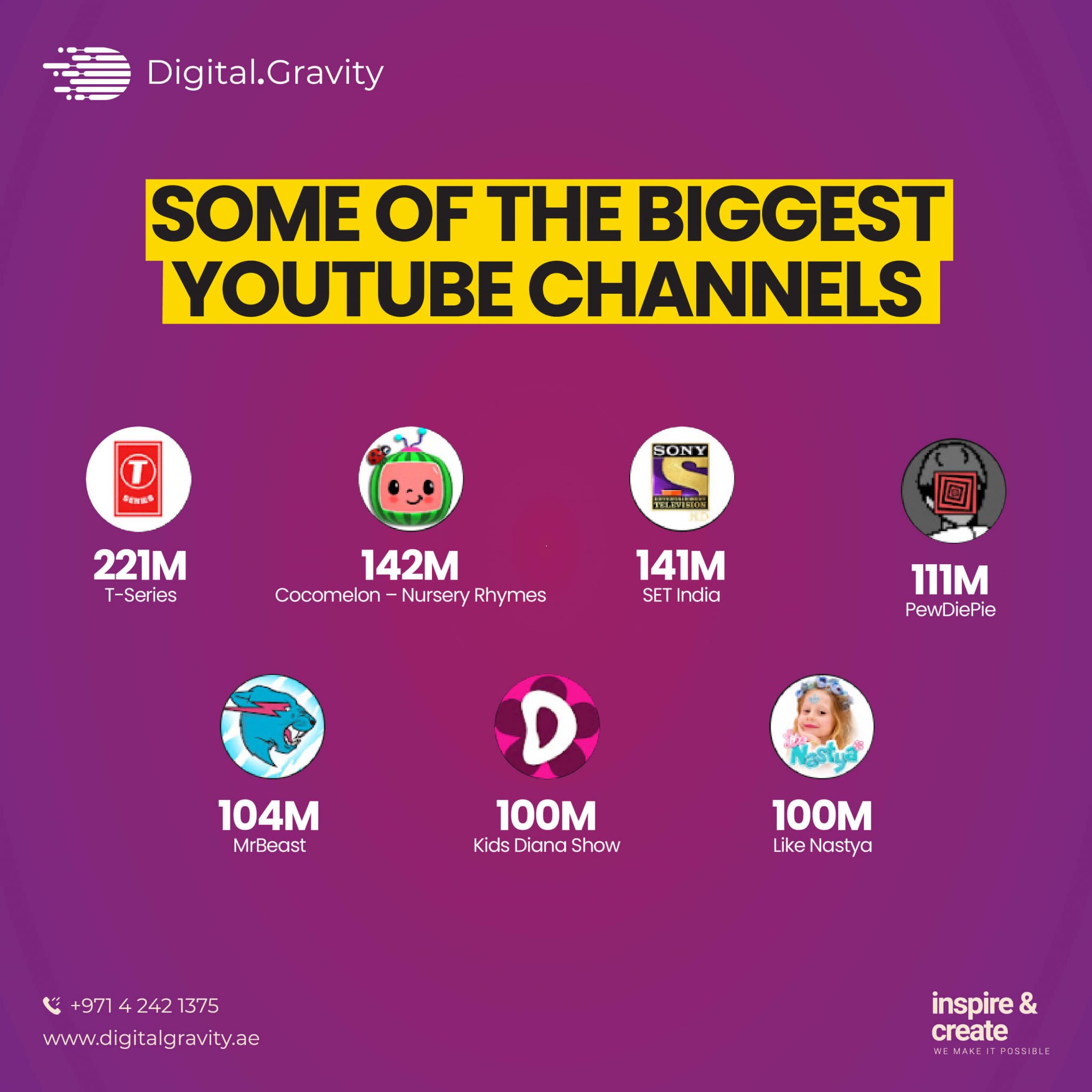 These are the most subscribed YouTube channels today, but these numbers can change in the coming days. The competition on YouTube is never going to end and the best content producers will keep competing against each other. So don't be surprised if the positions of these channels shuffle in the near future.
Top YouTubers' Income in 2022
A lot of new YouTubers see starting a YouTube channel as a get-rich-quick scheme. However, that's not the case. You are up against the best content producers in the world, and it requires a whole lot of diverse skills to outperform them.
After years of consistent hard work and uploading quality video content, the best YouTubers earn a pretty significant amount through YouTube's monetization model.
If you are wondering what's the potential of YouTube, have a look at the estimated earnings in 2021 of the world's most popular YouTubers: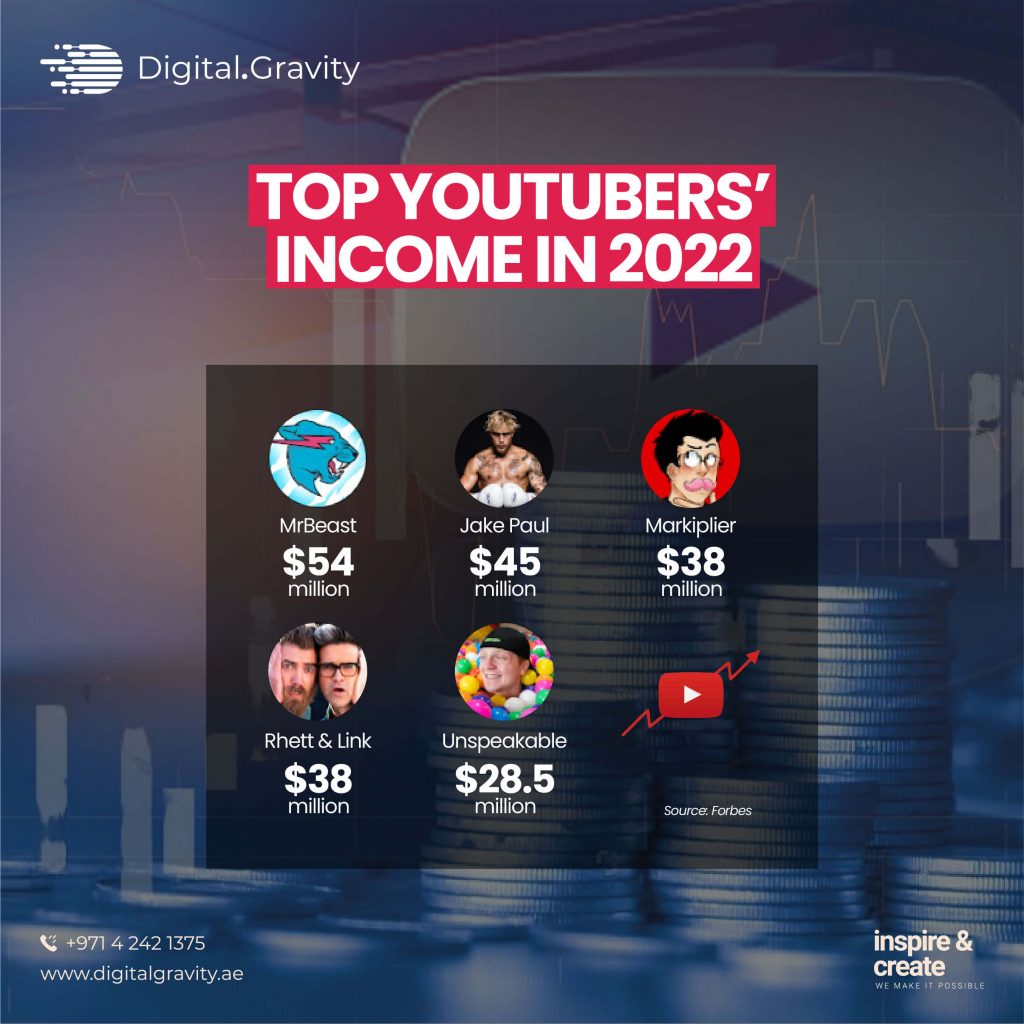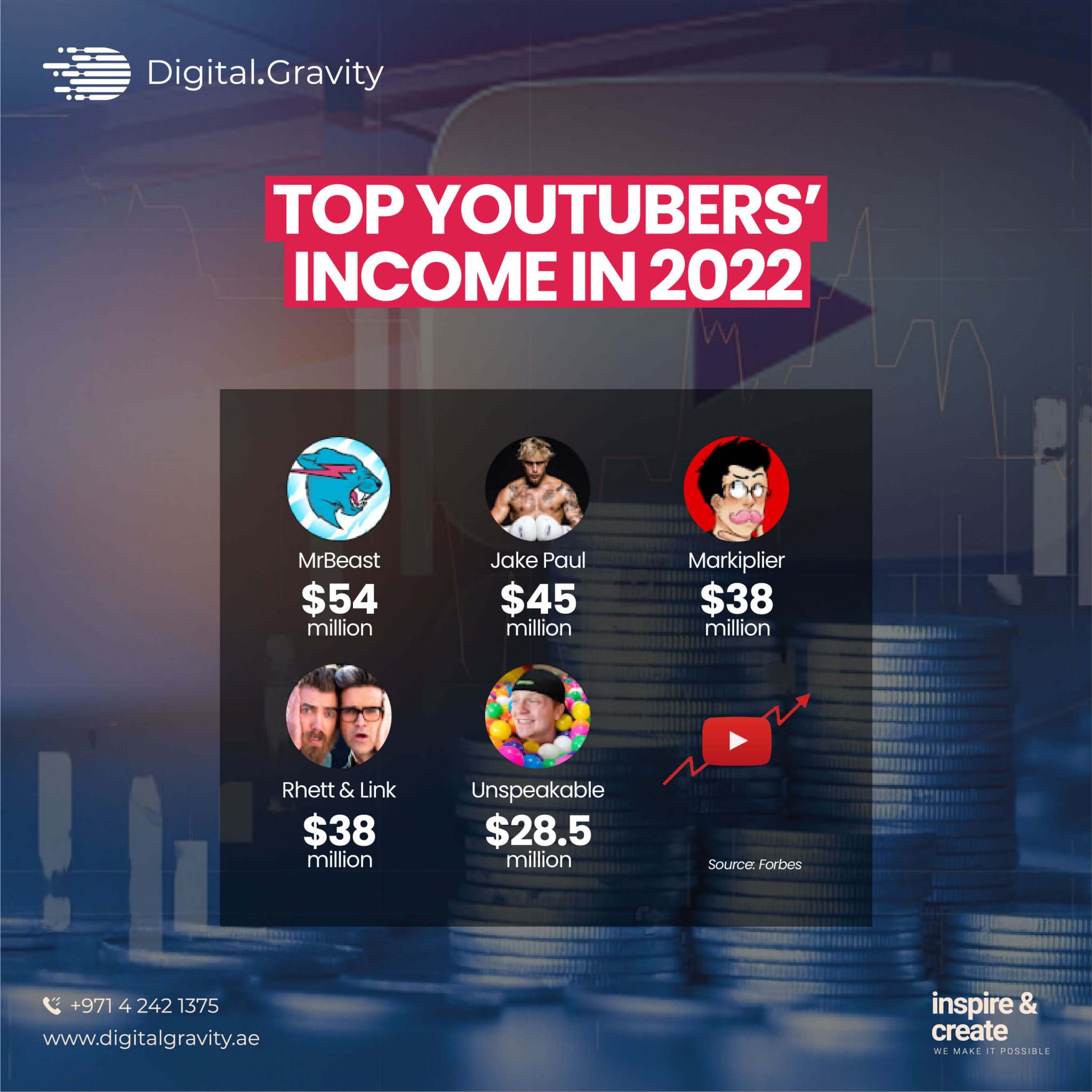 An interesting fact regarding YouTube's monetization model is that the channels with the highest number of subscribers do not always make the most money but the ones with the more views.
When a certain YouTube video goes viral, more people bid to run ads on it. And thus, the revenue is split between the video creator(55%) and YouTube(45%). So the quality of content production should be a creator's top priority, subscribers will increase automatically.
How Many Videos are on YouTube?
As of 2022 data, YouTube has more than 800 million videos from 37 million different channels. Out of these, around 1 billion videos are being watched daily by over 2 billion users. (EarthWeb)
The Most Watched YouTube Video in 2022
Here are some of the most  popular YouTube videos(as of April 2022) based on total global views: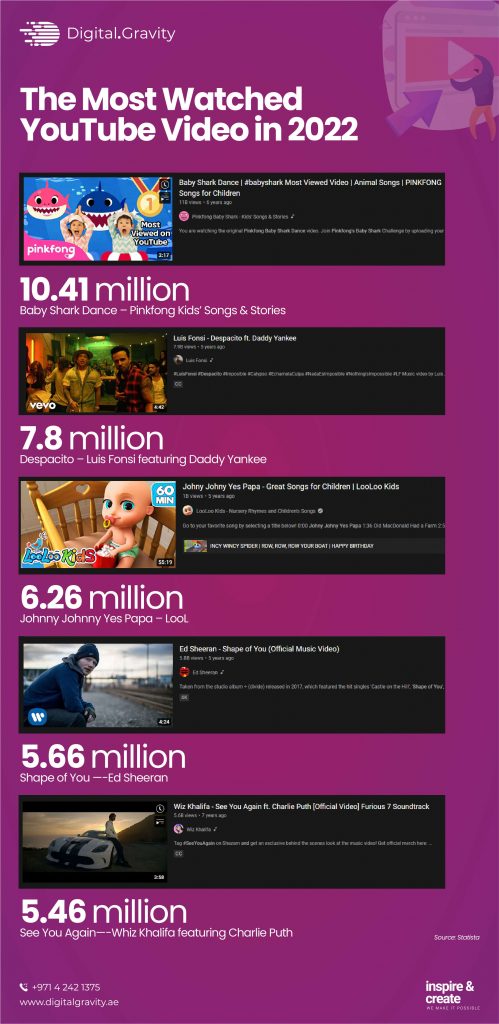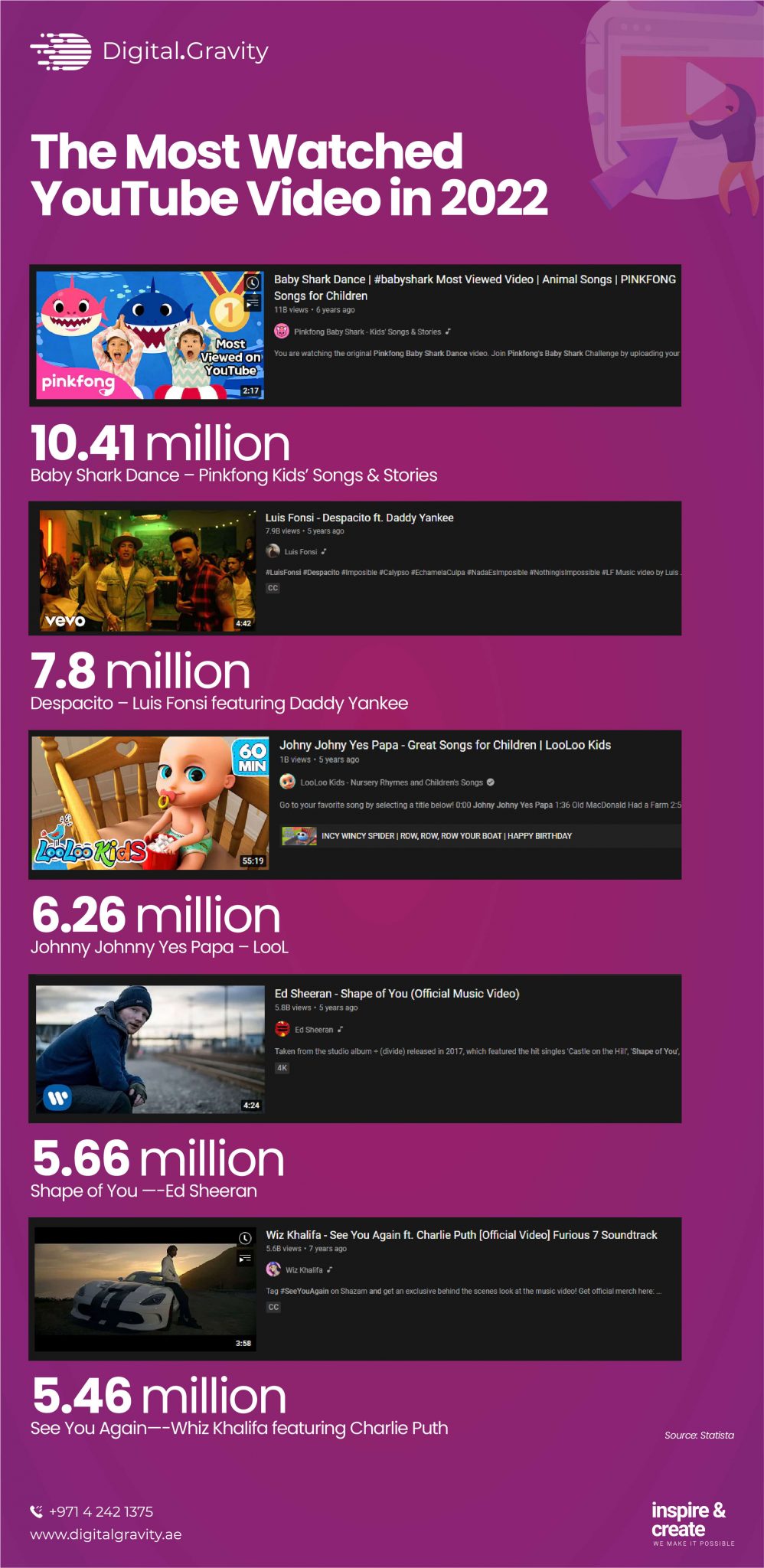 How Many Views on Youtube Needed to Make Money?
A lot of starters ask "How much does YouTube pay," or "When can you start earning from YouTube?"
 To be eligible for YouTube's partner program: 
You need more than 1000 subscribers

You need four thousand valid public watch hours

You should not have active community guidelines strikes on your channel

And you must have an active AdSense account linked to your YouTube account.
 The actual rates an advertiser pays vary between $0.10- $0.30. As your views increase and when your channel meets the above-mentioned criteria, you can monetize your YouTube channel. And once you hit 20,000 views, you will be able to withdraw your first $100. 
You can't withdraw anything less than $100 from your YouTube AdSense monetization.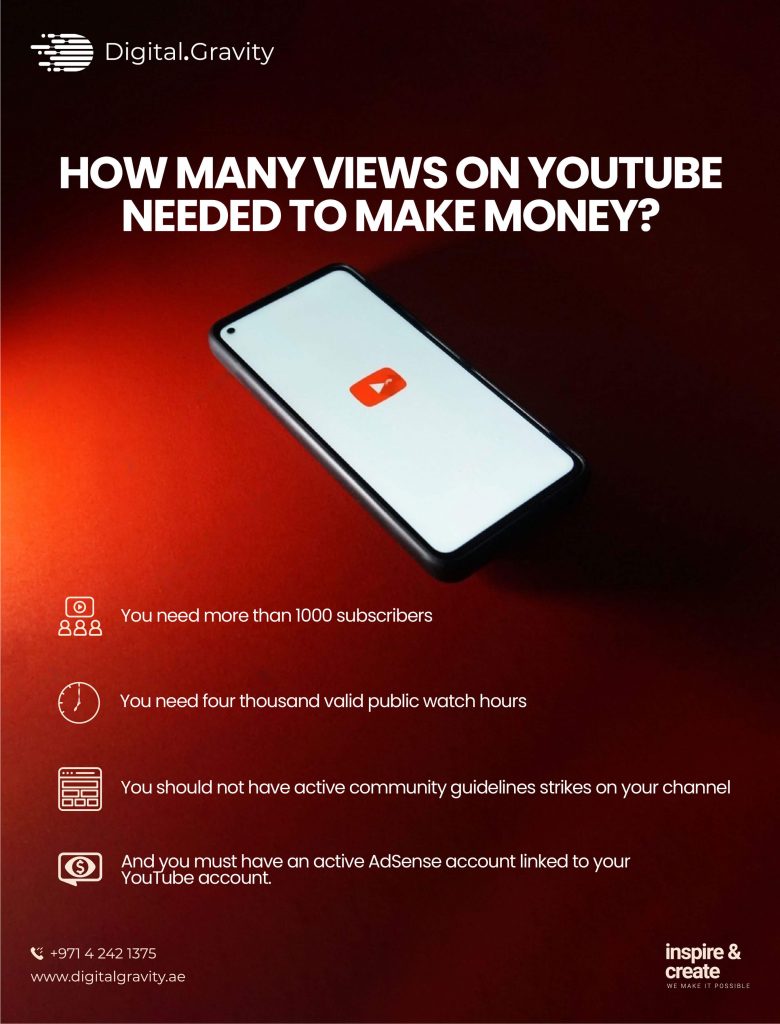 Can You Buy Views on Youtube?
Check out the most viewed video on YouTube and observe the comment section. You will realize that all the views are organic. That's the beauty of the YouTube algorithm, it's so intelligent that the deserving content producers always get the credit and reward.
So buying YouTube views for the sake of monetization—-or to get your channel monetized fast—is not a great strategy. It won't help you in the long run. The wise thing to do is to optimize your videos for higher ranking in the search results against the hot queries.
A YouTube SEO company or a digital marketing agency in Dubai can optimize your YouTube videos and turn them interesting from plain and boring to enhance engagement.
How to Get More YouTube Subscribers?
We have been offering digital marketing, video editing, and content production services in Dubai since 2016. Based on our experience, we are sharing some proven ways to get consistently get genuine subscribers on YouTube:
Be consistent

Always put out original content

Invest in high-quality video editing services

Use impressive, intriguing thumbnails

Hire a YouTube expert to optimize and promote your videos.
Conclusion
YouTube enjoys a fast-growing user base. For online businesses, it's a gold mine. For content creators, it could be a dream side hustle that pays more than the full-time ones. The key is to put the right content in front of your audience. 
If you are looking for a digital marketing agency or social media marketing agency to prepare content for your YouTube channel and generate engagement for your business through it, we have you covered.
Let's have a  chat to discuss your goals and objectives, so we can create a custom strategy for your YouTube channel.
FAQs
What youtuber has the most subscribers in 2023?
T-Series an Indian record label is currently the YouTube channel with the most number of subscribers. The channel boasts a total of 248 million subscribers, beating MrBeast; the channel currently has 181 million subscribers.
Is YouTube social media or not?
Although people might not know it, by definition, YouTube is a social media platform because it provides users with the ability to share their content with people (subscribers and the general public), build and foster communities through regular interactions.
How can you see who subscribed to you on YouTube?
Follow these three simple steps to see who subscribed to you on YouTube:
Log into your YouTube account, click on the profile icon, and go to the YouTube Studio.
Click on the Recent Subscribers panel, then click on See All.
A pop-up window will open, showcasing all of your recent subscribers.
What are top YouTube search trends in 2023?
ASMR was the most searched keyword on YouTube. However, there are other terms as well that created some major buzz on YouTube this year. Some of these include:
Mrbeast
Lofi
Sidemen
Music
NBA
Andrew Tate
Shakira
How many views on YouTube shorts to get paid?
Your account becomes eligible for compensation when it boasts around 1, 000 subscribers and 10 million short views in a period of 90 days.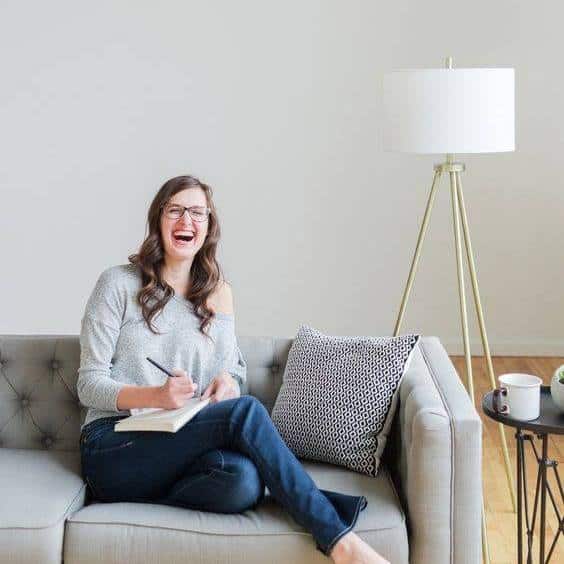 Debora John is a professional digital content creator, SEO and editor having years of experience working for many different industries and recently working in the Digital Marketing department at Digital Gravity. In her free time, She loves to watch movies, read books, and play console games.
- Debora John