There was a time when creating an online store was a big deal. Only an eCommerce website developer could create a store — that too after weeks of design, coding, testing, and improvement.
But not anymore. Platforms like Wix and Shopify website builders have made it convenient for anyone, anywhere in the world to launch his online store within a matter of days. 





All you need is domain and hosting and you are all set to start your eCommerce journey. And you can start building your eCommerce store by simply dragging and dropping the built-in elements and templates.
People entering the eCommerce world for the first time find it hard to choose between Wix and Shopify. Both offer unique features, flexibility, and affordable pricing plans. But if you haven't used one before, you can't decide which one would be more suitable for you.
So in today's article, we are going to discuss the top features of both platforms, their pricing plan, flexibility, and basically every important detail that would assist you in making the right decision.
Wix vs Shopify an Unbiased Comparison
1. Wix's Templates vs Shopify's Themes
Had it not been for built-in themes and templates, designing a Shopify or Wix eCommerce website wouldn't have been this easy. It's due to these built-in elements that you can create a website without writing a single line of code. 
Shopify offers 90+ paid themes for Shopify development. Each of them is modern, sleek, and responsive. Someone who can code a website can also customize those themes as per one's needs. But Shopify themes are not free. Though once you have purchased a theme, you can use it for a lifetime.
On the other hand, over 800 templates on Wix are completely free. These templates, too, can be customized by a web designer and developer. But here's the downside, Wix's templates aren't responsive. You have to rearrange elements manually to display them on smartphones in a certain way.
This is where Shopify themes have an edge over Wix's templates. For a non-technical person, creating a responsive store using Shopify would be much more convenient than making a Wix website responsive.
2. Features
When we talk about the convenience and flexibility of an online store development platform, we refer to the features offered by it. Fortunately, both Shopify and Wix have a plethora of features to create ease for you.
Let's have a look at the features of both before we discuss their shortcomings in this area: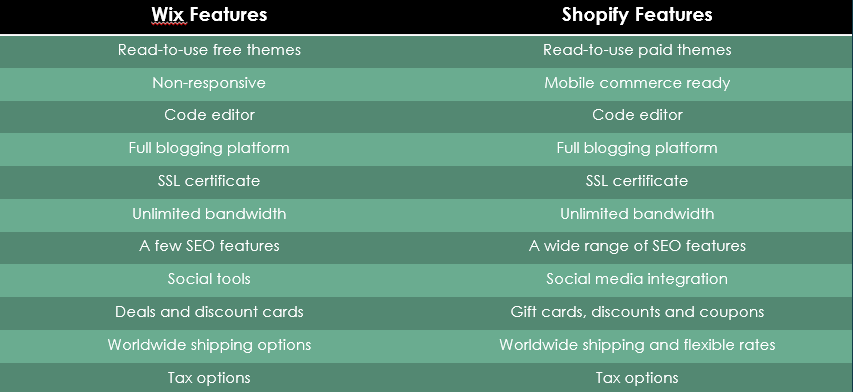 One major disadvantage of Wix is that you can't create a multilingual store using Wix. This is why Shopify always gets an upper hand over Wix in terms of features.
Say you want to start an eCommerce business in multiple regions of the world, you would want your store to be automatically translated into another language based on the visitor's demographics. In this case, Shopify will be your best option to create a multilingual website.
3. Extra Features
Owing to the rapidly growing user base of both Wix and Shopify, the developers behind both have constantly improved the features, security, and performance of both platforms.
In case while creating your Shopify or Wix store you couldn't find the features you were looking for, you can directly access them on the Wix App Market or Shopify App Store.
A small difference between Shopify App Store and Wix App Market is that the latter is more focused on expanding the store. Thus, it provides you with the tools to create landing pages, optimize the blogging experience, label printing, etc.
On the other hand, Shopify App Store lets you enhance the user experience of your eCommerce store by adding cool features like augmented reality product preview, easy video editing, upselling, etc.
4. Tax, Shipping, & Payment Options
Selling online doesn't mean your business would be exempted from all sorts of taxes. Fortunately, Shopify and Wix remove all kinds of headaches from the tax collection and calculation process. On both platforms, you can add any kind of taxes including VAT, State Tax, etc., by choosing a custom tax rate.
As far as the shipping is concerned, Shopify users can control and manage every step of the shipping process and, when they want to, can even waive the shipping cost. 
Wix too gives you various options in this area but it's not ideal for sending products abroad or shipping bulk products at once due to limited shipment options.
And now the biggest concern of all eCommerce companies: the payment gateway integration. Shopify can be integrated with over 100 payment gateways, the most notable of all are Stripe, PayPal, WorldPay, Amazon Pay, and Skrill. 
Shopify also lets customers tip the store owner or donate to charity during the checkout process.
Wix, too, can be integrated with popular payment gateways like PayPal, Square, Stripe, etc. But the payment gateway options in the case of Wix are limited and it will be impossible to operate in a particular country where the few Wix-accepted payment gateways don't work. 
One notable thing about Wix is it doesn't cost you any transaction fee — which both sellers and buyers love. Shopify charges you up to 2.9% for all transactions.
5. Pricing
When comparing Wix vs Shopify for eCommerce, pricing is another important factor. Of course, you'd want to consider your monthly budget to decide which one would be more affordable to you.
Shopify offers you five different plans:
Shopify Lite – costs $9 monthly

Basic Shopify – costs $29 monthly

Shopify – costs $79 monthly

Advanced Shopify – Costs $299 monthly

Shopify Plus – contact for custom price
Shopify costs you a little more than Wix. The minimum you need to create a Shopify store is a Basic Shopify plan which costs $29 per month. (Shopify Lite isn't for product development but only for integration with a Facebook page, a physical store, or adding a Shopify Buy Button to sell through blogs or social media.)
The higher you go in terms of the Shopify plans the more features you will get. Shopify Plus gives you tons of different tools for achieving automation, access to APIs, and options to enhance the workflow process.
On the other hand, Wix is quite cheap. Its pricing plans range from $16 per month to $59 per month (billed annually). For enterprises, Wix offers a custom plan for which you need to contact their support to get a quote.
Both platforms have reasonable prices. Shopify may sound a bit expensive—especially when you think of an advanced plan—but looking at some of its amazing features it feels worth using.
 Wix, on the other hand, is ideal for newcomers to understand the ins and outs of this industry without putting anything significant at stake.
6. Support
And lastly, you expect your store to run smoothly 24/7. A small disruption can cause a significant loss or even a loss of ranking on Google. Fortunately, both Wix and Shopify offer excellent support.
To be precise, Wix customer support is active 12 hours a day between 5 a.m. and 5 p.m. PT. from Monday to Friday. English, Spanish, and Portuguese speakers are part of Wix's support team. Priority support is available for Wix VIP plan customers.
Going a step ahead of its competitors, Shopify offers 24/7 support via chat, email, and phone. More often than not, you can resolve small queries from their featured guides, FAQs, and tutorials. Also, the support is equal for all paid customers irrespective of their plan.
Summary
Have you reached your verdict? We have. When it comes to Wix vs Shopify for eCommerce, the winner is Shopify. From automation to more shipment options and integration with a wide range of payment gateways make Shopify the number one eCommerce platform in the UAE and all over the world.
But that doesn't mean Wix isn't good. If you are just starting out and want to experiment with eCommerce in Dubai, there's no harm in starting with Wix. In the end, the choice is yours.
Consider your target market, your product, your expectations, and the size of your store to make the right choice.
Need consultation before you kick-start your Shopify journey? Drop us an email and the UAE's leading Shopify experts will reach out to you to answer all your queries!