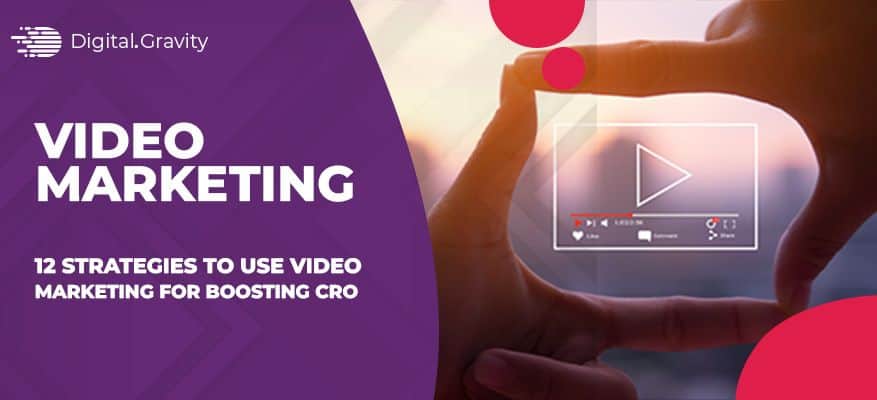 "Video allows us to tell the great stories of our customers rather than our own. Great marketing starts with great stories. Be unique, inspire and connect" – By Bo Dietrick.
Everyone uses video marketing, but only some get the best results. Strategies make all the difference. Video marketing without an optimized conversion rate is like a vehicle without wheels-it won't take you anywhere.
You invest enough money, time, and energy in crafting and running video marketing campaigns, so they must get you enough conversions that pay off what you poured in.
It takes us to the topic of our blog. It contains the strategies our video marketers use to optimize our conversion rates.
Enjoy!
What is Video Marketing?
Video marketing is a marketing method that uses videos to promote a brand or its products/services. Businesses can post these videos on several platforms, including their websites, social media channels, etc.
As people's attention span is about 8 seconds these days, it's natural they prefer videos over written content.
Videos engage far better than text with visuals and colors. Plus, our brains process visual information a lot faster than written information. In 2017, about 74% of the total visitors to the internet watched videos.
Why is Conversion Rate Optimization Crucial?
Conversion rate optimization focuses on boosting the visitors' percentage who convert to a site or landing page. Videos marketing is an efficient method to interact with a consumer's senses and direct them through the buyer journey.
Producing successful audio-visual content demands a thorough understanding of the goods, services, and ideal customers. An engaging combination of videos provided at several touchpoints can prove as a working tactic to enhance the conversion rate.
Let's discuss how marketers can create a successful video marketing plan and elevate the conversion rate for their brand.
How Can Brands Make A Video Marketing Strategy That Boosts Their CRO?
Do you know that an average user in the world spends about 84 minutes daily watching videos? If your target audience consists of millennials, you should leverage video as a marketing tool, as 14.9% of millennials spend 10 to 20 hours every week consuming video content.
Businesses need to use video marketing in a way that helps them stay ahead of their competitors. You need to plan your campaigns strategically and run them to guarantee improved conversion rates.
Let's look at some examples:
Examples of Video Marketing Campaigns
1- Under Armour
It is an athletic sports company endorsed by American actor Dwayne         Johnson since 2016. They have created a remarkable video for their ad campaign called "Will Finds A Way."
"Rock" Johnson narrates stories of multiple inspiring athletes and his own. He ends the video by asking an open-ended question to viewers. The video appreciates commitment, effort, and perseverance as it features men and women who give it all to fulfill their dreams. This video is an outstanding instance of storytelling that hits audiences' hearts directly.
2- Reebok
This video marketing campaign urges us to honor the bodies we are blessed with and celebrate our finite time on this planet. The remarkable thing is the absence of dialogue or talking in the content.
We only see people running with numbers shown behind them. The video explains in the end that an average human lives for 25,915 days and gives a CTA button that says "calculate your days."
Reebok gave a powerful message without saying anything that we should fully enjoy our lives on earth. The video went viral because it stimulates urgency in watchers more positively than other ad campaigns.
3- Coca Cola
They ran a video campaign that got 32 million views. The reason was its heart-warming message that made us sad at first but spread a smile on our faces when we saw the positive ending of the video.
It shows people who do the hardest work at the happiest time of the year — Christmas. The video features grocery baggers, gift wrappers, and waiters serving people enjoying laughter and love with and for their families.
Coca-Cola surprised those laborers by giving them surprise gifts, or food in the end. This campaign let common people know how the festive season can be a time of more labor for others.
Coca-Cola's marketing team managed to evoke compassionate feelings in the viewers, fostering a human bond between them. This positive and generous image of their brand can help grow any business which is the aim of any marketing campaign.
4- Dove
Women are known to think weird things about their physical appearance. They mostly don't appreciate their unique beauty that others can see. As most of Dove's target audiences are women, they dedicated a video campaign to this notion.
The video featured many women who were asked to explain their facial features and hair to a forensic artist who sketched them without seeing them. Then, he sketched their faces again when other people in the group explained those women's facial features.
The result changed the perceptions of these ladies about their physical beauty. This video touched a string in the women viewers' hearts which compelled them to share it with other women.
The campaign got 69 million views as it reminds people that we are often too harsh on us. This video is a great example of how content that stimulates the tender aspects of our personality gets more shares than humorous and light-hearted content.
12 Strategies to Leverage Video Marketing for Increasing CRO
1- Engage Viewers from the Get-Go
You have only 30 seconds to engage people on your video, or they skip your content. If you can achieve the feat in 15 seconds, even better.
So, how do you ensure viewers couldn't scroll past your video once it starts?
Start with an irresistible intro, which can be a promise about what viewers will get from this video. The trick is to make a stellar first impression by invoking a relevant emotion in the first 30 seconds to boost curiosity.
Secondly, craft a short, sweet, and concise title to hook people and a brand-specific, great thumbnail.
2- Address Your Audience Directly
You need to maintain a personal connection with your viewers by empathizing with them. It is the key to gaining their trust. It's better to ask the actor to look straight into the camera if it fits your video's context.
Remember people don't engage with your logo, slogan, or other brand elements as much as they can connect with a human. The spokesperson in the video is the face of your brand for your viewers.
If you or someone else on your team can play that part, well and good, otherwise, you can hire them. The spokesperson can be multiple people as per your needs.
3- Stick to A Video Content Calendar
Creating videos randomly at your comfort will not suit it in this age of information overload. People have a lot to see, so they can easily skip out on your video.
Most marketers follow a set posting schedule which has made viewers used to regular content. At our company, we create video marketing campaigns instead of creating exclusive videos.
Our video marketers are creative people who narrate long stories in chunks of videos, publishing each week. It keeps people's interest high in what we have to say.
You can also create many mini videos before coming up with a big product launch video or thrilling announcement.
4- Anecdotes Engage People
Converting more of your visitors is every marketer's dream, but you won't cut it by just introducing your brand, vision, and goods in your video content. Instead, you need to weave a story around your company to tell why customers should buy from you rather than your competitors.
There are many ways to use storytelling. You can describe how your business influences its customers or how you are making a difference in society. If you can, create a story that can keep your viewers on the edge of their seats so that they reach your CTA in the end. It increases their chances of converting.
5- Search Engine Optimization is The Life and Blood of Your Content
SEO is important for any business that doesn't have all the money in the world to keep investing in advertising — which technically means everyone. Otherwise, your business will not see the fast growth you deserve.
Google ranks pages higher when they contain a video as it knows users prefer video content over text. People tend to stay longer on pages with videos.
Take time to conduct proper keyword research for your video SEO. Learn YouTube SEO if you post videos there. It can make all the difference.
Stay away from clickbait video titles if the content doesn't deliver that promise. Sprinkle relevant keywords in your video descriptions and titles. And don't forget to add 10 to 12 hashtags.
6- Select The Right Thumbnail Image
Design an engaging thumbnail that resonates with your audience. You can add text, use a smiling person's face, or anything else that can make a positive impression on your ideal customers.
YouTube will create a thumbnail automatically for your video if you don't make one. It essentially means letting someone (YouTube) who doesn't know anything about your brand or products craft the face of your business. It will not work as well for your marketing as a customized thumbnail can do.
7- Call Viewers to Take Action
Call to action is an integral part of marketing content. Tell people at the end of your video that you want them to visit your site or follow you on social media.
People may like your content a lot, but they won't get to know by themselves what you want them to do. Don't waste time and money on content without a CTA. CTAs can start conversations no other aspect can probably do.
8- Consider How Your Customers Watch Videos
You should know how many visitors of your video are converting whether it is a sale, form fill, or anything else for you. Use analytics tools to calculate your conversion rate to know what tweaks your videos might need.
Google Analytics and YouTube Analytics are boon for small businesses who might not want to invest in paid analytics tools. Notice who watches your videos, more males or females? Age groups? Watch time? Countries they are viewing from etc. If your audience is global, you can add captions to your content.
9- Show Your Personality
Your videos reflect your company's values. Customers don't want to view monotonous videos. People love interactive videos which show your brand persona.
What is your business's distinguishing quality? Find that and highlight it in your content. Your videos should work as ambassadors for your brand otherwise you are wasting time and money on them.
10- Add User-Generated Content
Would you like a video of yourself or someone else like yourself doing the talking? We all love to be the stars. And this is why customer-generated content is so successful.
Urge your target audience to shoot themselves while benefitting from your products, then publish those videos on your website and social media accounts.
These videos have a higher chance of getting shared than videos shot by your team members who are not users of your product.
When your customers share those videos on their socials, your brand will get shown in the newsfeeds of all the people who are friends with them.
11- Optimize Videos with SEO Content
Google indexes Youtube videos which means your content can pop up several times in the same search when a user searches for a specific keyword and your brand.
Your job is to toss your key phrases in your video descriptions to optimze your videos. Also, include shortened URLs with CTAs that urge users to visit your site or landing page with a particular offer.
Pro Tip: Youtube's tagging feature ascertains the relevance of your videos and categorizes similar videos together. Benefit from it to help your video show up as a "related video" when people watch similar content.
12- Analyze Performance
The key to creating effective video marketing campaigns is to figure out and analyze the success of your video marketing tactics. Various video hosting websites offer analytics tools and can provide you with insights into how your videos are doing.
Brands can use these analytics to assess metrics like the number of people who played a video and the number of times a video is played.
Plus, marketers can integrate their videos on their websites and track the outcomes with Google Analytics. It will allow them to get a similar idea about their videos as all of the other content on the website.
Final Word
Businesses are increasingly leveraging the power of video marketing as social media and e-commerce rise. Video marketing helps improve the customer experience by offering them more engaging and digestible content instead of log walls of text that most people only skim and don't read.
So, what are you waiting for? Come together with a trusted video marketing company like Digital Gravity to take your marketing game to the next level!