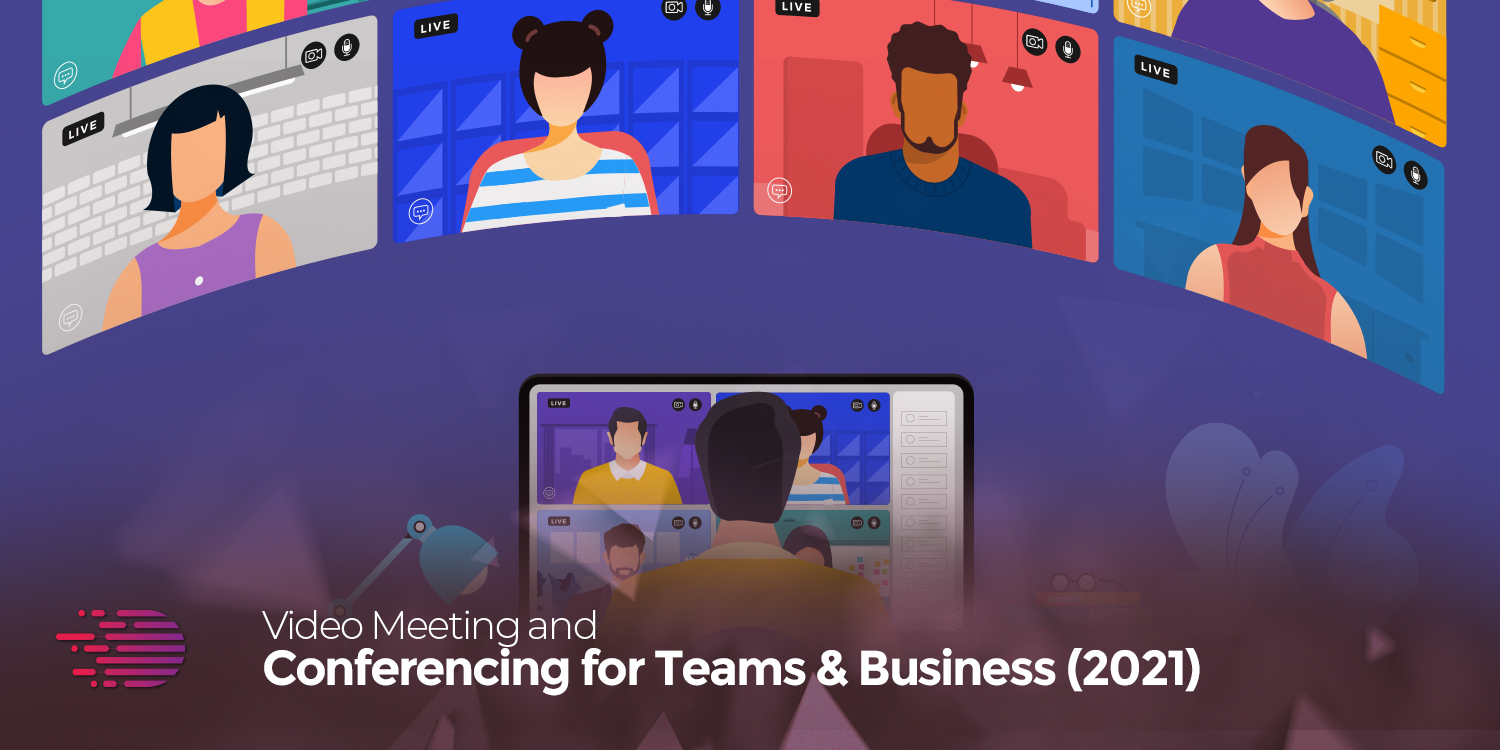 Considering the pandemic and the safety precautions that businesses are taking for their employees, many companies have implemented the work-from-home policy. Although such a situation makes it impossible for employees to work in the same place physically, it is still possible for them to be in constant communication in order to make decisions together and work on documents through video conferencing software and applications. This increases the demands of video meeting platforms for businesses, which enables and simplifies the exchange of information and the joint editing of files over a distance. These tools also hold great significance for organizations which work on an international level. According to a report in 2019, 31% of respondents to a survey work remotely for their companies.
Most Prominent Features of Video Meeting Tools
Different software providers offer different features. Some video conferencing software is browser-based and requires neither installation nor login for the participants, while other tools are part of a program package, which require to be downloaded. Some of the most common features of such tools are screen sharing, video recording, adding multiple participants, and chat window.
Choosing A Video Meeting Platform for Your Business
You should consider your requirements before purchasing or integrating a video meeting platform in your company's operations. Would you like to use the tool to maintain communication with employees located at different geographical locations? Or do you want to create a communication platform for detailed discussions with customers? Furthermore, you should pay attention to the range of functions of these tools, which include:
High definition or low-resolution video quality,

Maximum number of potential participants,

Function to split the screen,

Screen sharing option,

Possibility of collaborative work on documents,

Data encryption, and

Price and contract requirements.
Best Video Meeting Platforms for Businesses in 2021
 GoToMeeting
GoToMeeting is one of the most popular platforms for video conferencing with the high-definition video quality. Depending on the subscription, up to 3,000 people can join a meeting at the same time from different geographical location. In addition, Office 365 and Google Calendar can be integrated directly into GoToMeeting as add-ons.
 Google Hangouts
Google Hangouts is part of G-Suite. The tool offers the functionalities of video calling, voice calling, screen sharing, text messaging and voice messaging. Up to 25 participants can connect through this platform using both mobile phones and desktop computer. Every call member can share their screen, which is a great advantage in a work context. Moreover, the tool is free to use.
 Zoom
The big advantage of the popular video conference solution Zoom is the meeting time can be synchronized with your phone's calendar. Video meetings can be recorded both in the devices and on the cloud. Moreover, the screens of several meeting participants can be shared at the same time, which makes collaboration in teams even more flexible. To allow that, the meeting host must allow other users to use this feature. By April 2020, Zoom had over 300 million daily meeting participants.
You can also easily connect to this tool through smartphones, tablets and desktop computers. The software application allows users to comment via Zoom Chat, choose virtual backgrounds, collect thoughts on a whiteboard and share files. Zoom is free for regular use, however, for additional features, one may look for affordable packages that this service provider offers.
Microsoft Teams
Microsoft Teams is part of Office 365. The tool enables digital collaboration in the form of audio and video meetings with the capacity of up to 250 participants. However, for web conferences, the limit exceeds 10,000 participants. In addition to video conferencing, Teams offers extensive functions for virtual collaboration, including the integration of Office 365.
The service can be used free of charge. However, for more functions, such as e-mail hosting and 1 TB OneDrive cloud storage per user, the monthly subscription prices range between $5 to $20 as of 2021.
Adobe Connect Meetings
Adobe Connect Meetings is ideal for business meetings as it allows users to design virtual meeting rooms according to their own needs. The tool also offers the feature of uploading files, adding comments and choosing layouts. One of the most popular features of this application is that the host can hide attendees.
Pricing of Adobe Connect Meetings for up to 3 participants, the tool is free. For 25 participants, the expected cost to be paid by a host is $50 per month. The cost rises to $130 per month for 100-1500 participants. These prices are subject to change. 
Skype
You can also hold video conferences on Skype in addition to one-on-one video chats. Up to 50 people can take part in a free group video call via PC, tablet or smartphone. The tool is available for Windows, macOS, Linux, Android and iOS, and thus covers all major operating systems.
You can also take part in video conferences using your telephone number. The audio and video quality, however, is the biggest drawback of Skype. If there are three or more participants in a call, the quality drops sharply. Skype is free and all you need for it is a Microsoft account.
In conclusion, a number of platforms are available for businesses for video meeting and conferencing. Many of these platforms offer a variety of features, along with the possibility to integrate Office 365 tools. Most of these tools come with both free and paid versions and allow users to use them both through smartphones and desktop computers.

We are a digital agency has experience working with top notch clients. We provide web designs, web application, mobile application and all digital marketing services. We work with individual clients and also agencies.
- admin