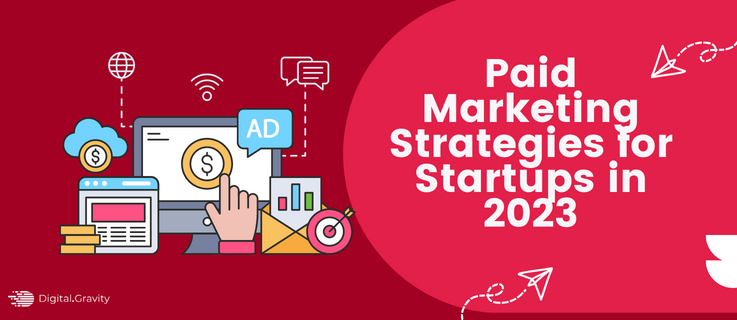 Everybody is talking about start-ups in 2023. But statistics tell us 90% of the start-ups fail. This is such a staggering rate of failure that many abandon product/service ideas because they can't afford to take risks when the chances of success are so slim.
Yet, there's a glimmer of hope for those who know how to market a business. Or those who have a digital marketing agency to assist them with all their paid marketing needs. Digital Gravity is one of them!
Trying out paid marketing after launching a start-up can be an anxious task. You may have no idea how much to spend and where. That's what today's blog post is all about.
By the end of reading this post, you will know what is paid marketing, what are the types of paid marketing, and how you can scale up your start-up with it.
But let's first understand the major types of paid marketing.
What are the Types of Paid Marketing?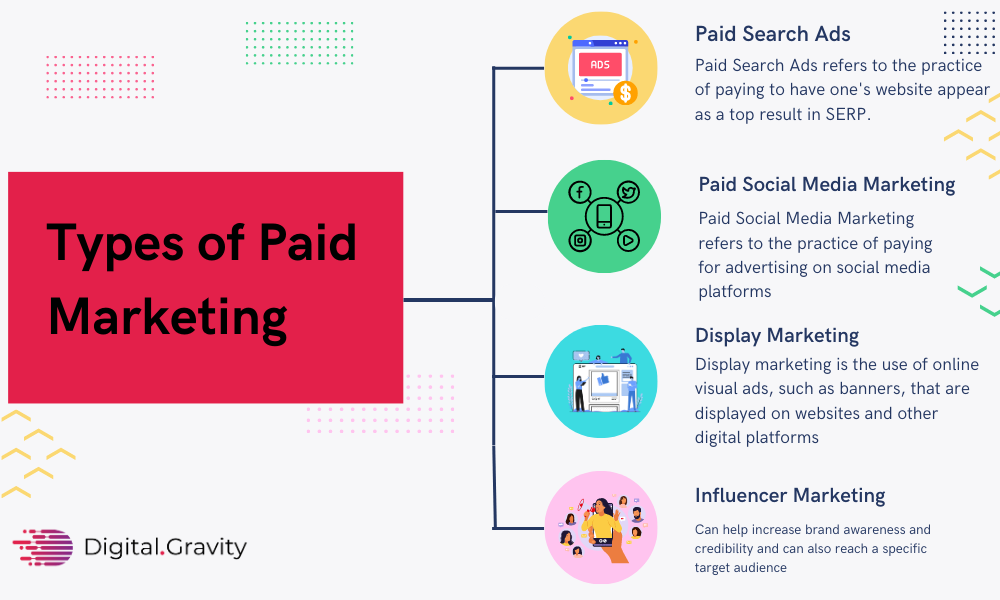 There are four major ways to go about paid marketing. Let's discuss them.
1.Paid search ads
Also known as pay-per-click, this is probably the most expensive way to market your business on a search engine. Through PPC, you can display your ads against certain search queries to drive traffic to your website and boost awareness about your start-up. Paid advertising returns $2 for every $1 spent. For businesses seeking a quick ROI, paid advertisement offers lots of opportunities to accomplish this goal.
2.Paid social media marketing
If you partner up with dependable paid marketing services for paid marketing management, paid social media marketing can do wonders for your start-ups. Particularly Facebook ads. Irrespective of who your target audience is, you can find them on social media with ease.
3.Display marketing
Display marketing is another popular way to display your business ads on websites by paying some cash to website owners or to Google itself. These ads can be in the form of  images, videos, animations, text links, and moving images.
4.Influencer marketing
Imagine a popular athlete, activist, or an artist endorsing your start-up. Millions of people will flock to your website. That's the power of influencer marketing. Whether you are into the B2B industry or B2C, you can leverage influencer marketing to build brand credibility and generate revenue for your business.
How to Plan a Paid Campaign for Your Startup?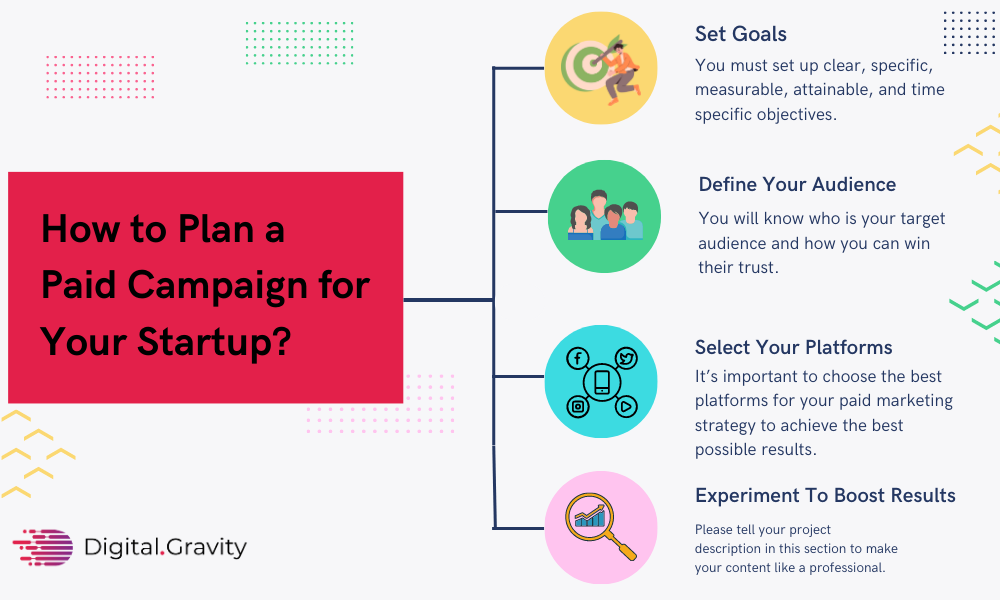 So, you must be wondering how to plan a paid campaign for your start-up. Our paid marketing experts have dropped down some valuable tips for you.
1.Set goals
To be able to evaluate the performance of your campaign, you must set up clear, specific, measurable, attainable, and time specific objectives. Like what do you want to achieve in the next few months with a paid campaign and how will you measure your success? Accordingly, you will move forward with the strategy.
2.Define your audience
You shouldn't be creating a product or solutions that are already available. Either you should come up with a unique USP for your product or service, or create a product or introduce service to fill a vacant spot in another market. By doing so, you will know who is your target audience and how you can win their trust.
3.Select your platforms
Start-ups usually have a smaller budget for a paid marketing funnel. So it's important to choose the best platforms for your paid marketing strategy to achieve the best possible results. If you can't afford Google Ads, go with paid Facebook ads. Even if that sounds a bit expensive, boost your organic posts on social media. In a nutshell, spend your paid marketing budget wisely.
4.Experiment to boost results
There are different types of paid marketing. And it's almost impossible to get all of them right at the first attempt. You will make mistakes, lose a few bucks by showing ads to the wrong people or not having a compelling message to persuade your prospect. It's completely OK. However, it's important not to repeat the same mistakes over and over again.
Need Help with Paid Marketing?
Are you a start-up in the UAE looking for a paid marketing agency or a digital marketing agency to carve out an effective marketing plan for you? We have you covered. When it comes to paid marketing service or PPC service in Dubai, Digital Gravity is the choice of the region's most ambitious brands.
Having created hundreds of paid and organic marketing campaigns for a wide range of businesses, we know what works and what brings in guaranteed revenue for small and big start-ups.
Get in touch today to learn how we scale start-up in Dubai.
FAQs
What are paid marketing examples?
Some of the common examples of paid marketing are:
Pay-Per-Click (PPC)
Programmatic advertising
Google Display
Facebook Ad
Twitter Ads
LinkedIn Ads
How do I start paid marketing?
Find a PPC campaign management agency in Dubai and share your requirements with them. A professional PPC agency will propose a comprehensive paid marketing plan for the growth of your start-up.
Which is better: SEO vs SEM vs SMM?
It all comes down to your budget and objectives. Generally, by focusing on one area on a consistent basis you can reap great rewards —- given that you have partnered up with a professional digital marketing agency.
Why is paid marketing important?
Paid marketing helps you get your start-up noticed in the beginning and establish your feet by getting clients and enrosements after the launch of your start-up.
How much will a PPC agency Dubai charge for managing Google Ads campaign?
If you hire a reputed agency for paid marketing through Google, you will be paying between AED 3000 to AED 10,000 for the Google Ads services depending on the support you require and results you expect.