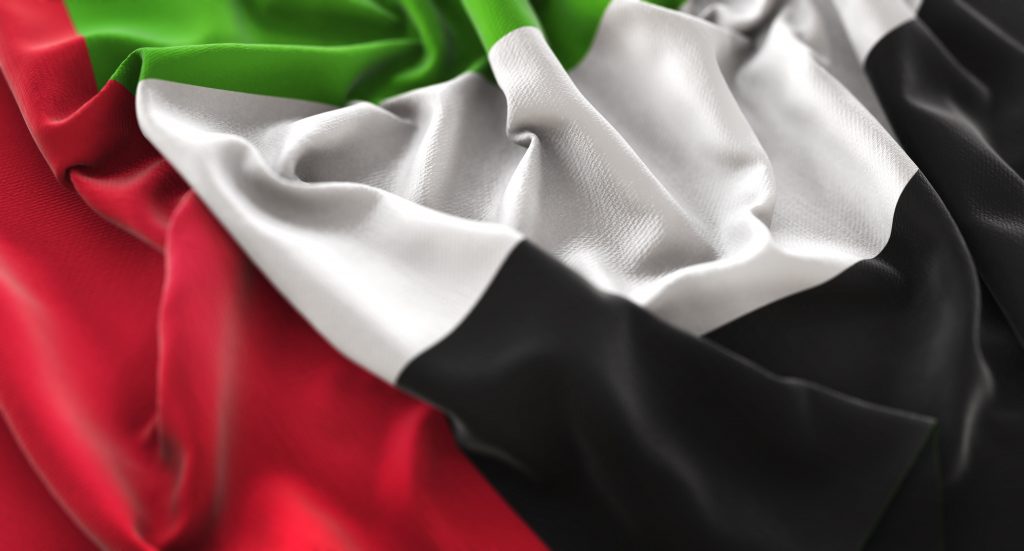 Connecting Minds, Creating the Future
"In today's highly interconnected world, a renewed vision of progress and development based on shared purpose and commitment is key. While a married human mind, an individual country, or a specific community is both unique and remarkable, it is by working collaboratively that we truly advance."; says Sheikh Mohammed bin Rashid Al Maktoum, Vice President of the United Arab Emirates.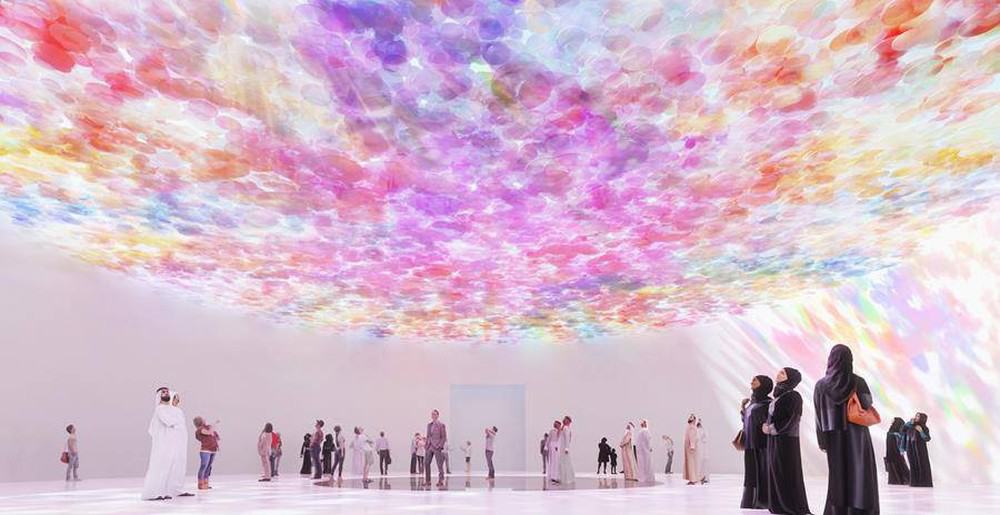 The Expo 2020 is one of the most anticipated events being a World Expo to be hosted in the city of Dubai, UAE. Being the largest event and once-in-a-lifetime celebration ever to happen in the Arab world, more than 190 countries vouched to participate, drawing millions of visitors from all across the globe. 
The ruler of Dubai, none other than Sheikh Mohammed bin Rashid Al Maktoum promised imminent success of the expo and expressed his faith to make it a lasting legacy for the entire Arab World. From innovation and architecture to relentless friendships and future corporate opportunities, the Expo 2020 would cover it all and a lot more, benefitting generations to come.
Key Parameters
Creativity, brilliance, achievement and evolution of humans ever since the dawn of modern technology will be recognised and cherished in the expo. It'll open new opportunities for people to connect, share ideas, make a lasting impact and experience the best of science and technology, culture and art, geography, invention and innovation, and a lot more than anticipated.
Starting from October 20th, 2020; Dubai Expo 2020 will last for a maximum of six months and is supposed to wind up in April 2021. The total area of the event covers more or less 1083-acres that is 4.38 square kilometres, located in the Dubai South district. The master construction blueprint has been designed by some of the most radical and genius minds at the American organisation HOK.
Origin & Evolution
History has proven that the UAE is fully capable to stun the world with its ultramodern, exceptionally creative and remarkable development projects. Entitled as one of the world's most futuristic cities having iconic developments, no wonder Dubai is selected to host the biggest global event ever.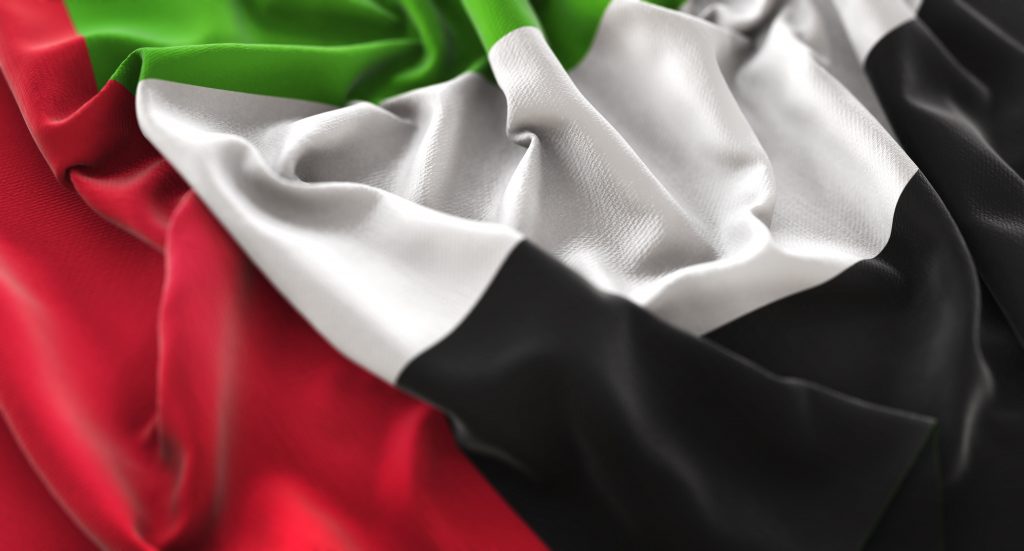 It was on November 27th, 2013 when the announcement was made followed by nationwide celebration and breath-taking fireworks erupted from Burj Khalifa. In fact, the UAE's government declared it a national holiday for all education institutions. 
Addressing the nation and the world, the Vice President, UAE confidently claimed that Dubai is all set to "Astonish the World". And now that we're only a couple of months away from the big moment, all the preparations and outcome of the event are expected to open more than two-million new employment opportunities in the UAE, more or less $50 billion into economy and further boost of visitors from all over the world to nearly a 100-million.
The Best Country Pavilions at Expo 2020 Dubai
The Expo 2020 Dubai pavilions are aligned with key themes of the event i.e. opportunity, mobility and sustainability. 
Australia
Australia's pavilion reflects mobility and inspiration for the design comes from the cumulus cloud shape; a common sight in Australia. The theme is titled 'Blue Sky Dreaming' where visitors will be able to discover more about Australian astronomy highlighting the spirit of hopefulness, novelty and diversity. In addition, the top floor has been created to encourage people to work together for a crisis-free world. The pavilion also boasts smart water-saving technology.
Azerbaijan
The Azerbaijan pavilion features a 'green' design with a unique leaf-shaped roof that echoes its theme that is sustainability. The design is a collection of green technology like solar power, natural ventilation and rainwater harvesting tech. Spread across 1,300 square metres, it has gardens and walkways allowing visitors to reflect on their own impact on the world and how each of their choices for a better Earth can make a difference.
Singapore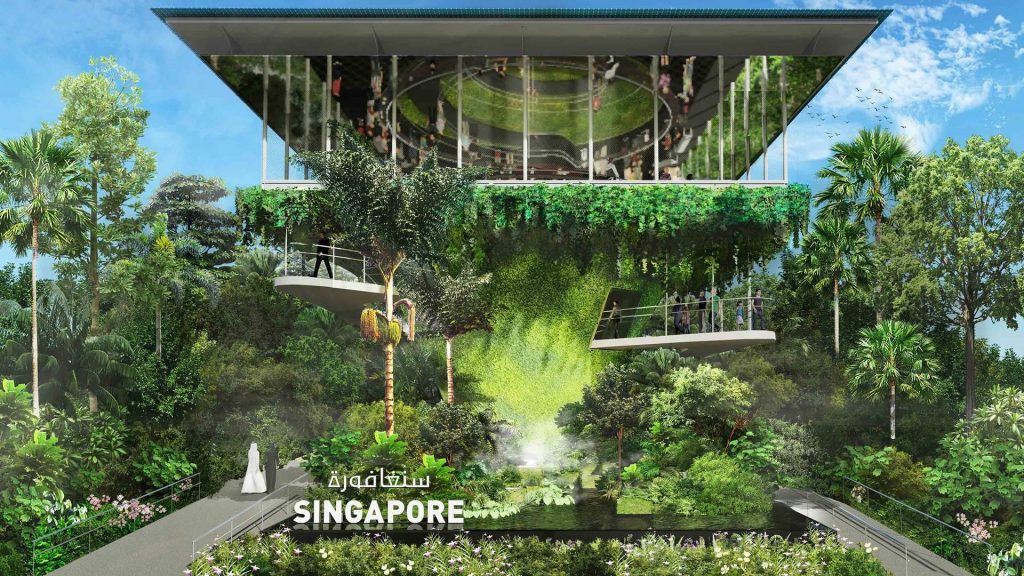 Yet another top Expo 2020 pavilion having its focus on a sustainable Earth! It features a zero-energy rainforest, powered by a self-sustaining ecosystem. The synergy between nature and architecture found at Singapore pavilion demonstrates the essence of innovation when it comes to sustainability. Visitors here can experience immersive 3D that explores the resilience of mankind in the era of disruptive climate change. The pavilion also tells the story of Singapore, through various interactive exhibits, events and culinary.
United Kingdom
The UK pavilion has its theme that reflects opportunity and how humans can innovate for a better future. The pavilion's exterior features a rhyme that continuously changes and evolve, generated by Artificial Intelligence (AI) and the contribution of visitors. Visitors will have a glimpse at several future innovations like AI, commercialisation of space and much more. For more on the UK pavilion, visit the video URL here.
New Zealand
Another of the top Expo 2020 pavilions is from New Zealand pavilion at the Expo 2020 is also designed around sustainability and connects visitors with nature. The pavilion also illustrates waka taonga: the Maori tradition of handcrafted containers used to protect valuable items. Visitors are also introduced to the essential New Zealand values of caring for the world.
Belgium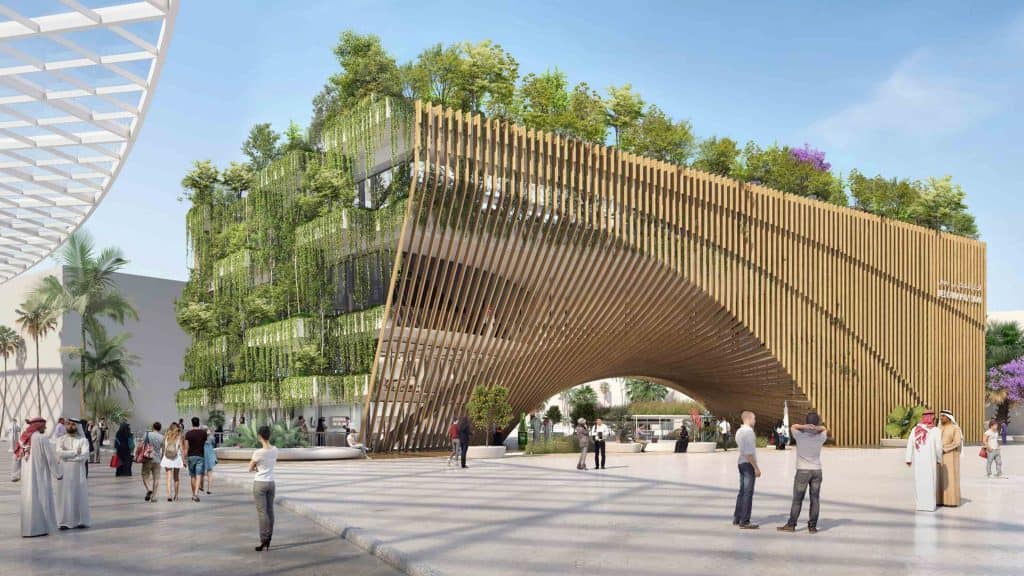 Belgium's pavilion explores mobility and seriously reflects on the theme by actually producing double the energy than it consumes. Recognised as the 'green ark', the pavilion shows how Belgium strives to be smarter and greener for the future, fuelled by renewable energy and deployment of smart technology which feeds its 10,000 plants. Here's more on Belgium pavilion in Expo 2020.
Republic of Korea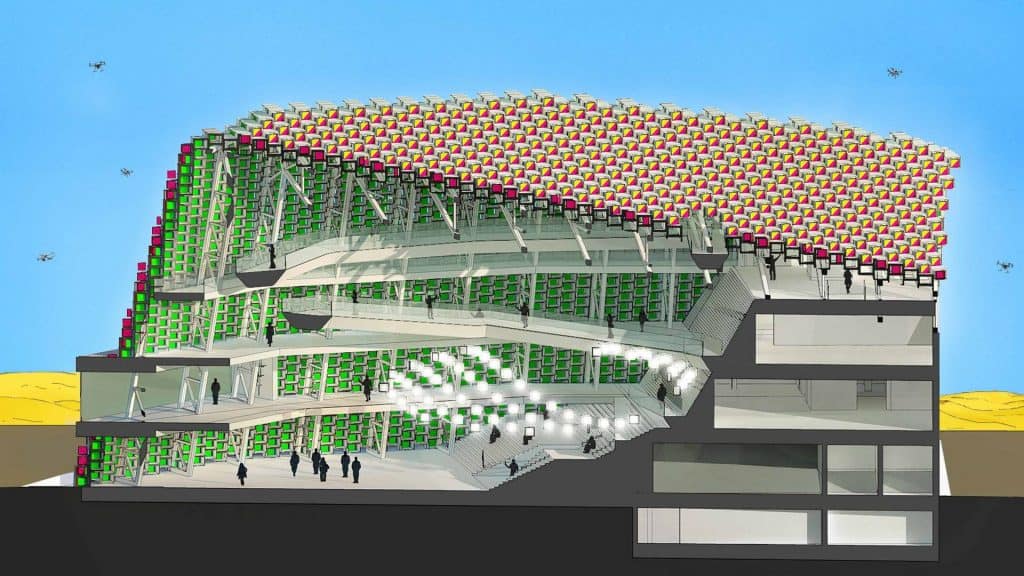 The Republic of Korea pavilion has its theme around mobility, featuring a façade or front that changes all through the day which means every visitor will have a different experience depending on their time of visit. Idea reflects to 'Smart Korea, Moving the World to You' and visitors will get to enjoy VR and other interactive technologies elements, plus a dynamic installation.
Malaysia
Malaysia contributes to a zero-carbon pavilion allowing visitors to experience the local culture and life at its best. Pavilion's theme is that of 'Energising Sustainability', and illustrates the country's mission to balance environmental issues with socio-economic progress. It's expected to pull up around 500 shows during the course of Expo 2020 Dubai. Here's a video for more detailed experience.
Saudi Arabia
Next is the amazing creation you can expect for a pavilion from Saudi Arabia, which fits perfectly to the theme of Expo 2020 itself that is 'The Sky is the Limit'. It covers 13,000 square kilometres, conjuring a large window that opens up from the ground and soars towards the sky.
The Saudi Arabia pavilion explores the cultural heritage and natural wonders of the country. It also highlights the energy and creativity of its people, as well as how Saudi Arabia can contribute to a better future.
Turkmenistan
Turkmenistan pavilion is also based on the theme of mobility, inviting guests for a journey through local culture and its iconic Akhal-Teke horses. A fountain sculpture is erected to welcome visitors, featuring five of the native Akhal-Teke horses; a mark of national pride. Besides all this, there'll be a 50-metre LED front. 
Titled as 'The Power of Five', the pavilion's theme aimed at creating an immersive experience for every visitor while stimulating all their senses hence the title.  There'll also be 360-degree projected images of the five horses to surround visitors and reflect their own movement as they explore. Check out the video here.
Switzerland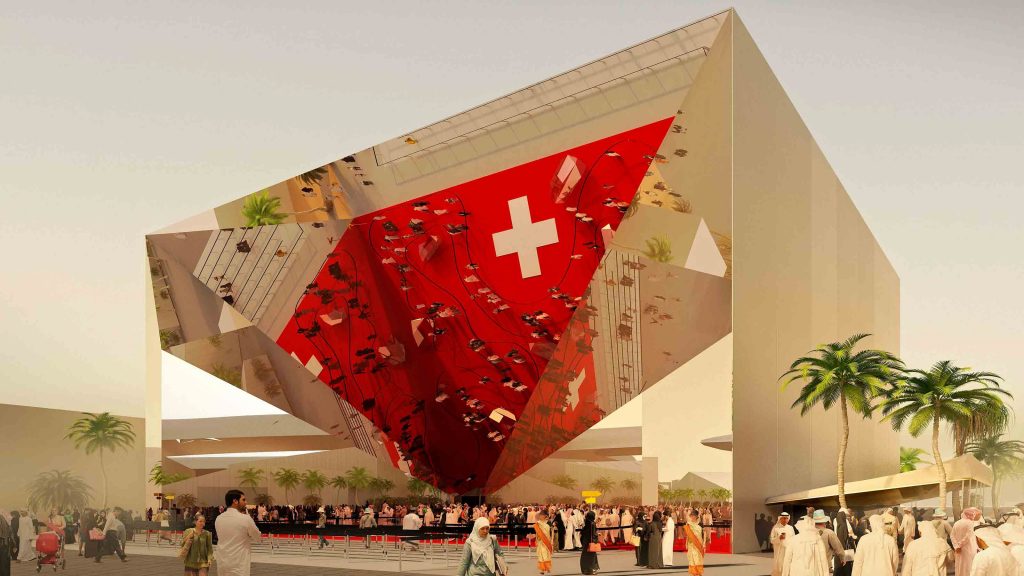 Switzerland's pavilion will take visitors to the alpine scenery and hiking adventure through its rugged landscape. The theme circles around opportunity, inspired by Bedouin tents. Country's contribution to Expo 2020 Dubai showcases local culture, values and how Switzerland intends to fight the future challenges. There's also a theatre that rises from a foggy surface whereas the end of the hike reward visitors with stunning views of Expo 2020 from the pavilion's rooftop restaurant.
Oman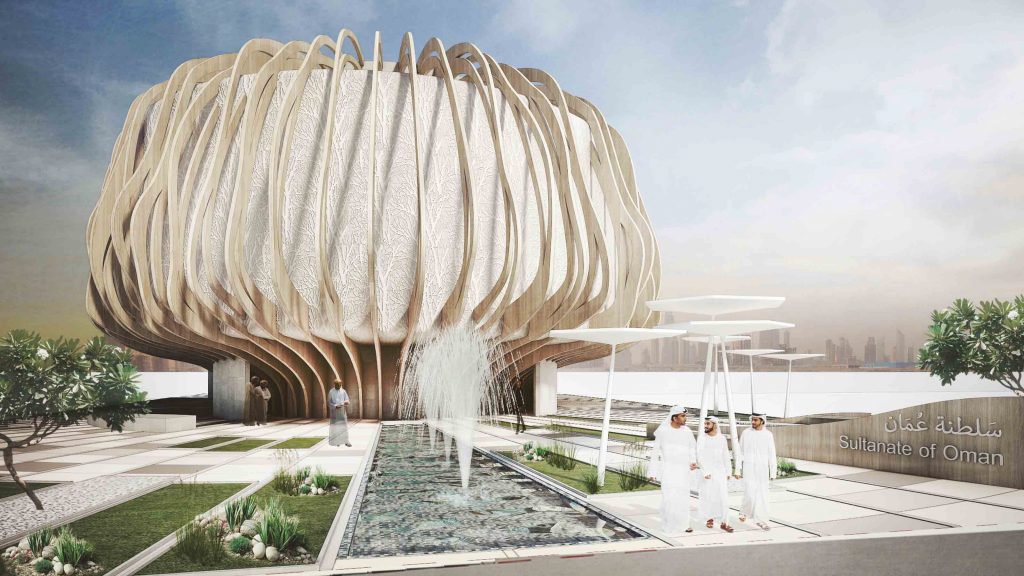 Oman pavilion carries the theme of 'Opportunities over Time' that reflects mobility. It showcases frankincense; Oman's 'gift to the world' while celebrating the valued resin through the pavilion's exterior. The design itself is of a tree from where frankincense comes.
Visitors will journey through five different zones and discover how Oman and its people progressed over the centuries. Frankincense has helped to shape the country with its many uses from medicine to food and cosmetics. Here's more on Oman pavilion.
Russia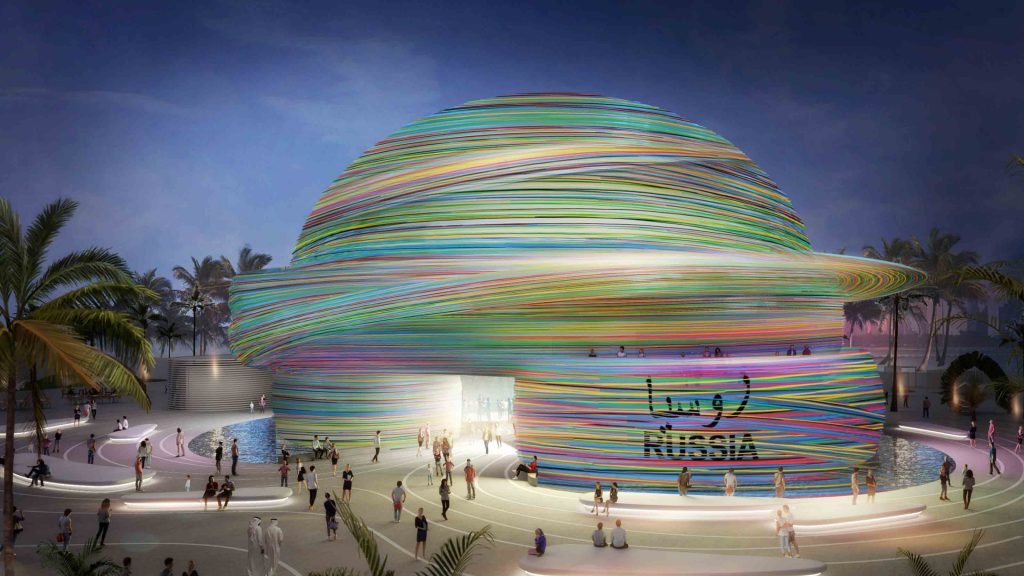 Russia's pavilion inspire mobility and ponder into new, innovative ways of solving future challenges. Visitors will enjoy a stunning view of the entire Expo 2020 Dubai site, particularly at night time. Local food will also be the main attraction of the pavilion.
Philippines
The Philippines pavilion takes its inspiration from nature, which reflects in its design of the coral reef (Bangkóta) to create a welcoming and open space. Visitors will learn about the country's history and culture through interconnected, multi-level structure, echoing openness and insights into travel, migration and technology. The pavilion carries a message about sustainability and the need for a vibrant vision for the future. Experience it all in detail via the official Expo 2020.
Czech Republic
Carrying the theme of 'Czech Spring', the pavilion's structure falls into sustainability and explore capability of technology to solve issues around climate change. Czech Republic pavilion also look into history and culture through a massive glassmaking installation.
Brazil
Brazil's pavilion has the theme of 'Together for Diversity' and the structure recreates the Amazon basin where guests can wander through a water feature while learning about the country's support to diversity that can be seen in its flora and fauna, arts and culture so on. The exhibition also portrays biodiversity and Brazil's vision of a sustainable future.
The Netherlands
The Netherlands has a pavilion centred on the theme of 'Uniting Water, Energy and Food', taking the form of a miniature world with innate climate system. Innovative attraction here is a cone-shaped vertical farm where visitors can witness sustainability in full throttle; harvesting water, energy and food within its naturally-controlled climate. Furthermore, it will use locally-sourced materials which will be recycled after the event.
Finland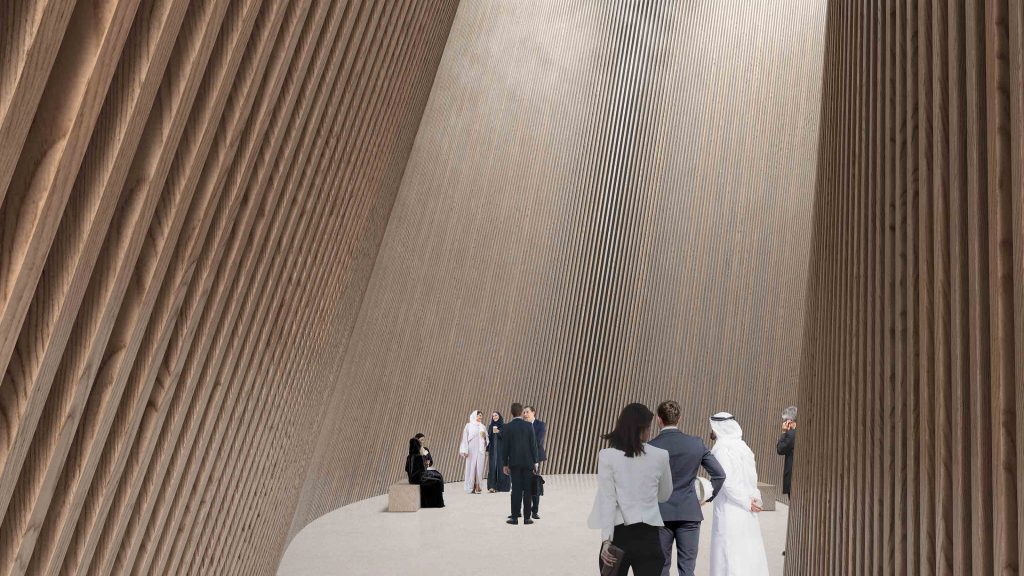 Finland's pavilions will remind visitors of its wintery landscapes as the design resembles an Arabic tent erected out of snow. The theme speaks of 'Sharing Innovative Competences' featuring a wooden gorge that provides a peaceful spot to dig in the interior surrounding. Furthermore, innovative projects will be on education, sustainable technology and health, all set against the country's stunning scenery.
Germany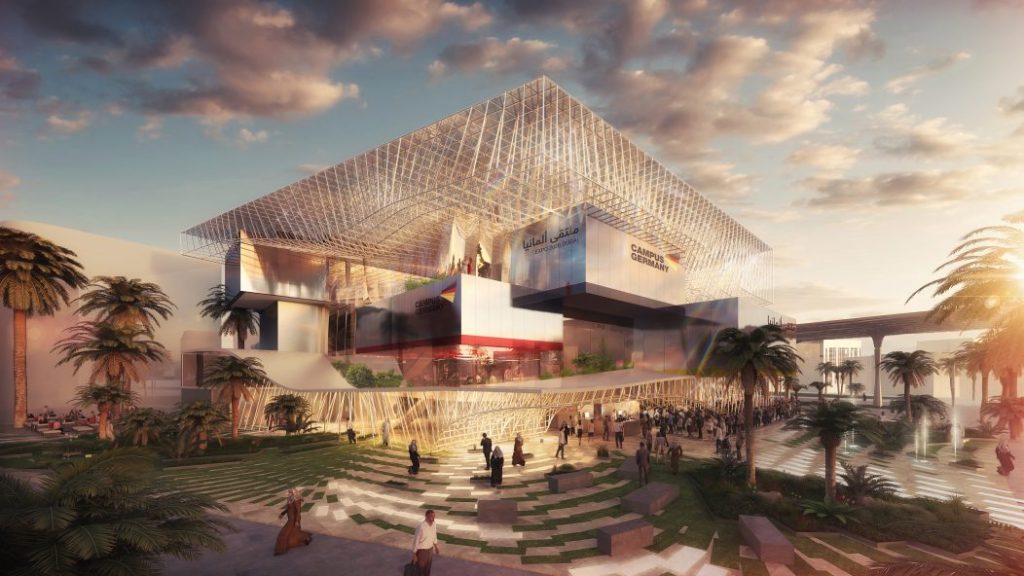 Discover innovative environmental ideas and sustainable technology at the Germany's pavilion. Visitors will need to enrol at the 'Campus Germany', featuring themed areas like the Energy Lab, the Future City Lab and the Biodiversity Lab. As enthusiastic guests explore these zones, they'll also have the option to wear connected devices. Take a tour of Germany's pavilion here.
France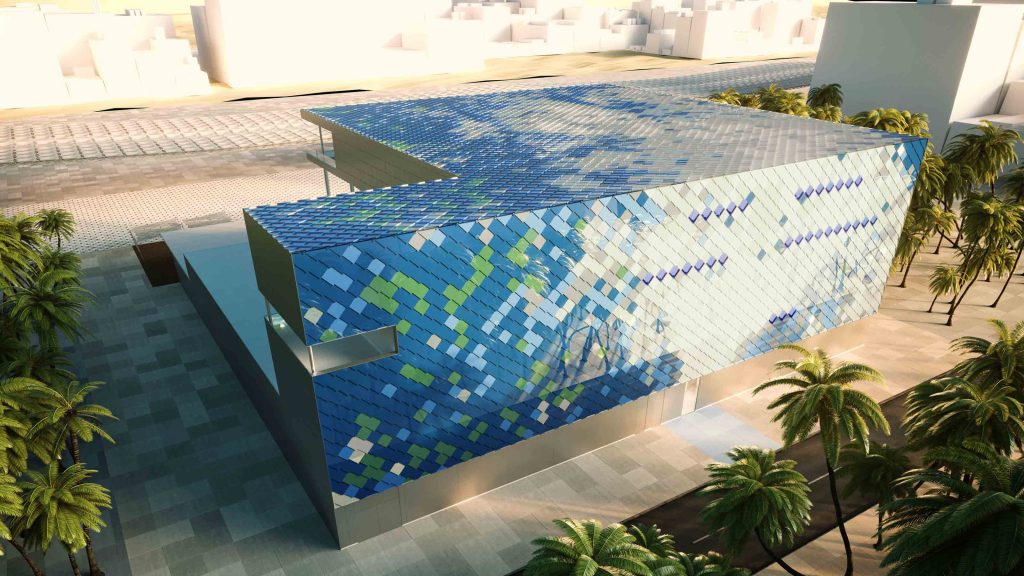 France's pavilion shows rich cultural heritage, commitment to sustainability and the theme of 'Light, Lights', exploring light and how it contributes to progress, connection and creativity. It reflects to the Age of Enlightenment; an 18th century crusade influenced by French philosophers at the time. The pavilion features a range of entertainment and exhibitions, including light shows, solar-powered art and an innovation lab.
Peru
Peru pavilion explores the history and culture of the country, its influence on the wider world throughout the ages. The displays illustrate Peru's cultural diversity and ancient wisdom tackling global issues. Furthermore, guests can enjoy a sensory experience that showcases Peru's incredible biodiversity. The theme is on 'Timeless, always Peru'.
Spain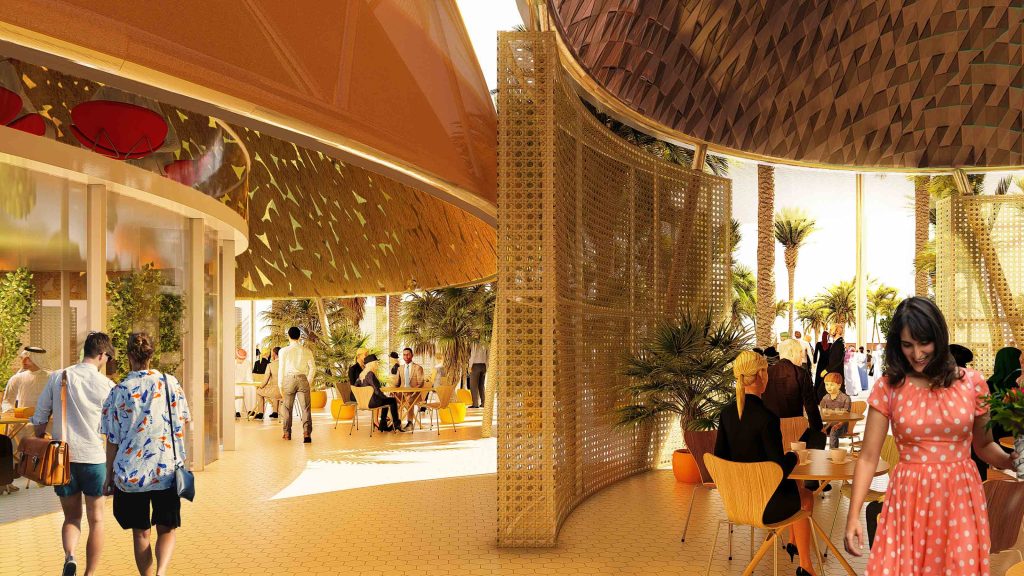 The theme of Spain pavilion ties the country with the Arabic world, also showcasing the creativity of the Spanish throughout history. There's much to explore in the pavilion's town square such as new innovations, traditional entertainment and historical adventures.
Belarus
Belarus pavilion theme chants of opportunity where guests enjoy a forest experience, telling us how we can learn from nature. The structure's theme of 'Forest of Future Technology' is interactive which also features 'Tree of Mind' installation. There'll be entertaining shows hosted by local Belarusian folk and dance performers. Visitors will learn about collaboration, how nature and technology can team up for a brighter and more unified future.
Thailand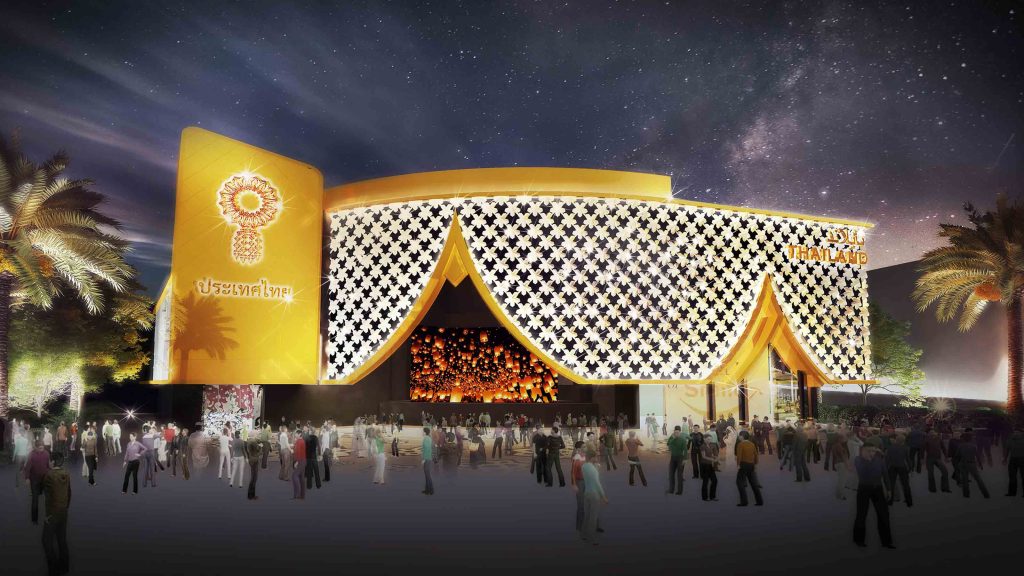 Thailand's pavilion is created around mobility and the theme is that of "Mobility for the Future". Visitors will be left awestruck, seeing a curtain weaved from more than 500 artificial flowers, covering the entire building. There's more to learn about Thailand, warm hospitality, transportation, connectivity and mobility. Guests will also have the opportunity to produce flower inscriptions in the pavilion garden. When inside, observe an art installation known as "The Miracle of Smiles".
Tickets for the expo are now on sale which fuels the excitement even further. With expectations touching the sky and innovative experience unlike anything, Dubai Expo 2020 is sure to be once in a lifetime event!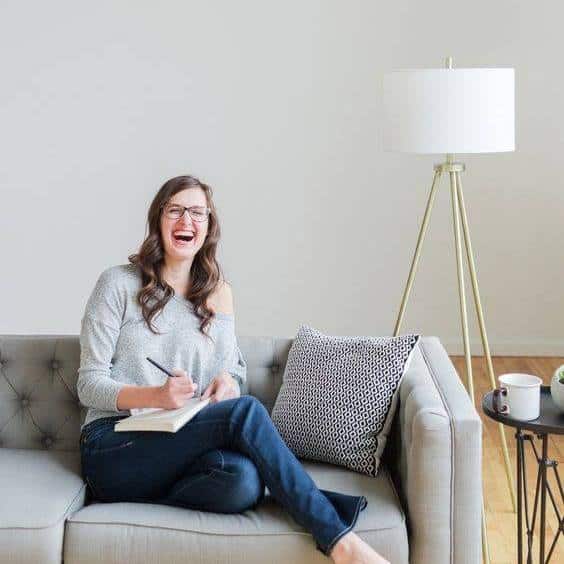 Debora John is a professional digital content creator, SEO and editor having years of experience working for many different industries and recently working in the Digital Marketing department at Digital Gravity. In her free time, She loves to watch movies, read books, and play console games.
- Debora John