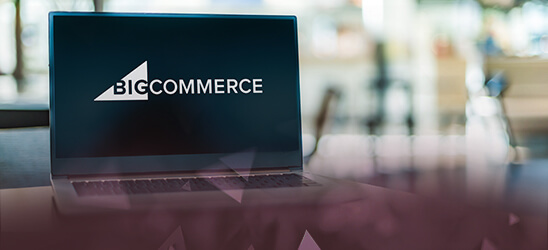 Looking for a get-rich-quick scheme? Start an ecommerce store. As simple as that. Does it work like a magic wand that lets you summon all the wealth you desire? The answer is no. 
But having an online store means you can sell your product anywhere, any time! Even if you don't own it — thanks to the Dropshipping model. (More on that in a minute).
Numbers shared by Statista suggest global online sales are forecast to reach 22% of all retail sales in 2023. A study conducted by Oberlo in 2021 says 48% of online shoppers go straight to a large ecommerce marketplace.
I know, you are thinking 'How can I create my e-commerce store in Dubai?' You don't need to do everything on your own, an e-commerce development agency can design and even manage your store.
And when it comes to e-commerce development, there are various platforms available. In this post, I'm going to talk about BigCommerce,  a NASDAQ-listed ecommerce platform that provides software-as-a-service services to retailers.
But before that, let's understand the dropshipping business model.
How Does Dropshipping Work?
Dropshipping in Dubai is a convenient business model for anyone who has no capital to purchase and manage his inventory. 
Basically it's an order fulfillment method in which you purchase a product from a third-party supplier and directly ship it to the customer.
Yeah, you serve as a middle-man, but your customer and supplier are not always aware of this.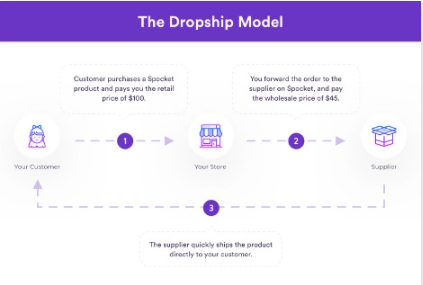 What Do You Need to Start Dropshipping in Dubai?
For a successful dropshipping business, three things matter the most:
1.Sourcing
2.A responsive e-commerce website
3.An effective marketing strategy for driving traffic to your store.
As mentioned before, you don't need a warehouse to store your product, nor any salesperson to manage and sell the stock.
Getting Started with BigCommerce Dropshipping in Dubai
Though if you have no idea about e-commerce development, you should hire an agency to design your store. But if you still want to give it a try, let me give you an overview of how BigCommerce works.
Upon signing up for the trial, you get a 15-day access to all the basic features of BigCommerce. 

You can immediately create your entire store and start selling the moment you choose to launch.

Features like customer groups and abandoned cart saver are also available in the trial version.

To get access to advanced features, you must upgrade to a paid store.

Actually there are different paid plans and the features you get depend on the plan you have purchased.

The Standard plan costs $29.95/mo, the Plus plan $79.95/mo, and the Pro plan $299.95/mo.

You can also ask for an Enterprise plan; the price of this plan depends on the level of customization and features you desire.

Creating a Trial Store on BigCommerce
Now that you have purchased a plan, it's time to create a trial store.
Go to the homepage of BigCommerce and click on

Get Started.

Enter your email address and click on

Continue

.

Fill in all the details including your store name and password. (Don't worry, you can change the store name anytime.)

Once your trial version has started, you'll land on the store's dashboard.

Here, you will get options for adding products, setting up a payment method, and tax details.

Whatever details you are being asked about your business, fill in accurately.
All BigCommerce trial stores are not visible to the public nor are they indexed by the search engines. When you are ready to go live, click on the Channel Manager, click the '⋯' button next to your storefront, and select Make active.
Cancelling a Trial Store
You don't need to manually cancel the subscription because the trial version will automatically expire after the 15-day period. And you are never billed for a trial store.