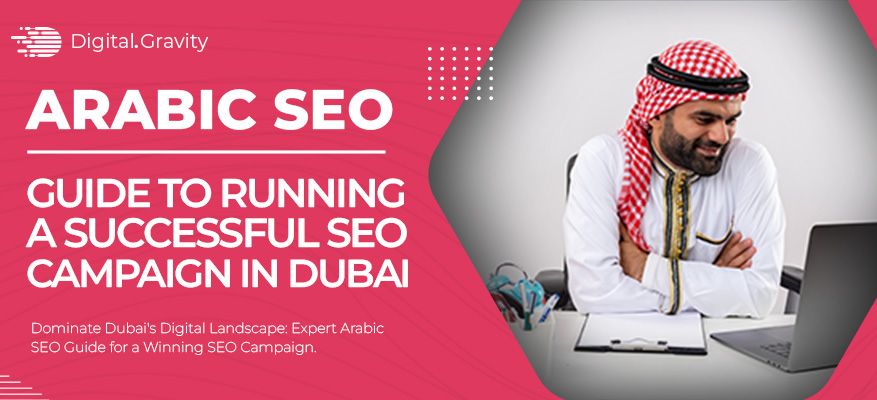 With UAE rapidly outgrowing other economies in the world, Arabic can be the new English in some time. Jes Scholz, International Digital Director at a Swiss media company, once said, "Impactful SEO is rarely executed by a lone wolf."
You need a team of experts who understand the nitty-gritty of search engine optimization as well as your niche and target audience. 
Arabic SEO is very different from English SEO. So, are you not tapping into this goldmine of opportunities out of fear of failing? Or you think that it's not worth your time. 
Well, you are wrong. Arabic SEO can help you reach audiences your competitors might be missing out on. It can seriously accelerate your business growth.
How? We are here to tell you everything you need to know to run a successful SEO campaign in Dubai, UAE, or any other place in the Arab world.
Understand Arab Culture
You need to understand your target audience when you try to target any type of audience. The same is true for the Arabic audience. You need to know about the Arab culture and your target demographic to nail Arabic SEO.
How will it benefit you? Your business would choose the correct targeting audience for their campaigns, saving your money and time by investing your SEO efforts in what can generate a healthy ROI.
Understand Arab Customers
How are Arab consumers? You need to answer this question before optimizing your website for Arab search audiences. Here is some information about Arabs that can help you:
Many Arabs are window shoppers, so consider remarketing to them

They are brand conscious 

Purchasing is a social activity, and product recommendations are important

Arabs place a high value on trends and fashion

They like to show their status with status symbols

Arabs are generally spiritual and expect you to respect their religion

They like to make others in their tribe or community happy

Shame and honor are great drivers in Arab culture

Arabs like to bargain and seal good deals in business 

A wide range of Arabs like to communicate in Arabic

Most Arabs are young with 50% less than 25 years old in a few Gulf nations
Mobile is Crucial in Arabic SEO
Today most Arabs access the web on their mobile devices instead of desktops. And we can get that, given that half of their population is under 25. 
So, SEO agencies in Dubai should target mobile SEO audiences that makeup about 90 to 95% of the Arab population that use the internet on their mobile phones. 
What should you do? Make your Arabic website intuitive, lightning-fast, and light. Machine translation on a site can split components on an Arabic mobile website, which hinders a visitor's ability to buy something or convert it from their device. A native speaker should translate and do CSS styling for the Arabic version of your website.
How Can You Rank on Google Arabic?
1- Consider Website Visitors That Can Convert
Businesses usually want to rank for multiple keywords with high search volume, which can be quite competitive in English search results. However, surprisingly it's easy to rank for high search volume keywords in Arabic search engine results, thanks to the low competition in industries in the Arabic language.
You don't need just traffic but visitors who can be converted in some way. We recommend you use keywords that can fulfill a search intent to take a conversion action, such as submitting an inquiry, signing up, purchasing, etc.
Brands should target such keywords initially, and after substantially covering those search terms, they can move towards higher search volume terms with less conversion focus in their intent.
2- Perform Arabic Keyword Research
Keyword research is quite similar for Arabic keywords to how you do for English SEO. However, you must understand its limitations and distinct implications. 
Businesses can use keyword research tools such as Google Ads keyword planner or other external tools to some extent for performing Arabic keyword research with some limitations. 
3- Think About Keyword Spelling
Our team has been working in Dubai's SEO field for over a decade. We have learned that different Arabic speakers use different spellings of the same keywords which generates different search results.
Our experience tells us that a keyword's informal spelling generally has the highest search volume because most Arabs type in a less formal lazy way when searching.
It especially happens with keywords with alef in them. Some Arabic searchers type alef with hamza and some without hamza which significantly influences the search results.
This small difference may lead to a tremendous difference in the results that show up on Google for a specific keyword.
4- Consider Preference and Dialect Differences
Another problem that erupts with Arabic keyword research correlates with keyword usage by country. For instance, Egyptians call a car an Arabaya, but Saudi Arabian searchers will use the word "Syarra" for a vehicle.
Multiple keyword research and SEO tools don't give a substitute for a keyword for another nation, so many marketers unknowingly miss the other versions of these keywords in their research. 
5- Optimize Arabic Meta Descriptions and Title Tags
You should optimize your title tags and metadata to rank higher in English search engine result pages. The same is true for your Arabic SERPs. You should conduct proper keyword research and optimize your descriptions and titles in Arabic in the same way you do in English.
Ensure your main keyword is in the page's title, and attempt to incorporate a secondary keyword if you can do so naturally. Add an Arabic CTA and variations on the main keyword in your meta descriptions, as they can boost your local SEO in Dubai.
6- Create Winning Arabic Content
Arabic content will attract more visitors when executed rightly, compared to any other ranking signal. We have already mentioned that many keywords have meager competition in Arabic. It means if you upload Arabic content on your site, some of the pages could rank for long tail keywords as search queries.
Some Arabic websites even rank in top positions for multiple search terms related to a niche with lower than five links to the site and a lot of Arabic content.
Not many websites try to rank for Arabic keywords, at least not in all niches. So you can get more visible for many search terms if you just put more content on relevant topics.
We ask you to pay attention to other ranking signals, such as site speed, link building, and other on-site optimization elements. They are crucial too, but you can achieve much of your SEO goals with Arabic content marketing.
7- Use Hreflang Tags
Some years ago, Google launched tags, called Hreflang tags, to aid sites recognize which website pages were for consumers in many countries and regions.  
These tags are critical to use if you have several language versions of your site on the same domain. If your business wants to reach all Arabic speakers worldwide, we suggest you put up hreflang tags.
Rel Alternate for Home Page
<link rel="alternate" href="http://example.com"hreflang="en" />
<link rel="alternate" href="http://example.com/ar/" hreflang="ar" />
You should set up a distinct hreflang tag for each page that references the page's alternate language version.
If you want to have several components of your site target consumers in several Arab countries with distinct pages and content for every nation, a more complicated structure is required. 
But, you should consult an expert on local SEO in Dubai before performing this as the wrong application may result in big traffic losses. 
8- Build Links to Build Your SEO
Link building is central to your SEO strategy's growth, and it's the same for Arabic SEO campaigns. It's worth the effort to earn backlinks from different Emirates across UAE with Arabic anchor texts that can benefit your website. 
But here is the catch: very few websites will even think about linking back to other sites nowadays. 
In many parts of the Middle East, there is less enforcement of copyright laws, so many sites will illegally take content from another site without giving it credit.
Our SEO services experts have devised a few hacks to attract more backlinks from the Middle East despite the difficulties. 
There is another thing that we would like to talk about. Some companies keep the Arabic part of your site on the same domain as your English website. Then the backlinks you get from other regions and for your English website will count in the backlink profile of your Arabic site.
We have optimized many Arabic websites that get top rankings with no or few backlinks from Arabic websites because they had multiple high-quality links in English.
9- Resources that Can Link Out to Your Website
Most Arabic site owners ask this question how they can find websites to pitch to get backlinks? Our response will vary based on your industry. The first thing is to perform competitor research to find websites ranking higher in your industry.
Then use AHREFS or any other similar tool to check the backlink profiles of those websites. It will show you the resources that link back to your high-ranking competitors. You can pitch to some of the Arabic resources among them. 
But beware as the rules that work in the English SEO world to earn a backlink may not cut it in the Arabic SEO realm. Many Arabic websites won't give you a backlink.
Don't get disheartened, as our team has achieved this feat with digital PR campaigns. We utilize data journalism about the Arab region to drive backlinks from tremendous publications to reference some statistics or facts in our blog. 
If you have a good budget, try sponsoring a local event in your niche. Then you can get links on the host's website. You may get links from other businesses participating in the event.
Can you create some online tools like a quiz or calculator in Arabic? Then you can get some backlinks by this too if you perform the outreach correctly. 
But never pay just to get backlinks from a website that does this sort of business because they will inevitably get penalized, negatively impacting your rankings as well. 
10- Regional Hosting 
So, we talked about backlinks, metadata, tags, and content. What about web hosting? How can you find a good web host in the Arab world? Well, it's challenging to get quality hosting services in this region.
Many big brands host their site in Europe and employ a Content Delivery Network (CDN) to get their site loaded quickly in the region. Fortunately, AWS has begun boosting its hosting options in the Arab world, so we may see more businesses host here compared to Europe.
AWS now provides data center hosting in Dubai, Manama, and Fujairah. If you want your page speed to be the fastest in Gulf countries like UAE and Bahrain, you should host your website in one of these locations.
AWS is constantly working on its global infrastructure so more data centers can open soon. 
Ready to Unlock the True Potential of Arabic SEO
The throne of Arabic SEO has very few to no claimers for many industries. It's time to name that digital throne to your business taking help from our comprehensive guide to running an Arabic SEO campaign that brings results.
Our SEO company in UAE has its hand on the nerve of the Arabic search landscape. From performing precise keyword and competitor research and link building to optimizing websites with cultural relevance, we master it all.
Digital Gravity has multiple clients which have earned tremendous SEO success for their Arabic websites. We believe in working and not bragging about our greatness. Ping us today to earn organic traffic and conversions with your Arabic website!