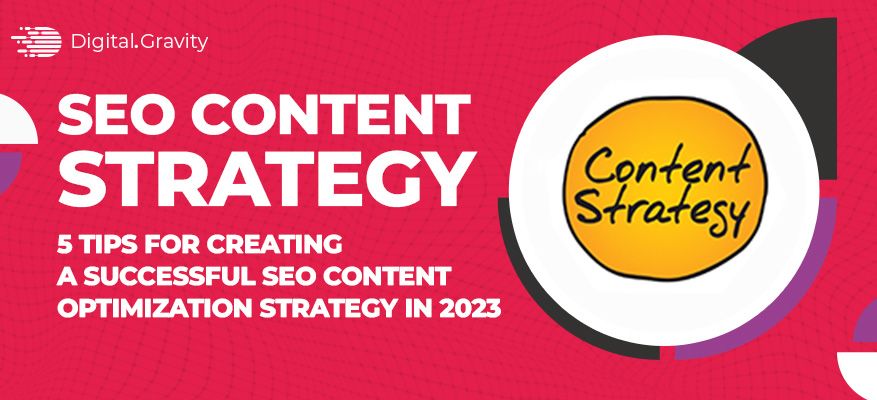 SEO Content optimization is an essential aspect of the field of digital marketing. Every marketer should include content optimization in their digital marketing strategy. 
Content marketing starts with understanding your ideal customers and then marketing the content they need. For your content to be ranked and liked by users, you need to make it attractive for search engines and consumers and the process is called content optimization.
It involves refining the web copy, pictures, code, and links to help Google rank your content higher. Businesses need to find search terms that can help their website show when someone searches with relevant keywords. With that being said, search intent remains the primary focus of your content. 
What is SEO Content Optimization?
You probably know that content is any piece of text, video, image, or audio that someone tailored for a particular goal and offer to a specific audience. 
But how can one make this content more productive and helpful? By using suitable methods and processes to optimize it. Brands need to get the best possible results from their content such as organic traffic, conversions, and rankings. 
Why Is Content Optimization a Significant Component of a Successful SEO Campaign?
Content optimization is important to make your content able enough to get appreciation from users and search engines. Many times it happens that content creators start scratching their heads as their content gets little to no views or engagements.
There can be multiple reasons for that. Your target keywords may not have enough search volume, the title tag fails to reflect the intent of the blog, or you have gone through the topic real quick without going into detail.
An incoherent heading structure of the content can be the culprit too because it makes it hard for algorithms to understand your content. 
Top 5 Ideas for Content Optimization Strategy 
1- Come Up With A Great Headline
What makes a great headline? An understanding of the target audience and using relevant keywords to reach them. Your headline is the first impression of your page, so it must engage the users.
Personalization
It's the era of personalized experiences, and readers get attracted to the content that illustrates its point using specific examples.
Theme 
Your content's subject is also an essential aspect of your headline, so craft one that can appeal to both consumers and search engines.
Brainstorming 
Brainstorming stimulates your creative nerves and is the best way to invent a killer headline. Once you have brainstormed multiple headers, shortlist them with variations of adjectives and verbs or a different structure. Afterward, create shortlist headers and catchy titles for your pages' content.
Incorporate A Relevant Target Keyword 
Your headline must include a target keyword that your audience uses for searching and incorporate it in the title such that it positively impacts the SEO of your content.
Your header must tell the reader what value your content will provide them and take time to come up with the most interesting title, which perfectly demonstrates your content's purpose.
2- Use Keywords Effectively
Content marketing experts know how many times you should use a keyword in a specific type of content. Maintaining keyword density is important even if your primary keyword gets frequently used in the content naturally.
Here comes content analysis software to your rescue. They can identify whether your content fulfills the users' search intent when they use a particular keyword.
If your content has the right keywords and fulfills their intent, google may rank your page on "zero position" or make a featured snippet out of your content.
3- Optimize Images
Images are crucial and the most interactive parts of modern-day content, but unfortunately, many people ignore them when optimizing content.
Your pages' rankings depend on image optimization, as search engines can't see the images as they see the written material. And image optimization should happen to all your images before you upload them on your site. 
Here is what you should do:
Alter the pictures' sizes by using the right compression type and file format using any free image optimization application on the internet like Kraken.io, Imagify, Optimizilla, etc.

Use image optimization tools to compress pictures automatically while keeping their quality intact 

Employ clear image file formats, and don't make users download a lot of images in their browsers to benefit from your content 
Image optimization decreases the amount of bandwidth a web page utilizes, which in turn, boosts loading time. It focuses on making images lighter, loads quicker, and utilizing fewer network resources on pages including data for mobile users.
You can boost your pages' positions in search engine results by optimizing your images as faster loading is considered a positive ranking signal by search engines. 
Image optimization decreases file size which enables the content to load with the consumer's browser and show faster on their screen.
4- Incorporate A Call to Action
Why do you write or produce content? To increase the number of leads and sales. You need to tell your visitors what they need to do next if they like what you are telling them through your content.
A CTA does this job. Adding a call to action in your content is as significant as salt is in food. A CTA is a button to urge people to click on and move further in the conversion funnel to increase their interest. Some examples of CTAs are Read More, Buy Now, Available Offer, etc.
CTAs engage users and help in keeping the bounce rate at a minimum. Some brands use CTAs in their advertisement section to guide their prospects to the next step after they hit the button on the advert and visit the site/landing page.
5- Make The Content Hooking 
As sports journalist, Dave Naylor once said: "My rule of thumb is to build a site for a user, not a spider." Engaging your consumers is a must to optimize your content.
Every visitor has a different outlook on your site's material, so you should add appealing content like visual and audio media and engaging polls to help them vocalize their feedback. 
The secret to doing this is user-friendliness and design of your content. One top idea for your content optimization strategy is to post fewer quality blogs. 
Secondly, don't expect to get immediate results after creating engaging content as the process takes effort and time to bear fruits. Sometimes, estimating the revenue generated from these articles becomes tough. 
The idea is to craft compelling headlines to hook users and boost engagement. Let visitors comment on your content and interact with other users. It will increase your content's shares and propel audience engagement.
Final Word
Content optimization is a necessity for businesses in 2023. This article offered you five smart content optimization ideas. Those include creating a catchy headline, using keywords effectively, optimizing images, adding CTAs, and making the content engaging.
You need content marketing pros to produce content that resonates with your ideal customers, brings traffic to your site, and eventually helps you accomplish your objectives.
Get our content marketing services to double your revenue and supercharge your business growth!
FAQs
1- What is content optimization? 
Content optimization is the strategy to make your content attain its intended objective in the best way possible, whether that is to convert leads into conversions or rank in a search engine.
2- Can using semantically relevant keywords help in content optimization? 
Yes. Semantic keywords relate to your primary keyword through concepts. It aids search engines in better figuring out what your website is all about. But your content should still stay relevant to its original purpose. 
3- Can keyword cannibalization impact a website's ranking?
Yes. Keyword cannibalization refers to using one single keyword to optimize more than one URL or page on your website. It shows search engines that your pages are contesting with each other to rank higher in search results which negatively impacts your rankings and traffic.
4- Why updating the content on your website regularly is critical to your content optimization strategy?
It is critical to retain the rankings of your most important content pieces. Businesses should regularly review and update their content especially if it discusses a fast-moving subject where trends usually evolve, such as SEO.