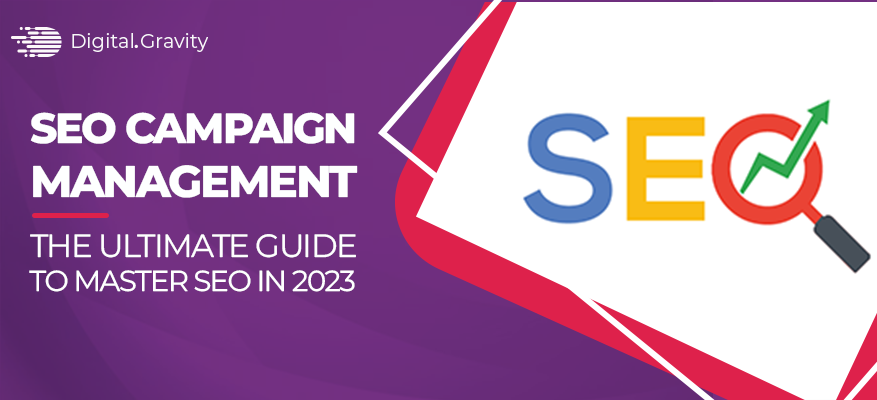 Are you on the brink of losing your digital game just because of a lack of SEO expertise?
SEO services Dubai emphasizes optimizing the website on the whole to warrant result-driven SEO campaign management.
Here, we have presented a thorough guide that will help you to master the art of SEO campaign management.
What is SEO?
Search engine optimization or SEO is the process of optimizing the content of your website to improve its visibility and ranking in search engine results pages. SEO is an organic marketing strategy which means it focuses on driving non-paid traffic to your website.
What is SEO Campaign Management?
SEO campaign management refers to the ongoing process of planning, executing, and managing a search engine optimization (SEO) strategy to improve the ranking and visibility of a website in search engine results pages (SERPs) for relevant keywords and phrases.
An SEO campaign involves a series of different aspects and steps including but not limited to keyword research, content creation, social media marketing, on-page optimization, off-page optimization, etc.
The Components of an Effective SEO Campaign Management
Many components can help in effective SEO campaign management. These components can make a powerful SEO campaign that can help your website gain more visibility and improve ranking on search engine results pages (SERPs).
SEO services Dubai include SEO campaign management for businesses that can yield lucrative results.
Below are the most important components involved in SEO campaign management.
Keyword Research
The first and most important step is conducting keyword research about your business. You need to research the relevant keywords and phrases that are popular in your industry so that you can use them and have the opportunity to rank higher on search engine results pages (SERPs).
There may be many high-volume keywords that people are using to search for products and services related to your business. By using these relevant keywords, you can enjoy the top spot in search results.
The right keywords will also help your website in gaining more traffic. When you use the relevant keywords and phrases as your target audience, you expose your website to the right audience.
On-page & Off-page Optimization
The optimization of our website matters a lot when it comes to SEO campaign management. You cannot manage your SEO campaign successfully if you do not optimize your website.
The optimization of your website includes both on-page and off-page elements. You can optimize the content on your website to make it more relevant and accessible, optimize the title tags, meta descriptions, header tags, etc. These all come under on-page optimization.
Now, coming to the elements of off-page optimization, building high-quality backlinks, increasing shares and engagement on social media, and encouraging branded searches, all should be accurately optimized to ensure the effective management of the SEO campaign.
Content Creation
Creating original and relevant content that has the accurate use of the keywords you researched, is crucial to your SEO campaign management. When you research the right keywords that are popular in your industry, you can use them to create informative and engaging content that can give credibility to your website.
With content creation, you can provide information about some trending topics and issues in your industry to your target audience. This will improve the visibility of your website as Google values fresh and relevant content.
Also, content creation helps with engagement. Informative and engaging content can keep users on your website for a longer period. This will reduce the bounce rate and improve the overall user experience.
Analytics & Reporting
While all the above-mentioned steps are salient in the management of your SEO campaign, it would not be rewarding if you are not tracking it to measure its success or failure for that matter.
Keep track of the website traffic, keywords ranking, and other metrics to correctly keep track of your SEO campaign. It will tell you whether your SEO campaign is working or not.
The key here is to be consistent with your reports and make a schedule that you can stick to. You can create bimonthly, quarterly, or yearly depending on your business and website.
Keeping track of your SEO campaign and measuring its performance will help you understand which optimization techniques are working best. Then, you can keep the successful strategies to use in the future too.
How to Manage Your SEO Campaign?
The aforementioned components are important in the optimization of a website in almost every SEO campaign management. But there is a certain technique or procedure that you can use to establish a powerful SEO campaign for your website.
Below, we are breaking down the step-by-step guide to master SEO campaign management in 2023.
1.    Establish Realistic Goals for your SEO Strategy
Before you start to make your SEO campaign, analyze the current situation of your website. Evaluate the current traffic, ranking, and conversion rates of your website. This will help you in analyzing the strengths and weaknesses of your website and you will be able to set realistic goals for your SEO strategy.
Make sure that your goals are rightly aligned with your priorities. Important goals should be achieved first while the lesser important goals should be achieved after the successful completion of the important goals.
2.              Regularly Audit your Website
As mentioned above, auditing your website regularly is crucial as it can evaluate the performance of your website. You can identify any technical issues like broken links, crawl errors, slow page load times, etc.
By auditing your website, you can evaluate the quality of your content and update it however you like. This way, you can also keep track of your target keywords and identify which keywords are performing well and which keywords need optimization.
Additionally, by auditing your website, you can also analyze your competitors and their websites. You can compare your website to your competitors' websites and identify any areas of improvement.
3.              Conduct Keyword Research
Relevant keyword research is important to your website as it can help your target audience easily find your website. You can use any keyword research tool such as Google Keyword Planner, SEMrush, Ahrefs, etc to generate a list of relevant keywords related to your business.
Search for keywords that have high volume and low competition. These keywords are most likely to bring traffic to your website. You should use long-tail keywords as they are longer and more specific. They are less competitive but usually have higher conversion rates compared to others.
4.              Optimize On-Page Elements
Your SEO campaign management should include the optimization of on-page elements that can improve the visibility and ranking of the website. The title tag of your website is one of the most important on-page elements for SEO.
The title tag of your website should be concise yet provide the right description of your page. Secondly, the meta description should be unique and must include the primary keyword.
Ensure your content is high-quality, unique, and relevant to your target audience. Use internal linking to connect related pages on your website to build a concrete hierarchy of your content.
5.              Optimize Off-Page Elements
Off-page optimization takes place behind the scenes and does not occur on the website. Building high-quality and authoritative backlinks is significant to optimize your website. You can use social media marketing to promote your website and engage with your audience.
Guest blogging is a great way to post high-quality and informative content on reputable websites related to your niche. This way, you can not only optimize your website but also build reputable relationships with other brands.
Furthermore, you can also optimize your website by monitoring it for brand mentions and responding to them.
6.              Generate High-Quality Content
Write original and high-quality content that can ensure the interest of your target audience in your brand. Knowing your target audience accurately is the key here. When you know who your brand is targeting, you will be able to create content that can hit them successfully.
Content effectively communicates with your target audience and attracts them to engage with your business. You need to create high-quality content to attract your audience. Use your keywords cleverly throughout your content so it is easily available to the target audience.
Also, content can constructively answer some burning questions of your audience. This way, your audience will be more inclined to look up your business on search engines, which will help your website with a great ranking.
7.              Monitor your Results
Your SEO campaign management needs critical monitoring to understand the effectiveness and success of the implemented strategies. Set up analytics tools like Google Analytics or Adobe Analytics that can provide you with valuable insights into your website traffic.
Monitor backlinks to ensure that they are high quality and authoritative. Use a backlink-tracking tool to monitor your backlinks and identify any links that may be harming your website.
You can use a tracking keyword tool to monitor how your target keywords are performing in search engine rankings. Through this, you will be able to distinguish between the keywords that are driving the most traffic and the keywords that need additional optimization.
Additional Steps to Excel SEO Campaign Management
For Better Results – Outsource
If you have the required skills and qualities to make and implement compelling SEO strategies and can manage them effectively, you should do it. But on the off chance that you do not know how to deal with SEO, you can hire any digital marketing agency that can expertly do the job for your business.
SEO services Dubai provides comprehensive SEO campaign management to varying kinds of businesses. With a strong portfolio, they are one of the best SEO service providers in the Middle East. They not only create great SEO campaigns but also manage SEO client ranking to evaluate the effectiveness of the campaigns.
Cater to Mobile Users
Mobile devices are a great platform where you can attract your target audience. People are more inclined to use your website on their mobile phones than on desktops or tablets.
For this, you must make your website easily accessible on mobile devices and focus on how well it is performing on them. Making your mobile responsive on mobile devices will help your website in ranking well on Google as it prioritizes mobile websites over desktop websites.
Final Word
Mastering the art of SEO campaign management is crucial for any business, especially in 2023. With many digital and technological advancements, businesses today are struggling to keep up with the varying changes.
With the step-by-step guide, you can develop powerful SEO strategies from scratch and implement them to fit the needs of your business. From conducting keyword research, creating original content, on-page, and off-page optimization, etc you can guarantee that your website is optimized for search engines and will receive good traffic.
FAQs
What is SEO campaign management?
SEO campaign management is the process of developing and implementing strategies to improve visibility and ranking in search engines.
Why is mastering SEO campaign management important in 2023?
In 2023, it is crucial to master SEO campaign management because of new technological advancements and the cutthroat competition in the digital world. With effective SEO campaign management, you can improve your site's visibility, and ranking and get ahead of your competitors.
What are the key steps in mastering SEO campaign management?
The key steps in mastering your SEO strategy are setting realistic goals, auditing your website, on-page optimization, off-page optimization, creating high-quality content, monitoring results, etc.
How long does it take to see results from SEO campaign management?
SEO is quite a slow and steady process. Unlike other paid digital marketing strategies, SEO takes time to yield beneficial results. The key here is to be consistent and regularly evaluate new and unique techniques that can help your business.