The history of web development is as old as the internet itself. But thing changes dramatically when WordPress was introduced.
If you go back a decade, developing a website was considered an extremely technical task. A non-technical person couldn't even think of creating a website or starting his blog.
But today, anyone can create a website without writing a single line of code. Thanks to WordPress, now you can select a theme, drag and drop different elements, and build a WordPress website in no time.
As one would expect, WordPress is really popular worldwide. According to data from W3Techs, over 40% of the total websites on the internet are based on WordPress. 
If you are an entrepreneur planning to start an online business, you will need a website. And there's no better platform than WordPress to create one for your business. 
WordPress gives you full control over the content, user experience, security, and other elements of your site. But it can be difficult to navigate the technicalities involved if you have no idea how WordPress works and how to make the most of it.
That's where this blog post will be of great help. Today, we are going to discuss the modern WordPress development trends, the top features of WP, the best themes and plugins available, basically, and everything you need to know before hiring a WordPress developer or WordPress agency for your WP site.
So without further ado, let's start from the basics.
What is WordPress?
Released on May 27, 2004, WordPress was originally designed as a content management system. Back then the WordPress team had no idea that the platform would evolve into a complete web solution. 
Though the role of a CMS is to provide the end users with a simple interface so they can upload and update content without the assistance of a developer, WordPress lets the users do everything with a website that only a developer can do. 
For example, you can change the front end of your WordPress, add and remove functionalities, improve security, integrate social media, and do a lot more that's impossible otherwise for a non-developer.
Since WordPress is free and open-source, it enjoys a massive user base. More than 4 million websites online are using WordPress. And by no means WordPress is just about drag and drop.
If you can code, you can customize a theme or create one from scratch, create and customize plugins, and pace up the development process by utilizing the built-in elements.
What Language (Codes) is WordPress Built With?
WordPress is a combination of four primary languages:
HTML 
CSS 
JavaScript 
PHP 
While using the built-in elements doesn't involve any programming, for customizing a WordPress website you must be proficient in all four. To make changes to the layout, modify a functionality, and make changes to the front-end, a solid command of all four programming languages is a must.
Difference Between WordPress.com & WordPress.org
In the WordPress site creation process, you will have to choose either WordPress.com or WordPress.org. A lot of people don't know the difference between both. Hence, they have no idea which one is more suitable for their business needs.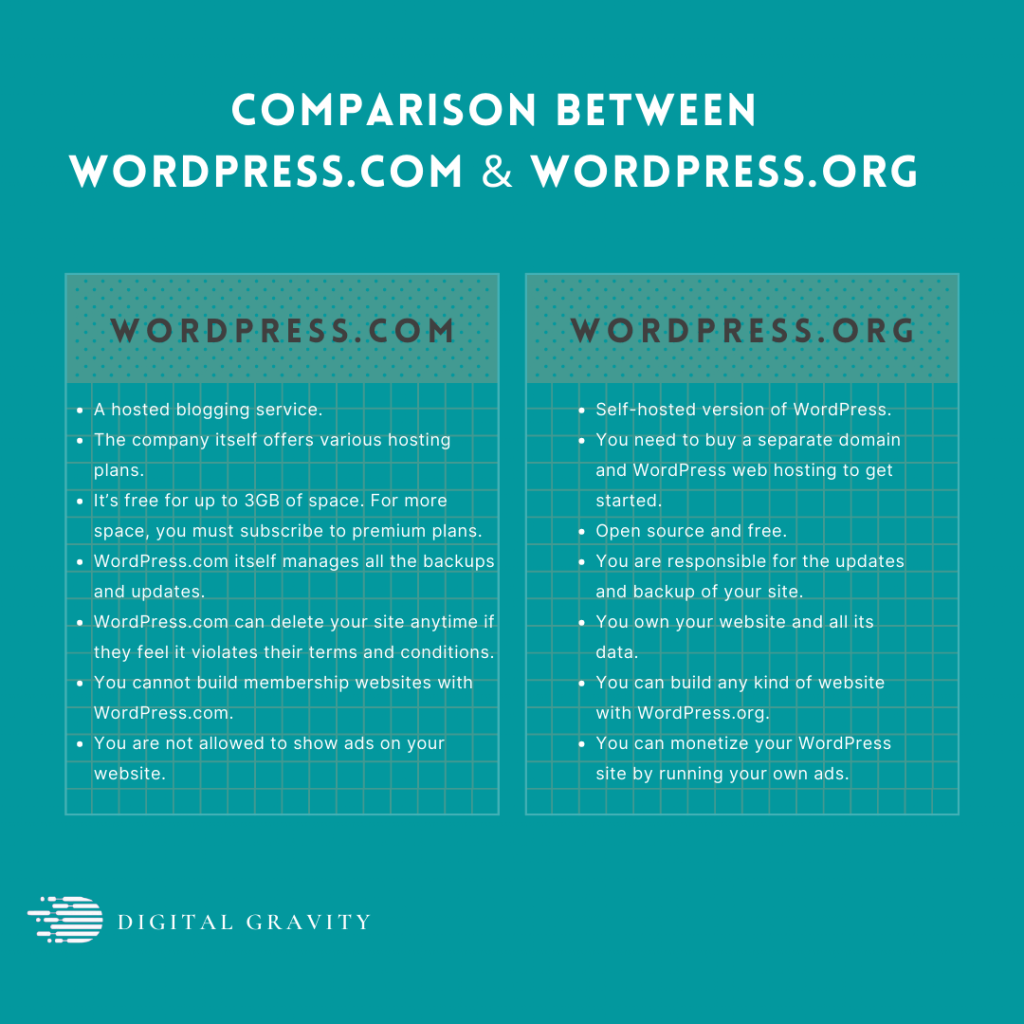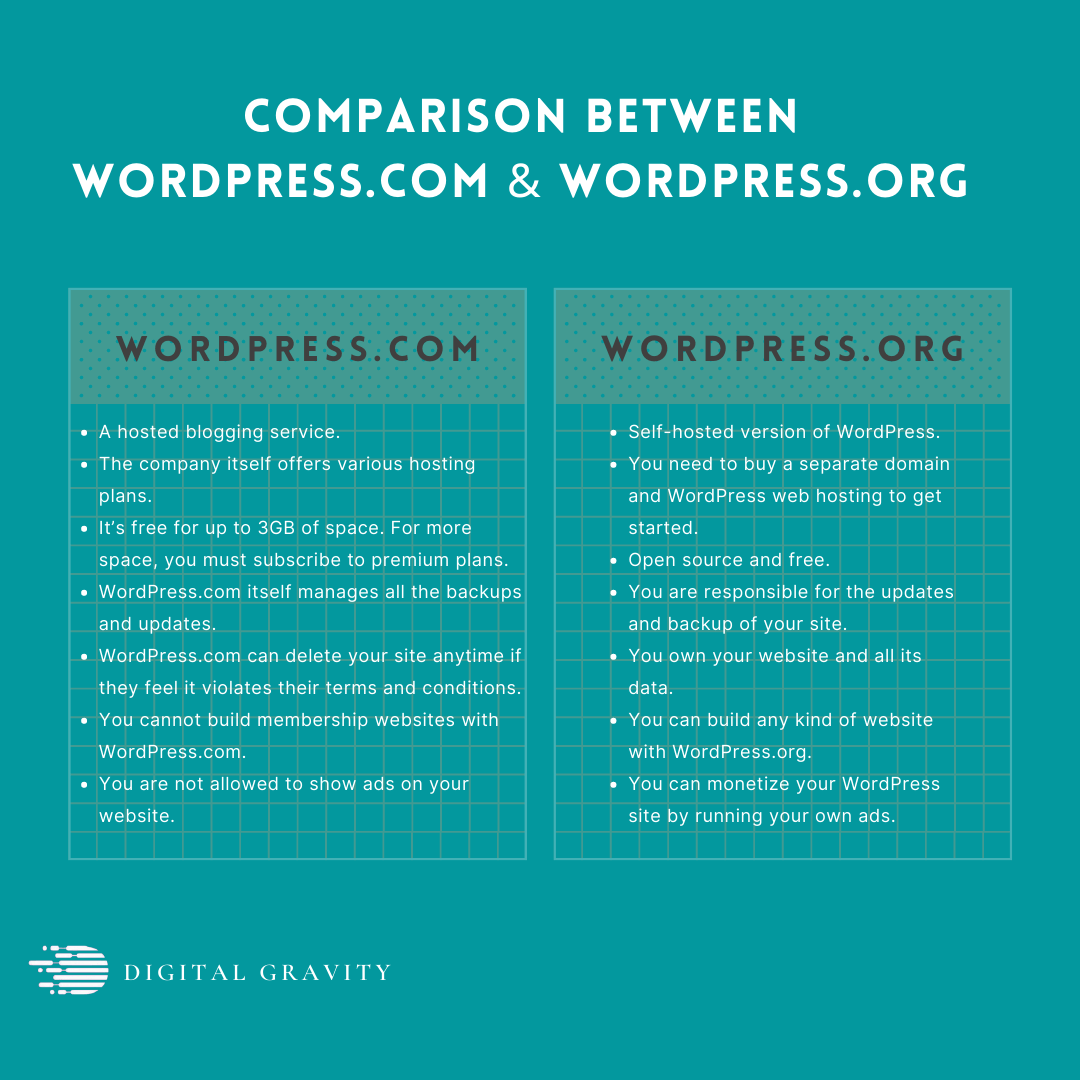 Compared to WordPress.org, WordPress.com has limitations. Thus, it's only used for creating small websites mostly by fresh WordPress developers who may not have the resources and expertise to experiment with premium domain and hosting.
Bloggers, freelancers, and online businesses, all use WordPress.org to create stunning WordPress websites so they can stand out as the best in their industry.
Modern WordPress Development Trends
New WP development trends keep emerging. The following trends are currently popular worldwide:
1. Voice search
Who would have thought someday websites will have the voice search option? But today, it's a popular WP trend. This is particularly true for eCommerce websites on which a buyer can immediately access a particular product by using the voice search option.
2. Chatbots
According to Salesforce, 23% of customer service companies have currently deployed chatbots on their site. There are over 300,000 chatbots in operation on Facebook Messenger alone. Such is the power of chatbots. Thus, chatbots are an integral part of a WP website in 2022. 
3. AR/VR
Augmented and virtual reality features have transformed the WordPress development industry. Particularly in eCommerce websites, you can take the shopping experience to a whole new level by giving prospects a virtual tour of the property or the feel of a product virtually. Due to its positive effect on the user experience, AR/VR technology is a great addition to the WP industry.
4. Multipurpose WordPress Themes
Though WordPress offers hundreds of different themes, each exclusively designed for a particular industry or type of website, now we have some visually appealing multipurpose WP themes available. These themes save costs for online businesses using WP as they can develop multiple websites using the same theme by making small changes to them.
5.WordPress e-commerce
As per a rough estimate, there are currently over 12 million eCommerce websites online. And a majority of them are using WordPress. That's because WordPress offers you a complete set of plugins and themes for creating an eCommerce store from scratch and scaling it with state-of-the-art functionalities. 
6. Drag & Drop Website builders
Well, the biggest advantage of WordPress is it lets a common man build a website by dragging and dropping available elements using the best WordPress page builders. For example, you don't need to code a form, module, box, or CTA to add to your website but simply drop it to the desired location on the page. 
This is why so many bloggers are working independently in 2022 without the assistance of a developer. They can manage their entire website based on the drag-and-drop options and make changes whenever required.
7. Minimalistic Themes
Minimalistic WP themes are another popular trend in 2022. These give users flawless navigation with a range of flat graphics and white space. As a result, such themes are naturally considered mobile-friendly. At Digital Gravity, we too enjoy working on minimalist WordPress themes while creating WP sites for our clients.

What Type of Website Can You Make With WordPress?
WordPress is a limitless platform. You can create any kind of website using WordPress as there are themes and built-in elements available for various industries:
Blogs

Business Websites

Ecommerce and online stores

Affiliate websites

News websites

Magazine and digital publishing websites.

Portfolios

Forums

Online teaching websites

Educational websites

Wiki/knowledge websites

Membership Websites

Coaching websites

Events Website
So you must be wondering what makes WordPress so powerful that you can carve out any kind of user experience for a specific audience.
Top WordPress Features
WordPress gives you a myriad of options to build your dream website in exactly the way you envisioned. The following features make WordPress unbeatable in the web industry:
Quick & Simple Installation
The fast and simple installation process is the biggest benefit of WordPress. You can install it on the go by following step-by-step instructions published on its official website. WordPress installation doesn't involve any coding or a super technical step beyond the grasp of an average user.
WordPress is available in more than 70 languages. So if you are blogging for a local audience or selling a product or service to a non-English speaking audience, you can translate your website into your local language. 
Straightforward Theme System
Since there are hundreds of built-in themes available, some are free whole, some are paid, and all it takes is a single click to get the basic structure of your site ready. For further convenience and easy accessibility, WordPress has divided themes for each industry.
WordPress is SEO Friendly
WordPress websites are fast and responsive. These two factors are the pillars of technical search engine optimization. Furthermore, you enjoy access to dozens of SEO plugins that simplify your SEO-related tasks and give you valuable insights about the traffic.  Also, WordPress maintenance is quite easy.
Content Management Simplified
Previously, you needed assistance from a web developer to upload new content or edit the published ones. But with WordPress, you can upload or update content on your own. Be it a blog post, a video, an image gallery, or any form of content, you can upload directly from your local storage or cloud.
Customization Options in WordPress
If you are a web developer or a WordPress developer who can code in HTML, CSS, JS, and PHP, the platform gives you a plethora of customization options. 
You can make changes to the built-in themes, create new plugins or edit the existing ones, make changes to the database, and basically make any form of improvement to your WP website.
That's the power of an open-source system. You can even copy the built-in elements you customize and use them in your future projects. This is where WordPress simplifies the job of a WordPress website development company.
But custom WordPress development is not straightforward. So make sure you hire the best WordPress development company in London for this all-important job.
Most Popular WordPress Themes 
The official WordPress theme repository features 9,124 WordPress themes for business. And there will be more added in the future. Some of them are paid while some are free. When there are so many options available, it can be quite difficult to choose and try the best ones.
Here are some of the best responsive WordPress themes:
Astra —- A great theme for beginners.
SeedProd —- One of the best WordPress themes for blogs

with more than 200 SEO-friendly

WordPress templates

available.

Divi —- Plenty of customization options with the gallery, shop, landing pages, social buttons, and more.
OceanWP —- Compatible with WooCommerce.
Kadence WP —- Plenty of customization options and can be integrated with all the basic and advanced plugins.
Ultra —- Extremely flexible and straightforward interface.
Spence —- Best for start-ups and small websites.
Indigo —- Easily customizable with drag and drop module and many WordPress website templates.
Parallax —- A single page WordPress theme with vertical navigation.
Presence —- Demos available for sites related to real estate, music, portfolio, eCommerce, and church.
Pro —- Offers a big library of elements and modules to add features to your WP site.
Neve  —- Great choice for small businesses, and consultancy firms. pharmacies, academic institutions, and start-ups.
Feltmag —- Out-of-the-box look with plenty of customization options.
Veni —- Supports WooCommerce and includes some amazing portrait and landscape featured images.
Hestia —-Translation and WooCommerce ready.
Blocksy —-  SEO friendly and best for online stores, educational sites, corporate sites, and blogs.
Authority Pro  —- Best for bloggers, entrepreneurs, freelancers, and people building a website for personal branding.
Zeko  —- Multilingual and plenty of customization options.
 Inspiro —- Features a powerful portfolio section, and stunning images/video galleries.
Peak —- Best for artists, designers, bloggers, and anyone who wants to add plenty of visuals to their website.
Need a custom theme? We have a team of expert WordPress theme developers who can help you in this regard.
Top WordPress Plugins to Install on Your WordPress Site
Besides the themes, templates, and built-in elements, WordPress gives you plenty of plugins to simplify complexities. You can improve the security and speed of your site using a plugin, add a new feature, different types of buttons, multilingual functionality, payment options, and a lot more.
The following WordPress plugins are worth using in WordPress website development:
HubSpot — Allows you to manage contacts, follow leads, track conversions, and build email newsletters.
WooCommerce — One of the best e-commerce plugins that convert your WordPress blog into an online store.
WPForms — This lets you create forms with a drag-and-drop builder.
All-in-One SEO — All-one-one SEO plugin for technical and on-page SEO.
Yoast SEO — Another great SEO plugin with more focus on content optimization.

Jetpack —  A multifunctional plugin for site security, social sharing, CDN services, email subscription forms, and much more.

Elementor —- A WP page builder with a drag-and-drop WYSIWYG interface for creating mind-blowing page layouts and designs.
W3 Total Cache —- A caching plugin that improves the website performance and user experience.
Smush — An image optimization tool that optimises the images on your site to achieve ideal page speed.
Borderless —-  Allows you to add unique elements and widgets so you can design a custom page with the help of some exciting options.
Akismet Spam Protection —- Checks your contact form submissions and comments for suspicious submissions and keeps your site spam free.
Weglot —- Allows you to add 100+ languages to your WordPress website to enhance the user experience.
iThemes Security —- Lets you add password expiration, two-factor authentication, reCAPTCHA, and malware scanning for site security.
WP Sticky —- A great plugin for smooth drag-and-drop positioning of certain elements on your site.
Monarch —-Enables you to integrate your website with more than 20 social media platforms.
XML Sitemaps —- Notifies search engines when you publish new posts to make sure all your pages and posts are crawled and indexed timely.
WP-Optimise —- Cleans up any unnecessary contents of your database to ensure fast page speed.
Not sure how to download, install, and use these plugins? Or are you looking for someone to customize these plugins as per your needs? We can help!
Best Web Hostings for WordPress to Use in 2023
Your WordPress website hosting has a direct impact on your SEO efforts. So you should always choose a reputable hosting provider. Some of the leading WordPress hosts in the web world are:
SiteGround 

Bluehost 

IONOS 

WP Engine

DreamHost  

Flywheel 

Kinsta

A2 Hosting 
These companies offer you various hosting plans. Depending on the size of your website, the traffic you are expecting, and the content load on your site, choose the plan that suits your preferences perfectly.
How Much Does a WordPress Website Cost in London?
Well, it's impossible to give even a rough estimate of WordPress development services. It all comes down to the complexities involved, the level of customization required, and the cost of the domain and hosting you choose.
To get a ballpark figure for WordPress web design London, you need clarity on the following points:
Do you need a simple, theme-based website or a customized one?

How many pages will your website have?

Is it going to be a normal website or a website with e-commerce functionalities?

Are you happy to go with free plugins or want to add premium plugins to your site?

What hosting plan is the best for you?

How much is the domain name going to cost you?
Making a WordPress website requires the services of a reputable WordPress agency in London for web design and development, so they too will charge you for offering their services. From WordPress website design to customization, plugin installation, plugin customization, backup, security, and everything in between, an accomplished WordPress development agency will get the job done in a professional manner.



Need a custom quote for your WordPress website? Or are you looking for a WordPress developer in UK to customize your site? We can help!
How Long Does it Take to Build a WordPress Website?
Depending on the WordPress agency or freelance WordPress designer UK you choose and the size of your website, it may take between one to three months to complete a WordPress website.
A lot depends on the WordPress talent you hire. Some teams are so experienced that they resolve errors and complexities in little time due to their vast experience. 
For example, at Digital Gravity, we have a dedicated team of WordPress developers. We have worked on a wide range of WordPress projects with different scopes. So our team is well-versed in overcoming the hurdles and simplifying the complexities involved in a WP development project.
Generally, the more customization needs to be done, the longer it takes to launch a WordPress site.
How to Find & Hire the Best WordPress Agency in UK?
Whatever objectives and goals you have, you can only achieve them by hiring reputable WordPress web developers. Only a talented and experienced team can execute out-of-the-box ideas. So how do you hire a WP company that will live up to your expectations?
1. Define your project requirements
It's like hiring an employee. In the same way, you write a job description for a vacancy as an employer, and define your project requirements. Some important points to write in this document are:
Your budget

The scope of work

The talent you are looking for (web designer, project, manager, WP customization specialist, etc.)
2. Ask Google
The best place to search for and hire a WordPress agency is none other than Google. Just write "WordPress development company near me" or "WordPress development company in London" and you will get hundreds of options.
3. Choose Portfolio & Reviews
Before you choose one of the WordPress website design services ranked on the first page of Google for WP services, you must confirm their credibility. For that, check out their portfolio section. Analyse each and every object they have successfully delivered. Is there anything similar to what you are looking for?
Also, don't forget to check the reviews on every website. 
4. Consider their Digital Marketing Experience
In the modern era, a web development company is supposed to be aware of digital marketing. From UX to the back-end, every aspect of your web has an impact on your SEO and branding efforts. 
So a company that understands the importance of UX and is well aware of Google's SEO Guide for web developers should be your top choice.
5. Get a quote
The final step is to get a quote before hiring the best company from them. But beware of the fact that the cheapest service provider is not the best in terms of quality. Or in other words, you shouldn't choose your WordPress company in UK based on the price.
Weigh the quality of work and portfolio of each company. Ask them what they know about search engine optimization and what are the basic pillars of an SEO-friendly website from a web agency's perspective.
Finally, choose the one that quotes the most reasonable price while assuring high-quality WordPress development services.
Looking for a WordPress Development Company in UK?
Are you planning to launch a WordPress website? Or, do you have an interesting online business idea? Feel free to contact us. WordPress experts at Digital Gravity are ready to guide you in this venture. 
While following the modern web design process, our team has been building WordPress websites since the CMS first emerged and revolutionized the web design industry. We leverage WordPress to carve out flexible, secure, and bespoke web solutions for our clients.
Over the years we have served hundreds of businesses from various industries. You will find healthcare, real estate, sports, education, online rating portals, e-commerce, banking, and dozens of other websites in our portfolio.
So irrespective of the complexity of your idea and your expectations, our team is ready to assist you. Schedule a call with our sales team to learn more about our WordPress website design packages.
FAQs
1. May I know the cost of your WordPress web design services?
We can't give you a quote without knowing your requirements. Do you need a complete website or just minor customization at the front end? Let's know what you are looking for and we will come back to you with a proposal.
2. Are WordPress-free websites of any use?
You can create your portfolio using free WordPress themes and hostings. But of course, you can't create a professional business website by relying on free resources.
3. Can you help me in backing up the WordPress site?
Yes, as a reputable WordPress agency in the UK, we know how to back up a WordPress website in a safe and smooth manner. Irrespective of the size of your site, we can get this job done with perfection!
4. Do you use page builders for WordPress?
If our client wishes so, we do use page builders as they can cut down the design time and minimize efforts. However, this does not mean we can't code a custom WP site from scratch. 
5. I'm looking for professional WordPress designers for creating unique themes from scratch. Do you have any past experience in custom theme development?
Over the years we have worked on a wide range of WP design projects, involving a higher degree of complexity. But with teamwork, a grip on advanced design tools, and using our extensive knowledge of the design trends, we pulled off every single one with perfection. Whether you need a custom WordPress web design service or a website based on an existing theme, nothing is beyond our expertise.