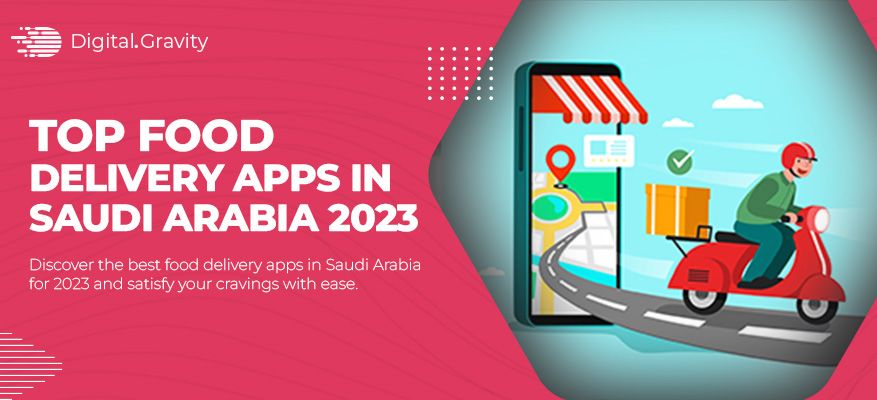 Food is a universal language that speaks to everyone. Because of this, food delivery apps are taking prominence, and are ruling the digital world.
Home to more than 35 million people, Saudi Arabia has emerged as one of the fastest growing economies in the world. With consistent efforts from the Saudi government to transform the country into a digital society, the number of tech start-ups has grown exponentially. Turning Saudi Arabia into a technology hub, powered by many great mobile apps. Likewise, food delivery apps in Saudi Arabia are facilitating food lovers with instant delivery and seamless user experience.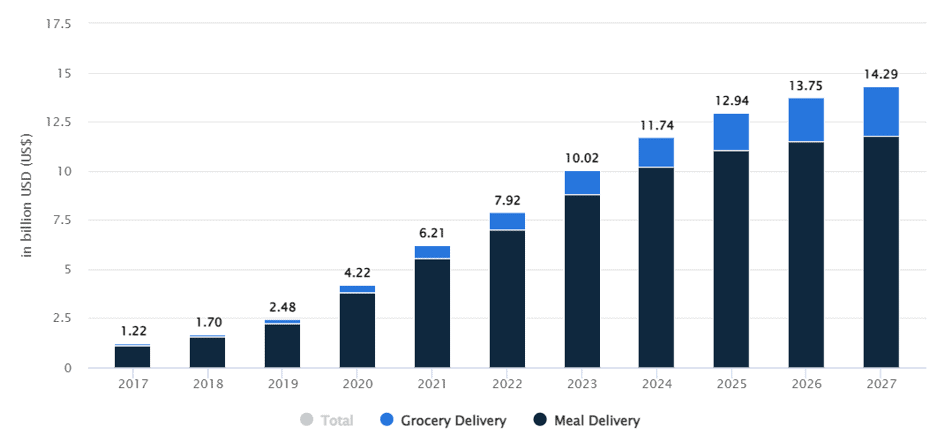 With an immense uptake of food delivery apps in Saudi Arabia, the sector has witnessed remarkable growth and is projected to reach a value of $14.29 billion by the end of 2027. This remarkable growth potential has urged many restaurant chains and supermarkets to collaborate with food delivery mobile apps. This collaboration with the manufacturer and service providers has fostered innovation, while at the same time it has helped in enhancing the reach and serve a larger segment of the society.
In this blog, we are going to provide a brief overview of the top food delivery apps in Saudi Arabia that are popular in 2023.
Top Food Delivery Apps in Saudi Arabia 2023
Where there is food involved, there is always an uproar of excitement, and rightfully so. Food is one thing that if tastes good, can end wars. Good food is always appreciated.
That is why we are listing down some of the popular Saudi Arabia food delivery apps that you can consider while ordering your next meal at home.
Mrsool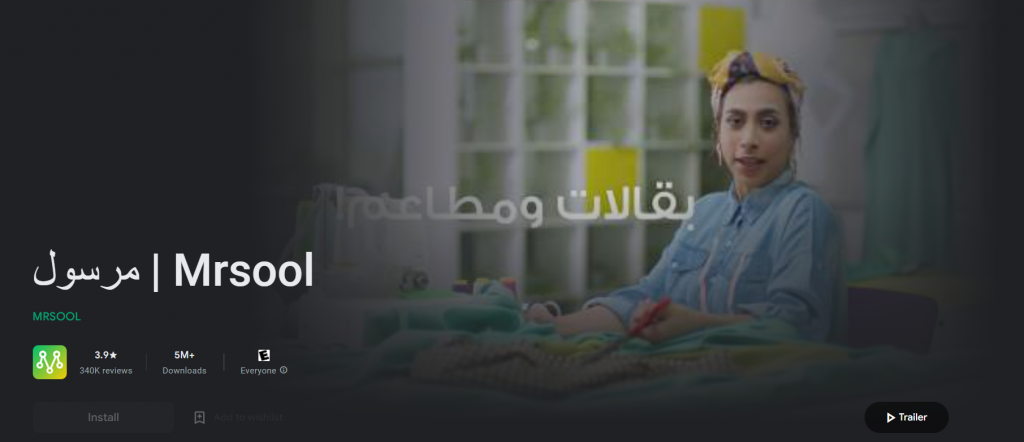 Ruling the world of food delivery apps in KSA, Mrsool is a famous Saudi Arabia food delivery app today. The distinction of this delivery app is that it not only delivers food but also other items like groceries, documents, and other goods.
Mrsool works as a powerful bridge between consumers and many brands by connecting them to facilitate their needs. This delivery app has information regarding almost all the locations in Saudi Arabia and delivers goods to them.
The app is extremely user-friendly and provides ease of navigation to users while using it. Mrsool has a huge amount of restaurants and shops that Arabians can order from. They are also great at providing optimum customer service and assisting their customers in every way possible.
Download: Mrsool Android | Mrsool iOS 
Uber Eats

The food app launched in February 2018 became an instant hit and has been one of the most downloaded  food delivery apps in Saudi Arabia. It harbors a wide range of restaurants that you can choose from to order your favorite food easily.
Uber Eats is quite easily the choice of many restaurant owners as well as customers because of the ease it provides while ordering food. This app allows customers to pay through either online or offline methods of payment.
Download: Uber Eats Android | Uber Eats iOS
Talabat

One of the best Saudi food delivery apps is Talabat. It provides fast and easy delivery of food to its customers. Besides ready-to-eat food, it also delivers groceries from numerous shops.
With a huge number of restaurants and shops registered on the app, Talabat allows its customers to browse through tons of options easily and place their orders. This app lets customers pay through several different methods like online payment, cash on delivery, digital wallets, etc. Talabat has partnerships with local vendors that provide goods such as flowers, groceries, medicines, and other products.
Download: Talabat Android | Talabat iOS

Hunger Station

One of the first online food ordering portals currently facilitating consumers and businesses in Saudi Arabia with instant delivery. With over 20,000 stores registered on the app, Hunger Station provides groceries, food, pharmaceutical products, etc to its customers.
Among the best food delivery apps in KSA, Hunger Station is quite popular because of its fast delivery. It works in over 72 countries across Saudi Arabia and Bahrain. Hunger Station has active partnerships with local restaurants and grocery stores, enabling them to serve 72+ cities in the KSA and Bahrain.
Download: Hunger Station Android | Hunger Station iOS
Ninja Grocery

As the name suggests, this app is one of the fastest food delivery apps in Jeddah, Saudi Arabia. Ninja Grocery delivers groceries, food items, fresh vegetables, and household items to your doorstep within minutes. They have more than 4000 products available to facilitate the needs of Arabians.
Ninja Grocery offers retail prices which are very economical. The app supports different payment methods with prominent credit cards such as Mada, Amex, Apple Pay, etc.
At supermarket prices, you can get items delivered to your home directly. They also have fresh and organic products so you can get a great deal at cost-effective prices.
Download: Ninja Grocery Android | Ninja Grocery iOS
Jahez

Named as the Unicorn in the hypergrowth consumer market of Saudi Arabia according to Entrepreneur Middle East, Jahez is quite a popular online food delivery platform. It offers a platform that facilitates users in ordering food anywhere they want.
Jahez has a user-friendly mobile app that lets users browse through tons of local restaurants and food options to order. The app accurately lets the users know about the order progress. Users can also schedule their delivery according to their feasibility.
Download: Jahez Android | Jahez iOS
ToYou

Whether you are looking for ready-to-eat food delivery or groceries, ToYou is a great choice that can facilitate you with both options within minutes. Along with delivering food, this app also allows users to book rides and send and receive parcels.
This Saudi food delivery app provides delivery in almost 57 cities across Saudi Arabia with thousands of restaurants and shops that can facilitate users with everything they may need.
Download: ToYou Android | ToYou iOS
The Chefz

Catering to an exclusive set of classes, this Saudi food delivery app delivers food from a wide range of elite restaurants, upper-class restaurants, high-end bakeries, flower shops, coffee shops, etc.
You can browse details of your favorite food, order food immediately or schedule it for later, track your order, view ratings by previous clients of restaurants, etc. By using the app, you can avail exclusive offers and enjoy discounts. The Chefz is currently only serving customers in Riyadh so it is a popular food delivery app in Riyadh.
Download: Chefz Android | Chefz iOS
Shgardi

A notable mention here is Shgardi which is currently serving more than 23 cities and over 3 million customers. This is one of the most popular food delivery apps in Saudi Arabia that allows customers to order food and send and receive parcels.
With Shgardi, you can order anything you want anytime. A wide range of restaurants, pharmacies, supermarkets, etc are at your disposal. With flexible payment methods like cash on delivery and online payments, customers can pay however they want.
Shgardi has proudly partnered with more than 14,000 restaurants and vendors. As a delivery app, Shgardi also provides many employment opportunities to the locals. Currently, it has more than 37,000 riders who are helping in delivering food and other items.
Download: Shgardi Android | Shgardi iOS
Nana

Food, groceries, or anything else, you name it and Nana can deliver it for you. Nana delivers food, groceries, and household items to your doorstep within 15 minutes. This Saudi food delivery app facilitates users with both online and offline (cash on delivery) payment options. You can also schedule your delivery at a later time depending upon your availability.
The Nana app is super user-friendly which provides customers to easily track their order. NanaHyper provides more than 22,000 products from various categories to its customers.
Nana has 3 apps including one for store owners, the second for riders, and the third for online shoppers.
Download: Nana Android | Nana iOS
Final Words
With the passage of time, the popularity of food delivery apps in Saudi Arabia will gain further prominence. The convenience and comfort that these food delivery apps offer to busy Saudis is unbeatable. However, consumers easily get bored and switch to a new and trendy apps quite rapidly. To stay relevant and maintain their dominance in the Saudi market, these app development companies must collaborate with the top mobile app development companies in the UAE to consistently offer convenient, user-friendly, and feature-packed food delivery apps.

FAQs
Which is the number 1 food delivery app in Saudi Arabia?
Serving food in more than 20 cities in KSA, and boasting over more than 3 million user's Jahez could be labelled as the number 1 food delivery app in Saudi Arabia.
What are the top free food delivery apps in Saudi Arabia in 2023?
Mrsool, Uber Eats, Talabat, and Hunger Station are some of the popular food delivery apps in Saudi Arabia.
Is HungerStation a Saudi food delivery app?
HungerStation was launched in Dammam in 2012. It is one of the first online food ordering portals in Saudi Arabia.
Which is the best food delivery app in Jeddah, Saudi Arabia?
Jahez with more than 1 million downloads, is easily the best food delivery app in Jeddah, Saudi Arabia.