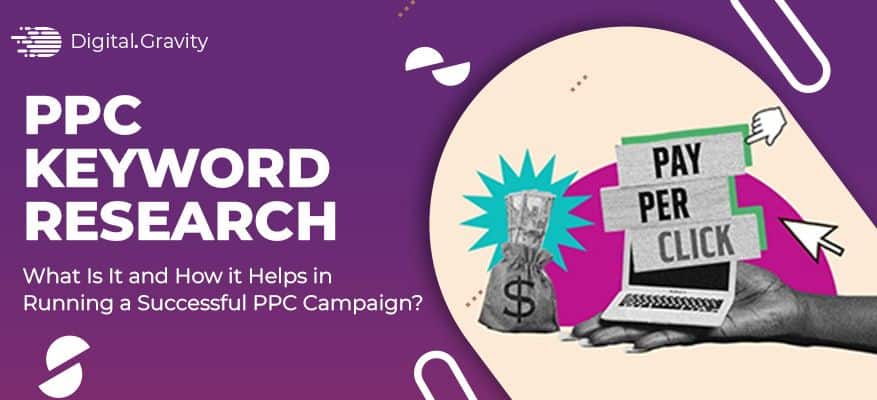 Do you want your PPC campaign to perform well? The secret lies in the suitable keywords. Keyword research can help your brand drive quality traffic and accomplish your objectives.
Pay-per-click advertising has gained traction for brands to access their prospects and attract more visitors to their sites. But, a PPC campaign's performance depends largely on implementing the right keywords.
Keyword research is recognizing and evaluating keywords and terms that are most pertinent to a business and its target market.
What is Pay Per Click (PPC) marketing?
PPC (Pay-Per-Click) is a digital advertising model where brands pay each time someone clicks on their advertisement. PPC ads are of several types, among which paid search is the most popular and shows when users look for items on the web using a search platform like Google.
PPC ad platforms only charge an advertiser when someone clicks on their ad, which is why the ads are called pay-per-click. Other types of PPC advertising are shopping, display advertising, paid social, video, and remarketing.
Why Are Keywords Important for PPC?
The purpose of running PPC campaigns is to easily win the people looking for your products/services or to solve a problem your product can solve.
This can only be achieved if you recognize your target audience, their behavior, and their preferences. Marketers need to understand how their ideal customers hunt for or research their desired products/services.
Keyword research tells you what queries your potential buyers use when considering or finding your offerings. For example, if you sell smartwatches, your customers might search for "Smartwatches Prices in Dubai," "Smartwatches for Kids," or "Best Smart Watches for iPhone," etc.
Keyword research also helps recognize if and how users search for solutions for particular industries. It is not the only technique that helps advertisers understand their target audience. But it surely can reveal how they look at and perceive your goods, what is essential for them, and how frequently they look for phrases or keywords that relate to your brand.
Moreover, the keyword research process also involves analyzing how frequently searchers use the keyword and its variations and its accessibility (keyword difficulty). This research should precede the optimization of your ads for those keywords.
How to Pick Keywords for Your PPC Campaign?
1- Conceive Keyword Ideas
What are the search terms your audience is using to find a product/service you prefer or a brand like yours? These will be the keywords you should be using in your PPC ads.
Getting these terms wrong can affect the performance of your paid search advertising, hence the significance of keyword research.
Keywords can be categorized into the following sections:
As the name implies, these keywords are the terms/words associated with your brand. Branded keywords usually have super high-quality scores and very low costs. This is why, recognizing these keywords is of utmost importance.
These keywords can produce remarkable results regarding conversion and click-through rates. Some PPC advertisers even use branded keywords of their competitors as they have low competition which helps reduce costs and achieve brand awareness. But it also has downsides that businesses should be aware of, such as lower CTR.
Customers looking for a specific brand are often firm on buying from only them and may not click on your ad even if it pops up in the search results of that brand name. This results in a low click-through rate, leading to a decline in your quality score.
Paid search ad platforms rank adverts based on their quality score and a lower score can take your ad a few positions down in search results. In addition, it will result in higher click-through expenses.
Product Specific Keywords 
Sometimes people decide to buy a particular product/service for the first time and they don't recognize any good brands that offer the same product. To cater to those target customers, advertisers need to create a list of service/product-specific keywords that contains several variants.
For instance, if you sell handbags, you should target keywords such as:
Shoulder bags for women
Leather purse
The tote bag
Crossbody bag

Long-tail Keywords
After you have decided on the branded and product-specific keywords for your ad campaign, move to the long-tail keywords. Customers conducting more specific searches often have a higher intent, and the terms they use most likely have lower search volume and in turn, have less competition and low costs.
Try expanding your keywords list with long tail keywords keeping in mind that these can have fewer impressions.
Feature-Specific Keywords 
Your business can also opt for keywords that revolve around a specific feature of a service, product, or brand. For example, searchers may look for "Made to Measure Blinds" to get the bespoke curtain size for the rooms of their homes.
Or a customer could be searching for "cheap apartments in Palm Jumeirah". Remember feature-specific keywords may be high-intent but not always.
The reason we are telling you this is to make you aware of the importance of leveling target keywords by using a couple of broader terms with higher search volume.
These broader keywords can have lower intent but can allow you to establish brand awareness amongst the audience still in the research stage of the sales funnel.
2- Learn What Others in Your Niche are Targeting
The first thing to do when you set out to do keyword research is to see what search terms your competitors are targeting. It is a no-brainer and doesn't take much effort, time, and money.
Check what keywords their ads rank for, which ones they are bidding most on etc. You can take help from any good competitor keyword research tool like SEMRush.
Just like SEO keyword research, utilizing a tool for paid ads will enable your business to view a complete list of different kinds of keywords. They can include the ones for which your competition's ads are showing, the monthly costs they are paying, their ad ranks, and high-performing ad copies.
When you are using such a tool, give priority to those high-value search terms that your brand can benefit from.
3- Benefit from Google Searches
After competitor research and brainstorming keyword ideas, the next easiest step is to search on Google for the keywords you should target for your PPC ads.
Search the broader key terms first on Google and then move towards more specific ones. This practice will provide you with more keyword ideas. Follow these steps when searching for keywords on Google:
As you start typing in the search bar, Google starts completing your phrase by suggesting words to attach with the words you have already typed. These are the gold mine of keywords as people are already using them
Then consider the 'People Also Ask' box where Google shows queries searched by users relevant to your search term
Look at the 'Related Searches' box at the bottom of the SERP to recognize any short terms relevant to your keywords
These recommendations can help you select the most relevant search terms for your ad's copies and include them in your keyword list.
4- Use Keyword Research Tools to Expand Your List
Google keyword planner is one of the most popular keyword research tools available. You should enter the words/phrases in Google's keyword planner you think your ideal customers would be looking for and a few keywords you already have enlisted and find suggestions.
The tool offers data like the average monthly search volume, predicted bid costs, and competition. We have already discussed that this practice is essential because businesses often express their offerings using different words/phrases than what users look for.
This might make your keyword list long but ignore that aspect for now as the next stage of the process will assist you to filter your keywords.
5- The Technique of Filtering Your Keyword List
The technique we use in keyword research is to first create a keyword list by adding any word or term that you think can be relevant. If you think too much about keeping the list short at the initial stages, you will get confused.
But once you have built up a long list of low and highly-relevant keywords, it's time to shortlist them. First, upload the keyword list using your keyword research tool.
Once you have uploaded it, carefully analyze each keyword, their prospective impressions, monthly searches, and other metrics like average cost per click and estimated click-through rate.You want to select low-cost and competition but high search volume terms to ace the game of PPC. However, expensive keywords are also worth the money because they attract quality leads to your landing page so don't dismiss them completely.
Keep in mind the above suggestions and eliminate some keywords from your list that you think are not worth your time, money, and effort.
6- Ways to Organize Keywords into Ad Groups
An ad group consists of one or more adverts that share similar targets. The advertiser set a price or bid to be utilized when an ad group's keywords match an ad to show, which is known as a CPC bid.
Once you have your keyword list ready, start making ad groups by organizing similar keywords consumers may use to view your particular ads in groups.
You can categorize adverts by a shared topic like the products/services types in your campaign. If you want to sell eyeglasses through your campaign, your ad groups can have themes such as Aviator glasses, Men's prescription eyeglasses, Rimless glasses, etc.
For example, around the ad group "rimless glasses," your keyword list will have some relevant search terms and super-relevant ads with those terms in the content.
Your brand can make ad groups around a stage of the advertising funnel or search intent if suitable. It can be super advantageous to be able to produce bespoke ad content to attract a variety of customers with different preferences. It will help your business to stay ahead of the competition.
Final Word
Keyword research still lies at the heart of any PPC strategy and takes patience and time to complete. But someone experienced with PPC keyword research for a successful ad campaign can perform your job in less time and with better results. Step up your PPC game with the services of the best PPC agency in Dubai, Digital Gravity! Our PPC professionals can help you find the right keywords for your campaign to attract more qualified leads and reduce costs.
FAQs
1- Should I consider 'keyword match type' when creating ad groups for a PPC campaign?
Yes. Your chosen keyword match type directly affects the success of your selected keywords. It will offer search engine standards as to when to display your ads.
2- What happens if I select "Broad Match' in the keyword match type settings of Google ads?
Broad Match allows Google to interpret your target audience and prompt your ad depending on any keyword it considers related to your keyword.
3- What happens if I select "Exact Match' in the keyword match type settings of Google ads?
If you choose 'Exact Match' in the settings, your ads will pop up for the exact search queries as your keyword. Advertisers can ensure their ads reach their most relevant audience with Exact Match, but it can restrict them from triggering in those ideal positions Google bots would have recommended.
4- What are negative keywords?
Negative keywords limit a business 'ads from popping up for unrelated search queries. They can help a business include a couple of Broad Match search terms in their tactic.