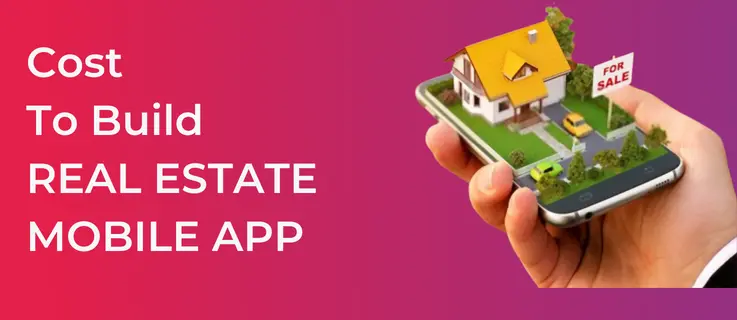 How many mobile apps do you use in a day? If you are like most people, you use many apps from the social networking favorites like Facebook, Instagram, Twitter, Snapchat, TikTok, etc. And you might use other applications per your interests and needs.
Are you a statistics person? Here you go: an average individual uses nine mobile applications daily and thirty apps monthly.
It would not be unfair to say that mobile application is today's most prevailing channel of digital communication. Software development has progressed very rapidly in the last fifteen years.
Mobile apps have been playing a paramount role in a company's success because they furnish access to on-demand solutions and data.
It is a comprehensive piece that sheds light on everything relevant to the app development costs in Dubai for real estate. Also, we will define a real estate application and the aspects that impact the overall budget for its development. But first, let's look at a few numbers regarding our topic!
Quick Statistics on Mobile App Development in the UAE
United Arab Emirates is the second-largest economic power globally. A study expects UAE will enjoy a 221.5 million mobile app market share by 2027.  and it would mean outstanding opportunities for business owners to grow their startups.
And the same study says that 2022 witnessed a rise of 23% in the gross number of mobile application downloads. And this number will go up in 2023 and beyond.
Before we jump on the subject of real estate app costs in the UAE, let us enlighten you on why you should invest in developing a real estate app in the first place!
What is A Real Estate App?
A real estate app is a mobile, desktop, or web app that allows people to look for real estate to purchase. These applications feature address lookup, the function to see images and floor plans of each house, and data on its location.
Real estate applications are the siblings of property management apps, contractor management apps, and home improvement apps. Some top-notch examples are Zillow, Trulia, Realtor.com, and Redfin.
Real estate App Types

Here are a few types of real estate applications that our company has created for clients.
1. A Real Estate Appraisal App
In such an app, people sign in and view a map and click or browse for an address to add a new recruitment opportunity. The approximate cost of building a real estate appraisal app is AED 33,056.
2. A Property Information App
Users can target the property and hunting market via this application. The layout, function, and screen flow resemble the Basemaps or OnXHunt (hunting applications). The approximate cost of building a property information app is AED 64,276.
3. A Home Inspection Booking App
Users can book property inspections straight from this app. The approximate cost of building a home inspection booking app is AED 65,276.
4. A Realtor App
It is an app designed for realtors, homebuyers, and tenants. It streamlines communication with customers, reduces paperwork, and provides access to real estate documents. The approximate cost of building a realtor app is AED 304,848.
5. A Household Management App
helps tenants, homebuyers, and real estate agencies easily monitor the existing state of their properties or apartment buildings available for sale or rent. The approximate cost of building a household management app is AED 35,056.
6. Property Listing App
It is also developed for real estate agents, homebuyers, and tenants. These applications enable users to smoothly see property listings on the market along with crucial details about each property item. The approximate cost of building a property listing app is AED 37,056.
7. Smart Home Access Apps
It helps users find apartments and homes with smart home features and is quite popular with millennials. The cost of building a smart home access app ranges from AED 55,093 to AED 3,673,000.
8. A Property Management App
It helps real estate managers maneuver property management instantly and readily view work orders and due dates for rents. These apps have advanced features. The cost of building a property management app ranges from AED 91,822 to AED 128,550.
9. Renting or Buying App
A renting/buying application is designed for homeowners, renters, landlords, property agents, and sellers. It allows users to easily hunt for housing to purchase or rent. You can enter criteria in its system like cost, facilities, and neighborhood.
These apps automatically impregnate SERPs depending on requirements and give in-depth insights into each listing. The cost of building a renting or buying app ranges from AED 91,822 to AED 165,550.
10. Home Valuation App
A home valuation app aims to assist landlords, sellers, investors, and property agents. Users assess the actual market worth of a specific property and utilize private and public data on real estate trends and previous sales. It also aids in anticipating house prices in the coming months or years and ascertaining aspects behind those forecasts. The cost of building a home valuation app ranges from AED 80,822 to AED 95,550.
11.A Virtual Tour App
A virtual tour application is designed for landlords, sellers, tenants, property agents, and house buyers. It offers 3D tours for a more real experience of seeing homes on the internet and helps them get more preferred and saved houses by homebuyers and renters. The cost of building a virtual tour app ranges from AED 110,186 to AED 119,550.
Why Should You Build A Real Estate App for Better Marketing?
If you are in the real estate market or have knowledge of it, then you know how fast this industry flourishes. The product is a house/property, which means a small mistake can turn into a blunder, causing you to lose a lot of money.
And then comes your competitors. It is one of the industries where businesses fight tooth and nail to secure customers. Fortunately, modern technologies provide a few solutions to ace the race.
Yes, you guess it right! We are talking about mobile app development. Keep reading if you want to know why should real estate agents create an app for their business.
1- Rapid Sales Approach
Your real estate company can accelerate sales with bespoke software exhibiting virtual tours, advanced property search, and electronic document signature and transfer.
2- Stay Accessible All The Time
A mobile app facilitates 24/7 communication between a business and its users. Customers don't have to wait on phone calls and can have instant chat.
3- Great Consumer Experience
People looking for a house to rent or buy a property visits many options and sometimes forget all the good and bad of each option. It makes comparison difficult.
Property managers often lose leads because property buying is a big financial decision and people want to choose after making a fair comparison.
By creating a real estate app, you allow them to store their searches and desirable real estate, get in-depth area details, take 3D tours, quickly use a mortgage calculator, and more.
4- Task Automation
Property buyers and real estate companies can enter real estate data smoothly, exchange documents rapidly, and automate responses through the chatbot.
App Development Costs for Real Estate

Nobody can tell you a specific amount of money you need to invest in developing a mobile app for your real estate business. It depends on the complexity of the app, your development method (in-house development or outsourcing), and its core features.
We will understand the stages of real estate app development before we talk about the approximate cost of real estate app development.
App Development
96% of consumers used the internet to look for a property in 2022 and 60% used mobile phones for the purpose.
The web and mobile development costs for a real estate app are about AED 80,000 – AED 99,000 and may take 900 hours. It is the fundamental phase of real estate application development.
Here, you will apply tech stacks, and add features and functionalities such as chatbot, AR/VR or push notifications. Remember the more sophisticated functions you add to your app, the more total spending will be.
And the costs also hinge on the app store you select, android or iOS. We recommend creating a hybrid application to serve your clients on all major platforms.
UI/UX Design
Highly responsive UI design and a memorable UX design are paramount to an app's success. It will take roughly 200 hours, and the approximate cost is between AED 15,000 – AED 25,000. Make sure your design team studies your target customers and the devices they use to create an engaging UI/UX.
Quality Assurance and Testing
After completing the development and design process, you will start the testing which involves usage by your team members.
Many automated and manual types of testing ensure your product is bug-free to the best of your ability and runs smoothly. This stage furnishes insights into the app's usage, enhancing interfaces and features.
Project Management
This phase guarantees that you achieve your project's milestones and its scope matches your expectations. The project management team also commits risk analysis to find security patches and collaborate with you on the app development process.
Our research suggests that project management accounts for 10 to 15% of the gross costs. And the approximate figure is AED 127,000 – AED 176,000.
| | |
| --- | --- |
| Stages of App Development | Approx Cost  in AED |
| | |
| Backend Development | AED 80,000 – AED 99,000 |
| UI/UX Design Of App | AED 15,000 – AED 25,000 |
| Quality Assurance and Testing To Find Bugs | AED 17,000 – AED 27,000 |
| Project Management | AED 15,000 – AED 25,000 |
| Total: | AED 127,000 – AED 176,000 |
Ways to Grow Your Real Estate App
Do you want users to download and use your real estate app and become your loyal customers? Then you need to follow a proper growth strategy. It will also help you to control the costs of managing the product.
You can provide app consumers with a feature to categorize and share their houses with their friends and family. Your application should work as a platform where users share their ideas about their properties, or via virtual tours that allow them to walk through the houses of other people virtually.
Referral programs are another great idea to grow your app which offers incentives to both seller and the new home buyer. Plus, your property app can boost consumer loyalty by providing technologies for real estate brokers and landlords to monitor upkeep and maintenance.
Challenges and Risks Involved in Real Estate App Development
Real estate is one of the business sectors heavily regulated by the government. And we can't blame it as buyers often lose a fortune at the hands of frauds or  manipulators.
It also means that credibility is crucial for your real estate app to make a name in the market. Any legal or reputational threat can ruin years of efforts.
A few threats are a breach of local zoning limitations, legal responsibility for user-generated documents, and the usage of external information streams that don't match the pertinent law requirements.
All these nuances can be handled by an expert lawmaker or legal advisor so consult one to stay away from any legal difficulties.
Bottom Line
In 2023, companies in the UAE prefer mobile apps as a marketing channel and are increasingly shifting their focus towards it. They set the course for firms to boost their overall efficiency and focus on an increased customer base, maximizing ROI.
Mobile apps boost the digital marketing plans of real estate businesses and are necessary for today's competitive market. Real estate agents and companies are also using mobile applications to serve their customers better.
Real estate app development costs depend on various factors we have discussed above. It also depends on the real estate mobile app pricing plan you offer to your app users.
FAQs
How to select a real estate app development company?
Find app developers who have prior experience in building and managing applications for the real estate and property industry.
What are the major challenges that a business faces while building an app for real estate?
One of the main challenges in creating a real estate application is to retain the old and recognized brand identity and show it in a new way to boost outreach to other demographics. Other challenges are the demand to integrate several APIs, the highly loaded market, and the lack of industry expertise.
Should I create first a mobile app or web app for my real estate business?
This decision depends on your business requirements. However, we suggest beginning with a web app that will lay the foundation for your mobile product. Mobile apps need more resources particularly if you are creating separate native apps for different platforms.
What are the features of an ideal real estate mobile application?
An ideal real estate app may have features including user onboarding, buying & selling properties, listings & databases, filters & categories, real estate profiles, and favorites or wish lists.