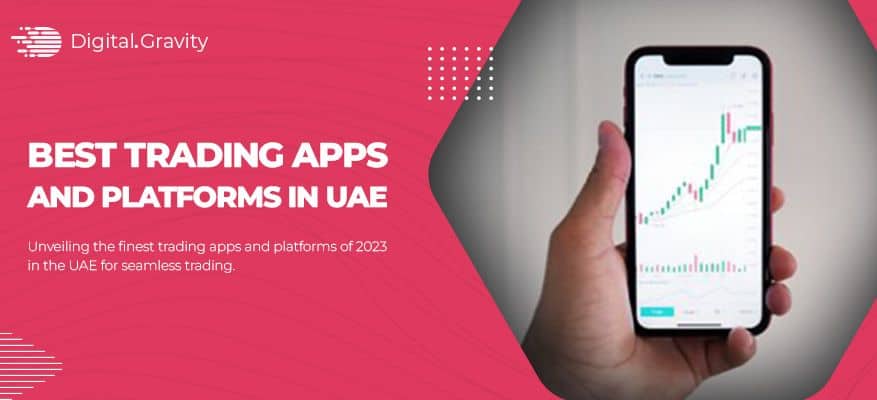 Navigating through the world of online trading can be a complex task. With tons of online trading apps, identifying the most prudent, affordable, and best trading app or platform in UAE can be quite challenging.
Don't Worry!
Our team of experts have reviewed hundreds of trading apps and platforms to find the most reliable and authentic UAE trading apps to help you select the best trading platform in UAE.
Whether you're a professional trader looking to trade in high volumes of stocks or a beginner looking to venture into the world of stock trading, this guide is for you. In this guide, we have not just listed the best stock trading apps in UAE, but we have also highlighted their features, pricing structure, and other attributes to help you take control of your financial future.
Before we dive deep down into the nitty-gritty of online trading apps, let's start by understanding what actually is an online trading app.
What is an online trading app?
An online trading app or platform is basically software used to trade securities. It offers traders the opportunity to buy, sell, and manage stocks on a trading platform. These online trading apps feature a wide range of options, such as real-time quotes, interactive charts, and live news feeds, to help facilitate decision making for investors.
These trading platforms in Dubai will not just offer greater feasibility for beginners, but it also offers them the opportunity to trade different investments more aptly and conveniently. Now, you might be wondering now how to open a trading account in UAE and how to trade stocks in UAE, the answer to your question is given below.
How to open a trading account and buy stocks in UAE?
Firstly, you need to apply to the Dubai Financial Market (DFM) or Nasdaq Dubai listed securities. You can buy stocks in the UAE through the following procedure:
Register yourself for an Investor Number (NIN)
Get a brokerage account
Trade stocks
Monitor regularly
To buy and sell stocks in the UAE, you need to have a valid passport. Non-residents can also apply and minors under the age of 21 can invest with a signature from a guardian on the application.
Since there are many trading apps and platforms in UAE, here, we are providing you with some of the best trading apps and platforms in UAE that will be great for you in 2023.
Best Trading Apps and Platforms in UAE 2023
Trading platforms and apps are digital software that facilitates the buying and selling of different financial instruments. These platforms and apps are greatly helpful for investors and traders with features, tools, and resources to complete their financial transactions and trades.
Online trading platforms and apps enable people to actively participate in different financial markets.
If you want to know more about the best trading platforms, read this piece.
eTORO
One of the best trading platforms in the UAE is eTORO. Due to its 0% commission on stock and social trading, eTORO provides many benefits to users. It is a multi-investment company that possesses more than 30 million users which is the most significant social trading community in the world.
With eTORO, you can invest in various assets such as stocks, commodities, ETFs, CFDs, FX, or cryptocurrencies. eTORO provides a user-friendly interface and a functional and engaging platform that makes it the best trading app in UAE.
For this reason, mobile app developers in Dubai are proficient in mobile app development that is highly personalized and engaging.
Download: eTORO Android  | eTORO iOS
Interactive Brokers (IBKR)

If you have limited experience with trading platforms, Interactive Brokers is the best choice for you. As a UAE trading app, this platform provides a wide range of features that are great for individuals looking for easy yet effective trading apps.
This trading app is a multinational brokerage that was established in 1978. Compared to other trading alternatives, Interactive Brokers has the biggest and best collection of different assets with approximately 150,000 financial instruments across 135+ markets.
With overall low fees, it also charges 0% commission on stocks and EFTS. Investors greatly benefit from this trading platform as it pays high interest on cash balances like 5% on AED.
Interactive Brokers is not only an excellent platform for intermediate investors but it also caters perfectly to the varying needs of professional and advanced investors.
Download: IBKR Android | IBKR iOS
XTB

Launched as X-Trade in 2002, it later merged into the XTB group, becoming XTB. This is one of the best trading platforms in UAE that offers 0% commission on stocks and ETF trading.
With low spreads through CFDs on Forex, Indices, and Commodities, XTB is a great trading app and has been awarded multiple times as the best Forex and CFD broker. It is also one of the biggest trading platforms that is listed on the Warsaw Stock Exchange.
XTB has offices in more than 13 countries that include but are not limited to, Spain, the UK, France, Poland, and Germany. This trading platform outperforms any of the other trading platforms because of its excellent performance.
As a UAE trading app, XTB has a tremendous and interactive user interface, engaging visuals, and ease of navigation that helps investors easily use the app. XTB was also nominated for the top-rated Forex and CFD Broker in the Wealth and Finance International Awards in 2018.
Download: XTM Android | XTB iOS
Plus500

A very well-known trading platform in the UAE is Plus500. Offering a wide range of financial instruments for trading, forex, commodities, cryptocurrencies, stocks, etc., Plus500 is a highly popular trading platform that is known for accessibility and user-friendly.
This trading app provides real-time market data, live quotas, and price charts which makes it simply the best trading app in UAE. It is very beneficial for investors to make informed decisions that will benefit them in the long run.
Plus500 offers some risk management tools such as take-profit orders, and stop-loss that help traders have firm control over their potential profits and losses. This trading platform is also great for new traders who can make demo accounts with virtual funds. This will save them from investing real money without having any knowledge of the market.
Download: Plus500 Android| Plus500 iOS
SaxoTraderGO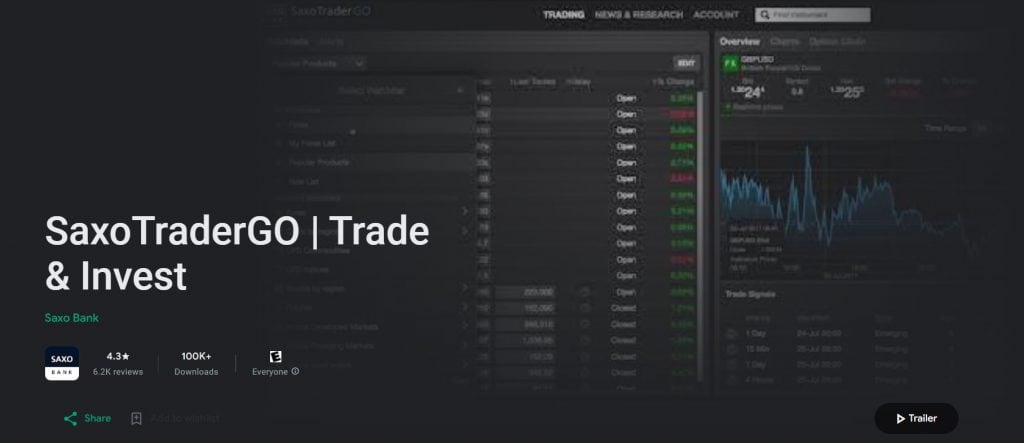 One of the most popular and used trading platforms and apps in the UAE is the SaxoTraderGO. With access to a wide range of different financial instruments, SaxoTraderGO has established its position as a global leader in the trading world today.
As the best trading app in Dubai, this trading platform provides remarkable features that can benefit all traders, no matter their level of expertise. Beginners, intermediate, and professionals, everyone can easily use this platform.
A prominent feature of SaxoTraderGO app is that it allows multi-asset trading that includes but is not limited to stocks, forex, bonds, commodities, cryptocurrencies, and many more. This is quite an advanced trading platform that is equipped with the latest trading tools and features which include technical analysis, market insights, charting, economic calendars, etc.
Download: SaxoTraderGO Android | SaxoTraderGO iOS
Benefits of Using Trading Apps and Platforms in UAE
We have mentioned above some of the best trading apps and platforms in UAE that you can choose in 2023 for your investment.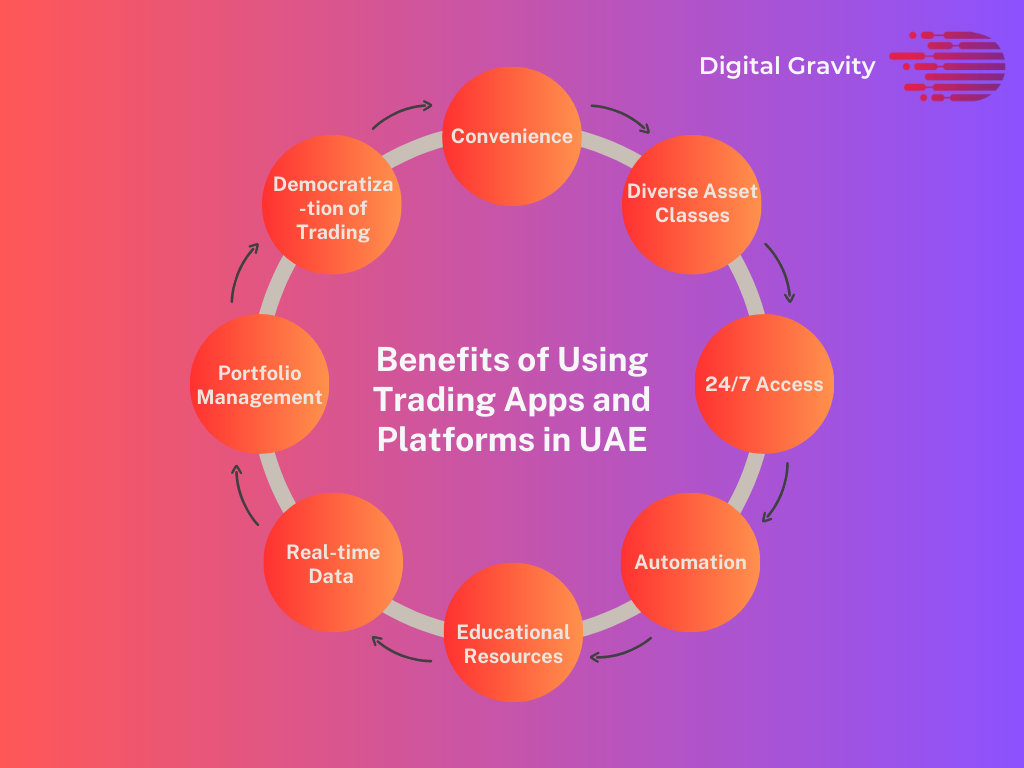 But if you are still fumbling with the idea of how trading platforms can benefit you, we are listing down some benefits that will surely convince you:
Convenience
Trading platforms and apps in UAE highly facilitate users in easily accessing financial markets and conducting trades from anywhere and any time they want. Especially for working people, trading platforms and apps are highly beneficial because they provide feasibility to online trade stock instead of visiting any trading facility physically.
Diverse Asset Classes
Trading platforms and apps in UAE are really popular as they provide access to a wide range of asset classes, including but not limited to forex, stocks, commodities, cryptocurrencies, etc.
With this diversification feature, investors can effortlessly analyze and manage risks and maximize any potential profit. With different trading apps in UAE, investors are enabled to evaluate numerous options for trading platforms and apps and make their choices based on their feasibility.
24/7 Access
The best quality of trading platforms and apps is that they operate 24/7, providing a suitable opportunity to investors so they can trade easily anytime they want. If the traditional hours do not work for you, you can always access any trading platform or app during non-traditional hours.
Trading apps UAE facilitates a wide variety of investors to access the trading platforms at different times keeping in mind the different time zones.
Automation
Some trading platforms and apps offer automated trading features which take the biggest load of the whole work. Through automation, users can set up different criteria for executing trades.
Automation facilitates traders to implement pre-decided strategies without constant monitoring. This leaves time for traders to focus more on other things and save their time.
Educational Resources
For new traders, trading platforms and apps are really helpful as they provide access to a lot of educational material that can help beginners learn the world of trading. These can include but are not limited to webinars, tutorials, market analysis, data insights, etc.
These educational resources can help people make informed decisions regarding trading and make more informed decisions. Not only beginners but professional investors can also take advantage of these educational materials.
Real-time Data
A really big help that trading platforms and apps provide is real-time data and analysis. Through this, traders can easily keep up with the ever-changing market trends and make clever decisions.
Trading apps and platforms in UAE do not let you miss anything new. They keep you constantly ahead in the game and help in make timely decisions.
Portfolio Management
Various trading platforms and apps provide tools for effective portfolio management which help investors constantly keep track of their investments, track performance, and make and implement customized strategies.
If you are investing in several different trades and stocks, it may be difficult to accurately monitor all of them at the same time. For this, a portfolio management tool is highly necessary to constantly monitor every investment individually.
Democratization of Trading
With online trading platforms and apps, today's trading has become very easy for new and inexperienced people to take part in. They are more accessible, easy, and functional for users.
People with small budgets can effortlessly participate in different financial markets. Also, any new investor is exposed to several educational resources that can help them in the buying and selling of different stocks.
Final Verdict
The digital world is evolving so rapidly that trading has also evolved with remarkable growth. With innovation, the latest trends, and cutting-edge technologies, Dubai has some of the best trading apps and platforms for investors.
Today, the main focus of any mobile app development company is to create highly innovative and functional trading applications that can easily cater to the needs of the users.
FAQs
How to open a trading account in the UAE?
To open a trading account in UAE, you need to apply for a Dubai Financial Market (DFM) (NIN) number, select a licensed broker and you are ready for your trading transactions.
How to buy and sell stocks in UAE?
You need to follow a few steps to buy stocks in the UAE:
Select a brokerage platform
Open an account
Fund your account
Research and analyze to select stocks
Place a trade
Evaluate and confirm
By following the above-mentioned steps, you can easily buy and sell stocks in the UAE.
Is Dubai good for traders?
Dubai is undoubtedly one of the prominent places for stock trading and forex. It is a good choice for investors to trade in Dubai.
Which is the best platform to trade in the UAE?
There are many trading platforms and apps in UAE but the most popular one is eTORO. This platform is user-friendly, powerfully functional, and provides commission-free trades.