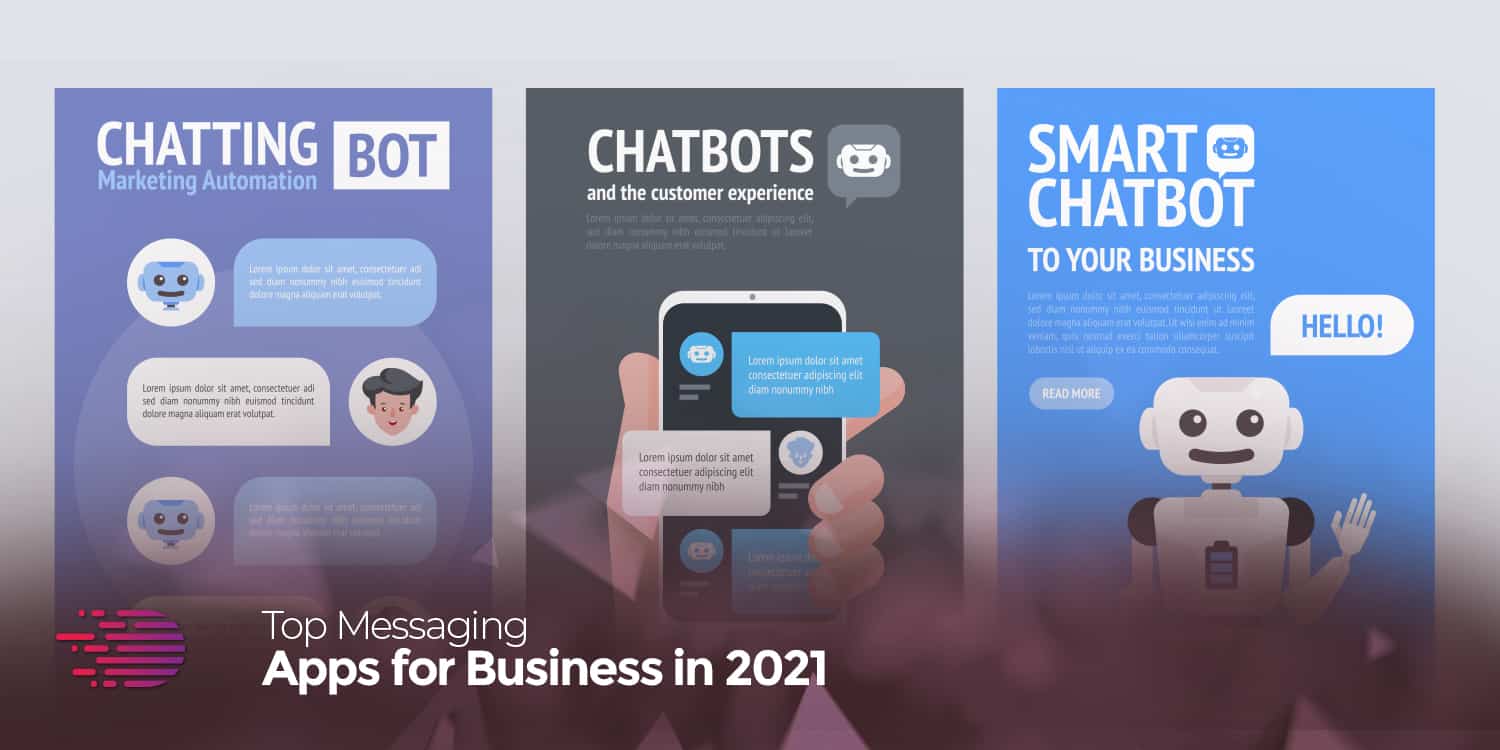 More than 5 billion people use messaging apps monthly according to a report by HubSpot in 2018. The potential of applications, such as Instagram and Snapchat, whose new features have raised their popularity as powerful business tools, has already begun to be appreciated in the market. However, there are instant messaging platforms that can not only make it easier for businesses to improve their customer services but also enhance their digital marketing strategies. Messenger apps take online marketing to a whole new level. Generating leads and increasing click-through rates has never been easier. 
Role of Messengers in Promoting a Businesses
Messengers come under the category of social media networks. Social networks have boosted an incredible evolution in the relationship between companies and customers. Social media makes it possible for customers to contact the major brands easily. This possibility helps businesses in solving queries of their customers, in addition to having the potential to increase sales volume and consistency.
Some of the popular messengers which are available for businesses include:
WhatsApp Business is a mobile application for Android and iOS that allows small business owners to communicate with customers. It is similar to a regular WhatsApp messenger, with the exception of additional functions. Some of these are:
Company profile

, where you can post information about the company, website and its contact.

Statistics

on sent delivered and read messages.

Sorting

options and

quick replies

to messages.
It should be understood that the application is installed on one smartphone and only one person has access to it. WhatsApp Business App cannot be integrated with CRM or contact center chat platform as the solution is not scalable.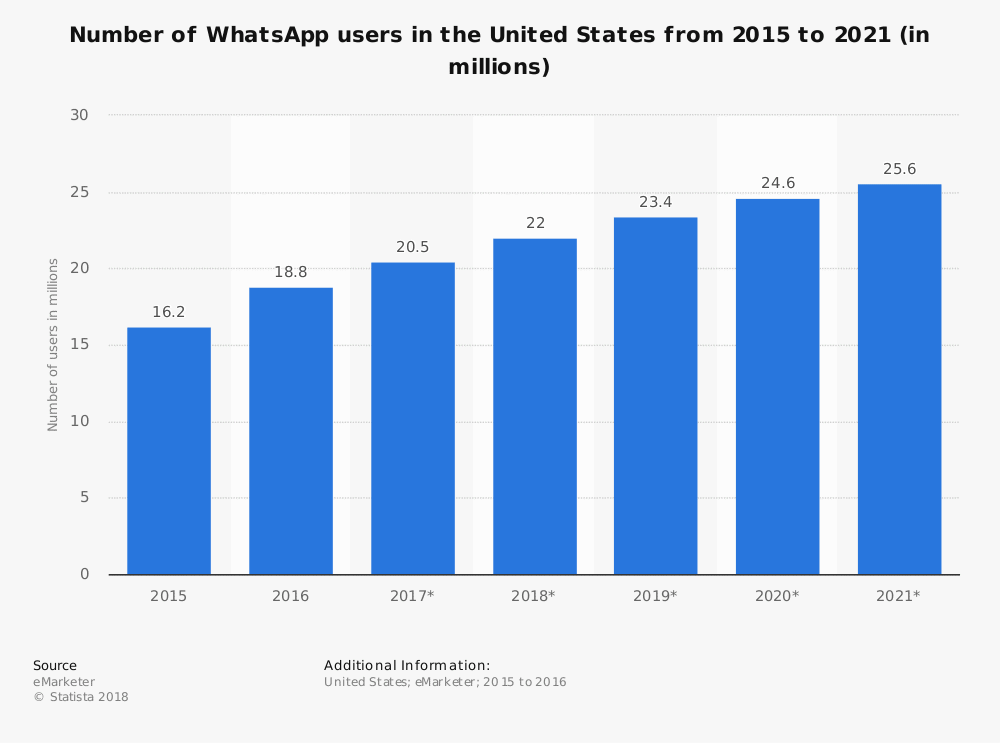 According to Statista , WhatsApp Users have been increasing in millions. WhatsApp messenger is the most used app across the USA & all over the world except of UAE.
WhatsApp Business API is a new solution launched in August 2018 that, like WhatsApp Business app, allows businesses to communicate with customers. Its main difference is its scalability. WhatsApp Business API can be integrated with a website, contact centre, and a CRM system. This means that any customer support person can respond to a customer request on WhatsApp. In addition to the above, the functionality of the WhatsApp Business API includes:
Company profile, where you can post information about the company, website and its contacts.

Detailed statistics.

Chatbot support.

Complex multi-level campaigns.
Facebook Messenger for Businesses
This platform quickly took off due to the increase in the wave of interest in Facebook and took a strong position. Key benefits of Facebook Messenger for business include:
Fast text and media messaging and video calling

: All these options are accessible from any mobile device.

Saving time for working with a client

: Chatbots offer automated support and decrease the load on the contact centre. Operators can focus on reducing response times.

High engagement

: The open rate of Messenger is approaching 80% and the click-through rate is about 13%, according to

a study in 2017

. Sales funnel progress is also faster, especially if you use a chatbot and CTA buttons. 
Integration of Messenger with the site: There is no need to install and configure a separate online chat: all communications can be conducted on one platform.
Guide to use Using Facebook Messenger for Business 
Source: amoCRM: Messenger-Based Sales
Telegram for Businesses: Telegram is a messaging app that was created by Russian Pavel Durov and is an alternative to other solutions of its kind, such as WhatsApp. With it, it is possible to strengthen the relationship with customers, which can help you to improve sales in your company. Some of the most prominent features which make this app an attraction of business owners are:
Attachment size: Unlike other messaging applications, Telegram allows its users to send files of up to 2 GB.
Customization: Telegram offers businesses a way to customize their profile according to their liking. In addition to inserting a photo and company name in your profile, you can include a link to your website. This way, your potential customers can easily access your business website.
Audio: Telegram offers a very interesting additional feature when it comes to voice notes: the possibility of speeding up playback, which helps the user to save time.
Group: Groups can contain up to 200,000 users. In addition, administrators can pin messages, which is great so that important announcements are not lost in the middle of the conversation. Another interesting feature is the possibility to edit messages after they have been sent.
Channels: In a way, channels are similar to groups, as they allow a person or company to communicate with a large number of users. However, anyone who follows a channel cannot participate in the conversation, since only administrators can post.
Synchronization: As Telegram's operation is cloud-based, everything you do in the application, whether on the computer or any other device, is synchronized. This feature ensures convenience when communicating with customers and followers.
Using Skype for Business to Ease Business Operations
Skype for Business provides all the features that Skype also offers, but it allows some advantages over these services. One of the most prominent advantages is the participation of up to 250 users in a meeting, and up to 10,000 people in the broadcast. The tool also allows companies to record their meetings. Another extra feature of Skype for Business is that it can integrate a number of applications, including Office 365 ecosystem, enabling the use of services such as PowerPoint in video conferences. 
How to Use Messenger Apps to Market your Business?
Most of the messengers offer chatbot option, the facility which can solve issues with low-complexity and do not necessarily require a chat agent. By using the bots, it is possible to speed up the service and help the user in solving certain problems immediately.
Guide for ChatBot
Source: amoCRM: Messenger-Based Sales
 Satisfied customers always help companies in marketing their brand and services indirectly.
Google trends data analyzing increase of business with adding chatbots.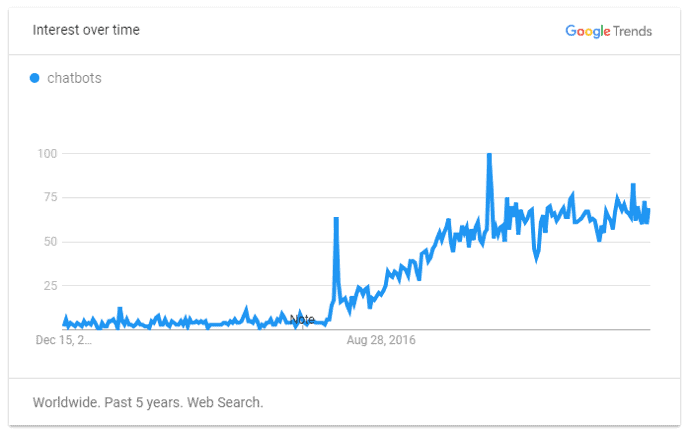 In conclusion, there is a wide variety of messengers available for business to not only improve their business operations but also market their products in an easier and a more convenient manner. Such apps most prominently help administrative, sales, marketing and CRM departments. All these apps come with their own features. However, some of these messengers are free while for others, companies have to pay a nominal fee to enjoy an enhanced experience.

We are a digital agency has experience working with top notch clients. We provide web designs, web application, mobile application and all digital marketing services. We work with individual clients and also agencies.
- admin