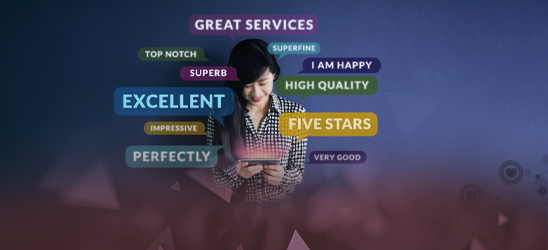 Okay so if you are shopping online which brand would you go for? The inactive bad reviews and unresponsive ones or the ones with good posting, communication, and reviews?
Unless you are a blogger experimenting with 1-star stores as a trend your answer is the latter option. Similar to you, your customers also go with the latter option. So how do you become the latter option?
Online reputation or ORM is a concept aimed at creating a virtual positive public perception of the business. The ORM strategies include addressing content and feedback that damages the brand and by using different methods the reputation is improved and recovered as well. 
Recovering a reputation is harder than building and managing it so we recommend you keep your brand reputation afloat. Online reputation management is an ongoing process and keeping your business afloat, consistency, and dedication are important. 
How to Monitor, Manage, and restore your Online Reputation in 2022
 Where Does Your Business Stand?
The first step in checking your online reputation is research on your business. Googling your business name, products, and even the target audience is the foundation of your future strategy. 
For example, if your business is not ranking in the first five listings then you must work on your search ranking. 
At this stage, you should also check if your business listing exists and if the information associated with your business is correct and relevant. while searching your business on google look for the first impression of your business (by thoroughly checking the social media platforms) as it shouldn't be at least negative. 
Prioritize Your Goals:
Once your online reputation management audit is complete you can focus on the grey areas of your reputation. prioritization means you set achievable goals and settle an assessment team. Here you create a strategy as to which area must be received undivided attention for example whether it's content, communication, or updating your business across platforms. 
The audit you create baked on the data must be compiled in an official report which will further help in comparing the results after a few months or when you have reached the deadline for the current goals. Setting a deadline to achieve goals is also a good practice to achieve goals faster.
Establish Reputation: 
First of all is your brand just existing across the social media platforms or does your brand have an existence? Building reputation has a lot to do with consistency in your brand across the platforms. You can't establish your reputation by being active on Instagram but completely inactive on Facebook. Without a reputation there isn't much for you to maintain, establishing a reputation requires active status, reviews, proper information, linked accounts, and so on. 
Monitor Brand Mentions:
Monitoring brand mentions is important and requires your response as well. There are several reasons and benefits for monitoring. 
People mention you at countless places sometimes for reviews, queries, and even negative reviews. Monitoring your brand mention is important because certain brands hire individuals to badmouth their competition business, such mentions happen pretty randomly and you could be the target of someone who never even bought from you, Monitoring your brand mentions help you analyze the reach and how people perceive your brand, additionally, it will also help identify the audience and platform better-providing insights about the grey ideas. 
Another reason is reposting. Reposting your customer's mention about the brand is a trending practice that enhances business credibility and even works as reviews. Reposting the mention indicates that you have customers and can be trusted. Any brand that is observed responsive by the audience has a good reach. 
Dominate SERPs:
In the competitive market, you must remain reachable by the new audience one way or another. While optimizing your social accounts helps you generate traffic through ads, the practice costs a lot. After all, the budget does influence everything. 
Dominating the SERPs comes under maintenance of the reputation. Dominating SERPs in simple words is maintaining your rank on the google search bar which is achieved by practices such as SEO services and PPC. such practices bring long-term benefits and require complete dedication at the beginning of the campaigns. SEO and PPC services help you remain reachable by the new leads and generate traffic towards your social media accounts. It comes under maintenance because it's a continuous practice. 
All-rounder Communication: 
Without the element of communication, you can't personalize the user experience. Communication is practiced and maintained to spread awareness and achieve customer loyalty to the brand, the absence of communication influences the conversion of leads into customers. 
Communication means you have to be responsive to the mentions, encourage positive reviews and resolve the issues when a negative review is posted. Communication also involves a post-product delivery service where you ask the customer about the experience. It is also one of the methods to gain reviews even if the customer does post it directly. Communication helps build customer relationships and maintain the perception of your business. 
Create Content:
Often a brand's reputation is built on the creativity of its visuals and content. Creating combination content that includes both infographics and the promotion of your services. Finding the right balance is the job of the digital marketer. Your content should be consistent, scheduled, relevant for the brand reputation. Most brands also avoid controversial content to maintain reputation and some post controversial content to trigger engagement. Which side of the trend you choose is completely up to you.