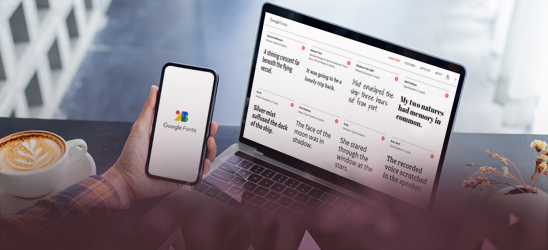 Web typography has always been on a roller-coaster ride that taps into creativity, fun and professionalism altogether. For designers in the digital world, Google Fonts is no less than a goldmine and being open-source, it's commercial and personal use always bring out the best results. The high-quality selection of these typographical fonts' accounts for readability and aesthetics.
Whether yours is a large, multi-tier organisation or a small business, choosing the right typefaces based on brand guidelines, service offering and nature of business can definitely make a difference. Let's have a deeper look into Google Fonts, what makes it so important, how it can transform businesses and brands as well as some of the most common and widely used fonts you should be using in 2021.
Significance of

Google Fonts
When dealing with web design, there're many different factors that can make a difference but fonts always remain at the core of everything. Have a look at some examples on how choosing the right fonts for your website can be beneficial:
From logo to numbers and even designs may look surreal, all have the potential to create a brand image and communicate the core message. A human eye responds faster to visual cues whereas brains interpret the message in a few seconds which is why you need to be very careful with design and font styles.
For Explaining Terminologies
In the technological world, communication is mostly done in jargons and creative typography which is why choosing the right one(s) is important so as to keep things clear and communication smooth.
Google Fonts is a collection of more than 900 different fonts that are free to use on the website. All you need to do is simply pick the font, make use of it in the HTML document and all's set to go.
Types of Amazing Google Fonts
Lukasz Dziedzic, a designer from Warsaw invented Lato for transparency when used as body text as well as to make an impression individually in large-sized titles. Lato also falls in the Sans Serif family yet got the style to make a difference and stand out from the rest.

Known for its circular shapes and soft edges, Abhaya Libre as a Google Font creates quite a dramatic effect when applied in header due to great readability and large bodied. Still, this particular font isn't preferred for larger and lengthier paragraphs that can tire your eyes only in a while.

From Eben Sorkin comes the font that optimizes screen readability; none other than Merriweather with a larger x-height can lift up reader's experience. It's suitable in both long and short texts, including headlines and titles. They're more or less eight different styles of Merriweather as a Google Font so you've various choices to pick one according to your like and branding scheme.

Inspired by the yesteryear printing press format; Alegreya as a Google Font is known best for its versatility, readability and suitability in both headlines as well as body text. Google offers many different styles for Alegreya from Regular 400-to-800 variation of black bold styles.

This particular font was introduced in 2011 during a new start-up project with the aim of preserving the true beauty of urban typography which itself emerged at the first-half of the 20th century. Also falling in the family of Sans Serif, it was created by Julieta Ulanovsky who coined the font's name as Montserrat based on her neighborhood in Buenos Aires.

Yet another serif typeface with a hint of modernism is Aleo. This particular Google Font strikes a perfect balance between both traditional and modern fonts with close connection to Lato in terms of appearance and writing. Aleo fits best to long-form texts due to its semi-rounded shapes and creative curves that appeal to the readers.

Falling between versatility and minimalism without giving up on the beauty of font style is Muli which was designed by Vernon Adams (late). Its design origins are rooted in being a perfect fit for display font given to spacing whereas it also works best for both headlines as well as body text. Muli is a friendly font for both mobile and website applications with a single-story lowercase 'a' which is quite rare and sports more curiosity.

Although this font doesn't offer too many style variations, Arapey is still a favourite pick for Google Font family. The typeface is a modern structure that enjoys a softer line that works amazingly as a content highlighter. The font's italic style is another praiseworthy feature which adds a hint of gentleness and glamour in the content.

Yet another amazing creation by the late Vernon Adams is Nunito font that's part of the sans-serif family and originally designed to be used as a display font. It offers versatility, attractiveness and comes in eight different variations; each smart and stylish in its own accord. Nunito font is preferred best for headlines and titles.

Quite a handy Google Font given to its standard character width and eight creative style variations, the Asap Condensed as a font can be easily adjusted in the text whereas it can also be used for creating headlines and titles.

There're many different Google Fonts, available with each being unique and purposeful. Here, we've listed the best ones that make it to the list of top ten in 2021 so make sure you don't miss them out for an amazing website design.