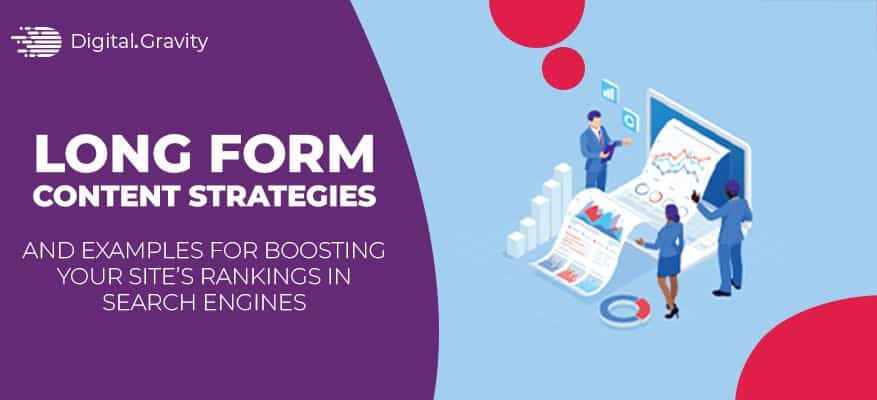 Is long-form content dead? It is the question many content marketers want to ask. Today, consumers have short attention spans leading to the popularity of short-form content like seven-second TikTok videos and snappy tweets.
But long-form content still has charm and fulfills some purposes that short-form can't do. The best long-form articles are articulate, fluff less, and engaging.
The aim should be to provide value to visitors and engage them instead of just filling out pages. Many brands are doing that with success, and you can too!
So, grab your coffee, sit back and relax as we demonstrate examples of killer long-form content pieces for your inspiration.
The Recipe to Using Long-Form Content as Part of Your Marketing Strategy
1- Recognize the Specific Intention of Your Content
You should be clear on certain aspects before you set out to create content which is:
The persona of the ideal consumer of that content
The problem that this piece will help solve
Ways in which it matches and correlates the rest of your content marketing strategy
Channels on which you will promote your content
2- Craft an Engaging Tale
Long-form content created for the sake of content or length is often filled with fluff and less relevant info, which bores people. What about if your long-form content can entertain audiences? Then it becomes a stellar piece making readers crave and come back for more.
Add a hook after every two or three lines to keep consumers scrolling, use storytelling, evoke the right emotion, and bond with your audience's deepest challenges.
3- Split Content Walls with Visuals
You need to design your page well and add appealing visuals to keep people hooked till the end. Humans like visuals more than words, and as they say, a picture speaks a thousand words.
Consumers are more likely to consume your content if it has bullet points, short sentences, italics, and images. Lastly, make sure your content looks decent on mobile devices.
Today most people consume content on their phones, so if your piece's mobile view is crooked, they may abandon it immediately.
4- Promote and Repurpose
Don't shy away from vigorously promoting your content on multiple platforms. Also, repurpose content to split the concepts that make up the material into small bites.
You can create:
A Twitter thread
A set of carousels describing the ideas discussed in the content
A short LinkedIn video
5 Examples of Brands Using Long-Form Content with Success
Example # 1- Airbnb
Fewer people will think of an annual growth report as content that can engage people. And this is the magic of the creative marketing team of Airbnb that they turned a bland business document into captivating and thrilling long-form content.
Airbnb's 2012 annual report is one of the incredible examples of content that is long yet engaging.
What It Contains
Information to interest investors
Anecdotes of Airbnb's service users, including hosts and travelers
Pictures and voice notes of people recounting their use of Airbnb services
Reasons for Its Success
This long-form content piece works because of Airbnb's creativity that transformed a usually dull material into a compelling tale of growth.
The report is visually appealing and readable yet presents all the hard facts that such a report should include. It would be a boring piece of content if Airbnb doesn't add user stories to it to make it more personalized.
Example # 2 Patagonia
Patagonia, an outdoor apparel brand creates a post "Climbing in Iceland with Loki the Deceiver." In the post, Kitty Calhoun, owner of Chicks Climb, a women's ice and rock climbing company, recounts her experience with three traveling companions when they set out to reach the heart of Iceland.
What It Contains
Images captured by Calhoun and her fellow climbers, each showing an insider view of Iceland's glory and enigma to the consumer
Elements of a professional travelogue
The challenges the climbing team faces throughout their expedition, like menacing weather conditions, threatening climbs, and the anxiety that comes with daring the unknown
Reasons for Its Success
This long-form blog post immerses the reader, shows the brand's reliability, and speaks to their target audience's adventure interest. The noticeable thing is Patagonia's products got no mention in the content.
The post successfully reflects how the business's buyers go about their lives, sprucing up the adventurous emotion in the reader and inducing a desire to brave dangerous circumstances.
The content is so catchy to appeal to even people not interested in outdoor sports. Lastly, the author's bio calls Calhoun a "Patagonia ambassador," implying that the author and people like her are daring adventurers who believe in the company's apparel — not just customers of winter jackets.
Example # 3 Penguin
Penguin Books UK runs a program called "Lit in Color." They have created a report, a pictorial long-form material, along with The Runnymede Trust, a race equality think tank.
What It Contains
Description of how schools in the United Kingdom can make the learning and teaching of English literature more diverse
Visuals elements to make the results and suggestions available rather than making another rarely-read report in PDF format
Powerful citations from other sources
Sections to categorize the information and enhance readability
Infographics demonstrating hard facts and key stats
Reasons for Its Success
Won't you read a long-form piece of content that indicates 10 minutes as the reading time? Most people will, which is one of the reasons for the success of this content piece, as it prioritizes user experience.
Labeling the content with the reading time increases engagement by up to 40%. Furthermore, they have used quotes to send their message across by citing outside, independent resources.
Plus, they have included engaging infographics. Search Engine Journals' study shows that infographics can help demonstrate expertise, enhance visibility in multimedia search, drive quality links, and earn fresh leads.
Example # 4 Quick Sprout
This example of long-form content is an ebook written by Neil Patel, founder of Crazy Egg and KISSmetrics, and Bronson Taylor. Quick Sprout is an extensive guide for anyone wanting to launch and flourish their startup. You can download it in PDF format or consume it online.
What It Contains
It has 10 chapters, discussing one growth hacking element in a separate chapter
It encompasses a variety of topics, including pull and push marketing and the growth hacker funnel to boost engagement and retains customers.
Explanation of advertising concepts
Actionable tips to help users implement these methods in their projects
Reasons for Its Success
The biggest reason why Quick Sprout works is its accessibility. We know how businesses can use downloadable material to collect information about leads. But the makers decided to share their knowledge for free, making it an extraordinary online resource.
Secondly, the producers of this content don't try to cram all the knowledge they gained during their long tenures into one article or relatively short-form content.
And needless to say, a content piece coming from industry gurus has its appeal as credible information and further gives them authority in the startup landscape.
Example # 5 Honda
The creative experts at Honda know how to promote their brand with long-form content by writing it as a magazine excerpt. They created long-form content named "The Cafe Racer Revolution."
What It Contains
Stories by Honda lovers and influencers about the product, adding consumer experience, history, imagery, etc
Display ads showing throughout the page
The skills and experience of the author as a field expert
Pictures of rotating bikes
Reasons for Its Success
This piece integrates content and commerce by appreciating Honda's ideal audience who would like to know about the history of motorbikes. The authors have incorporated advertisements in such a way that they don't annoy the viewer.
Regular product pages showcase products but lack subject matter knowledge given by experts — which this piece contains. It boosts users' trust in the recommended products and a sense of connection as the author shares their love of Honda and their bikes.
Moreover, snaps of rotating bikes allow people to see them from all angles, urging them to shift from passive reading to active interaction with this long-form content.
Final Word
We hope these long-form content strategies have provided actionable tips and inspiration for your business's content marketing plan.
Immersive long-form content doesn't depend on word count or a video's length but on capturing the audience's attention with anecdotes, humor, and insights.
The examples discussed in this piece offer a glimpse into how big brands use long-form content for their ends. Do you want to develop content for your business that leaves a lasting impression on your audience? Ping us today to get the best content marketing services in town!
FAQs
1- Does long-form content earns higher rankings in Google's search results?
Higher rankings in Google's SERPs depend on multiple factors, but yes, long-form content has a better chance to win a spot on the first page as the first ten results are usually less than or equal to 2000 words. (Source: SerpIQ).
2- What is short-form content?
Short-form content is written content of up to 1200 words. It involves social media content, short blog posts, infographics, and emails. If it's a video, it should be less than 10 minutes long.
3- What should I create for my business's content marketing purposes — long or short-form content?
You should use a combination of both types of content, and if done right, it can keep engagement rates high. Long-form content does wonders for establishing a brand and offering much-needed material to visitors. On the other hand, short-form content is necessary to captivate attention if someone is in hurry to consume a longer content piece.
4- What types of non-written long-form content can I create for my business?
Long-form content can be a lengthy article, eBook's, as well as in other formats like:
YouTube tutorials of 20 to 30 minutes
40 minutes long podcast episodes
Upto 1-hour long webinars
Longer carousel posts on LinkedIn or Instagram