LinkedIn enjoys a massive user base. With more than 875 million members from 200 different countries and territories worldwide, LinkedIn is currently one of the top social networking sites. Initially, it was just a networking and career development platform, but today LinkedIn is considered an integral part of a social media marketing strategy.
LinkedIn is not just for job seekers and talent hunters but businesses too can use LinkedIn for online branding and lead generation. As one of the leading digital marketing agencies in Dubai, we have used LinkedIn as a tool for the online branding of our agency and of our clients. And based on the results we got, we can say LinkedIn can be a game changer for your online marketing strategy.
In today's post, we will shed some light on important LinkedIn marketing statistics indicating the future trends and LikedIn's usage in 2023.
78 million members of Gen-Z are on LinkedIn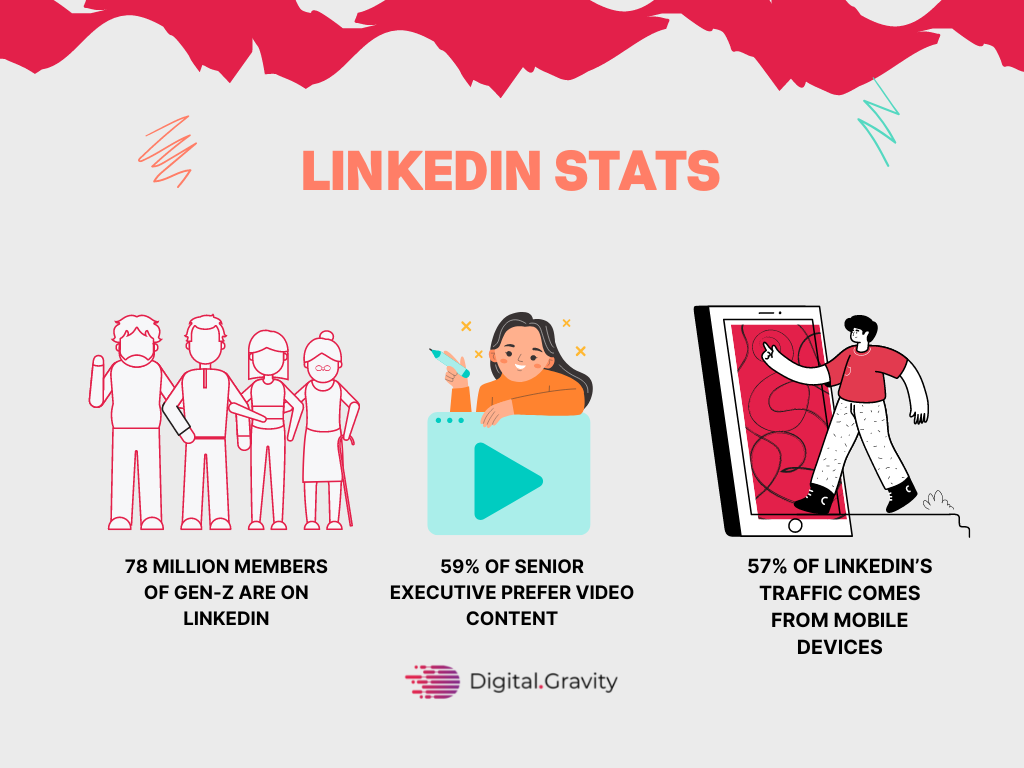 LinkedIn reports that 78 million of its members are of Gen-Z —- people born between 1995 and 2009. These statistics are contrary to the common belief that LinkedIn is mostly used by older people. 
So if you are creating an online marketing strategy for 2023 and Gen-Z is a part of your target audience, include LinkedIn in your strategy. LinkedIn may be as effective as Instagram and TikTok in this regard.
Though of course, you will have to be careful about the type of content you put in front of them as the younger generation craves some humor and entertainment even on a professional platform like LinkedIn.
59% of Senior Executive Prefer Video Content
When it comes to generating significant online engagement, there's no match of video content. Text and infographics can be hard to consume; videos are found to be more digestible. Content creators can explain things and provide entertainment simultaneously.
In a survey conducted in 2017, 59% of executives said they would prefer to consume a certain piece of content in the video than text. Normally, LinkedIn is a platform where you come across dozens of long-form text posts daily. But in the coming years, this trend is going to change.
We will see more video content on LinkedIn in 2023 and brands relying on the text will have a hard time generating engagement and retaining the attention of the prospects.
57% of LinkedIn's Traffic Comes from Mobile Devices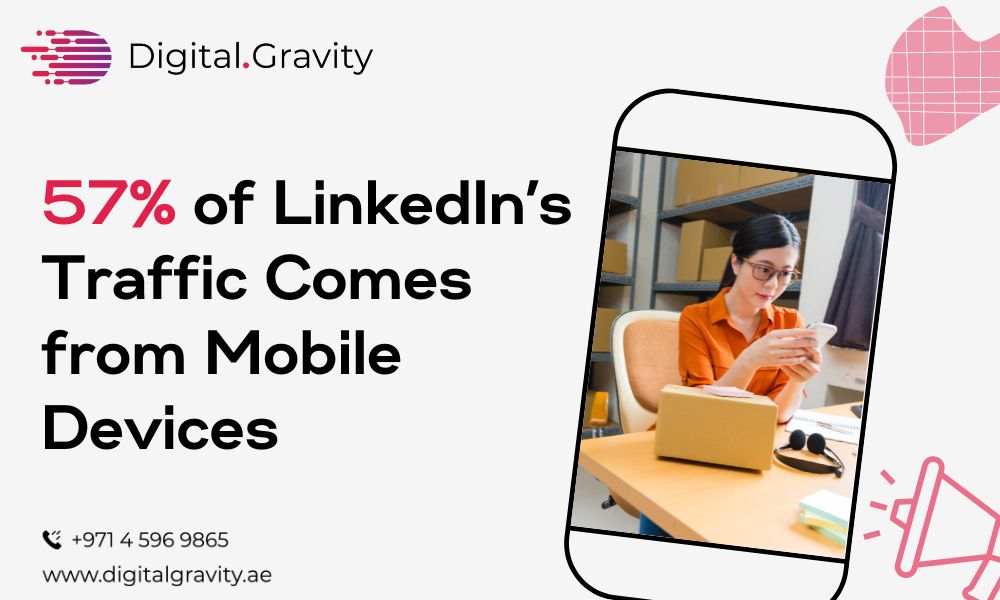 As of November 2022, approximately 60% of website traffic comes from mobile devices. The same is true for LinkedIn, around 57% of LinkedIn's traffic comes from mobile devices. What's more, this traffic is likely to increase five-fold by 2024.
So what does this particular stat suggest? You need to prepare LinkedIn content optimized for mobile users. Check out how your headline, body text, and images look on mobile devices. The same needs to be done for the LinkedIn videos.
The point is, it's no longer the case that most people access LinkedIn from the desktop. And to engage the mobile traffic, your content needs to be optimized for them.
Marketers on LinkedIn See 2x Higher Conversion Rates
Amazed, aren't you? How come a professional networking platform gets you so many conversions? According to the statistics published by LinkedIn, marketers see up to 2x higher conversion rates on LinkedIn. Hence, you can also consider running paid ads on LinkedIn for your services —- if you believe those are appropriate for a platform like LinkedIn.
LinkedIn is an excellent platform for lead generation. In another survey by LinkedIn, 40% of B2B marketers said LinkedIn was their most effective channel for B2B lead generation.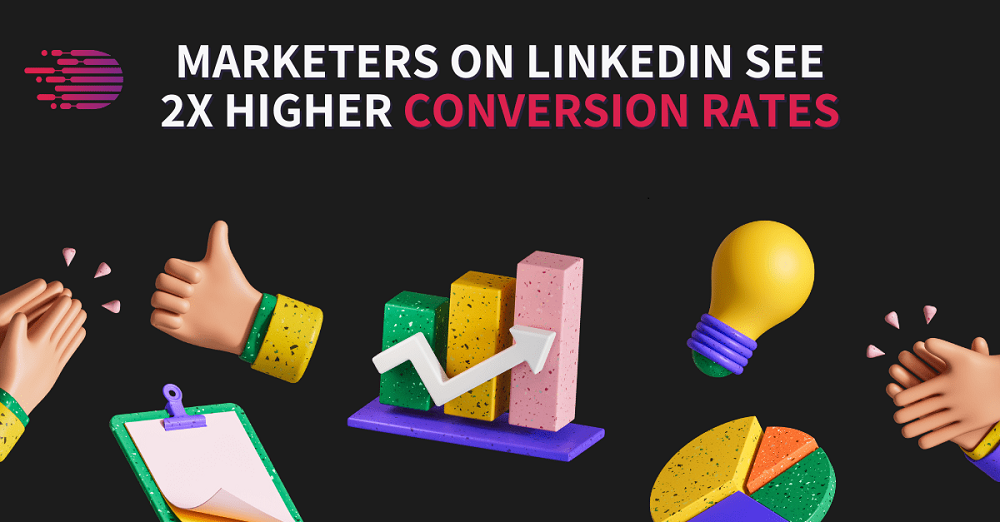 There's a reason why IT companies and digital agencies spend on LinkedIn ads; most of the leads are qualified and likely to convert if you are able to convince them. In 2023, we will see more companies using LinkedIn paid ads to generate leads.
An Ad on LinkedIn Can Reach 14.6% of the World's Population
Need more reasons to experiment with LinkedIn ads? LinkedIn advertising statistics tell us that an ad on LinkedIn can reach 14.6% of the world's population. Thus, LinkedIn ads can be leveraged to boost your reach in case you want to grow your followers worldwide.
Say you are a brand in the UAE but you want to promote your product/services all over the world. LinkedIn ads are a budget-friendly and effective solution to meet this objective.
30% of a Company's Engagement on LinkedIn Comes from Employees
According to numbers shared by LinkedIn, 30% of a company's engagement on LinkedIn comes from employees. This is why companies encourage employees to share posts made from the company's LinkedIn account.
If you are looking to boost engagement for your company's LinkedIn profile, make sure your workforce is actively resharing your content. This reshaping will build a solid reputation for your company and attract new followers.
In the future, the level of engagement on a company's profile will be a metric for gauging a company's credibility and understanding the culture.
93% of B2B Content Marketers Use LinkedIn for Organic Social Marketing
LinkedIn is a great place for B2B businesses. Numbers tell us 93% of B2B content marketers use LinkedIn for organic social marketing. Normally, B2B marketing is considered quite effective, but organic social media marketing turns out to be a cost-effective way to reach other businesses online.
Generally, LinkedIn is known to connect businesses with other businesses. In the future, we will see LinkedIn emerging as a hot marketplace for B2B relationship building.
Conclusion
LinkedIn is no longer just a networking platform. When used cleverly, you can generate leads through it, connect with similar businesses for potential partnerships, and even run paid ads to drive sales. 
Digital Gravity is your go-to agency for cost-effective and efficient LinkedIn marketing solutions. Do you want to create a LinkedIn profile? Or maybe your LinkedIn is dead. Worry not. Reach out to us and we will help you meet all your social media marketing goals with LinkedIn. We look forward to hearing from you soon.
FAQs
What are the LinkedIn usage stats?
According to the latest LinkedIn user stats, more than  875 million people are using LinkedIn worldwide.
How do businesses use LinkedIn?
Businesses use LinkedIn for online branding and lead generation.
What is the purpose of LinkedIn?
LinkedIn is a professional networking and career development platform. People find jobs on LinkedIn, head recruiters hunt resources, and professionals from the same fields connect with each other to find new learning and working opportunities.