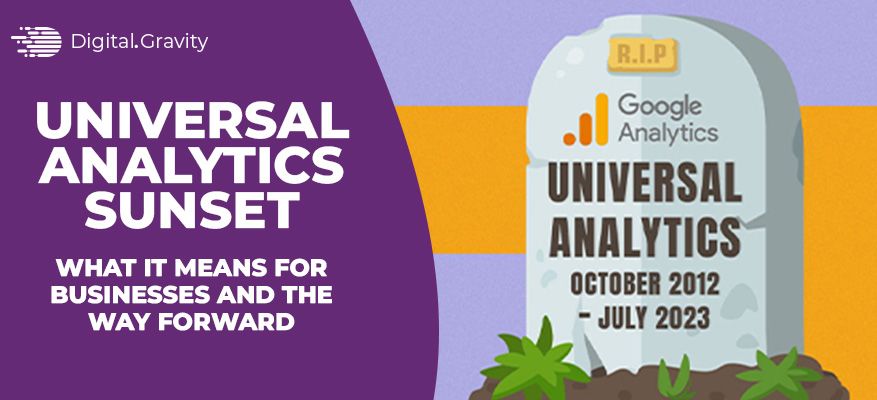 Google announced the news in March 2022. UA will end on July 1, 2023, and users should transition to Google Analytics 4 till this date.
Google has been sending sunset reminders for Universal Analytics since then. The new announcement by Google contains that it will develop a basic GA property for a user if they don't make one by March 2023.
As an online business, you should read this article as we explore the implications of Universal Analytics sunset on businesses and what they should do to keep up with this transformation.
What Google Analytics 4 Has to Offer?
Google Analytics 4 is the futuristic tracking product developed by Google to replace Universal Analytics. On July 1, 2023, regular UA accounts will stop rendering information. Google strongly recommends users switch to GA4 as soon as they can.
GA 4 now utilizes a G-site code, released in late 2020, and brought the latest privacy traits such as predictive intelligence, powerful reporting, and in-depth integration with other Google solutions like Google Ads.
What Does UA Sunset Mean for Website Owners?
You need to send data into your new Google Analytics account so you should set up a GA4 property as soon as possible. After 1st July 2023, UA will not get any new data which is why it's crucial to start entering that information into both Google Analytics 3 and GA4 now.
Why Should You Feed Data into GA3 and GA4?
When you create your account on GA4, you will start from scratch which means your past data will not be in it. And you need this data to piece together your user behavior patterns to make informed decisions.
After universal analytics sunset, you could not send extra information to UA for evaluation and comparison. It will be disabled. You would still open it to view your data but it won't monitor your website traffic anymore.
So, the earlier you begin using GA4, the more past data you will collect on your site's performance and traffic.
What Universal Analytics Sunset Means to Businesses?
Google is extremely restricting how long a site's past data is being retained and this is the biggest challenge users are facing in transitioning to Google Analytics 4.
Some businesses might need this historical data to determine lifetime company growth to earn grants or loans. Some might need to scale their businesses or just asses their marketing tactics over the long term.
But this is a huge challenge due to a gap in information streams between Universal Analytics and Google Analytics 4 and the waste in extended data retention.
Option#1
The easiest and cheapest way is to export each report out of Google Analytics UA as a CSV, PDF Google Sheets, or Excel file. It's better if you export data as a spreadsheet. It will make it easier for you to plot data points on a chart or graph and dynamically interact with it. Remember it will take a lot of manual work and a large amount of spreadsheet data if your company contains years of analytics data you want to keep.
Option#2
You can use Google Analytics API to pull your information out of GA and into a data center. Mind you this method is more complicated than the previous method though it offers the site owners a lot more control over their reporting. This method can cost you money based on the tools you choose.
Option#3
You can also use BigQuery to take the data into Google Analytics 360, the enterprise-level analytics software for giant firms with larger budgets.
It is no doubt the most feature-packed and powerful solution of the three, but it requires technical prowess and money to pay for Google Analytics 360 account. Both are possible hurdles for small businesses.
GA4 settings currently give two timeline options for data retention — 2 and 14 months. If you want to retain your data longer, head to your Google Analytics admin panel > data settings > data retention. Make your selection and hit the save button.
Shifting to Google Analytics 4 Requires Learning New Things
Like any technological transformation, there is an extent of manpower and time allocation that users will need to transition to GA4. Whenever you need help with Universal Analytics, you can easily find problem-solving hacks through online resources. It has taken many years for this collection of information to develop.
There are still a lot of questions that no online resource answers right now about GA4. But don't wait thinking you will transition when more content is available online.
You have no choice but understand that you will need to figure out some things yourself to make this transition happen.
What Has Google Analytics Changed?
Google keeps tossing official changes toward us, but the core aspects we think will leave a prompt influence on most consumers are:
1- The Reporting Interface is Changed
We often evaluate information within Google Analytics to recognize patterns. However, if you do that in GA4, you will see a completely new version.
Google Analytics has deleted or renamed past reports and in a few scenarios, removed entire metrics.
Google Analytics 4 lets users develop tailored reports but they will likely face a sharp learning curve.
2- Data Tracking has Changed
You will find that GA4 stores and reports data in a much different way than its predecessor. Marketers need to set conversion goals in UA and conversion events in GA4.
Google Analytics 4 allows you to link several data streams for the web and apps — iOS and Android for one property. It affords a powerful opportunity for marketers who can use their data analysis skills for all activities and events.
Fortunately, GA4 allows you to create as many as 30 types of conversion events on each property. But you will need to set up the conversion events by yourself. Everyday users, though, will need to begin learning new report views and terms.
We recommend you take SEO services to make the most of Google Analytics 4 for your marketing.
3- Introduction of New Metrics
Universal Analytics shows you the bounce rate, which is absent in Google Analytics 4. Instead, GA4 boasts engagement metrics such as engagement sessions and engagement time.
Also, the channels report inside Universal Analytics is absent in Google Analytics 4 and is replaced by the traffic acquisition report. To find the volume of visitors from several countries, you should head to the "demographics" section of GA4 instead of the "audience" section within UA.
4- High Privacy
Users nowadays are very protective of their personally identifiable information (PII) and want to know how websites store their data and who can access them.
As marketers have to evaluate user behavior and actions on their websites, they must emphasize user privacy. Google has developed the latest version of its analytics tool with new laws such as PECR and GDPR in consideration. It helps site owners steer clear of violating these rules.
5- Smart Data Modeling, Which is Getting Advanced
As GA4's AI-driven model keep getting smarter, SEO companies might view more valuable insights and methods to enhance their website performance and marketing.
Plus, if you use Google ads to attract more visitors to your site, you may identify new ways to assess how your marketing cost is converting into sales.
You will See More Exciting Features Shortly
Google Analytics developers stopped adding new features to GA3 quite some time ago, so we can expect them now to add fresh traits, data metrics and reports to GA4. We hope to see continuous upgrades in Google Analytics 4.
Final Word
The end of Universal Analytics allows companies to re-evaluate their data governance strategies and signify user confidentiality. Google Analytics 4 is designed to help websites apply powerful consent mechanisms and hide personally identifiable information.
In a nutshell, it is a pivotal development in the analytics world. Adapting to this change is challenging and beneficial for businesses' growth and improvement.
It's time to say goodbye to old analytics platforms and unleash the power of advanced analytics tools to gain valuable insights, finetune tactics and embrace innovation.
A reputable SEO agency in Dubai, like Digital Gravity, can help you ride the analytics revolution using a decade-long experience and digital marketing skills.
Contact us today to drive meaningful growth and quick results for your business!
FAQs
1- Will Google configure my settings for Google Analytics 4 if I have made a GA4 property already?
No. If a site user has already made a GA4 account, Google will not copy over any details (goals, events) from the connected UA property, no matter whether the user has marked it as complete or not.
2- What If I don't want Google to create a GA4 account for you?
You can opt out of it. Site owners need the Editor role on their UA account to opt-out. Follow these steps.
In Google Analytics, hit Admin.
Ensure that you are in the right Universal Analytics property and account.
Click GA4 Setup Assistant in the Property column.
Toggle off  "Automatically set up a basic Google Analytics 4 property" at the bottom of the page.
Or find the yellow informational banner and click "Manage GA4 migration" at the top of the analytics account. Toggle off "Automatically set up a basic Google Analytics 4 property."
3- What to do If I want to opt out from multiple GA4 properties simultaneously?
You should utilize the GA4 Migrator for Google Analytics extension for Google Sheets to opt out from multiple GA4 properties simultaneously.
Once you have installed the GA4 Migrator, choose "Set the automated GA4 setup opt-out status" and follow the on-screen guidelines. Users can also opt out of employing the Google Analytics Admin API.
4- What if a user didn't opt out in time?
If a marketer didn't opt out in time and does not want Google to automatically configure their GA4 property, they should follow these steps:
Click Admin.
Choose their UA property.
Click GA4 Setup Assistant in the property column.
Click Disconnect adjacent to "Connected property."
Head to the Google Analytics 4 property and delete it.
5- What if a marketer wants Google to configure some specific settings only from their UA property in GA 4 property?
If a marketer wants Google to copy over specific configurations from Universal Analytics to their Google Analytics 4 property then they should follow these:
Click Admin.
Choose their GA4 property.
Hit Setup Assistant in the Property column.
Mark the settings that they don't wish Google to configure as complete.
Hit the arrow at the far right, then Choose Mark as complete.
Repeat this step for every setting you don't want Google to configure from UA.
6- How to check if Google has copied over the configurations from the right UA account?
Follow these steps to guarantee that Google has configured your settings from the correct Universal Analytics property.
Navigate to Admin> Property > GA4 Setup Assistant in the UA property.
Find the section named "I want to connect to an existing Google Analytics 4 property", and choose the GA4 account that maps to your UA property.
Hit Connect Properties.