Home » Ecommerce »
Top Trending Online Shopping Apps in the UAE [2023]
Consumer shopping habits have significantly changed over the years as more and more physical storefront visits and the charm of window shopping is being replaced with online checkouts and digital carts. This is ecommerce at its best and with it comes some of the most amazing online shopping apps that give users the convenience to shop anything, anytime, anywhere from the comfort of their home or office.
All that said; success of the shopping app and overall buyer's experience is determined by the design and performance of the app itself. The real duty is thus on mobile app designers who should be exceptionally skilled in developing superb online shopping apps using cutting-edge technology, tools, creativity as well as visionary approach which maps the entire consumer journey.
4.2% of ecommerce retail penetration in comparison of total retail sales, it is highest rank , second ranked is 3.8% and 1.9% from mena region. Here are the reasons with specified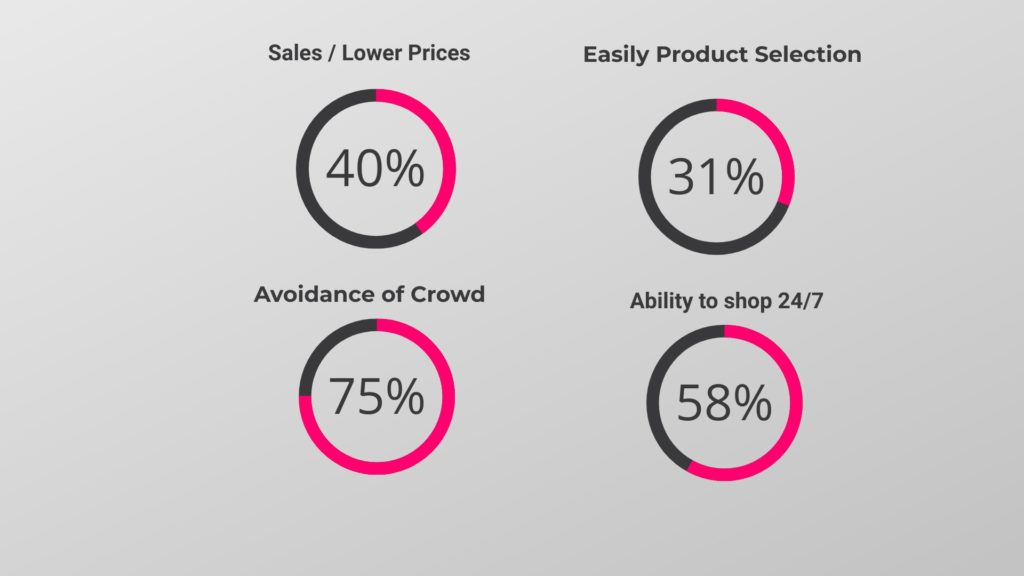 Leading the tech revolution are a few best mobile/ecommerce app development companies in Dubai, adding a handful of super awesome apps to the respective app stores. Cut to the chase, no need to look further for inspiration as listed below are a few trending mobile apps to rule in 2023; picked by leading mobile app developers and agencies.
Amazon
Definitely old but never obsolete; the world recognises Amazon as one of the biggest ecommerce platform and for its user-friendly digital channels. From simple books and daily household groceries to consumer electronics and much more, Amazon has it all for both; local and international buyers.
Amazon Services



A few reasons it's cherished as one of the best ecommerce platform are user-friendliness, excellent customer support, prompt refunds and returns, free shipping on selected merchandise (depends on shipping location as well), faster service and much more.
Other than the official app that's available to download on both Android and iOS, the simple scrolling function and arrow on the logo clearly delivers the message that you can find almost everything on Amazon.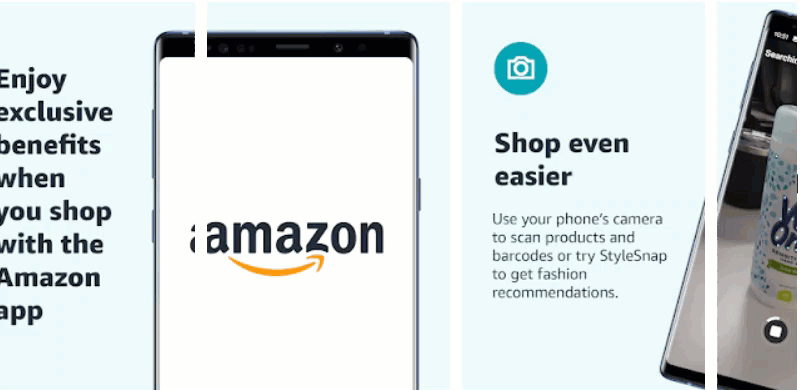 Download Amazon Android | Amazon iOS
eBay
Following closely in the footsteps of Amazon is eBay Mobile App; yet another biggest and consumers' most preferred online shopping platform especially for those who're highly skilled in bagging the best items at a fair bid. From frugal shoppers to spendthrifts, eBay store have everything including a brand new to slightly used signature/designer's exclusive item; depending on how well you bid for it.

Given to the rise of digital shopping platforms and e-wallets, eBay has significantly improved itself from end-user's perspectives, allowing you to customize your search via image uploading and barcode scan. UI/UX design of the app is quite intuitive which further adds to the element of an amazing online shopping app. A general survey revealed that more or less 50% users have installed eBay app on their smartphones and digital devices.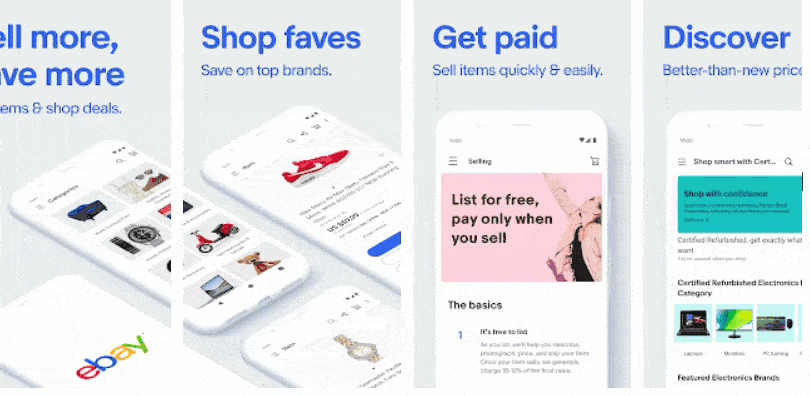 Download eBay Android | eBay iOS
Etsy
For those having a special preference and flair for arts-and-crafts, Etsy is definitely a heaven for designers and manufacturers to mix-up their creativity and deliver something awesome to consumers. To all those searching endlessly on the internet for customized apparels, gifts, vintage goods and more unique take-away directly from the house of artists, boutique designers; Etsy  is surely a place to be where the online search comes to an end.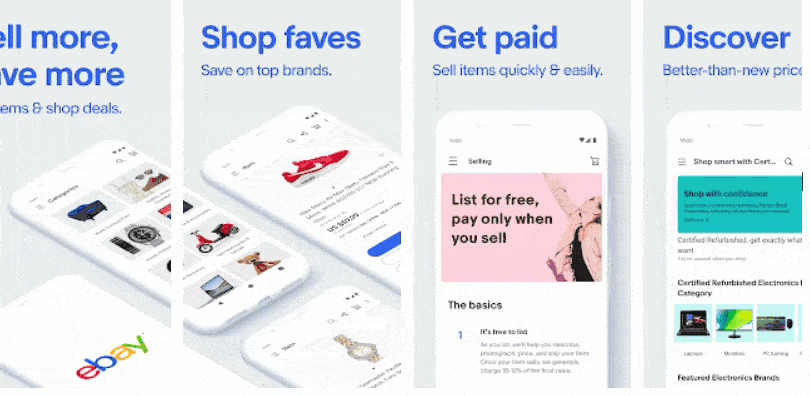 It's an undeniable fact that the digital industry, especially that of online shopping apps, is over saturated which makes it difficult for honest buyers in finding exclusive handmade and factory-produced items. Thanks to Etsy, you can bid your worries goodbye and enjoy shopping unlike anything!
Download Etsy Android | Etsy iOS
Snapdeal
Regarded as one of the best and largest online marketplace in India, Snapdeal comes as a blessing for all, offering amazing items at an irresistibly affordable price. It's like your casual neighbourhood supermarket that just turned digital to host almost everything from clothing, consumer electronics, household appliances, accessories and daily consumption goods. Snapdeal has more than 800 different categories of different items and definitely a one-stop-shop with cash-back facilities and cheaper deals.
Download Snapdeal Android | Snapdeal iOS
AliExpress
A subsidiary to Alibaba Group Holding Limited and definitely finest addition to ecommerce; AliExpress is yet another Chinese-based online shopping app to facilitate small businesses in the native country of China as well as cover various states across the globe. AliExpress does have multiple category to get hands on.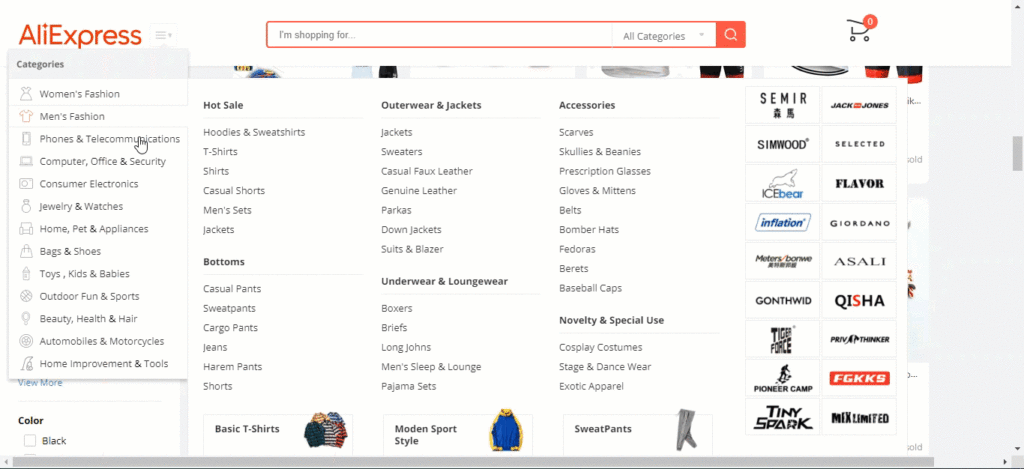 It started only as a B2B online shopping portal but the user-friendliness, exceptional service and imminent rise of ecommerce worldwide expanded it to B2B, B2C and even C2C consumer portals. Alibaba's head, pour lights on indicating the privacy of data for users safety and developers ease. 


In addition to all this, AliExpress also offers cloud computing and digital payment services as part of its unique ecommerce solution.
Here is the video for AlieExpress Payment Methods by AutoDS – Automatic DropShipping Tools
Download AliExpress Android | AliExpress iOS
Flipkart
Flipkart is yet another leading online shopping app, originally developed to cater South Asian consumers especially Bengaluru but over the years have grown significantly ever since rebranding back in 2011. It competes equally to Snapdeal and Amazon's Indian subsidiary, now carrying a highly professional blue and yellow shaded logo rather than the traditional vibrant orange.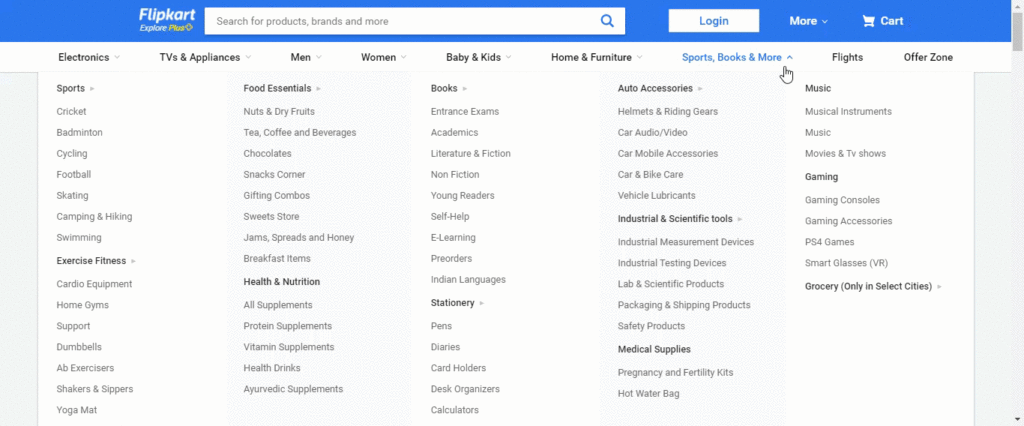 Flipkart as an ecommerce platform; has improved its services in terms of product quality and on-time delivery which makes it worth mentioning in the list of trending shopping apps for 2023.
Download Flipkart Android | Flipkart iOS
Zalora
We've all seen those online stores that serve everyone with almost every other item in their vault but there're consumers who always prefer customisation and typical brands. Exclusive only to the fashion and make-up industry is Zalora that lets you sail across an ocean of glamorous beauty, fashion and makeup products thus giving a new meaning to 'personalised shopping'. 
Mobile app developers and designers truly worked-up their creativity by introducing a visual search feature to this particular shopping app; a feature which we usually don't see, even on some of the biggest ecommerce stores. Using visual search, users can easily find their everyday makeup and fashion items rather than sifting endlessly through the product library.
Download Zalora Android | Zalora iOS 
Dubizzle
There's a saying that "one man's trash can be another man's treasure", and then there's another saying that "the name needs no introduction'; both holds true for Dubizzle, a replica or mirror version of OLX.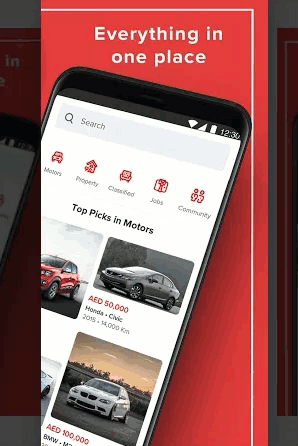 Its business model caters to C2C but savvy buyers can find almost everything from brand new to used stuff, covering electronics, clothing, consumer electronics, cosmetics, vehicles and even real estate homes.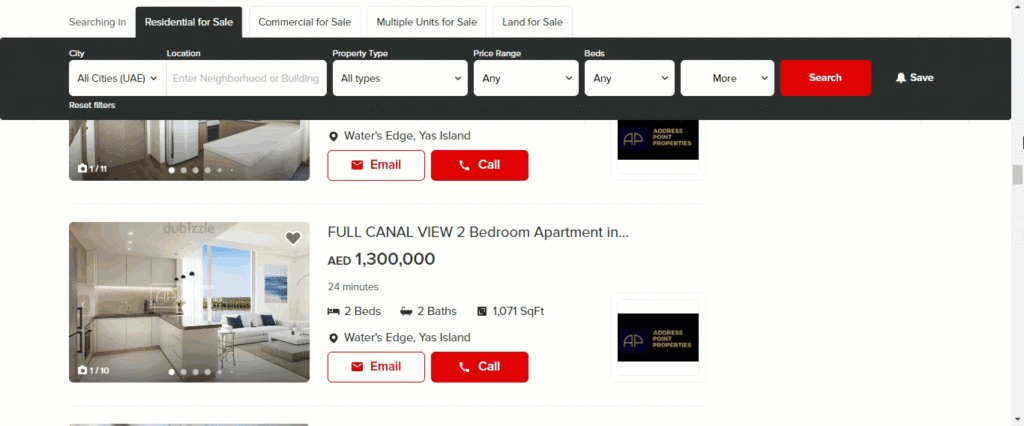 One of the biggest pro facts of Dubizzle is its C2C business model which relieves buyers from going through third-party agents and retail stores.
If you are unaware about what is C2C business model, you should check this video.
Consumer-to-Consumer (C2C) e-Commerce: Definition, Business Model & Examples – Business Class (Video) | Study.com
Download Dubizzle Android | Dubizzle iOS 
Koovs
To be the first one to grab all the latest fashion trends in clothing is a charm of its own and with Koovs; everyone can be that lucky person as the online app exclusively brings an all-inclusive line of apparel for men and women. Users can shop by style, preference, colour, brand, price and even occasion whereas the simple, seamless and convenient checkout process makes Koovs a must-have shopping app in 2023.
Download Koovs Android | Koovs iOS
Facebook Marketplace
Coming straight from social media juggernaut; none other than Facebook is an innovative, impressive and inspirational ecommerce app known as Facebook Marketplace. Initially launched only to a selected users in the US and UK, the app's amazing features and all-inclusive services reached out to the users across the world which makes Facebook Marketplace one of the trending 2023 shopping apps!
Guide On How to Access the Facebook Marketplace :
Source: Max Dalton
Rakuten
The old-school term "Happy Go Lucky" truly fits Rakuten; the one and only online shopping app that lets you win cash rewards via PayPal deposits or cheques. The good things is you will always Rakuten Coupons available.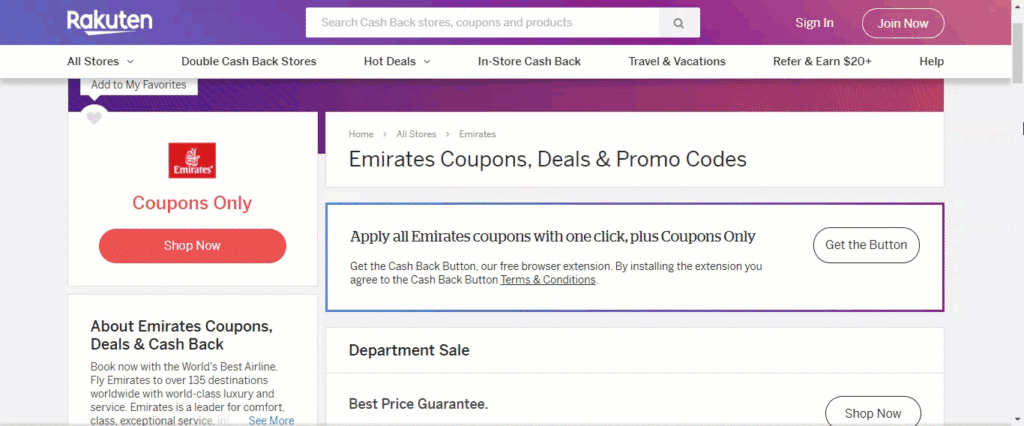 All you need to do is download the app and register to login, search for your favourite stores, hit the referral link shared by Rakuten and purchase through that particular link. In return, Rakuten will compensate you in cash which is transferred to your account either as a lump-sum or quarterly instalments.
Download Rakuten Android | Rakuten iOS
Walmart
Retail businesses, irrespective of online or offline trading system, are ruled by Walmart which needs no explanation! Even today, it's the king of all online shopping stores whereas the official mobile app experience is as amazing as anything expected from the best ecommerce services providers.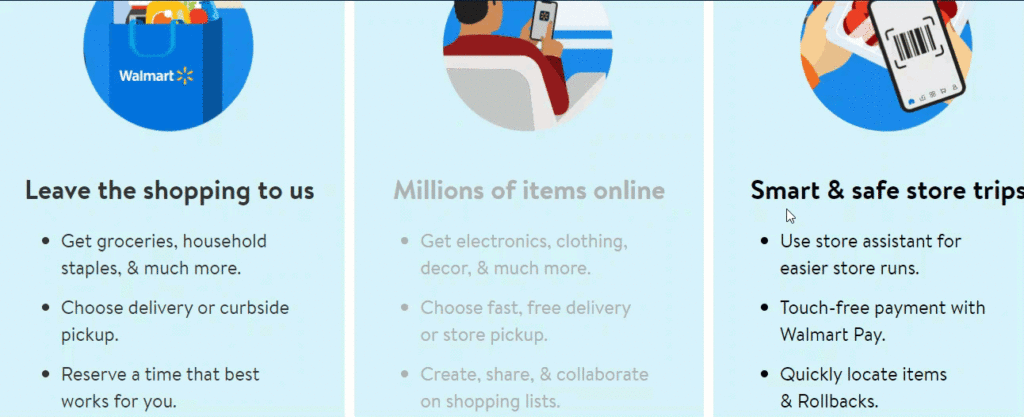 The barcode scanner will let you build your own digital shopping cart by searching for items you need, fill you in with details on all the local ads and share latest offers. Its convenient self-registration and checkout promises blazing fast payment and delivery.
Other than the typical consumer goods and daily household products, Walmart app also gives easy access to their online pharmacy and has all essential medicines delivered right at your doorstep.
Download Walmart Android | Walmart iOS
Which One Will You Pick?
With so many amazing online shopping apps, each comes with a unique feature but the end purpose is the same; enhanced shopping experience and user friendliness.