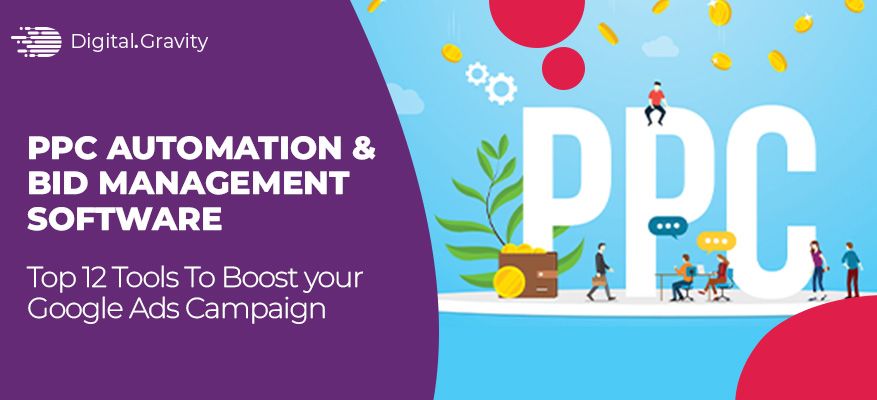 Are you tired of doing repetitive tasks for Google ads? Don't worry. We have brought you a list of the top 12 PPC automation tools and bid management software that can save you a lot of time and effort.
What is PPC Automation & Bid Management Software/Tool?
PPC automation tool or bid management software is a type of software that automates tasks and optimizes pay-per-click advertising campaigns. This tool manages easy tasks so marketers can focus on more pressing issues.
Using the right PPC management tools, you can take your PPC campaign to new heights of success. Google ads have the potential to reach 90% of internet users which can bring approximately 180 billion ad impressions every month, according to WordStream. This means you can make your business visible to your target audience simply by using the right PPC automation tool.
There are many PPC tools available that you can use but you have to be careful to choose the right one.
This piece focuses on some of the top PPC automation tools and bid management software that you can use to boost your Google ad campaigns.
Top PPC Automation and Bid Management Software/Tools To Boost Your Google Ads Campaign
Optmyzr
One of the best pay-per-click software for businesses is Optmyzr. Facilitating big businesses with several features, Optmyzr is highly useful for running multiple PPC campaigns simultaneously.
With a range of different automation features, Optmyzr offers seamless handling of the entire campaign. This PPC tool can be used to create, manage, and track big-budget PPC campaigns remarkably.
Using Optmyzr, you can manage budgets, keywords, and bids on Google and Bing Ads. You can easily assign difficult tasks to Optmyzr and focus on more strategic parts of your PPC campaign.
WordStream
Quite popular among small businesses, Wordstream has a variety of great features to offer and is one of the best PPC tools to automate tasks. You do not have to spend a fortune on Wordstream as it is extremely cost-effective.
Wordstream provides a vast range of different free tools that can help your business in improving the performance of your paid campaigns. This platform also offers personalized recommendations on bids based on your business objectives and goals by effectively blending keyword discovery, grouping, analysis, and prioritization.
This platform is great for finding positive and negative keywords and adjusting your budget accordingly. By using Wordstream, you can easily manage your PPC campaigns.
Semrush PPC Toolkit
This pay-per-click software is a great tool for keyword research, competitor analysis, and campaign planning. Semrush PPC toolkit helps you easily identify your competitors and the keywords they have bid for in the past.
You can tailor your PPC ad campaign after researching the campaigns made and implemented by your competitors. This will help you in making an effective strategy and avoid any mistakes made by your competitors.
This PPC tool can tell you the most relevant keywords and their search volume. You can monitor multiple competitors and their ad campaigns by using this tool. With different pricing plans, this PPC automation tool helps both small and large businesses.
Google Ads Editor
Previously known as AdWords Editor, Google Ads Editor is a free PPC tool that creates, manages, and tracks Google ads. This pay-per-click software regularly monitors the performance of ads as well as does bulk editing.
By using this PPC tool, you can easily create, edit and track your ads from the platform. You can edit your ads on this platform and post them after. You can use Google Ads Editor to create bid strategies for your PPC ad campaigns.
A downside of this PPC automation tool is that it does not offer many integrations and you are restricted in your use if you are running ads on multiple platforms. This is a simple option for businesses that are just starting their PPC campaigns and can make manual adjustments. Google Ads Editor also allows you to import and export files easily.
Microsoft Advertising Editor
This is a free tool that manages Microsoft ad campaigns. By using this PPC automation tool, you can manage your ads in bulk and edit them easily. You can also import your existing Google Ad campaigns into this platform and manage them effectively.
This PPC tool lets you sync your campaigns, make changes offline and upload them.
Marin
This is a powerful PPC automation and bid management software that uses huge amounts of data and patented machine learning algorithms to assign budgets and calculate bids.
Marin is one of the great PPC tools that expertly provide bid management features for ads on Google, Bing, Facebook, and Yahoo. This pay-per-click software offers informative analytics so you know the performance of your campaigns.
It is very easy to use and provides ease of navigation to its users. With powerful features, Marvin helps businesses improve their paid search performance.
Bing Ad Editor
Apart from Google, Bing is the most prominent option for PPC today. This PPC tool provides easy editing of ads, management of bids, accurate keyword research, and monitor the performance of ad campaigns.
Bing Ad Editor is only available to Bing ad users and does not offer any automation tools. This pay-per-click software is highly beneficial for startups and small businesses that are just starting.
Acquisio
A powerful AI-powered PPC automation tool that can easily launch, optimize and monitor your ad campaigns. Acquisio allows you to effortlessly replicate any famous Google Ad or Bing campaign by using predefined templates.
This PPC tool provides different tools such as Ad Extension Manager, search query keyword expansion tool, etc. Acquisio offers self-improving AI, budget optimization, a sales toolkit, and customizable report templates.
Acquisio has its API and can easily be integrated with Google Ads and Bing. It offers different pricing options for different business models.
Kenshoo
Kenshoo allows you to make bids and adjust them as per your requirements. This pay-per-click software uses the latest and unique machine-learning algorithms to offer bid suggestions and budgets and predicts ad performances.
The PPC tool provides in-depth reporting and analytics to track the performance of ad campaigns. It is designed to help marketers in streamlining their advertising efforts, make data-driven decisions, and maximize return on ad spend, etc.
A prominent feature of Kenshoo is that it facilitates users to manage their advertising campaigns across multiple channels from a single platform.
AdNabu
This is one of the best PPC tools for e-commerce businesses that facilitates them to increase their PPC ad campaigns significantly. This is an AI feed management tool for Shopify stores that allow businesses to optimize product data feeds for different online platforms like Google Shopping, Bing, Facebook, Instagram, etc.
AdNabu helps marketers in optimizing their PPC ad campaigns while identifying new opportunities to generate revenue. This pay-per-click software has powerful automation capabilities that make the jobs of advertisers quite easy.
With great and unique ad optimization, 24/7 support, and effective budget optimization, AdNabu creates successful ad campaigns. This PPC tool allows users bulk editing, multi-currency and multi-language support, and product rating support.
Adalysis
This is a PPC automation and bid management software/tool for automating Google and Bing ad campaigns. Adalysis has great features such as keyword analysis, campaign optimization, and tracking the performance of results.
This PPC tool provides daily recommendations on your campaigns about how you can improve. Adalysis offers bid suggestions, tracking, ad testing, budget allocation, quality score, and data visualization reports.
This pay-per-click software integrates with Google ads and Bing ads easily. Adalysis offers comprehensive reporting and analytics to track key performance metrics. It is not a free tool and plans start from $99.
AdEspresso
A powerful PPC automation tool that creates, manages, analyzes, and automates PPC campaigns. Using AdEspresso, you can create your ad campaigns for Google, Facebook, and Instagram and easily manage them in AdEspresso.
This PPC tool has customizable dashboards which you can use to extract real-time data. AdEspresso allows you to convert these reports into Excel or PDF formats so you can save them quickly and send them to your clients.
As a pay-per-click software, AdEspresso facilitates its users with the Optimization Rules tool, CRM synchronization, obtainable regular in-app tips, and AdEspresso University. This tool easily integrates with several platforms including but not limited to Google Ads, Google Shopping, and YouTube.
AdEspresso is not a free tool. It has different plans starting from $49 per month. It provides a 14-day free trial to users.
Final Verdict
PPC is a remarkable digital marketing strategy that promises traffic, leads, and increased ROI. But only some businesses have the time to create tedious PPC campaigns. Here, PPC automation and bid management software or tools come to light. Businesses can benefit from PPC bid management tools as they automate mundane tasks that leave more room for marketers to dedicate their time to strategic decision-making.
FAQs
What is PPC and how does it work?
PPC or commonly known as pay-per-click is a type of digital marketing where the advertiser pays the fees whenever their ad is clicked upon. PPC is done to attract a targeted audience to a website.
What are some of the best Google ads management software?
There are many Google ads management tools that you can use for your business and PPC campaigns but some of the best are Optmyzr, WordStream, Semrush PPC Toolkit, Google Ads Editor, etc.
Are AI-powered PPC tools helpful for my business?
AI-powered PPC tools can help in streamlining your PPC campaigns and tasks. They are highly accurate, provide personalized recommendations based on users' past behaviors, and target the right audience for your business.
Should I hire a PPC agency for my business?
Hiring a PPC (Pay-Per-Click) agency can provide you with numerous benefits. They have expert professionals who can enhance the online presence, reach, and overall marketing strategy of your business. Especially, any PPC agency in Dubai can greatly benefit your business by utilizing the right PPC automation tool for your business.
Will PPC automation software provide guaranteed successful results for my business?
Like every other digital marketing strategy, PPC automation is also a tool that requires time, money, and effort to drive successful results. It is not 100% guaranteed that it will work but if you use the above-mentioned tools, you are bound to get some good results.