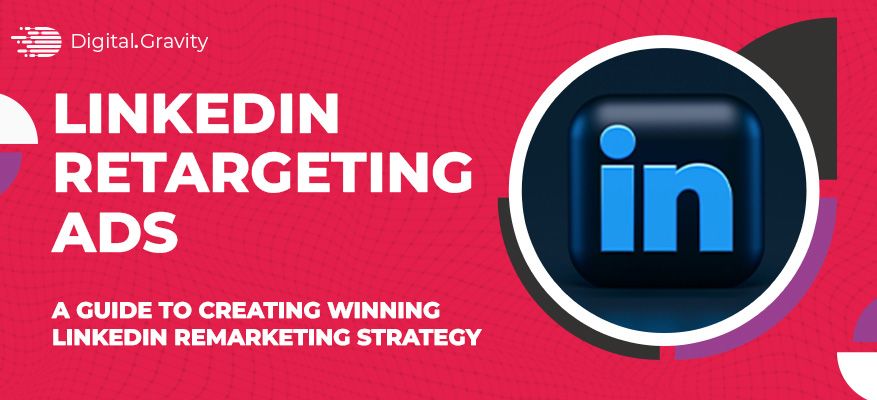 Maintaining a consistent connection with past clients has become increasingly important. Retargeting on LinkedIn ensures that the lead remains engaged and is more likely to become a repeat customer.
In addition, LinkedIn marketing campaigns allow you to focus on ' cold ' leads and fine-tune your efforts towards the middle and bottom stages of the sales funnel, ultimately optimizing your conversions.
Advertising on LinkedIn leads to significant benefits for brands, such as a 33% increase in purchase intent, 2-3 times improvement in brand attributes, 2 times higher conversion rates for marketers, and a 6 times higher likelihood of conversion for exposed audiences.
Read this blog to learn more about LinkedIn marketing services and different retargeting strategies that will help you create compelling ads to retarget old leads.
Get the latest industry news, trends, and tips in your inbox. Sign up for our newsletter now and join a thriving community.
Commonly-Used Retargeting Strategies for Linkedin
Drawing your marketing focus back on previous audiences requires a reliable strategy that makes your brand successful. Some of the top LinkedIn strategies include:
1 – Retargeting with better offers
This strategy targets existing customers and encourages them to upgrade their purchases to something more valuable and attractive. Since you have already persuaded the customers to trust your brand, you don't need to use heavy marketing for ' cold ' audiences. You've already won them, and you can do it again.
The key here is that there are more amazing opportunities that they should not miss. And it's a very simple strategy. You just need to create a matched audience by uploading a list of current/previous customers and setting up your campaign.
2 – Abandoned cart
This LinkedIn retargeting strategy puts focus and emphasis on leads who have abandoned the cart on your website. This means they have visited your website and selected the products, but did not make a purchase.
To create a campaign for users who abandoned their carts, you need to set up two audiences, one for the target users and one for the excluded users.
The target users are the ones who visited the ' Add to cart ' page but did not buy anything, and the excluded users are the ones who visited the ' Thankyou for shopping ' page after buying something.
Follow these steps to set up your two audiences
Go to 'Retarget' > 'Website' and enter the 'add to cart' URL to create your target audience.
Go to 'Exclude' > 'Retarget' > 'Website' and enter the 'Thank You' URL to create your excluded audience.
Create your campaign by selecting your target audience and excluding your excluded audience.
Launch your campaign and watch your conversions increase.
3 – Lost ( Lead Generation )
LinkedIn retargeting ads involve reaching out to potential leads who started filling out a lead generation form on LinkedIn but did not finish submitting it.
LinkedIn data provides insights into when audiences begin the form, even if they don't complete it due to various reasons like interruptions or other priorities.
By retargeting these leads, you offer them another opportunity to complete the form submission.
There are two scenarios to address this situation – one is when the lead opened but didn't complete the form on the LinkedIn ad, and the other one is when they opened the form on your website and didn't finish it. Here is how to create a strategy to handle both situations.
LinkedIn
Go to 'Create Audience' > 'Lead Gen Forms' and name the first audience "Anyone who opened your lead gen form."
Name the second audience "Only people who submitted your lead gen form."
Create your campaign and include the appropriate audience from the first step.
Go to 'Campaign Manager' > 'Create Campaign' > 'Audience' > 'Retargeting' > 'Lead Gen Form.'
Choose the audience who opened the form.
Click 'Exclude' via 'Audience Selector.'
Create your excluded audience by selecting those who submitted the form from the options.
Click 'Retargeting' > 'Lead Gen Form' to exclude those members who do not need to
be targeted.
Website
There must be an insight monitor on your website to examine the engagement of your audience once they have visited your website through the LinkedIn ad campaign.
However, if you haven't included the insight tag, you won't be able to create a LinkedIn retargeting campaign because there is no way of tracking the data.
Here are some steps to create a LinkedIn target using the lead gen form URL and the ' Thankyou for Submitting ' page data.
Select websites and create two audiences as follows.
Audience 1: Use the URL from your lead gen form to create a target audience.
Audience 2: Gather data from the URL of the "Thank You For Submitting" page to create an excluded list of those who completed the form.
Now, create a new campaign.
In the campaign settings, choose 'Retargeting' > 'Website' and select the lead gen form URL audience you created earlier as your target audience.
Click on 'Exclude' > 'Retargeting' > 'Website' and choose the audience created from the "Thank You" page URL to exclude those who have already completed the form.
Your campaign is now set up and ready to effectively target the right audience while excluding those who have already converted.
4. Blog readers and Downloads
A blog is a great way to attract potential customers to your website and offer them something valuable in exchange for their contact information. This could be a newsletter, an eBook, or any other content that is valuable to your brand and the target audience.
Once you have their relevant details, you can follow up with them, and try to convert them into paying customers.
To do this, you again need to create two audiences on LinkedIn. Follow these steps:
Go to ' Create Audience ' on Linked In and select ' Website '. Then enter your blog URL to create a matched audience of your blog readers.
Go back to ' create audience ' and click ' upload '. Then upload your target audience list of people who have not bought anything from you.
Start creating your campaign, target your blog URL audience, and then select ' Exclude ' to upload your current list.
Click ' Save '.
Let our digital solutions experts tackle your biggest business challenges. We are just a call away!
5 – Utilize Google Ads to Target Site Visitors
LinkedIn and Google Ads can work together to boost your PPC ( Pay-per-click ) ads on Google. You can use the LinkedIn insight tag to track how your leads interact with your site and group them into different audiences.
This will help your LinkedIn remarketing approach become more successful. You can also segment the different audience combinations including people who came to your site from a Google PPC ad and people who did not fill out a lead Gen form on your campaign.
How Does A Professional LinkedIn Marketing Agency Create Compelling Remarketing Campaigns?
LinkedIn remarketing is a powerful way to reach your target audience and increase your conversions. However, not all remarketing options are created in an equal manner.
Depending on your campaign goals, you need to choose the right one for your specific needs.
Mid- Funnel Retargeting
This area is particularly designed for remarketing because it helps you focus on the previous leads and come up with content that entices potential leads.
From videos to testimonials to whitepapers, every type of content can be created here.
Contact Targeting
This allows you to upload the relevant contact information of your company so you can create a specific audience for your campaigns. This is impeccable for brands with a large content list or whose campaign target audience is anticipated to get larger.
Lead Gen Forms
These forms generate the information of leads quickly and easily. They autofill the information and save it for future use.
Final Word
Don't give up on potential customers who show interest in your brand, but don't buy right away. They are curious about your products and services and how they can benefit them.
Use some of your advertising budgets to remind them of your value proposition and encourage them to come back to your website. You have the answer to their challenge, make sure they remember it.
LinkedIn retargeting ads can boost your brand awareness and ROI by maintaining a positive and profitable relationship with your existing or potential customers. Follow the aforementioned strategies to optimize your conversion rate.
If you want to know more about our digital marketing services, get in touch with us.
Fill out the form and take the first step toward a brighter digital future. We will help you unlock your business's full potential.
FAQs
1 – What are the benefits of LinkedIn retargeting?
This kind of information can help businesses attract potential customers, increase their brand recognition, connect with their audience and encourage loyalty. With LinkedIn Insights, businesses can design web pages and personalize their communication for different groups of their audience.
2 – What is the minimum audience size for LinkedIn remarketing?
To start a Website Retargeting campaign or to see Website Demographic data, you need at least 300 people in your audience.
3 – Do LinkedIn ads work?
LinkedIn ads are not just for awareness, they are also great for conversions.