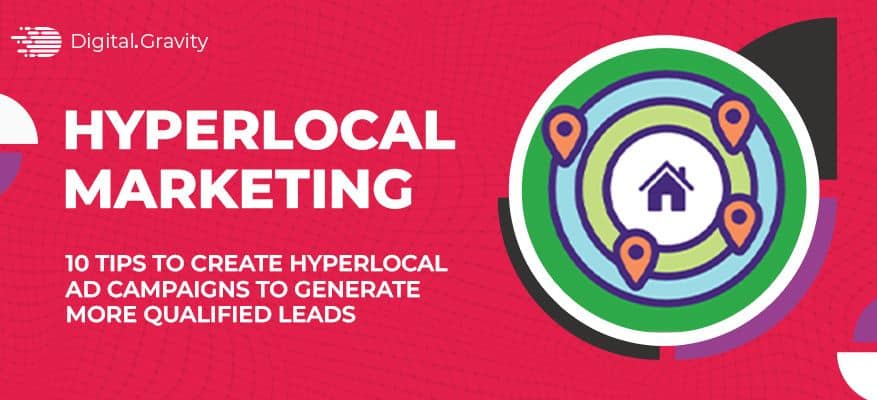 Marketing is the crutch that your business needs today to make its name in the digital world. With the influx of many digital marketing strategies, a strategy – Hyperlocal Marketing takes quite precedence over others.
Hyperlocal marketing is the process of targeting potential customers in a highly particular and restrictive geographical location. According to Think with Google, almost 28% of local searches result in purchases. This just accurately tells you about the effectiveness of hyperlocal marketing ad campaigns.
By tailoring your ad campaigns to cater to the precise needs of your local community, you can have more potential to generate qualified leads and enjoy improved conversions.
Here we are listing down some great tips to create powerful hyperlocal ad campaigns to generate more conversions.
Hyperlocal Marketing: 10 Tips to Create Result-Driven Hyperlocal Ad Campaigns
The main objective of hyperlocal marketing is to drive physical traffic to your stores instead of just online. With hyperlocal marketing, businesses can capitalize on near-me searches and drive more potential customers to their business.
Read on as we are listing down some powerful tips to create hyperlocal ad campaigns that can generate more qualified leads for your business:
Make a Powerful Google My Business Profile
To maximize the chances of your business being discovered by the local audience, have a powerful and comprehensive Google My Business listing. A Google My Business Profile will provide your searchers with the most relevant and prompt information while they are searching for products and services related to your business.
You can add your address, phone number, available hours, and working days. on your Google My Business Profile. Hyperlocal marketing also helps if your business has integrations with other businesses or any third party as you can display this information online for more relevant traffic.
Use Local Keywords
Using the right keywords can help your hyperlocal advertising strategy a lot. When you are making your hyperlocal ad campaigns, make sure that you are using the right location-based keywords.
You should avoid using negative keywords (keywords that you do not want your ads to appear for) because they can cause obstacles in attracting the right target audience to your ads.
By using location-based keywords, your ads have a higher chance of appearing in the right search results when local people search for products or services that are related to your business.
This will ensure that your business is using hyperlocal advertising in the best way possible.
Localize your Content
Localized marketing means writing powerful copy that is made to target your local audience specifically. Write your copy by using the local language of your audience or local jargon that can resonate well with your audience.
Localizing your copy and content will add a sense of personalization to your ad campaigns that will attract your target audience. You will have more potential customers when you localize your content for your local audience and can also establish authority in the market.
Use Original & Authentic Customer Reviews
Nothing brings more credibility to a business than honest and authentic customer reviews. When users search online for any product or service, they are highly likely to read customer reviews, and that sometimes leads to them making a final decision.
You should use original and authentic customer reviews on your website as an important part of your localized marketing efforts.
Establish Relevant Email Marketing Campaigns
Email marketing greatly helps your localized marketing strategy by allowing you to segment your email list based on locations. You can divide your different subscribers into different geographical segments and tailor your content to cater to the interests and needs of the local audience.
Craft your email campaigns to share any news, exclusive deals, and promotions based on the location of the recipients. You can also promote any local event that you may be hosting or participating in to encourage your local customers to visit your physical stores.
Take Advantage of OOH Advertising
OOH or out-of-home strategy is a form of advertising that displays ads physically in the neighborhood that is outside of the home such as digital billboards in a convenience store. Hyperlocal marketing strategies focus on placing posters and billboards in strategic places within a community where the target audience can see them.
With OOH advertising, you can create a strong presence of your brand in the local community. You can also align your OOH advertising with any local events or occasions so they reach a more refined audience.
You can utilize OOH advertising to craft highly relevant ads that can make your hyperlocal marketing appealing to your local audience.
Schedule Regular Messages
Maintaining consistent communication with your local audience is important for your hyperlocal marketing strategies. Regularly scheduled messages such as weekly emails, newsletters, and monthly updates can keep your audience engaged with your brand.
With regular messaging, you can timely share any information regarding your business with your target audience. This will also establish the trust and credibility of your brand in the eyes of your potential customers.
Your localized marketing strategies should focus on building relationships with your local audience through regularly scheduled messages. This way, you can highlight your involvement in local community activities and events.
Partner with Local Influencers
Shaking hands with an influencer will take your business to the next level. The credibility and reputation of the influencer will benefit your business in reaching the local target audience effectively.
Partnering with local influencers can:
Increase Social Media Engagement: influencers live in the world of social media. Hyperlocal marketing is highly effective on social media platforms. By collaborating with local social influencers, you can increase the visibility of your brand through likes, comments, and shares.
Increase Local Visibility: local influencers already have a reputation and following in the community. This can help your business in gaining exposure to a larger audience. Through hyperlocal social media marketing, your business can enjoy more visibility from an audience that was not previously aware of your business.
Sponsor Local Events
If you want your brand at the forefront of the minds of your audience, you have got to sponsor local events. Local events attract a huge number of local audiences that can be great exposure for your business and result in generating qualified leads.
Local events attract the attention of local audiences that are already interested in the event's theme or your business. By sponsoring local events, you can ensure that your message reaches a targeted audience.
Sponsoring or hosting local events that align with your brand message or values sends out a positive message to your audience.
Monitor & Optimize your Content
Regularly monitoring and optimizing content can help your business in assessing the effectiveness of its marketing efforts. When you create your hyperlocal advertising strategies, make sure to monitor the performance of your content. You will gain valuable insights into what really works for your business and what does not in the hyperlocal context.
You should monitor content engagement metrics such as views, comments, clicks, and shares to deeply understand your audience. This will help you in tailoring your content to better suit your audience and their needs.
By tracking your content regularly, you can also keep up to date with any new and changing trends. Through this, you will create content that is the latest and it will help you appeal to your target audience more effectively.
Final Word
One of the best ways to drive traffic to your physical store is hyperlocal marketing. Targeting a small set of audiences locally has the potential to increase your return on ad spend while investing a small fortune.
With hyperlocal advertising, your business can drive meaningful results for its marketing efforts and have more conversions.
Digital Gravity can help create result-driven, cost-effective, and industry-leading hyperlocal marketing campaigns along with geo-fencing ads and POIs in order to maximize the effect across the entire digital infrastructure.
FAQs
What is a hyperlocal marketing strategy?
Hyperlocal marketing strategy is a type of marketing strategy that targets a specified set of local and relevant target audiences.
What are the benefits of hyperlocal marketing?
Hyperlocal marketing can help your business a lot by reaching a targeted audience. It is cost-effective, highly relevant, and increases brand awareness.
Should I create hyperlocal content?
Yes. Your hyperlocal marketing strategy tremendously depends upon your content. You should write and create content that is relevant, and authentic and specifically targets people that are located within a defined area.
What is the difference between hyperlocal ad campaigns and local ad campaigns?
These two terms are often used interchangeably but there is a huge difference between them. Local ad campaigns are for cities and towns. While hyperlocal ad campaigns are focused on neighborhoods.
Should I hire a marketing company or agency for my business?
Hiring a marketing company or agency will help you a lot in driving more foot traffic and qualified leads to your business. It also gives you access to expertise and tools that are not available to you otherwise. A marketing agency has professionals that can skillfully help you in reaching the right target audience.
What is an example of hyperlocal ad campaign?
There are multiple examples of hyperlocal ad campaigns, these include:
Google business listings.
Local listings.
Regional social media ads.
Email Newsletters.