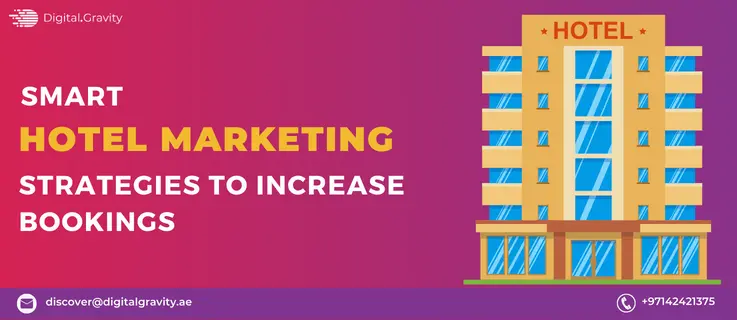 With the growing competition, every business needs to use the right marketing strategies to increase sales. In particular, the hotel industry is rapidly expanding due to global demand.
Although this demand creates a great opportunity to start up the business. But due to customers' higher expectations and standards from hoteling services, it's more like a challenge.
Digital platforms and travel agencies have a significant impact on consumers' minds. Therefore, marketing is a basic pillar for the success of any service business. Marketing tactics can help you in the following ways:
Optimizing the number of bookings you generate
Building brand awareness
Managing your reputation
Creating value among customers
Helps in brand positioning
Communicates value to customers
Earns brand loyalty
Hotel Marketing Strategies to Captivate Potential Customers
For your convenience, we have composed the most successful hotel marketing strategies that will surely help you to bring your business to the next level.
Optimize Your Online Visibility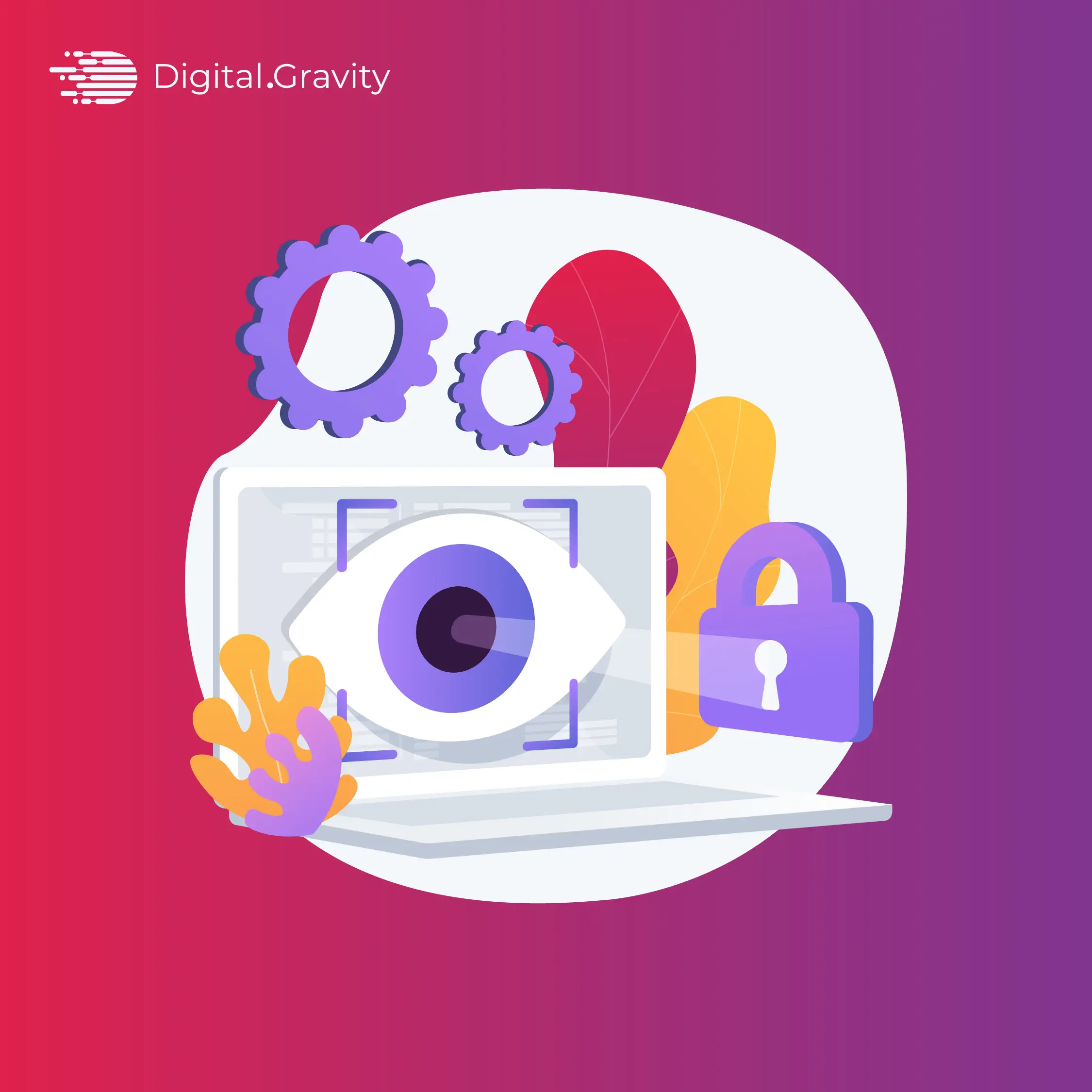 Firstly, you need to ensure that your website is available to customers looking for a hotel service. This means that your social posts and advertisements must reach your target audiences.
Then make sure your website content is interacting and engaging. Use pictures and graphics to give a good impression to your visitors. Also, ensure that your website is user-friendly and does not take a lot of time to load.
You can use keywords related to the hotel business, this would optimize your website among the search engines. You must use digital marketing channels to increase your awareness among potential customers.
Influencer marketing is one of the biggest tools to be considered nowadays as influencers have the power to change customer mindset and purchase behavior. This is a very successful strategy used by many brands and service providers.
Customers put their trust in bloggers and value their opinion. Therefore, if you are using influencing marketing with a mix of other business marketing strategies, you can get a competitive advantage in the highly competitive marketplace.
Create a Value Proposition – Why Should We Choose You?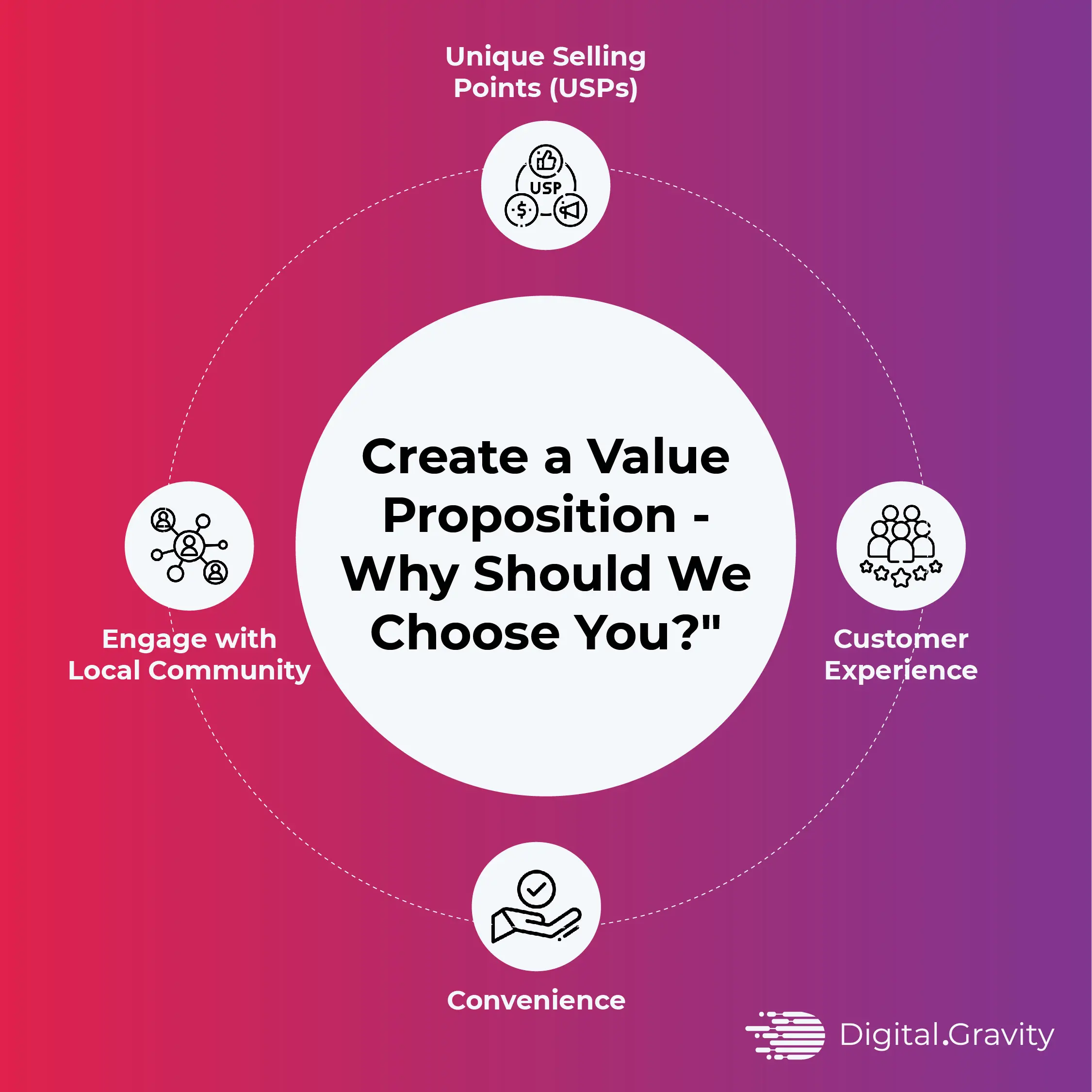 Create, communicate, and deliver value to your target audience. This simply means you need to bring differentiation and innovation to your services. Moreover, make sure you communicate your value rightly to customers looking for hotel services.
You can distinguish your hotel from others in terms of your:
 i. Unique Selling Points (USPs)
You can create your unique selling point by carrying out in-depth research that will also include a competitive analysis of your competitors. This would help you to identify the gap that you can fill in the marketplace.
By doing so, you can position yourself higher in the customer's mind. You must monitor the latest trends so you can align your strategies accordingly. You must also understand the changes in hotel dynamics with the increase in customer demands.
ii. Customer Experience
Experience defines the value you create for your customers. Let's say that a family chooses your hotel to spend their vacation. Now how can you contribute to making their time more memorable?
For instance, you are providing them with different sorts of kid activities like games, learning programs, planting activities, and jumping contests to keep them entertained.
You are also providing them with a two-day tour of your city. That could include visiting historical places with a guide or the local streets to know about the culture and traditions of this place.
In this way, you are not only adding value to your services. But you are creating an exceptional customer experience. You can share pictures of these activities on your social media accounts to boost engagement.
Additionally, when you can satisfy your customers, this will earn you more bookings. In this digital era, customers' preference, feedback, and their say regarding any product or service not only affects brand image but can influence your profit to a great extent.
iii. Convenience
Many customers pay more attention to the elements that not only enhance customer experience but save time and cost for them. By providing such elements you increase your value among customers. These elements include:
Hotel services
Meals
Housekeeping
Laundry
Online assistance
Pricing
Nowadays, customers are willing to pay if your services are up to their standards. Even when you set your target audience it would be up to your pricing. Although, you must ensure that you advertise your USPs to make your customers aware so they could understand your pricing strategies.
You can also offer discounts on special days to increase your bookings. You may issue a loyalty card that will give your customers a fixed discount on every visit. Hotel guests mostly enjoy these types of discounts, which will certainly increase your bookings.
iv. Engage with Local Community- To Build Your Restaurant Image
In this modern world, where customers are much aware of every matter. You need to contribute towards social responsibilities. Show your customer you care for them. You are not only working to run your business but you want to create value for society as a whole.
You can start community programs and can contribute to society's well-being. Make sure you put these activities on your social media accounts so your customers know about them. Many customers favor hotels that apart from their profits provide services to the community. Gradually, you will make your hotel land in the customer's preferences.
These activities will grab the attention of your desirable customers and can convert your leads into customers. It will also help you to bring clarity to the question " why should a customer choose you?".
Collaborate with Local Businesses To Increase Attraction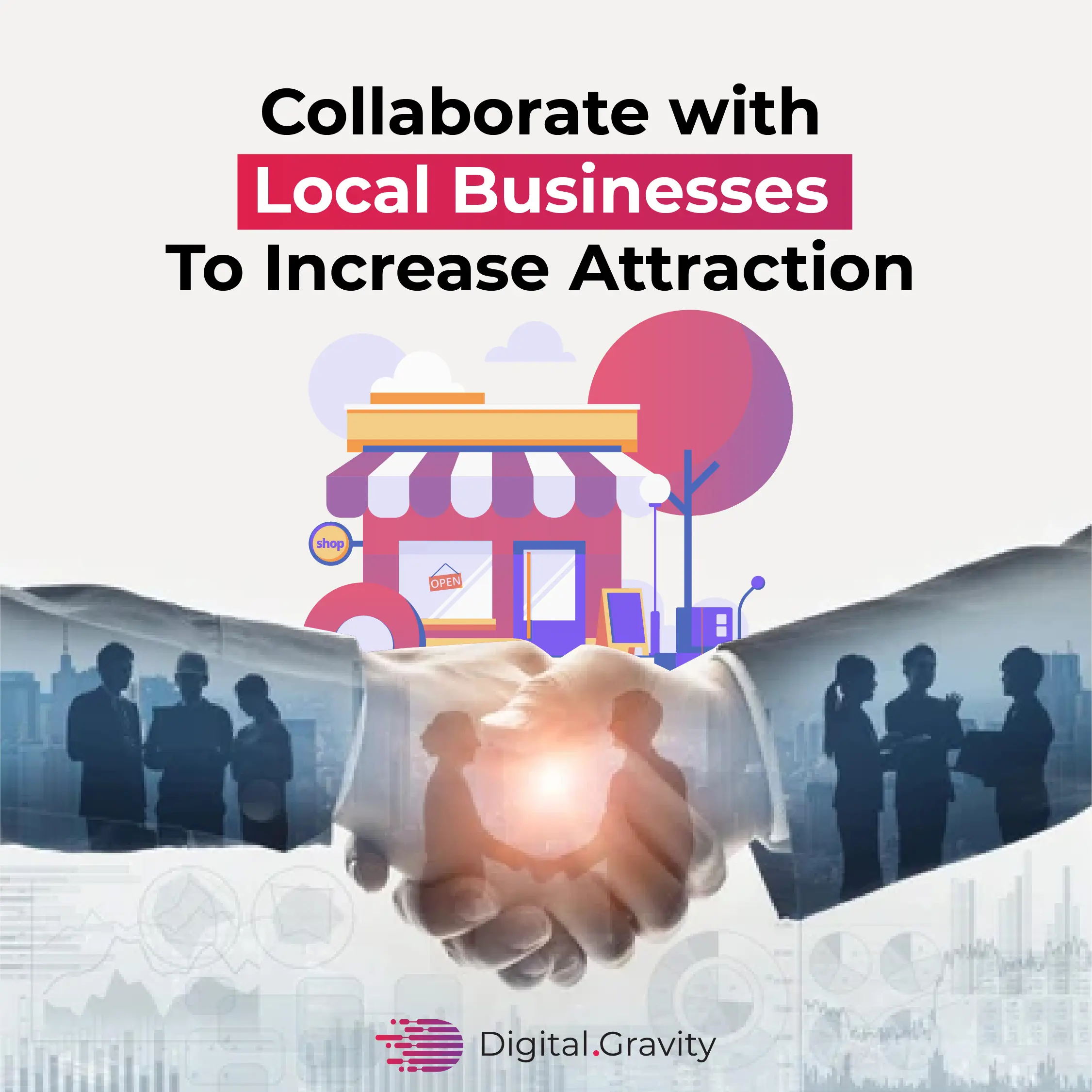 Collaboration is an amazing way to attract customers. There are a lot of options for collaborations in the service industry.
 i. Partner with Local Food Businesses
Organize a food festival to promote local restaurants
As a room amenity, provide a gift card or voucher for use at a local restaurant or grocery store.
Putting together a package deal that includes meals at local restaurants or grocery stores
Organizing cooking classes or tastings with local chefs and bakers
Working together on special events like wine and cheese tastings or themed dinner parties
ii. Collaborate with Local Fitness Clubs
Collaborative project on health and wellness events or activities
Offering special deals or discounts to gym visitors frequently
Dance classes, aerobics sessions, and fitness summer programs can all be held in the common areas of your hotel
Providing free gym or fitness studio passes to hotel guests
iii. Work Collaboratively with Local Tour Guides and Activity Providers
Add travel packages that include activities like paddle boarding, hiking, and horse riding
Event and activity collaboration to promote local culture and heritage
Providing hotel guests with special access to tour packages and other activities offered by local businesses
Collaboration with local craftsmen to accommodate pop-up shops in your hotel.
iv. Collaborate with Local Car Rental Services
Offering discounts or special offers to hotel guests who rent cars or taxis
In your marketing and advertising content, promote your hotel's relationship with local transportation providers
v. Organize Events at Your Hotel that would Include Artists & Musicians
Provide hotel guests with discounted or priority access to performances, gallery openings, or other events
Organize exhibitions in your hotel lobby or common areas in collaboration with local art galleries or studios
Provide guest rooms with locally crafted artwork or handicrafts
Tickets for concerts, theatrical productions, museums, and other cultural attractions are discounted
vi. Collaborate with Local Car Rental Services
Offering discounts or special offers to hotel guests who rent cars or taxis
In your marketing and advertising materials, promote your hotel's relationship with local transportation providers
vii. Collaborate with Local Spas & Massage Studios
Give visitors who book treatments at your hotel's spa promotional discounts or special packages
Build a network for people interested in spa activities
Collaborate on special health and well-being events or activities, like yoga sessions or nutritional seminars, with local spas and massage studios.
Collaborate with local spas and massage studios to provide in-room spa services like massage treatments, manicures, pedicures, and other spa services
Promote your hotel's affiliation with local spas and massage studios on your website and other marketing materials, as well as in online and print advertisements.
As you can see, collaborating will provide you with many ideas to create value for your customers. Even when potential clients see social media posts of collaboration with different restaurants and fitness clubs.
They will be more interested knowing that they can explore the local culture and traditional food while staying at your hotel. Also, as you have collaborated with local service providers who have great expertise in the service they provide so you do not have to worry about the quality.
Develop an SEO Strategy for Your Hotel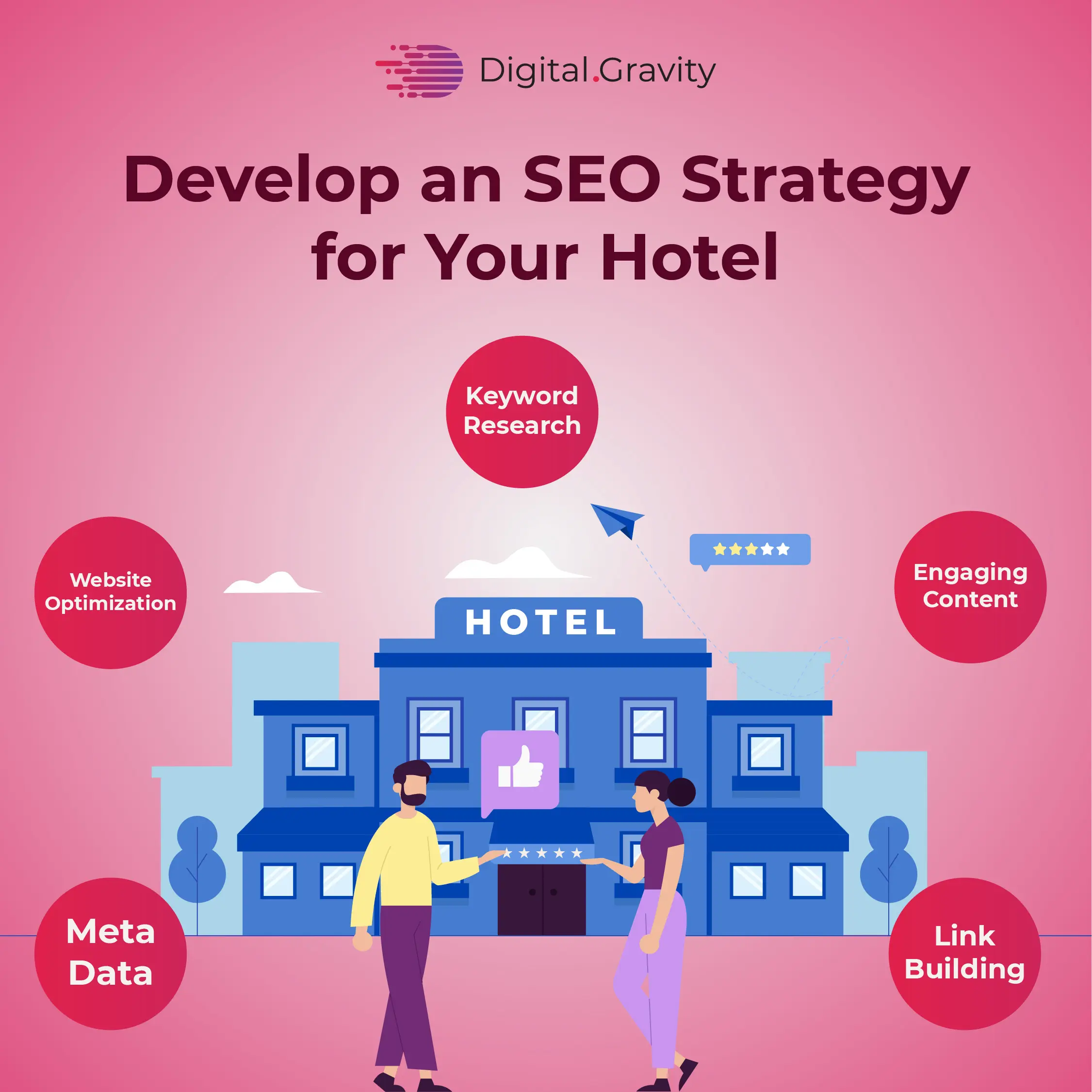 Do you know that every customer starts a hotel search from a search engine? This means that you must invest in SEO, so you could catch your potential customers.
Imagine your website does not exist on search engines, that is you are not visible to your potential customers. You are losing customers with every passing second. Therefore, your website must be correctly optimized.
Especially, in peak season you must invest more in digital marketing services. You can contact any digital marketing firm to help you with keyword research. Due to their vast experience, they know how to play with keywords.
An SEO expert will find the relevant keyword that your potential customers are searching for, and content creators will create engaging content for the viewers. Surely, viewers will get impressed and will make a booking at your hotel.
Next is link building, another important component of SEO.  You can collaborate with online travel agencies and can use metasearch & descriptions to enhance your visibility to drive relevant traffic to your website.
Finally, your mission is accomplished! SEO will drive more direct bookings now than when you are interacting with customers looking for accommodations. Also because you appear higher in the OTA web search results, it's most likely, customers will choose you.
Remarket Your Hotel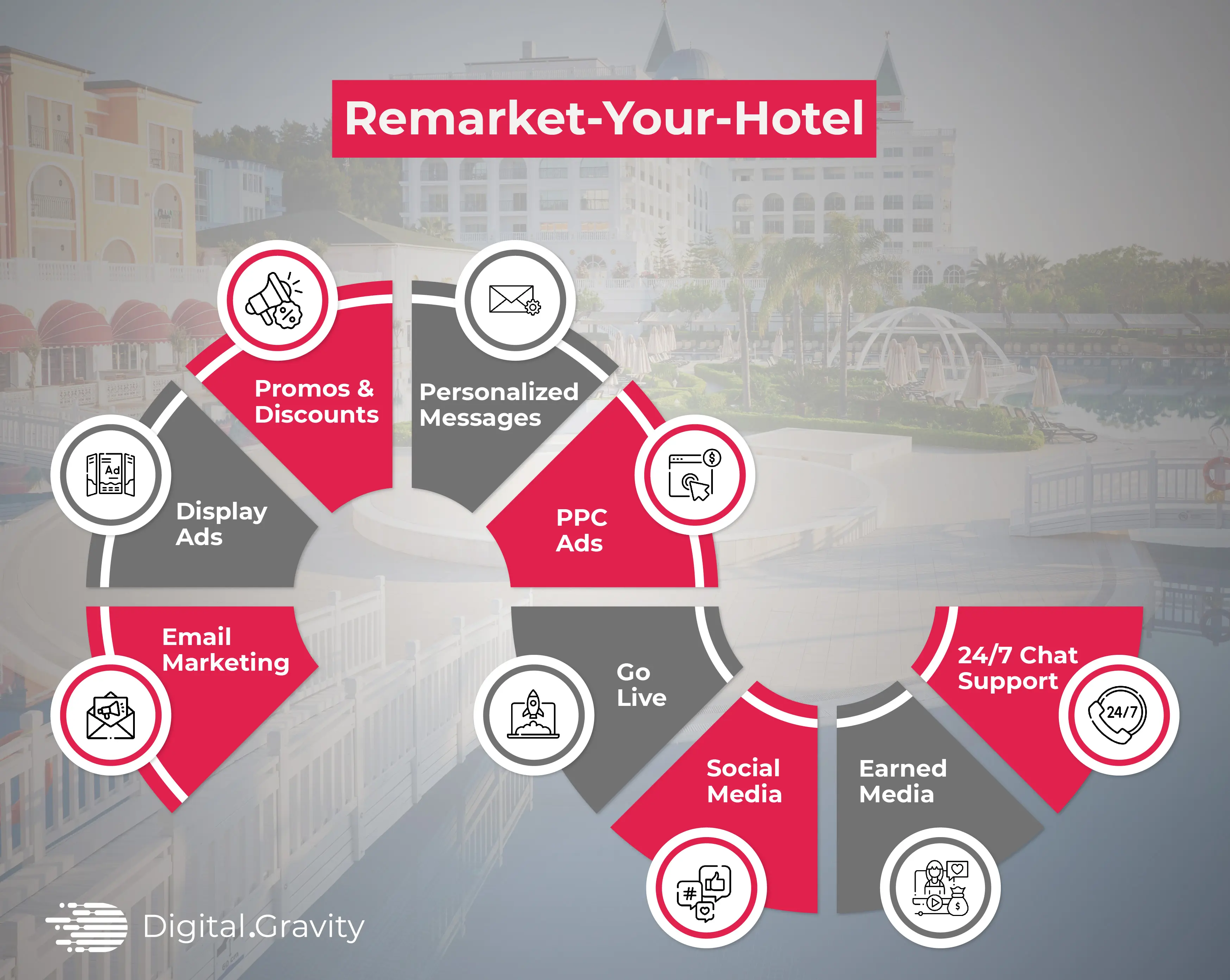 You know there are a lot of distractions, especially in an online search. Thus, to keep your customers engaged you can use digital marketing tools. It will help you to decrease your abandonment rate by completing the booking process from the customer's end.
You can achieve this goal in the following ways:
Sending a check-in email to remind your customer that they are still left with the booking
You can use display ads for people who have recently visited your website
Keep sending special discounts & incentives to your customers
Send personalized messages to targeted customers
Design personalized campaigns to encourage customers to book your hotel
You can use pay-per-click advertising, it will give you instant results, will be easier to track your progress and you have to pay per click so it is cost-effective
You can GO LIVE, to give your viewers a real charm and visit your hotel
Add videos on your website, PPC landing page, and social media accounts
Use earned media to add credibility and creativity
Give an option of a chat box and live chat on your website that works 24/7 so your customers can resolve their queries on the spot
By using these digital marketing strategies, you will stay ahead of the competition. You are building an image and identity that people will not forget. You are also increasing your hotel awareness and visibility to potential customers, that goes without saying.
Furthermore, you are communicating your value service to your target audience. This will help you to position your value and hotel among your potential customers. Consequently, it will convert your potential customers into loyal ones.
Take Feedback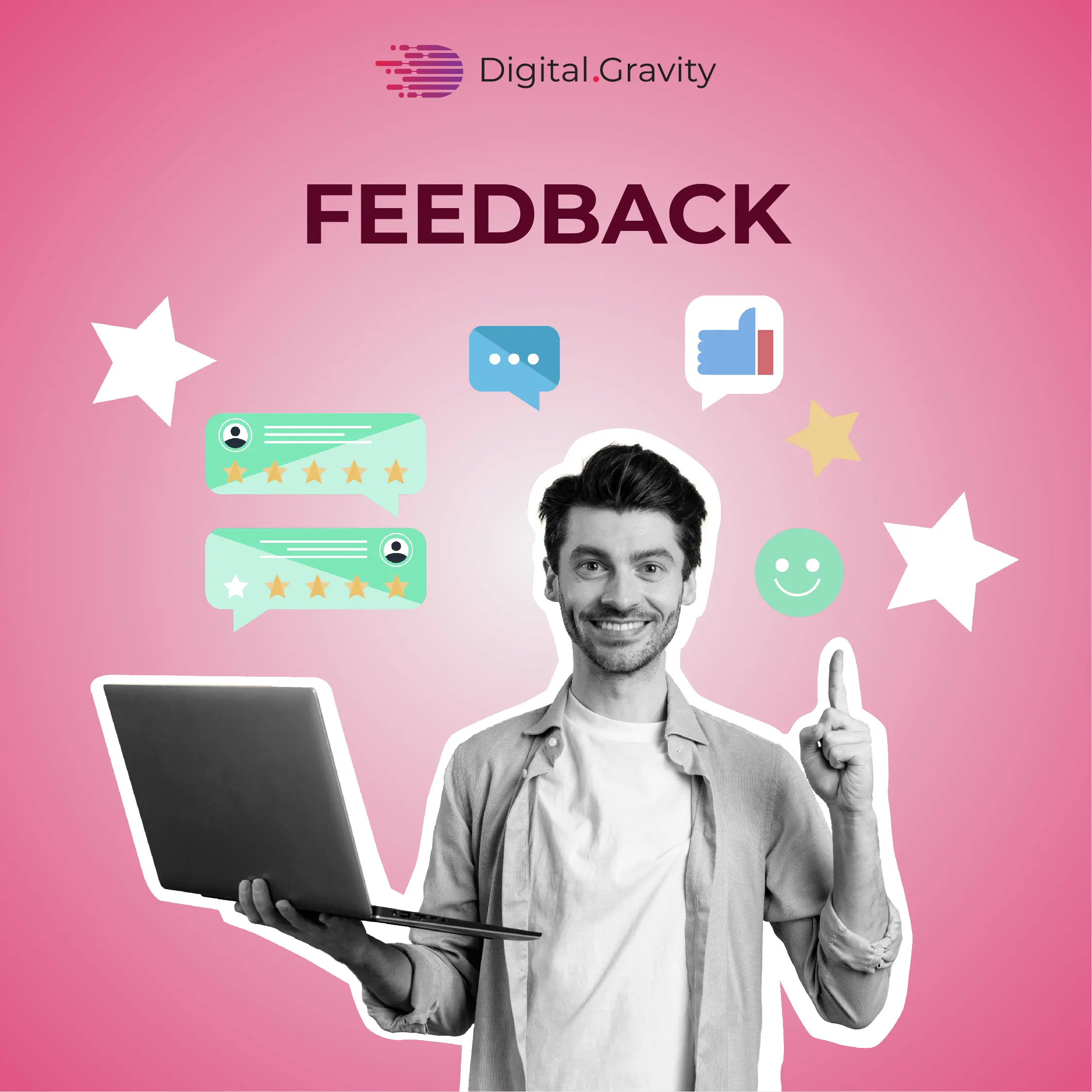 Keep analyzing the conversation involving your hotel to know what people think about your hotel. You will get customer insights and the answers to the following questions.
Are your potential customers satisfied with your services?
Are you fulfilling their expectations?
Do they like your hospitality?
Will they come again?
Will they recommend your hotel to their loved ones?
Moreover, keep a close eye on comments and reviews. You can also forecast your future booking with this. As positive word-of-mouth will contribute to the fact that people can rely on you for your valuable services.
Conclusion
We have compiled all the essential hotel marketing strategies that can help you to advertise and promote your hotel. Using these strategies can boost your customer interaction and engagement. Eventually, these marketing techniques will enhance your bookings leading to more revenue and profits.
While allocating your marketing budget, keep in mind that digital channels can impact your revenue to a large extent. Therefore, use digital marketing services to stay ahead of the competition and to build an image in the customer's eye!
FAQs
What are the current marketing challenges faced by the hospitality industry?
Traditional marketing strategies are not highly effective
Rising influencer marketing
Marketing budget
Creating customer experience
What is the best marketing strategy for hotels?
Attract visitors even before they arrive
Train your employees to provide a high level of customer service
Maintain High-Quality Room Services
Provide lower rates with recreational facilities
Create an online presence
Use peak booking seasons to your advantage
What are the most recent hotel industry trends?
Digital Marketing Services are the latest trend in the hotel industry. Now, most hotels manage their customer services through mobile apps. They monitor and control customer cycles and experiences through apps
How can I increase my hotel room booking?
Try these strategies: improve your online presence, optimize your website for bookings, offer competitive rates, and use targeted marketing campaigns.
How do hotels attract more guests?
Hotels can attract more guests by offering great service, comfortable rooms, promoting amenities, and having a strong online presence.