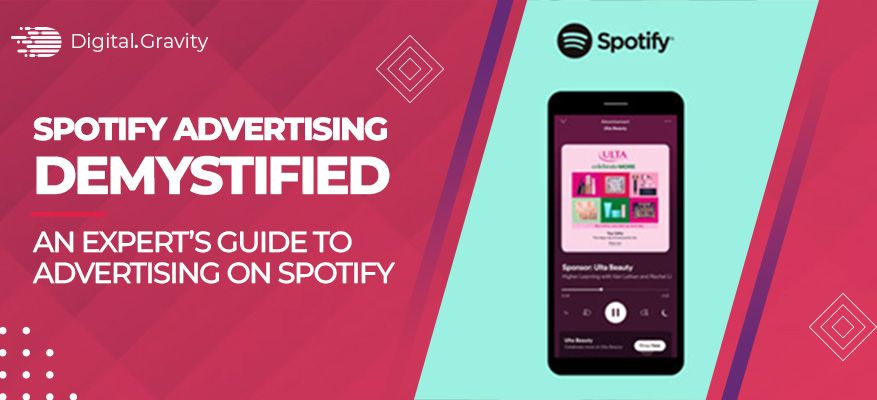 The new era of advertising does not rely on traditional means. The new-found digital platforms have taken over the world of marketing by storm. From online advertising to social media marketing, the new digital marketing is using every means possible to yield the most out of their marketing efforts.
In this race, Spotify Advertising is a prominent name. While this may come as a surprise, Spotify has made its name in digital marketing because of its successful advertising. Spotify is a popular music streaming platform that caters to a huge chunk of the target audience.
According to BankMyCell, the total number of Spotify users is forecasted to reach 517.70 million by the end of 2023. When the traffic is on Spotify, it makes sense to target them where they are mostly spending their time.
Today, Spotify enjoys a whopping 271m users that include approximately 124m subscribers, and spans across 79 markets.
What is Spotify Advertising?
Spotify Advertising includes audio or video ads that run in between songs, podcasts, and playlists in the free version.
These ads are usually branded ads that are targeting the audience to increase brand awareness, engagement, and sales.
Apart from free Spotify ads, there are other types of advertising which can include but are not limited to
·        Sponsored Playlists
These are the playlists that are one of the most played and popular playlists. You can run your ads during these playlists as it will greatly help you in reaching a wider target audience.
The streaming intelligence of Spotify tracks the behavior of users online and provides insights that will greatly help you in understanding the target audience. It can identify the relevant playlists for your brand and recommend them.
·        Homepage Takeover
A quite prominent feature of Spotify is the "Home Takeover". This option allows you to take over the homepage of Spotify for 24 hours. You can display your ads on the homepage for 24 hours but this feature is only available for desktops.
You can add interactive elements to your ads in this option. This feature allows ads to be clickable and you can also add rich media like video or audio etc.
·        Overlay
These ads are designed for viewability that is effective to reach your desired audience. Whenever a user returns to the Spotify app, these ads are displayed that ensure that your intended message is reaching the right audience which will increase the brand impact.
These ads allow immersive elements to be used and the ads are also clickable. They can accurately drive traffic to your website, app, or any other online platform.
·        Leaderboard
By using this option, you can display your ads for 30 seconds only when Spotify is in view. These ads are clickable and allow you to advertise your brand in a safe environment.
Benefits of Spotify Advertising
Advertising on Spotify comes with benefits that will convince you enough to invest in it. Spotify is no longer just a music streaming platform and instead has upgraded to become one of the popular main platforms for your digital marketing efforts.
What started as only an entertaining platform has transformed into a remarkable means that businesses can use for their marketing efforts. The target audience presented on Spotify makes for an enticing opportunity for businesses to attract and engage their potential customers.
Here we are listing some of the benefits of Spotify advertising.
1.    Engaging Advertisement
One of the most important benefits of Spotify ads is that they are highly engaging. Audio advertisements provide a seamless experience for brands to convey their message while maintaining the user experience.
Today, the attention span of people is extremely short. The advertisements should immediately grab the attention of the target audience otherwise they will be lost. Spotify is the place for active and attentive listeners who are listening enthusiastically. When you make your ads for Spotify, you can ensure that your audience will be able to recall your brand because they listened to your ads.
2.              A Wide & Diverse Audience
Spotify has a wide and diverse audience that is rich in different demographics, geographies, interests, etc. The diversity allows advertisers to accurately target different segments and audiences.
This way, a brand can reach its targeted audience and convey its message to potential customers. Spotify Advertising allows advertisers to offer personalized advertisements to their target audience easily.
3.              Mobile Reach
Nowadays, people use their mobile phones comparatively more than any other digital gadget. This creates a desirable opportunity for advertisers to reach their target audience wherever they are spending most of their time.
Mobile reach enhances the possibility of immediate engagement. Advertising on Spotify highly benefits advertisers because they are resting their business in the palm of their target audience, literally.
4.              Interactive Ad Formats
A very prominent feature of advertising on Spotify is that it allows advertisers to display interactive ad formats such as video or voice-enabled ads effortlessly. This manages to grab the attention of the target audience successfully and they engage with your business enthusiastically.
These interactive formats allow businesses to create and establish personalized and attractive ads that can foster a strong brand relationship with their potential customers.
5.              Cross-Platform Consistency
With online platforms, the issue arises of making ads in different formats to suit the different needs of different platforms. Spotify advertisements allow you to create interactive ads with an attractive display and let you use videos for your ads. This helps in establishing cross-platform consistency.
You can take your advertisement campaigns to the next level with a single strategy for every platform. This will help you by saving you time, money, and effort while providing you with ads that are great for every platform.
6.              Creative Storytelling
Spotify advertisements allow you to tell your brand story in an engaging way that will attract your audience to your business. The ad format of Spotify enables you to innovatively communicate your story through audio.
Sounds have a direct impact on the human mind and help in drawing narratives that can leave a lasting impression. Businesses can easily create sounds that effectively communicate the message to the target audience.
7.              Regularly Engaged Audience
People have the habit of listening to music for extended periods. They enjoy listening to music during work, running errands, and on commutes. This provides businesses with plenty of time to market their products or services.
When the audience remains focused on a particular app for a long time, it gives businesses a great chance to advertise their brands and engage with an active audience.
Advertising on Spotify enables businesses with great time opportunities to reach their target audience.
8.              Global Recognition
Spotify is not a new name in the market. With millions of users today, Spotify enjoys a great audience that is constantly and actively engaged with the platform. The reach of Spotify is global and people love to spend their time on this platform.
It works as a global platform that actively attracts and engages users. With this, advertisers can advertise their businesses globally with ease. They can run international campaigns and leave a digital footprint globally.
How to Advertise on Spotify
If you are new to the world of advertising and are fumbling with how you can use one of the biggest online platforms Spotify, for your digital marketing, do not worry. We are listing down some of the prominent ways that you can use Spotify for your digital marketing.
·        Audios
Spotify allows advertisers to play ads in between songs. The audio ads can last between 15 to 30 seconds depending on the content of the ad. You can create an ad that has a clickable image that will take users to a specific page such as a landing page etc.
Advertising on Spotify is made easy by Spotify's personalized advertising options. You can customize your ads to be played only in between music that your target audience listens to.
Additionally, you can customize your ads according to geographic locations. This way, a refined and relevant target audience will listen to your ads only.
·        Display Ads
These ads are displayed at the top of the platform for some time only. Spotify is a smart platform that strategically displays ads without overlapping anything. The ads are displayed for almost 30 seconds and users can click on it to take them to a targeted page.
Spotify display ads are divided further into types:
Homepage takeover: this is a clickable ad. The screens of the users change for a brief period and the ads display. This short timeline is attractive for users as well as effective as they are brief and can easily reach the desired audience
Megabanner: these ads are displayed for 30 seconds. Mega Banner ads are only displayed when Spotify is in use. These ads are only for desktops and websites
Overlay: a quite user-friendly ad that is displayed on the full screen but has an X option. So, the users can close the ad if they want to. If the users do not close the ad, the ad will organically shut down after 30 seconds
·        Videos
You can use Spotify advertising to display your video ads also. In this, instead of a static image, you can display a video advertisement. While this is highly beneficial for brands, it becomes quite a nuisance for people who are using the app to listen to music. They are likely to get irritated with a 30-second-long video.
At the same time, it is more effective than images as viewers would be more inclined to invest their time watching a video than looking at a static image.
·        Sponsored Playlists
A rather creative and imaginative approach to making your Spotify campaigns is to use sponsored playlists. You can make playlists by putting together songs that accurately go well with your brand and complement it.
You can make this playlist available for anyone to listen to and use an attractive image or banner that represents your business. You can even name the playlist after your brand so it is more accurate and self-explanatory.
Make your playlist by using songs that can appeal to your target audience. It is a great way to connect with your target audience and attract them to your business. You can be as creative as you want and make a playlist that will be received well by your target audience.
Final Word
Using Spotify for advertisement can be a great investment as well as a transformative journey for your brand. The expert guide described above is enough to push you to start your Spotify advertising campaign easily.
Start your sonic journey today. The world is actively listening so make sure that your voice is loud enough to be heard.
FAQs
Does Spotify have ads?
The free version of Spotify has ads while the premium version is completely ad-free.
How much does a Spotify ad cost?
There is no definite cost for Spotify ads. The cost per impression (CPM) varies between $5-$30. This cost can easily extend based on the complexity of the ad.
Does Spotify work in Dubai?
Launched in 2018, Spotify now works greatly in Dubai and the MENA region.
Can I advertise on Spotify?
Yes. You can advertise on Spotify by displaying ads or running ad campaigns. You just need to follow the Spotify ad campaign's guidelines and you are good to go.
Does Spotify free have ads?
Yes. Spotify free has ads. A typical Spotify playlist usually plays ads after every 2-4 songs.
What are the advertising guidelines for Spotify?
The guideline entails that you pick the right length that is upto 30 seconds, use 65 words of script or less for 30 seconds ad, add a straightforward call-to-action with the advertiser's or brand's name, make your ad responsive for every device, etc.
Should I hire a digital marketing agency/company for my business?
A digital marketing agency/company can help you make informed decisions regarding Spotify advertising. Their digital marketing services include expertise, skills, and strategic decision-making that will help you in devising the right ad campaigns which will bring more recognition and sales to your brand.