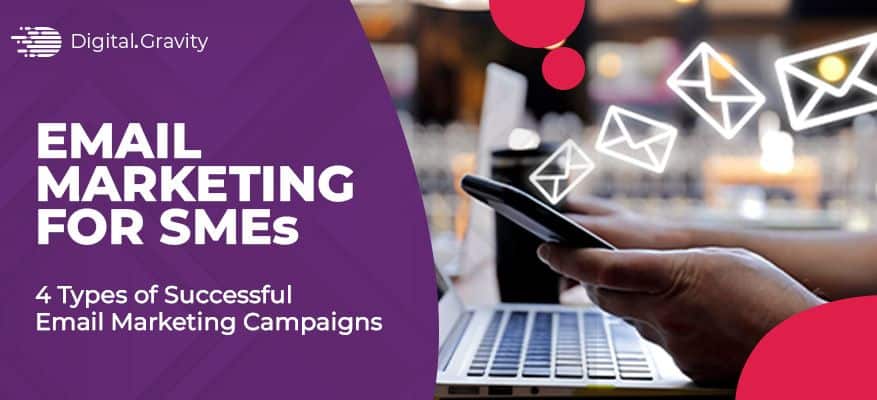 With the prospect of a high return on investment and faultless targeting of audiences, email marketing promises lucrative results for small businesses.
In this piece, we are unveiling the 4 types of successful email marketing campaigns for small businesses.
What are Email Marketing Campaigns?
Email marketing campaigns include marketing efforts that are sent to a particular audience via emails. The ultimate objective of running a successful email marketing campaign is to entice the recipients into clicking on the Call Now button, completing a product purchase, sampling a service, etc.
What are the Main Benefits of Email Marketing Campaigns?
Email marketing campaigns are highly beneficial for businesses as they create brand awareness and constantly engage with the target audience.
Furthermore, email marketing campaigns significantly increase sales by generating interest in your business or products/services. Overall, email marketing campaigns help in growing your business and generating increased revenue.
While you're here, join our community of 200,000 marketers who stay updated on the latest digital marketing by subscribing to our weekly newsletter!
Different Types of Emails
Before we dive into the different types of email marketing, let us get acquainted with the different types of emails. Especially, when it comes to email marketing in Dubai, they are very important for businesses to keep in touch with their customers.
Lead Nurturing Emails: these emails effectively guide your leads through the sales funnel and convert them into customers.
Milestone Emails: they are purely for customers as they celebrate the particular event of a customer like a birthday or an anniversary.
Survey Emails: these emails help in providing valuable insights into your performance and how you can do better.
The different types of emails help varying kinds of businesses in catering accurately to their target audiences.
4 Types of Successful Email Marketing Campaigns for Small Businesses
Here we are listing down the 4 types of successful email campaigns for small businesses that can help you significantly in reaching the right audience and growing your business.
1.             Email Newsletter
This is a type of email marketing that involves a regularly scheduled and distributed email campaign which includes information and updates about a particular topic, product, or service.
This is a solicited type of email marketing newsletter that is sent to the subscriber list who have chosen to receive them. Email newsletters contain different types of content such as articles, blogs, promotional offers, guides, how-tos, announcements, etc.
As a small business, email newsletters can help your business tremendously as they can keep your audience engaged and informed. With email newsletters, you can update your target audience about anything that you want. They also help in establishing a transparent relationship between your business and your target audience.
2.              Promotional Emails
These are a type of emails that businesses use to promote their products, services, or events to their subscribers or potential customers. These emails are carefully crafted with engaging and tempting offers which can urge the audience to buy your new product, service, or any other action that you want them to take.
As the name suggests, promotional emails encourage recipients to take a certain action. You can also use promotional emails to send rewards and gifts to only the selected subscribers that include exclusive offers and announcements about any new product or service.
Not only do promotional emails help in engaging your current customers but they greatly help in acquiring new customers too. With promotional emails, small businesses can benefit by attracting new customers and keeping them retained with constant emails.
3.              Acquisition Emails
These are a type of email marketing campaign that helps businesses in acquiring or gain new customers. Acquisition emails are sent to people who have not yet made a purchase from a business and thus have not become their customers.
These emails include attractive offers that can convince your target audience to become your customers. They usually include a strong call-to-action (CTA) that can encourage your target audience to take action. Downloading a whitepaper, signing up for a trial, or making a first-time purchase are some examples of the content that is included in acquisition emails.
With acquisition emails, you need to be a bit careful to not stuff the email with too much promotional content. Also, these emails should be scheduled with a considerate gap to not overwhelm the recipients.
4.              Retention Emails
These emails are a form of an email marketing campaign that is designed to keep existing customers engaged with a business. These emails are only sent to existing customers who have purchased a product or service from the business.
As a small business, retention emails are great for building long-term relationships with your current customer base. There are many forms of retention emails including but not limited to special offers, product announcements, new updates, loyalty rewards, etc.
With retention emails, you can keep your current customers engaged in your business as well as prompt them to reach out to you again. Since the content of retention emails is highly personalized and targeted based on the past behavior and preferences of the customer, the goal is to make the customer feel special and appreciated.
Additional Types of Email Marketing Campaigns
Welcome Emails
These are the first interactions between a business and its target customers. Welcome emails are sent by businesses to customers who have opted to subscribe to the email list. The content of these emails typically involves a warm greeting, an introduction to the business, and its products, appreciation for the subscription, etc.
Transactional Emails
Plausibly the most effective yet least attractive emails are transactional emails. These emails are sent to users, triggered by a specific action taken by them on a website or application.
The content of transactional emails usually includes an expected transaction between the customer and the business. They can include purchase confirmation, order status update, password reset, etc.
Why Email Marketing is Important for Your Small Business?
Email marketing is a promising marketing tool that can produce fruitful results for your small business if done correctly. While there are many other powerful marketing strategies and tools available today, email marketing is one of the cheapest and most impactful marketing tools.
Large-scale businesses and big companies can use any marketing strategy since they have huge financial budgets. On the other hand, small businesses need to find something that does not put a dent in their pockets while still working the magic.
One of the best alternatives for expensive marketing tools is email marketing. It is much cheaper than traditional advertising methods like print ads, TV ads, billboards, etc. Using email marketing can help small businesses in reaching their accurate target audience without using too much of their budget.
The core objective of email marketing strategies is to formulate personalized messages that can target specific audiences. You can segment your email list based on demographics, behaviors, past purchases, etc. to create relevant and accurate messages that have more impact on the audience.
Final Word
Email marketing campaigns are an influential marketing tool for small businesses as they can connect them with their customers, drive profitable sales and increase brand awareness. As mentioned above, email marketing Dubai includes exceptional services that can help your small business in reaching new heights of success and growth.
FAQs
What is a welcome email campaign, and why is it essential for small businesses?
A welcome email is the first email a customer receives from a business when they sign up for the email list. For small businesses, welcome emails are important as they introduce the business to the customer and open a communication line.
How can I create an effective promotional email campaign?
To create an effective promotional email campaign, start by defining a goal of whether you want to promote a product, drive sales, increase website traffic, etc. Then, make an engaging subject line, be direct in your message, and include a strong CTA that will encourage your users to take action.
How can small businesses grow their email list?
Small businesses can grow their email list by promoting their email list on their websites and social media platforms. Also, they can offer incentives and exclusive discounts, etc.