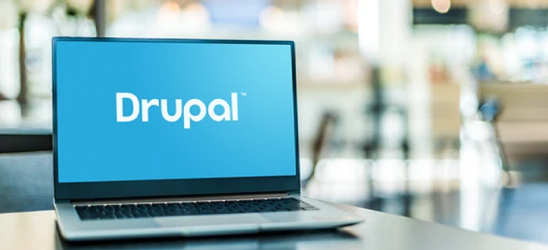 If we talk about the most popular web content management systems being used today, Drupal is rated among the top three — along with WordPress and Sitecore. It is the choice of 3.1% of the top million and 7.5% of the top 1,000 sites worldwide.
Drupal's increasing use wouldn't come as a surprise if you are aware of its features and uses. Particularly for online stores and eCommerce websites, Drupal is arguably the most flexible option out there. Besides ease of use, it gives you ample customization options at your fingertips.
As a leading Drupal web design agency in Australia, we have first-hand experience in creating cutting-edge Drupal solutions. So in this post, we will answer all your queries regarding Drupal and its capabilities, and also simplify the tricky process of choosing a Drupal website development agency in Australia. Make sure you read till the end so you know how to hire the best Drupal agency Sydney for the design, development, and deployment of Drupal.
Drupal Features
Drupal websites and Drupal content management systems are the choice of the world's most efficient online businesses. And that's for a reason, Drupal's all-around features. The most notable ones include:
World-class Mobile Experience
As per the latest statistics, more than 60% of all website traffic comes from people using mobile devices. These numbers reflect the importance of optimizing your website for an optimal mobile experience.
Drupal is designed with all the needs and preferences of mobile users in mind. It features modules and themes for building responsive, user-friendly mobile experiences. 
Multilingual-ready
Building a multilingual website has never been so easy. And with multilingualism, comes the freedom to communicate to your audience in a language they understand the best.
Drupal 8 boasts a wide range of multilingual features with an admin interface having built-in translations. Furthermore, in custom Drupal development, you can add pages with language-based views. And best of all, it doesn't need any manual updates; all translation updates are automatically facilitated.
Easy Authoring
A content management system's primary purpose is to accelerate content marketing efforts. Drupal empowers content editors, digital marketers, and online business owners in an unprecedented way.
You can create and publish content on the go. Editing is super easy, you can make changes to a page without having to switch to the full edit form. The same is true for drafts.
All in all, a Drupal website gives you full authority over the content. You enjoy the freedom to experiment with your content ideas and persist with the strategy yielding the best results for your business.
Flexible Theming Options
One of the reasons why people like WordPress as a CMS is the versatility of WP themes. The same is the case with Drupal, you get plenty of themes to customize your website according to your preferences.
Drupal uses a theme engine to create layouts and formats for the site. However, it goes a step ahead of other CMSs by providing you with exceedingly flexible and elastic options for theming.
You have the option to place content anywhere on your website —  not just the header, sidebars, content and footer. This way, even a non-technical person can design beautiful interfaces in little time.
Custom URL Paths
This feature is particularly important for the user experience of your site. If your site has bulk content and each piece is equally important, it can be a challenge to direct the visitors to exactly the page they are searching for.
Drupal lets you define specific paths for a specific piece of content. As a result, your prospects can understand what the content is about by simply looking at the URL of your content. 
Google, Yahoo, and all popular search engines like websites on which content is sensibly organized for the ease of users. Thus, it also helps with Drupal SEO.
User Management
As it goes without saying, a single business website is mostly managed by multiple users. Each of them has a different position in an organization or digital marketing team. Like all content management systems, Drupal lets you create as many users as you want.
What makes Drupal a little different from other CMSs is the Super Admin has the right to control the sub-users and even set up their rights. Also, as a Super Admin, you can send a customized welcome email to every new user. When required, you can also block a certain user for the safety of your site.
All in all, Drupal makes user management easy. 
Related Article: WordPress Development in Australia
What Makes Drupal a Perfect CMS for E-commerce Sites/Online Stores?
Ever wondered why so many e-commerce businesses in Australia use Drupal as their CMS? There are plenty of reasons why the use of Drupal is prevalent in the e-commerce industry.
When you launch an online store, you expect only a few hundred visitors in the first few months. But as your store grows and the daily traffic graph goes up, you require new options to keep up with the user's needs. At the same time, you might also plan to expand your business and introduce a new service/product.
That's where Drupal proves very useful. With options to manage peak loads and ensure optimal performance, your online store continues to grow by offering an exemplary shopping experience to your customers. All you need is assistance from Drupal web development services.
 As a result, you can take the business to a whole new level without experiencing any negative impact on your site's performance.
For any online store, site security is of utmost importance. According to Symantec, an average of 4,800 websites a month are compromised with formjacking code. To combat this pressing issue, Drupal offers ample security options such as password protection, two-factor authentication, extra security layers, etc.
In addition, Drupal has a dedicated team of developers who work consistently
to improve the platform's security, release patches, fix bugs, and release security updates regularly. 
Automation is the future of marketing. In fact, it's already being leveraged by top tech companies. Now we have tools to automate our social media posting and emails. Following the trail of the most recent, advanced marketing tools, Drupal lets you automate content marketing.
Here are some of the notable features of Drupal in this area:
Real-time sales alerts

Data management in bulk

Streamlined workflows

Advanced email reporting for specific audiences

Refinement of your marketing processes
For e-commerce businesses, Drupal forges the way for efficient marketing automation which allows the business owner to focus on the bottom line without worrying about trivial management tasks.
The icing on the cake is, Drupal is completely free. There's no license fee. All you might have to pay is the service fee to a Drupal agency in Australia. Other than that there will be no charges.
Drupal doesn't require you to buy a license for commerce use. All the features and the options to modify built-in elements are free. So if you are starting a new online store, you won't have to pay any fee for creating a store. You can start as small as you would like, to mitigate the risk involved.
All in all, if you are starting an eCommerce store or business in Australia, Drupal is a perfect choice regardless of the size of your site.
    Get a free consultation from expert Drupal professionals!
Types of Drupal E-commerce Websites
As a Drupal agency Australia, we would like to introduce you to two different Drupal development approaches used by Drupal agencies for e-commerce development.
The term 'Headless' is quite popular these days. But only a few people are aware of the concept behind it. It refers to the separation of the front end and the back end of an e-commerce website or a normal website. In traditional content management systems, a user can access both ends from the same CMS.
By separating the two major parts of a website, Drupal gives e-commerce business owners the freedom to manage the front end without accidentally modifying the architecture of a website.
In this approach, a developer can connect multiple frontends or the user interface through the API of the e-commerce platform. Through it, you can manage all your online sales channels including web, mobile, and other marketplaces.
The second approach is Drupal commerce. The platform comes with a rich library of community-contributed and maintained modules; the Drupal Commerce module is one of them. 
By using the existing architecture, Drupal Commerce offers an all-around e-commerce package to build scalable e-commerce websites or online stores. Some of the notable features you can embed using this module are:
Ordering

Carts

Payment gateways

Shipping

Fulfillment

Marketing

Analytics
On top of that, Drupal developers can build additional functionalities by using community-developed modules. Drupal Commerce offers a myriad of customization options to its users, which, if you are a Drupal web development company, can leverage to carve out a unique look with all the sought-after functionalities.
How to Build a Drupal Website in Australia?
To build your Drupal website from scratch, you either need to be a Drupal web developer yourself or hire a professional Drupal app development company in Australia.
A Drupal web developer has a strong grasp of PHP and its framework, familiarity with Drupal themes, debugging and updating knowledge of Drupal sites, and in-depth knowledge of Drupal security.
On the other hand, a Drupal website company has a team of Drupal experts having all the skills mentioned above. 
Whether you build a Drupal site or content management system yourself or hire a Drupal CMS development company, discuss your idea with a Drupal consulting company before moving forward.
The entire Drupal development process is divided into 5 steps:
Identifying the business needs
The first step is to identify your business needs. The Drupal web development agency you hire will ask you various questions to understand the objectives behind this investment and what you are expecting in return. 
Once the Drupal development company has understood your requirements and business model, Drupal developers will design an architecture for your site. Everything from the navigation menu to the user forms, social sharing buttons, and chat support, is planned in this phase. 
In the next step, the Drupal agency will utilize the Drupal modules to design a custom website or CMS from scratch. The architecture planned in the previous step will be developed according to the client's requirements.
Content migration/uploading
In case you already have a website, you will migrate the entire content from it to your new Drupal website. Content migration in Drupal isn't a straightforward process, it's not like you can migrate everything with a single click. Also, there are multiple ways to migrate content. 
So the wise option is to hire a Drupal website design and Development agency for this all-important job. On the contrary, uploading content to a Drupal website is quite straightforward and doesn't require any technical expertise.
Testing & Quality Assurance
While the testing goes parallel to Drupal development in professional companies, the entire website or app is checked thoroughly at the completion of the project — before the final release. In this phase, Drupal agencies set up automated tests to check the functionality and usability of the web, and create a list of bugs with respect to their severity to make the final product flawless.
Hire Digital Gravity for Progressive Drupal Solutions
Do you have an interesting e-commerce business idea? Or, are you planning to launch an enterprise website using Drupal? Whatever the case, Digital Gravity has the Drupal website developers you are looking for.
As an established web design agency in Australia, Digital Gravity has been offering Drupal development services to big and small businesses in various regions of the world for over a decade.
From custom Drupal development to Drupal to WordPress migration, we have the expertise to serve you in the best manner possible.
Our core Drupal services cover but are not limited to:
Enterprise drupal 8 development

Corporate & promotional websites

Integrated enterprise solutions

Drupal theme development

Drupal big commerce

SaaS platforms

Community & social platforms

Drupal support and maintenance
Rest assured that we fulfill our commitments under all circumstances because client satisfaction comes at the top in our priority list. 
We look forward to hearing from you soon. Nothing excites us more than out-of-the-box client ideas. Do you have one? Feel free to reach out to us!
           FAQs
1. What are some of the best Drupal website examples?
Millions of Drupal websites are live today. Here are some of the renowned global websites designed using Drupal:
Tesla

Los Angeles City

University of Oxford

Rock & Roll Hall of Fame

Jysk

Arsenal

Worldpay Help Centre

Sevilla FC
2. Where can I find the best Drupal developers in Australia?
Digital Gravity connects you with proficient Drupal developers in Australia specializing in Drupal solutions. Just let us know what kind of assistance or service you need and our experts will take care of the rest.
3. How much is the estimated Drupal website cost in Australia?
Depending on the size of the website, Drupal web application development in Australia will cost you AU$ 10,000 to AU$  50,000.
4. Why choose Digital Gravity for Drupal development?
If you are looking for reliable and flawless Drupal solutions, Digital Gravity is a name you can trust. Efficient communication, top-tier developers, and 360° services are the top traits of our Drupal website development services.
5. Have you ever designed an e-commerce website?
Just head over to our "Case Study" section and you will find dozens of e-commerce websites there. Our portfolio is rich with responsive websites delivered to clients from various sectors including:
Healthcare

Real estate

Corporate

Automobiles

Sports

Fashion and beauty

Apparel

Entertainment

Electronics

On-demand services