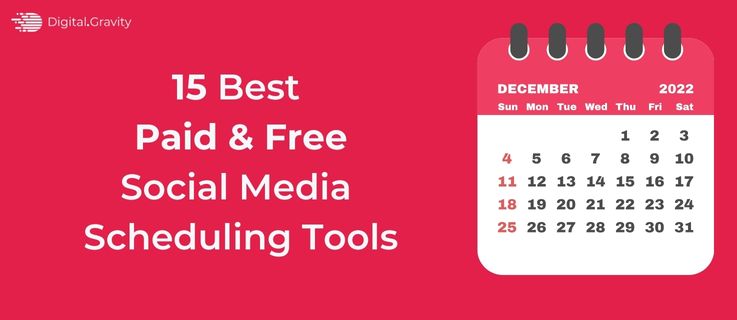 Seeing the importance of social media scheduling tools, it is no wonder that businesses now aredeeming it a crucial aspect of their marketing plans. We have compiled a list of some of the best social media scheduling tools, both paid and free with their advantages and disadvantages.
Introduction
Social media has become the predominant place of enjoyment for people today. The world is gravitating more and more toward social media for constant connectivity and engagement. Fear of missing out has convinced people to be persistently present on it.
Not only does social media harbor information from around the globe but it also provides an engaging experience for its users that keeps them coming for more. According to Oberlo, there are currently 4.59 billion social media users and the number is expected to grow by 6% to 4.89 billion worldwide in the year 2023.
This social media statistic just proves the uttermost significance of social media. With every scroll, users are met with new and fresh content that keeps them enamored with social media.
Likewise, for businesses, social media has also become the primary tool of marketing. When half the world is consistently engaged with a particular platform, it seems like a no-brainer for businesses to direct the full force of their marketing efforts to it.
It is highly plausible that you are missing out on catching your target audience at just the right time with your social media postings. Here, a free or paid social media scheduler can benefit you greatly.
To give you a clear understanding, we are listing them down so you do not have to browse through tons of them.
1. SocialBee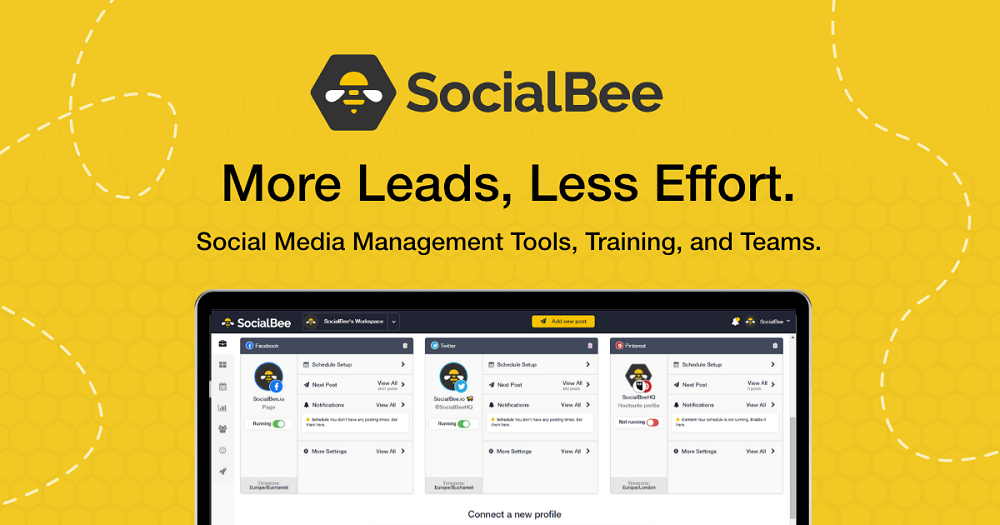 It is a social media management tool that facilitates its users to share content on multiple platforms from one place. SocialBee is specifically great for small businesses. The wholesome features of SocialBee include but are not limited to custom features, affordable payment plans, a fundamental interface, etc.
Here are some of the benefits of SocialBee:
Canva Integration. By using Canva inside the SocialBee tool, you can create attractive and engaging visuals
Real-Time Calendar. You can create a regular social media schedule that will give you a real-time preview of your future posts
With advantages, SocialBee also comes with some cons:
There is no mobile application. SocialBee is only a web-based application
It is not suitable for enterprises
There is no Youtube integration available as of now in SocialBee
2. Hootsuite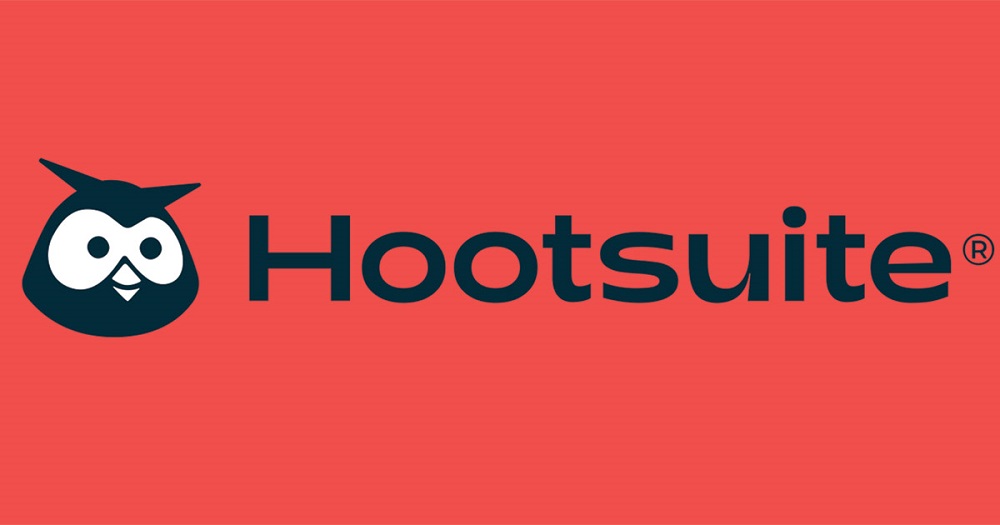 This is a social media scheduling tool that is usually used by big companies. Compared to other social media scheduling tools, Hootsuite is quite complicated. Since it is around for many years now, it enjoys a significant share of users with over 18 million users around the globe.
With planning, creating, and scheduling social media posts, Hootsuite helps enterprises with managing content and ad campaigns across multiple platforms from a single dashboard.
Some benefits of Hootsuite are:
Specific Analytics. You can see account-specific analytics that can help your business effectively monitor results according to a specific timeline
App Collaboration. By using Hootsuite, businesses can be connected to over 150 applications from their app directory. You can also browse and select apps for your business to collaborate with
Social Media Streams. Businesses can use social streams to effectively engage with their audience and track their social media accounts from the Hootsuite dashboard
Some cons of Hootsuite are
Costly. Hootsuite is a very overpriced tool. That makes it harder for any small business to use Hootsuite
Expensive URL. Hootsuite provides a very costly custom URL shortener
3. SocialPilot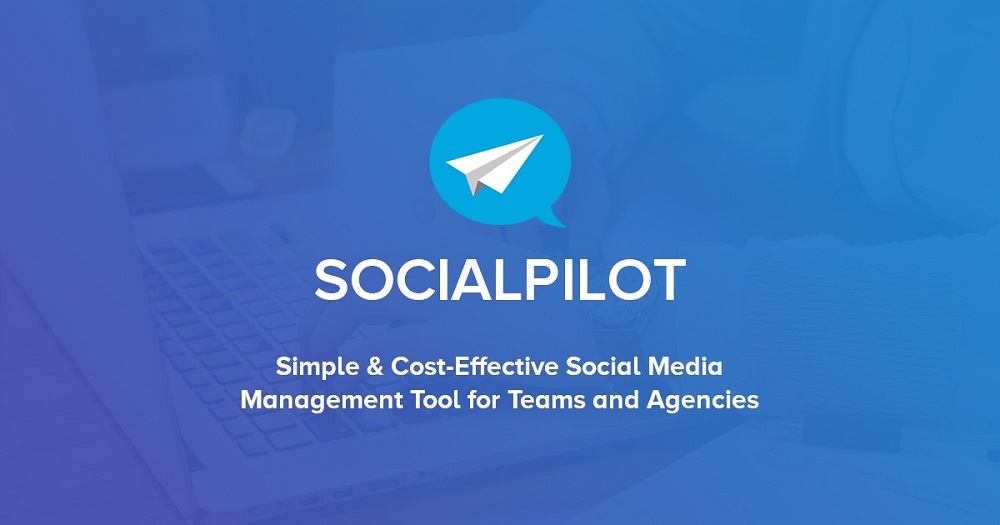 This is one of the most simple and affordable social media scheduling tools. SocialPilot lets its users post on multiple social media platforms in a single place. Social media platforms like Facebook, Instagram, TikTok, LinkedIn, Pinterest, YouTube, VK, Tumblr, Google My Business, etc are all supported by SocialPilot.
 SocialPilot provides its users with benefits like
Plan & Schedule. SocialPilot facilitates its users to easily plan, schedule, and post on social media platforms with advanced features
Time Efficient. This tool makes quick changes to posts which benefits its users greatly
Customization. By using SocialPilot, you can create customized posts according to your requirements
Content Curation. You can get suggestions for new content through the content curation feature
4. Buffer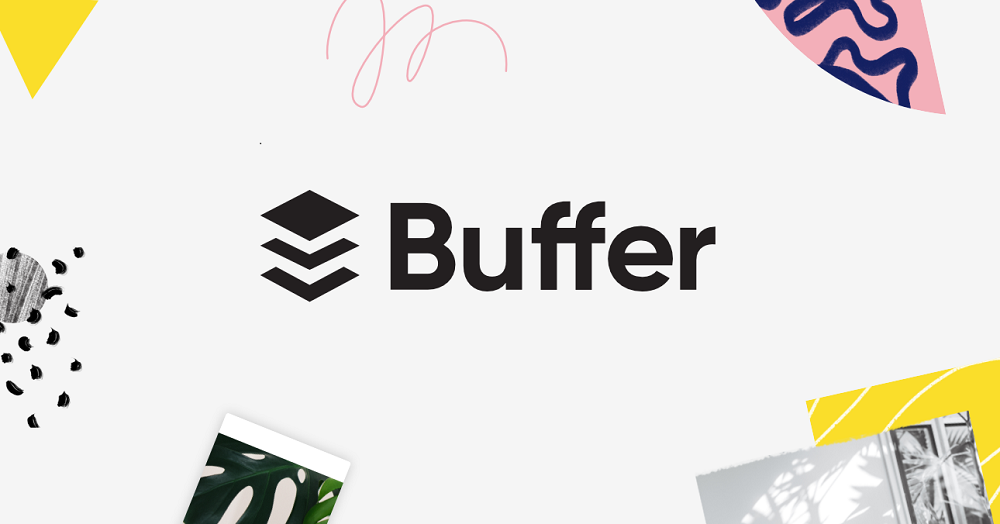 This is a software application that is designed to manage social networking sites and their accounts. This provides a mode to its users where they can create and publish posts to multiple social media platforms like Facebook, Twitter, Instagram, LinkedIn, Pinterest, etc.
Buffer offers excellent features like
It provides WordPress and Chrome integration
Buffer supports iOS and Android so you can create your social media posts from your mobile devices
It has a clean interface that makes it easy for users to navigate it easily
Buffer has a great customer support service that is available 24/7
Some cons of Buffer are
It lacks the content curation feature so you cannot gain any new ideas from it
It has a limitation of only 10 posts per channel
5. Sprout Social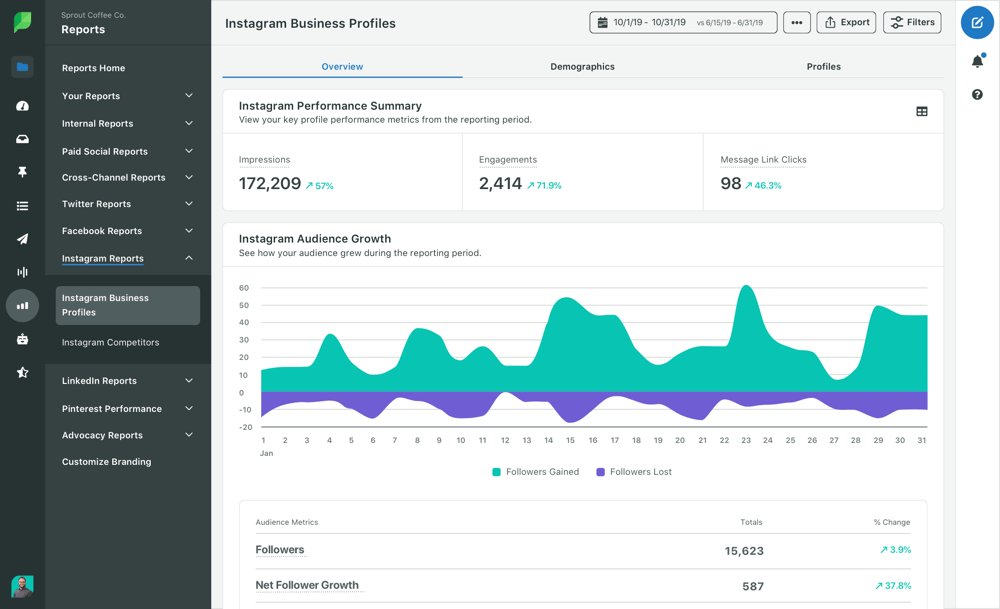 This is a type of social media management tool for companies of almost all sizes that helps in managing conversions and creating analytical reports. Sprout Social offers great tools like smart inbox, contact views, comment moderation, etc.
A great feature of Sprout Social is that it accurately dedicates its efforts to the right place to gain more valuable insights into the target audience.
Sprout Social has benefits like
It provides a collaborative platform where users can interact with each other to have improved communications
The bot builder of Social Sprout helps users in setting up bots within Facebook Messenger. It also helps users in operating and managing a chatbot
Social Sprout offers integrating tools like Hubspot, Zendesk, UserVoice, etc to support teams where they can address and eliminate any issues within the dashboard
Contrastingly, Social Sprout also has some disadvantages:
Social Sprout is highly costly and can only facilitate big companies due to its high fees
It individually charges for every team member instead of charging fees on a whole
It does not have effective integration between platforms. Users have to switch between platforms to communicate effectively because of the lack of a unified inbox
Even though it is very expensive, it does not provide integration with the king of video platforms, Youtube
6. CoSchedule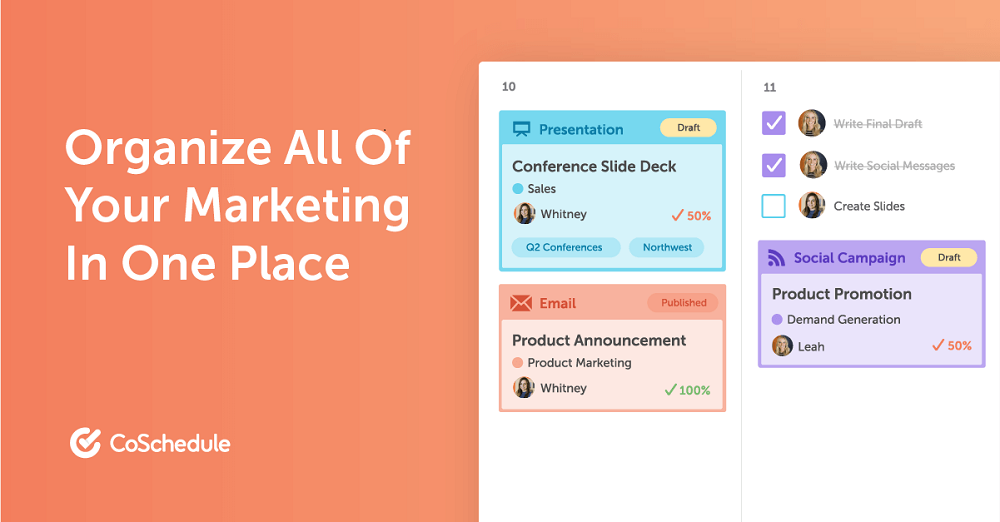 It is a free social media scheduling tool. It is used to publish social media posts but it is more famous for its content calendar feature. By using CoSchedule, users can easily manage Facebook, Instagram, Twitter, Pinterest, LinkedIn, etc.
A great feature of CoSchedule is the integration with blogging tools like Hubspot and WordPress. This way, you can plan, create and publish your blogs within your CoSchedule account.
Some benefits of using CoSchedule are
A marvelous feature of CoSchedule is if you miss posting a single time, it automatically fills the gap with one of your top-performing posts
It provides regular updates about the current status of all the team members and their progress reports at each stage. Also, it has customization features where you can even customize the workflows according to your requirements and the needs of the team
CoSchedule also has some disadvantages like
The paid version of CoSchedule is very costly even though it does not provide any advanced features to the users
There are very basic features in the free version of CoSchedule that does not facilitate businesses
A unique feature of CoSchedule is the ReQueue feature. It facilitates the users to queue their posts but it has the limitation of queueing posts two times only
CoSchedule does not offer its users many advanced tools of integration. This makes it harder for the teams to easily collaborate with any other tool for streamlining the process.
7. Sendible

This is a social media management tool that can manage multiple clients at once and work to achieve a great social media presence. Sendible is very much in alignment with Facebook, Instagram, Twitter, LinkedIn, Pinterest, Youtube, Google My Business, etc.
Features like sentiment analysis and extreme automation set Sensible apart from other social media scheduling tools.
Some of the notable pros of Sendible are
Sendible can provide you with extensive custom reports. You can send these reports directly to your clients by using email. You can make a regular schedule of sending these reports daily, weekly, or monthly basis.
It has a unified inbox that can effectively track your brand, competitor, any key industry terms or trends, etc. This will help you in staying ahead of the competition
By using Sendible, you are also open to any notifications or emails that are closely related to your criteria
Likewise, Sendible also has some disadvantages
Sendible has a quite clunky dashboard which poses a great hurdle for some users as they are unable to use it
This platform charges a fee based on the type of service. You have to pay separately for different types of services
Conversations are very hard to carry out in Sendible. The response time is long which results in repetitive messages.
8. Zoho Social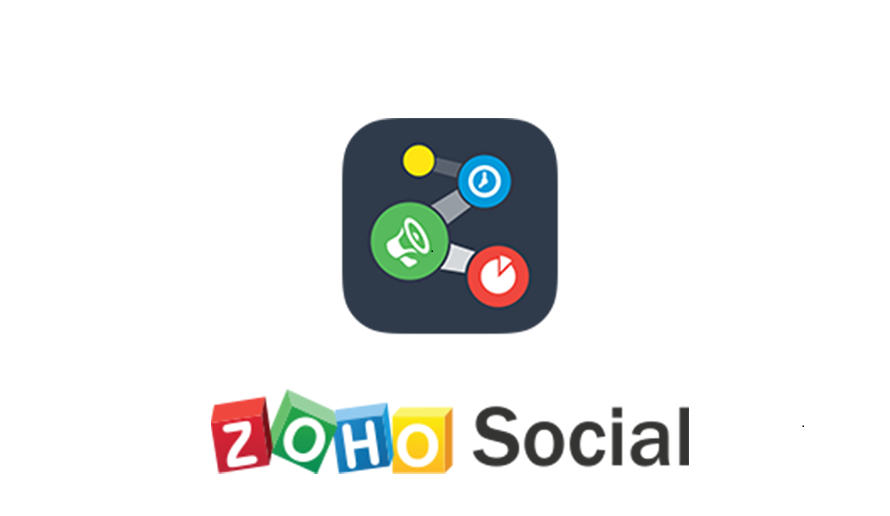 This is a social media management tool that facilitates businesses in growing and expanding their social media presence effectively.
Zoho is especially beneficial for growing businesses that are expanding their horizons and need constructive management for their social media platforms. Zoho can aid you with the management of Facebook, Instagram, Twitter, LinkedIn, Google My Business, etc.
Zoho has the below-mentioned advantages
Zoho has an amazing feature known as SmartQ predictions that forecasts the best time to post something for a business
It has social listening which can help you in gaining valuable insights regarding your target audience. This can also help in improving your engagement
The CRM integration can help you with locating prospects for your potential leads
By using Zoho, you can develop reports that you can send to your clients. You can also include any of your team members with a custom message.
Some disadvantages of Zoho are:
The reports and analytics are not very in-depth
The customer support of Zoho is not very good
Zoho Social is very expensive and only large-scale companies can afford it
9. Agorapulse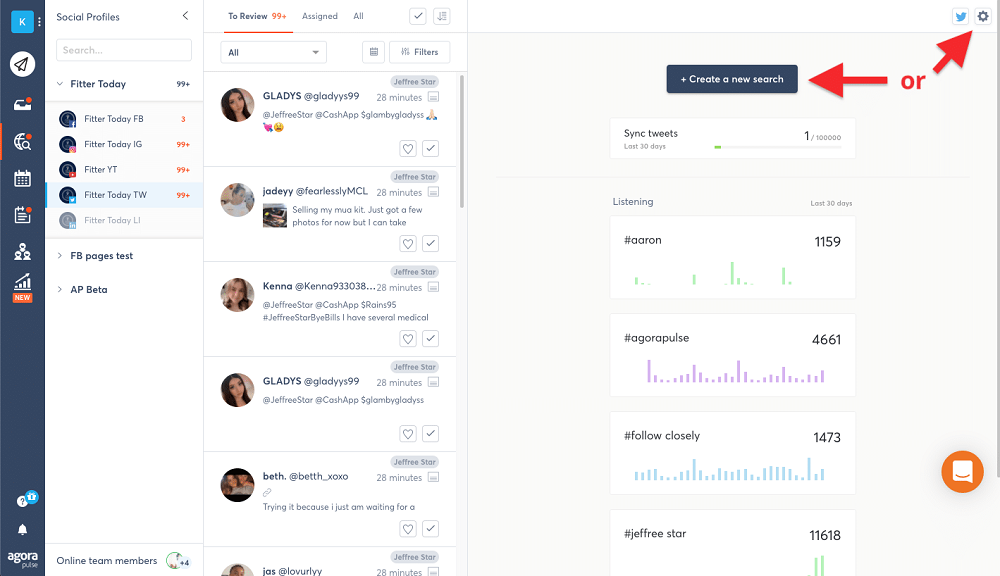 This is a full-featured CRM that helps in the effective management of social media platforms. Agorapulse helps businesses and teams in working collaboratively and engaging in combined tasks.
By using Agorapulse, you can easily listen, work, engage and collaborate to successfully measure your social media performance. Agorapulse works greatly with Facebook, Instagram, Twitter, LinkedIn, and Youtube.
Agorpulse has excellent features like
Agorpulse offers bulk scheduling that helps businesses greatly
You can name and label your content accordingly. This will help you in finding anything easily
By using the CRM feature of Agorapulse, you can get a clear understanding of your audience that can help you in targeting them effectively
Agorapulse has a Social Inbox, using which you can send and deliver messages to your customers. This can let them know of anything that needs their immediate attention
Agorapulse has some drawbacks
There is a lack of Twitter power tools
Agorapulse does not offer a powerful reporting feature. It only lets you download the reports in PowerPoint format
There is no integration in Agorapulse unlike all the other social media scheduling tools
The user interface is not good which creates an issue for users as they are unable to navigate easily
10. eClincher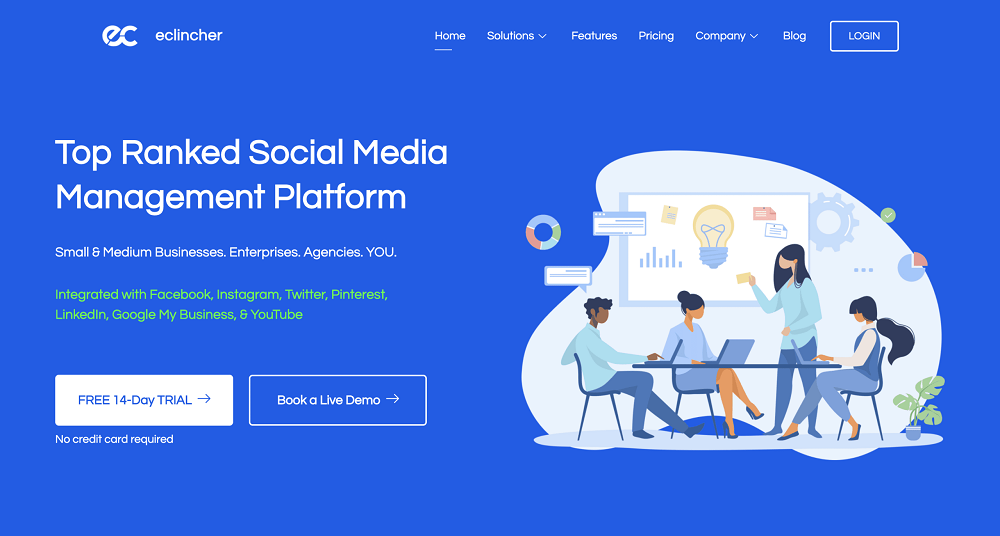 This is a social media management tool that helps users with social media platforms like Facebook, Instagram, Twitter, LinkedIn, Pinterest, Youtube, Google My Business, etc.
eClincher is focused on providing agencies with social media management tools that can benefit them hugely in managing their social media. With eClincher, you can easily manage your social media efforts and campaigns.
eClincher provides its users with benefits like
eClincher provides thorough analytics and reports
It has a unified social inbox which helps in effective communication
eClincher has a consolidated inbox that helps its users with tracking, social listening, and any activity by competitors, etc
It has the feature of a built-in library where you can add your images and videos to your cloud storage
Some of the disadvantages of eClincher are
eClincher is quite an expensive social media scheduling tool that can pose an obstacle to small-scale companies
The user interface is dull as well as boring. Not only it is outdated but it is also not user-friendly
A great feature is a unified inbox but it causes many issues if it is used for multiple social media platforms at a time
11. Later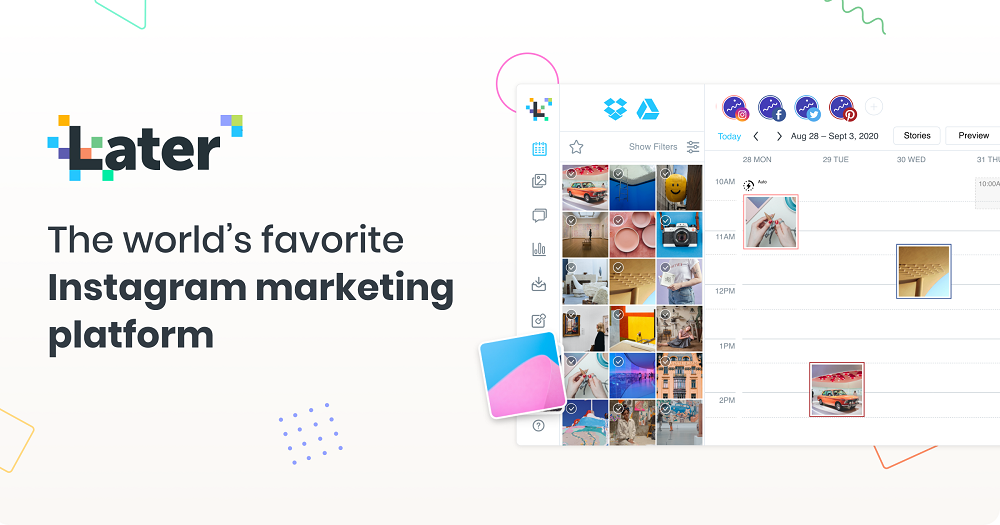 It is a social media scheduling tool that provides a wholesome list of benefits in managing social media accounts for businesses. It can be used to schedule posts on multiple social media platforms like Facebook, Instagram, Twitter, LinkedIn, Pinterest, etc.
Later helps in scheduling social media posts by effectively conducting keyword and hashtag research. In addition, it also provides the feature of a visual content calendar where you can assign posts.
The many benefits of Later include but are not limited to
By using Later, you can add or delete notes, and label them in the content calendar
You can generate hashtags during scheduling social media posts
Some of the cons of Later are
Later requires an image or photo for social media posting otherwise you cannot post
You cannot upload in bulk
12. MavSocial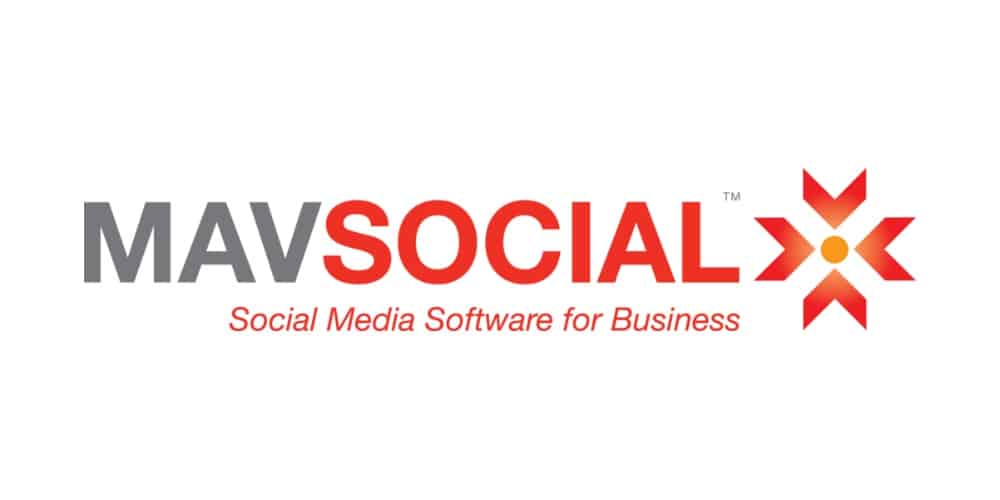 This social media managing tool is more focused on visuals to gain an upper hand in the accomplishment of visual marketing goals. This tool supports Facebook, Instagram, Tumblr, Youtube, etc.
By using MavSocial, you can track any social media conversations about your business and gain information about your target audience. You can listen in, engage, and analyze every activity easily.
MavSocial provides benefits like
MavSocial provides stock images so you can create visually attractive social media posts
It has a separate digital assets library. Here, you can easily save your images, audio or video, etc. You can also create your library and give them descriptions
You can edit your photos within the tool
MavSocial helps you in knowing the media that performed best
MavSocial has some disadvantages
It does not generate in-depth reports which means you cannot also customize reports
MavSocial has an outdated user interface that is not feasible for users
The features are different in the mobile app than on the website. The mobile app is more useful than a website
13. MeetEdgar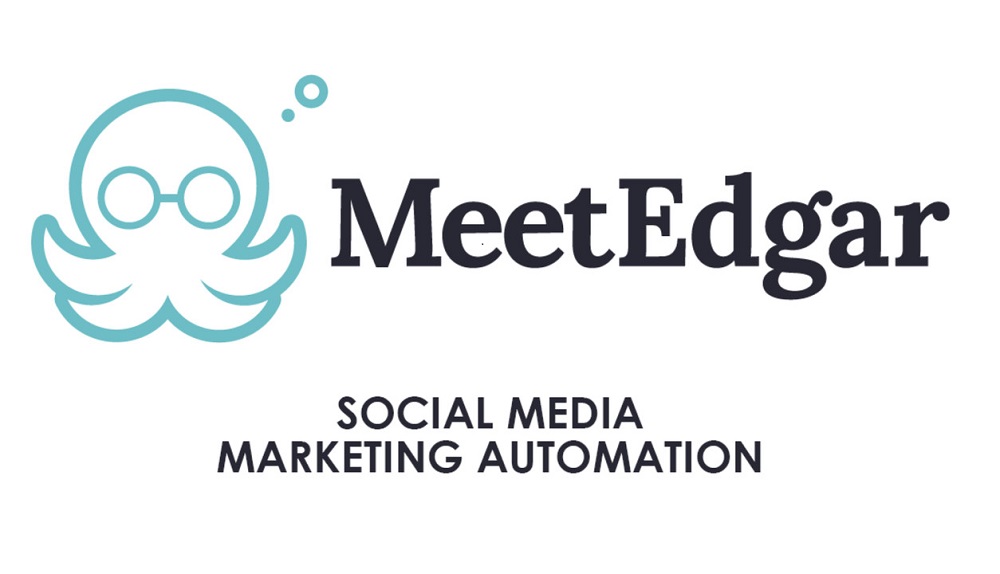 It is a bit different from the other social media scheduling tools. MeetEdgar helps you create a schedule of social media posts that will not leave any gaps. Instead, the queue is filled with posts lined up to be posted.
This social media tool supports Facebook, Instagram, Twitter, Pinterest, LinkedIn, etc. A great feature of MeetEdgar is the AI integration with UI that can help you accomplish your social media goals.
MeetEdgar has the below-mentioned pros
It has a posting queue that will help you by having social media posts ready to post. This way, you are never out of a post for your social media accounts
You can create different categories where you can box your content into different categories. You can also set a schedule based on the need of the category
Some disadvantages of MeetEdgar
It has limited features. It can only support 5 networks which is why it cannot be the go-to option for businesses and digital marketers
MeetEdgar only has a single pricing plan. This pricing plan is not practical for users because it only offers limited features
It does not offer a shuffle feature so you cannot easily schedule your posts for a future date
14. NapoleonCat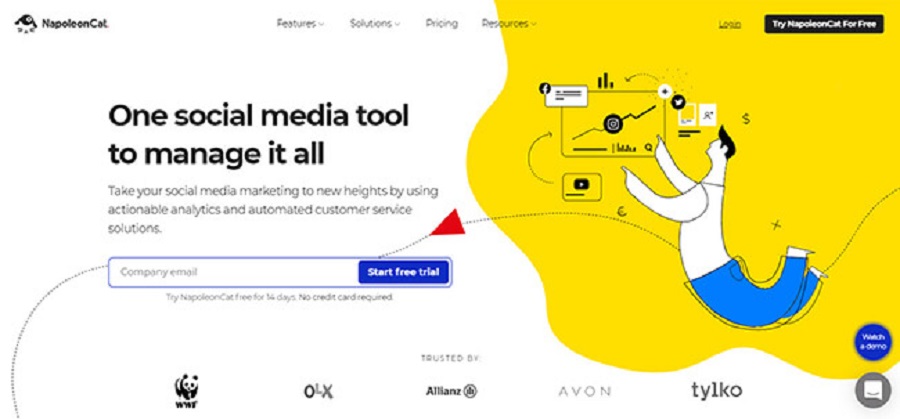 This tool helps its users in managing all the social media platforms in a single place. With NapoleonCat, users can easily be connected to their teams and have a concrete mode of communication.
NapoleonCat supports Facebook, Instagram, LinkedIn, Twitter, Youtube, Google My Business, etc.
This social media scheduling tool helps businesses in managing multiple social media platforms. In addition to this, NapoleonCat helps businesses in analyzing their marketing campaigns and keep track of the activities of their competitors, etc.
The many advantages of NapoleonCat include
The management of several social media platforms from a single dashboard is very easy in NapoleonCat
NapoleonCat offers plans that are extremely customizable to aid the varying needs of the users
There are also customized add-ons like reporting, social tracking, etc
15. StatusBrew

This is a social media engagement tool that merges your social inbox with all your team members so they can easily collaborate. Also, it creates automated workflows which help its users effectively manage the different social media platforms.
StatusBrew supports Facebook, Instagram, Youtube, LinkedIn, etc. Facilities like automated workflows and personalized responses to customers make StatusBrew a premium choice for marketers and businesses.
StatusBrew has the following benefits
Social listening is a great feature of StatuBrew which can help you in expanding to newer markets and attract new customers
The analytics and reporting features greatly help users in gaining insights into their marketing efforts
Some cons of StatuBrew are
The pricing plans are quite costly that are not suitable for small businesses.
The StatusBrew platform does not provide integration
The UI is rather complicated which makes it difficult for users to easily understand and navigate through it
Conclusion
The above-mentioned free and paid social media scheduling tools have proven to be tremendously useful for many businesses. Keeping their prosperous history in mind, it is still vague whether a particular social media scheduling tool will work for your business or not.
We have mentioned the most prominent and optimal social media tools that we provide. Collaborate with us so you can make an intelligent decision on the right social media scheduling tool for your business.
FAQs
What is a social media scheduling tool?
A social media scheduling tool is an automation tool that effectively plans and schedules social media posts for multiple social media platforms ahead of time.
What are the best social media scheduling tools to use in 2023?
Some of the most beneficial social media scheduling tools are SocialBee, SocialPilot, Hootsuite, Buffer, Sendible, Zoho, etc
How many posts can you schedule on Hootsuite for free?
There is a limitation of only 5 messages that you can schedule for free in Hootsuite. After that, you have to either delete a post or publish the old ones to schedule the 6th post.