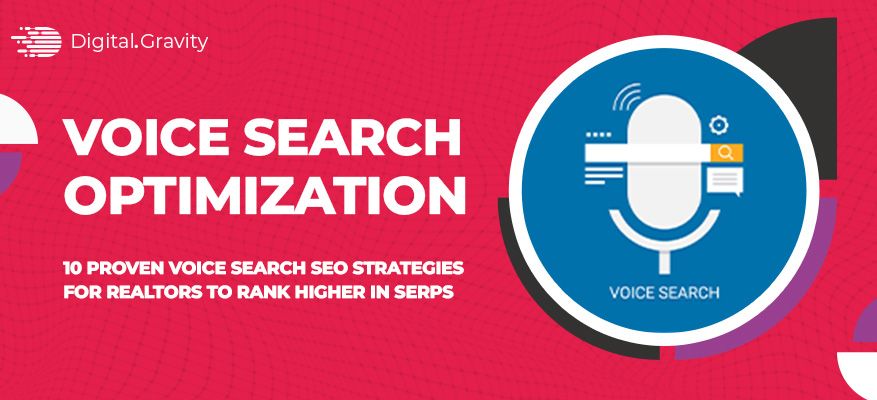 Voice search has taken over the digital world completely today. With the ease of voice search, people are looking for more and more websites that are powered by voice search to fulfill their daily tasks.
According to Modus, approximately 50% of online searches are done through voice search, and 30% are commanded without using any screen. This tells you about the alteration in the use of digital platforms by users today.
Voice search optimization becomes all the more important when we are talking about real estate. For realtors, gaining prominence in the digital world reflects their ability to be up-to-date with the latest trends.
With the ever-changing digital world, your business needs to rank high in search engine result pages to gain more visibility and conversions. This will only happen if you accurately optimize your website for voice searches.
To help you, below we are shedding light on some proven voice search SEO strategies for realtors that can help them in ranking higher on SERPs.
10 Proven Voice Search Optimization Strategies for Realtors to Rank Higher in SERPs
Optimizing for voice search will open doors to new customers for our business and will drive improved conversions. Through voice search engine optimization, your business will have more visibility and more potential to drive sales.
SEO services are gaining more attention today because of their long-term effectiveness. Likewise, voice search optimization is also crucial for any realtor because it provides their business with more clicks and improved conversions.
Keeping this in mind, there are many digital agencies today that offer guaranteed SEO services to businesses.
Target Long-tail Keywords
The biggest and most prominent benefit of voice search is the ability to converse in an almost human-like manner. Long-tail keywords are full phrases that provide more context to the search query.
By using long-tail keywords, you can attract a target audience to your website that is more inclined to use voice search instead of typed search. People usually use long and conversational phrases while they are using voice searches. You can easily grab this crowd by using long-tail keywords in your content.
Long-tail keywords are best friends with SEO. As a realtor, you need your target audience to find you no matter what search feature they use – typed or voice.
Keep your Content Short
Voice search is appreciated more when it is concise yet informative. According to Backlinko, the usual voice search result consists of approximately 29 words. This effectively tells you that your length of answers matters a lot in ranking high on search engine results pages.
Try to keep your answers short so you have a better chance of ranking high on SERPs. Through this, people who are looking for real estate solutions online by using voice search can easily discover you.
With voice search optimization, your business will have a far better chance of ranking at the top on SERPs. Do not use any filler content as it will deviate from the actual topic and instead just answer the question in fewer words.
Use a Conversational Tone for Content
Today, people are becoming more comfortable with digital devices that they talk to them like they would talk to humans. This calls for voice search optimization that is conversational enough to not sound robotic.
By using conversational phrases that are easily understandable by people, you can attract your target audience that relies more on voice search. Try to use sentences and words usually used in conversations between real humans. This will optimize your content to rank higher on search engine result pages.
Voice search SEO for your realtor business can help you in gaining more visibility and increased sales.
Optimize Content for Rich Answers
Like featured snippets, rich snippets come in different formats like knowledge graphs, star ratings, event data, recipe cards, etc. They are more interactive than featured snippets.
Rich snippets do not automatically appear at the top. Instead, they need to be labeled using the right schema markup to rank at the top. When you optimize for voice search, you make your content eligible for rich snippets.
Through this, you can have more chances of appearing in rich snippets and enjoy more clicks. If you do not know how to work with rich answers, you can hire any SEO services company, and they will provide you with a wholesome SEO strategy.
Add FAQs
When you optimize for voice search, FAQs are important to include as they have two important elements – keywords and conciseness. These are essentially food for search engines.
Adding FAQs to your content makes it easier for SERPs to rank your site. Also, they are eligible to appear in the 'People Also Ask' feature on search engines. FAQs provide easy and quick answers to your users when they come looking for them.
FAQs work well for voice search optimization as they are conversational as well as short.
Improve the Loading Speed of your Website
Even though the loading speed matters a lot in the ranking of your website on SERPs, it is often ignored. All your voice search optimization efforts will go in vain if the loading speed of your website is bad and slow.
Today, many voice assistants provide accurate answers to users' queries. If your website is not optimized for voice search, it may get excluded from voice search recommendations.
The digital world is extremely competitive today and if you do not keep up with the ever-changing trends, you will be left behind. As a realtor, your business should be highly discoverable on SERPs to provide your potential clients with prompt answers.
Make your Website Mobile Responsive
According to Review42, almost 20% of mobile searches are voice searches. With the increasing use of mobile phones today, it has become crucial to make your website mobile responsive to attract your target audience more.
Your users may interact with your website on different platforms. If your website is not mobile responsive, the user experience will suffer. Voice search optimization works well only if your website is overall optimized for mobile phones.
People use their mobile devices for search queries a lot and they mostly use voice search. Your mobile responsive website will deliver a remarkable experience to these searches.
Use Google My Business Profile
People mostly use voice searches to find locations that are near them. By optimizing your Google My Business profile for search engines, you increase the chances of your business appearing in voice search results.
Voice search SEO can help your business in appearing in featured results which essentially means more brand visibility and improved conversions.
You need to make sure that your Google My Business profile follows the NAP consistency. This consistency includes name, address, and phone number. You should use every detail accurately to help search engines in ranking you on top.
Add Schema Markup
By adding schema markup, you can give your content structured data that will provide relevant information to the users. Schema markup requires accurate information about your business such as product details, events, reviews, etc.
This will help your business in getting featured in voice search results. Voice assistants usually use concise answers to users' queries. By using schema makeup, you can increase the possibility of your website being featured as a rich answer in voice search results.
Especially for realtors, schema markup is highly important because they are usually targeting local audiences. Through local schema makeup like your business address, availability hours, customer reviews, etc, you can make your content eligible for voice search results.
Work on your Domain Authority
Like generic search engine optimization, voice search optimization also prioritizes authoritative and reliable sources to answer users' queries. Voice search optimization searches through all the available answers on SERPs and features the answer that is most likely right and has great domain credibility.
Websites that have high domain authority are more likely to be considered by voice assistants for featured snippets. This way, your content has the possibility to be ranked at the top of search engine result pages if you have a reliable and authoritative domain.
When you optimize for voice search, you can clearly gain an advantage over your competitors. Voice search optimization is not adapted by many websites yet. By using voice search optimization, you can get ahead of your competitors and acquire more customers.
Final Word
As the digital world is progressing, voice search is gaining more spotlight as more people are gravitating toward it. With the cutthroat competition today, it is important to stay ahead of the curve with effective voice search optimization.
Realtors can gain deep insights from the mentioned effective voice search SEO strategies we have discussed above. From keywords to schema markup, we have divulged everything that can help you in optimizing your content for voice search successfully.
FAQs
What is voice search used for?
Voice search is the latest technological feature that allows users to use their voice to command searches online.
What is SEO for voice search?
Voice search optimization means optimizing keywords and phrases for voice searches so your content appears at the top of search results.
Why do I need to optimize my website for voice search?
By optimizing your website for voice search, you improve the chances of your content appearing on top of search results.