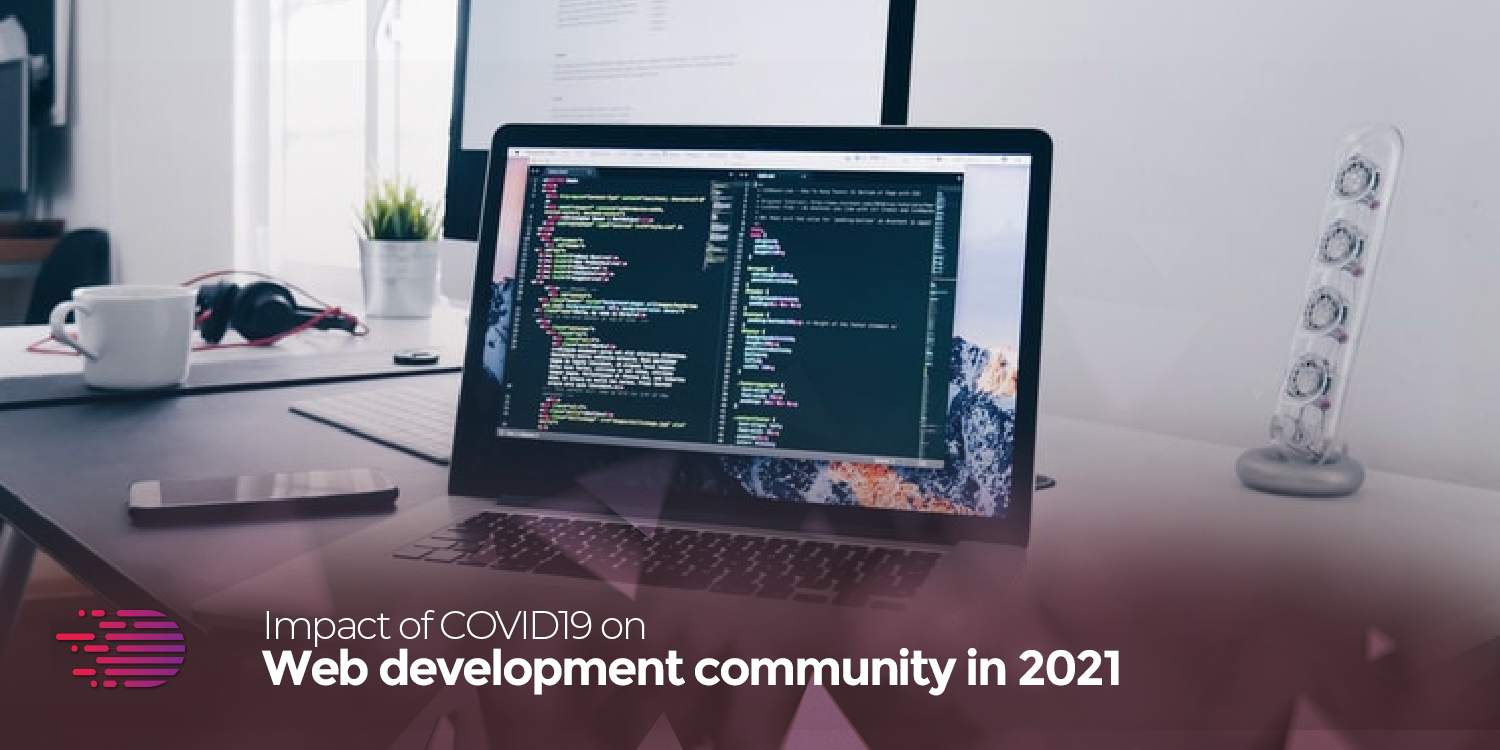 The global pandemic has caused the world to shift to a new normal we are now familiarizing with. Businesses and industries worldwide have undergone drastic impacts and a massive revolution due to the coronavirus outbreak. The vulnerability had become inevitable for almost everyone. However, one thing that has been consistent throughout the pandemic is how digitalization has taken a toll on businesses of all sorts. The tech industry, in general, managed to pull through some impressive stats despite being in the darkest of times, paving the way for numerous opportunities. 
The web development and design community are among the many industries that had to bear the strain of the pandemic while also having the chance to rise above it. The technology-bound community contributed to a new say in web development and created a set of challenges for developers. Let's look at the pandemic's impact on the web development community and how businesses could cope with it. 
The Impact of COVID-19 on the Web Development Community
Businesses within the tech industry had to struggle considering the disruptions in the supply chain, which led to severe consequences. The change in habits led to increased use of the internet, with over 4.66 billion active users by October 2020.  This shift caused industries to rely on the relatively small web development community to ensure efficient development and web design for each agency to help even out business operations.
 Developers had to undergo immense pressure and strain to cope with the rise in demand and specialization while catering to new niches and concepts. Not to mention, nothing was to fall short of pure excellence as businesses were unwilling to take any further risks, wishing to make the most out of the 'work from home culture.'
Work from Home Culture and Rise in Demand for Freelancers
It would be safe to say despite the challenges. It was not all doom for developers. Many were able to stay afloat. Market Data Forecast predicts the tech industry to have a boom, reaching $295 billion by 2025. This is particularly due to the rise in demand for freelancers and remote work, which gained significant attention during the lockdown. 
To keep up with state laws and stay-at-home measures, businesses were forced to shift to a work from home setting, where remote conferencing and working as part of the new normal. While many companies had to cut down on their labor force, many preferred hiring freelancers who were already well-versed with remote working and responding to client demand even before the pandemic. Millions turned to freelance with a satisfaction rate of 67% during COVID-19 (Forbes), giving freelancers a chance to gain experience and exercise their skills in new domains, all while working under pressure. 
Freelancers had to up their diversification game and reach bars that were set higher than ever by companies to fulfill consumer demand. Developers were required to create user-friendly web designs, offering a pleasant experience to the already pandemic-frustrated community. 
Who Among the Web Development Community Have Emerged Victorious?
While developers everywhere were competing on developing seamless web mechanisms, some followed certain strategies that led them to be among the victorious. Here's how:
Traffic scalability
Apart from a pleasant user experience, considering most customers were confined to their homes, overloading and traffic seemed to be an issue for many. Web developers were able to ensure websites were running smoothly, allowing buyers to efficiently carry out and complete their transactions smoothly. 
User experience (UX)
Businesses had to be mindful of the incoming traffic (on their sites) consisting of some familiar users and some who were not unfamiliar (with the web design). Developers had to review websites beforehand to ensure the website is user friendly and easy to use for everyone.
Cleaning codes
With so many projects in the pipeline that were either postponed or canceled, developers had to sort through these projects, which were pushed aside. This required fixing bugs and cleaning codes in mobile platforms to ensure a smooth user experience. This became essential, especially for the now smartphone and device-bound community. 
Picking up skills in-demand
Companies were forced to adapt to innovative measures to help them flourish and rise above other competitors. To help with this initiative and protect businesses from vulnerability, web developers implemented these techniques and were creating employment opportunities for themselves while ensuring prosperity for the business. In particular, freelancers excelled in web development, coding, marketing, web design, and more, making the most out of their down-time. 
COVID-19 has undoubtedly affected many sectors, and the web development industry was one of the victims. However, with the correct strategies, tech professionals could pull through and make a difference for themselves by introducing innovation and adopting newer techniques. Businesses facing a downturn in their traffic due to poor web performance continue to turn to web developers to create effective user designs for visitors. 
The web development industry is vast in its domain. With so many aspects to choose from, developers have plenty of opportunities for diversification and pivoting their careers to industries where their skills could be polished and put to the best use.