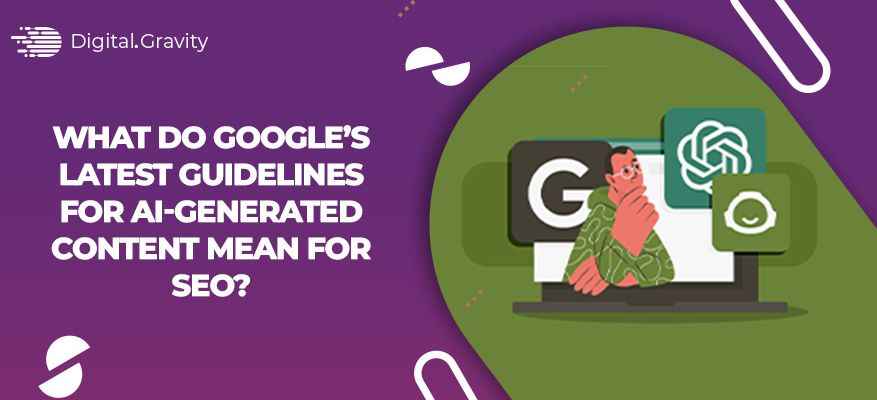 Google launched search guidelines on AI-generated content in early February. It looks like Google is in favor of the argument: "Good SEO is about producing valuable content for users no matter how you create it."
AI becomes a problem when companies use it to get ahead of hard-working competitors by using a shortcut of manipulating the search engine.
Otherwise, artificial intelligence is a groundbreaking technology that humans can smartly use for their ends (positive ones).
So, how should SEO services providers take this latest Google announcement about its perspective on AI-generated content for its search engine? This piece will answer this question while shedding light on different aspects of this whole scenario and whether it is good or bad news for SEO experts. Here you go:
Embrace Between Google and Artificial Intelligence
Unsurprisingly, Microsoft Bing and Google compete to deliver search results using AI-driven content. Google's search platform has been leveraging AI in some way for a long time.
Artificial intelligence and machine learning have transformed how pay-per-click advertising works. Coming back to the topic, Bing and Google probably were aware that users would produce content using AI once it became easily accessible. ChatGPT marked that turning point in history.
There is no point in asking people to refrain from using it. Both companies are trying to be sensible handlers of AI content.
Skilled marketers have always emphasized creating valuable content, and Google has testified to it with its latest AI content guidelines.
The problem of valueless or search engine-oriented content doesn't specifically relate to bots. Humans have been creating such content too, which is why black hat and white hat SEO is a thing today.
The problem is people who, as soon as they hear about new technology, start thinking up ways to use it for shortcut-based and illegitimate uses.
So, What Does Google Think About AI-Generated Content?
Though Google was not completely successful with its generative AI model called Bard, it has somehow paid off with its newest search guidelines for using AI tools for content production.
Firstly, you need to understand that ChatGPT and other tools take the content a user feeds and churn it to make something new. Of course, such content provides no value.
Companies have used generative AI tools to feed the location for thousands of similar franchise doorway pages. We know that Google won't approve such a thing, but what will be the penalty for such websites?
Here are a few possibilities:
A manual penalty if Google's team captures a site using AI for ranking purposes during its usual examination
Tweaks to its algorithms to find who is using AI to manipulate them
A manual penalty while a website is attempting to use only the white hat techniques
Yes, Google has penalized white hat users in the past as you are probably aware of. So, if Google decides to refine some of its algorithms, the SEO community takes it as a caveat.
Google has ambiguously mentioned AI disclosures and when should a website owner give them. It said: AI or automation disclosures are useful for content where someone might think "How was this created?". Consider adding these when it would be reasonably expected.
It doesn't explain when should we consider adding AI disclosures and what "reasonably expected" means.
Should SEOs Learn to Use Generative AI Tools?
Generative AI models are the future of content production, and SEO companies should learn how to legitimately use them. Content marketers and writers should cash in on this golden chance to create high-quality content fastly.
Your writers have a job to add value to the AI-generated material for search engines to recognize quality. You can establish a baseline quickly with AI-created content, but you can't do with just a baseline. You need to spill your human creativity to show Google you are serving its users best.
SEO Professionals Should Learn These Skills
Creating helpful inputs
Offering credible source data such as intelligent ideas for content briefs or initial sets of keywords.
Incorporate their prowess and research into the tweaking phase to make the content helpful and original.
For this, businesses should learn consumer psychology and the requirements and apply their concepts to add subtleties and unique value.
These AI models are all about practice. It helps marketers learn how to craft the best prompts to get the best possible answer. You should use these tools for content production, even to accelerate block-and-tackle tasks to get better at them.
Practice will help you learn more about the publishing environment, Generative AI tools' abilities, and limitations.
Google Search's Guidance
Google has always believed in the potential of AI technology to transform the capability to offer valuable content. Google has explained how it looks at AI-generated content, given that it has an unwavering commitment to delivering the best possible search results to its users.
Premium Quality Content is Google's First Priority
Google ranks higher in original valuable material that fulfills its E-E-A-T algorithm — expertise, experience, authoritativeness, and trustworthiness.
Google wants quality content regardless of how it was created, and it has guided the search platform to offer reliable results to users for years.
Around 2013, some companies were operating "factories" of mass content production. They were using humans to generate content in bulk, which still concerned search engines at that time since content producers tended to create content for ranking purposes rather than user satisfaction.
No search platform banned all human-created content at that time to stop that trend. Instead, Google enhanced its algorithms to rank quality content higher, which was understandably the right approach.
Remember, Google's only concern is its customers' satisfaction, who are its users. So, any business that ignores the benefit of Google's general user at the expense of their marketing benefit, can be in hot waters once the search platform finds out.
Google has designed its ranking systems to rummage through its indexes to find reliable information and display them to users. Their helpful content update has ensured it only rewards quality content in the long term.
So, content creators should produce user-centric rather than search engine-focused content to get rewarded by Google's helpful content algorithm.
What About Automated Content?
Google has long maintained its stance on automatically generated content. Using AI or other technology to create automated content is violating Google's spam guidelines if the aim is to only get it ranked without providing any value to the reader.
Since the inception of the search engine, website owners have been creating automated content to dodge its algorithm's valuable content radar.
So, Google is adamant to fight spammy content with its weapons, including its SpamBrain system.
But you need to understand all kinds of automated content are not spam. So, AI-generated content isn't inherently spam in Google's eyes. Marketers have long been using automation and AI to create useful material like weather forecasts, sports scores, and transcripts.
Artificial Intelligence can drive new heights of inventiveness and ideation and work as a crucial tool to assist site owners generate helpful content.
Final Word
Artificial intelligence has transformed the way marketers produce content for their business websites. As ChatGPT, Bard, Jasper.ai, and Bing AI entered the scene, content creators have started playing with these AI content creation tools, utilizing them to do multiple jobs with convenience and speed. But only a few know how to best use these tools to get the most out of this technology.
Digital Gravity is one such SEO agency in Dubai. We create user-first content for our clients that builds their authority in front of their local audience. Our team can help your brand jump up the SERP rankings, and maintain them using the white hat techniques of creating AI content. Consult our experts today!
FAQs
1- What is automatically generated content?
Automated content is material fetched from the internet, compiled hastily, or meaningless content produced only to add keywords. Such content lacks any human involvement.
2- What do you mean by AI for SEO content?
Artificial intelligence for SEO is an SEO category that employs AI to enhance a site/page's organic ranking.
3- Can Google recognize AI-generated content?
Yes. Google can recognize AI content for search engine optimization but it won't impact your site or page's organic visibility as long as you create content for people first and not the search engine.
4- Does AI content impact SEO?
Yes. You can use AI content creation tools to improve, tweak and accelerate the process. These tools can help you plan and create your website content as well as with your off-site SEO.