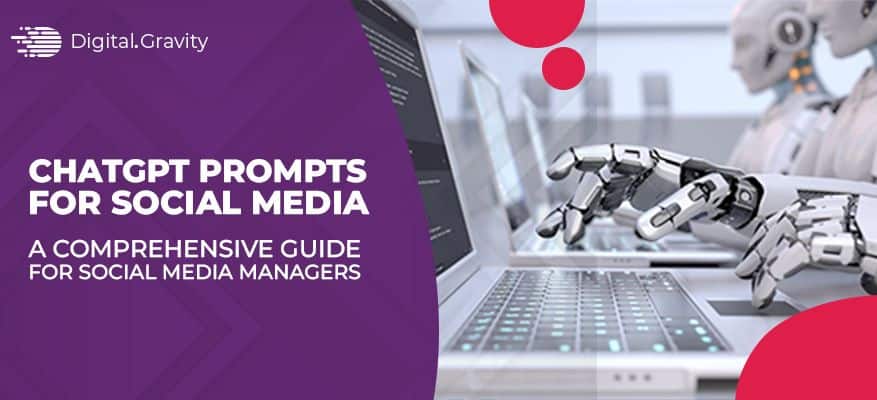 ChatGPT, a conversational artificial intelligence (AI) tool launched just six months ago has disrupted industries globally, and social media marketing hasn't remained untouched. From curating compelling and engaging social media posts to composing informative content, ChatGPT can be a vital tool in social media marketers' toolkit to take your social media efforts to the next level. 
Whether you are looking to craft engaging captions or lead-generation posts, these simple yet innovative ChatGPT prompts can help you ace your social media game.
Social Media Prompts for ChatGPT
ChatGPT Prompts For Facebook Posts 
Craft an interactive and captivating question to publish on my Facebook group about the XYZ topic.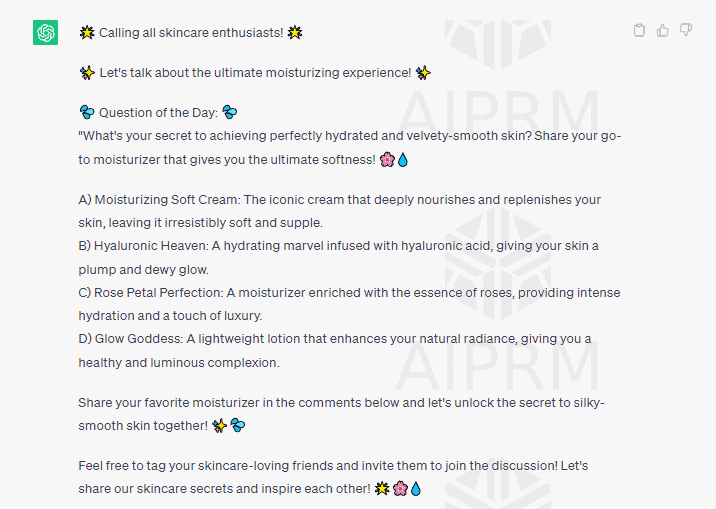 Give three ideas for Facebook prompts on topic <XYZ> to engage the target audience <XYZ>. Add images, hashtags, and CTAs wherever possible.

Generate a vibrant Facebook post to promote such and such newly launched product/service which belongs to XYZ product/service category by XYZ company.

Convert this email newsletter into a post to target parents of school-going kids.

Write a post that is no more than 150 words long for my business that wants to attract more buyers of our service on Facebook. Urge followers to sign up, install our application, and get service today.

Make a poll related to last year's Grammy winners. The content should somehow relate to a

social media marketing agency.

Write a motivational post that urges readers to begin their startups.

Create a short piece of content telling people about our holiday hours for our physical stores. Also, mention that customers can still buy online with the link to our online store.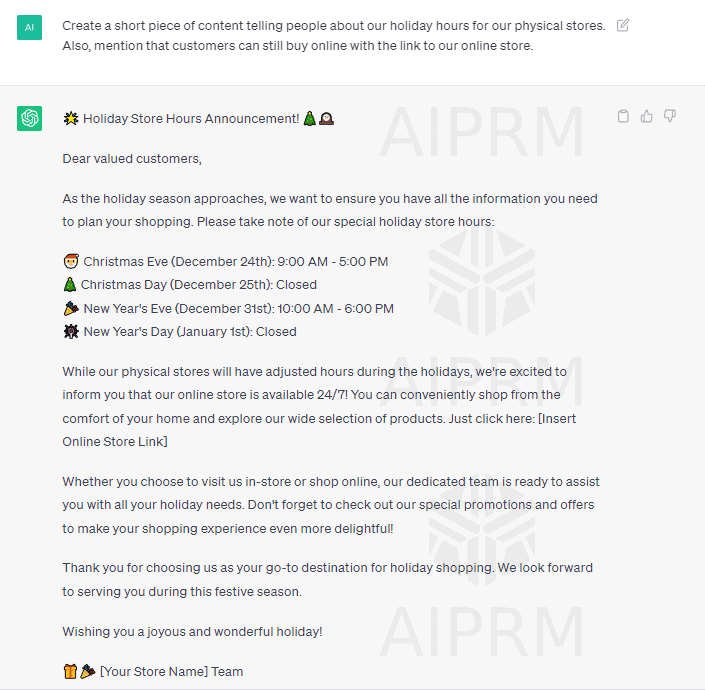 ChatGPT Prompts For
Instagram Posts
Your Instagram caption is the pivotal aspect of your post. You can ask Instagram prompts from ChatGPT for a captivating caption that can boost engagement, inspire followers and attract more traffic to your Instagram page.
Here is an example of Chatgpt prompts for Instagram posts:
Craft three engaging captions for Instagram pictures related to this topic to engage these ideal customers. Incorporate related quotes, hashtags, and other components to make the caption extraordinary.

I run a forestry company. I need a list of hashtags for my Instagram account.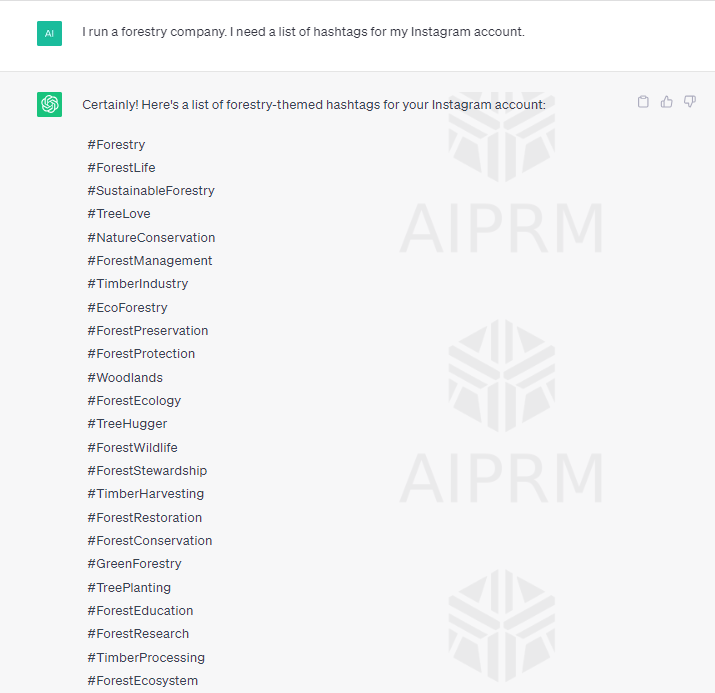 I want an Instagram giveaway post for this prize. These are the contest guidelines, mention these details and tag our partners.

Come up with a couple of compelling picture ideas for our shop's Instagram page. We need to promote this and the options of our product in these posts.

Determine the perks of our service for this target audience. Then, convert the results into one post for Instagram.

Convert this article into an Instagram post. Summarize the blog into pointers in the content's body.

Craft an Instagram story ad to promote a sale on our online store. Mention these details. The ad should grab users' attention in up to 5 seconds and add this URL.

Create a convincing caption for an Instagram post that determines the advantages of using our product.

Describe why 2023 is a good year to get into the property market in an Instagram post no longer than 300 words.
Bonus: Engagement Photo Prompt: Write an Instagram post that displays these spots (say, the best five-star hotels in Dubai). Designate three of them as your favorites and a caption of a maximum of 200 characters long.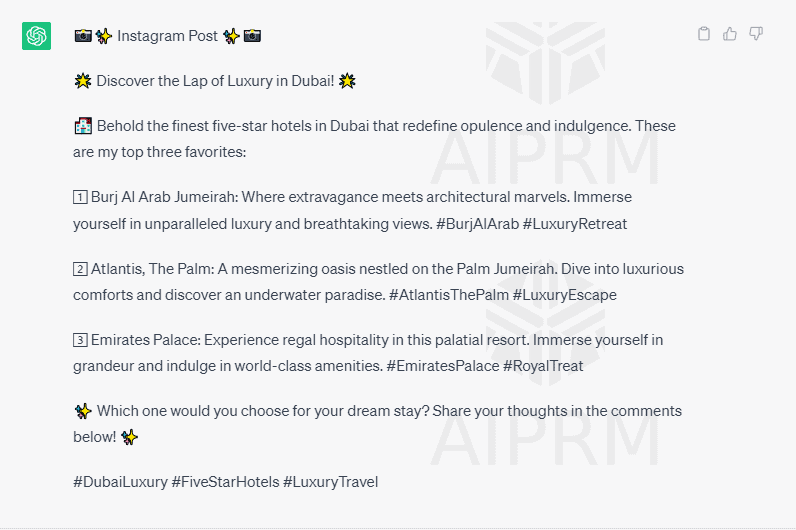 ChatGPT Prompts For
 LinkedIn Posts
LinkedIn is a remarkable social media channel to foster a personal or corporate brand. It can help grow your network, which can eventually grow your brand. But for that, you first need compelling content.
Here, ChatGPT is your friend. Below are some ChatGPT content prompts for social media that you can use to generate creative yet professional LinkedIn content.
Create a post to promote our product by telling the general benefits of such products. Fleetingly mention our product's name at the end.

Create a 100 words LinkedIn post from our CEO discussing the significance of long-term investing tactics. Use the writing style of this sample (Provide Sample).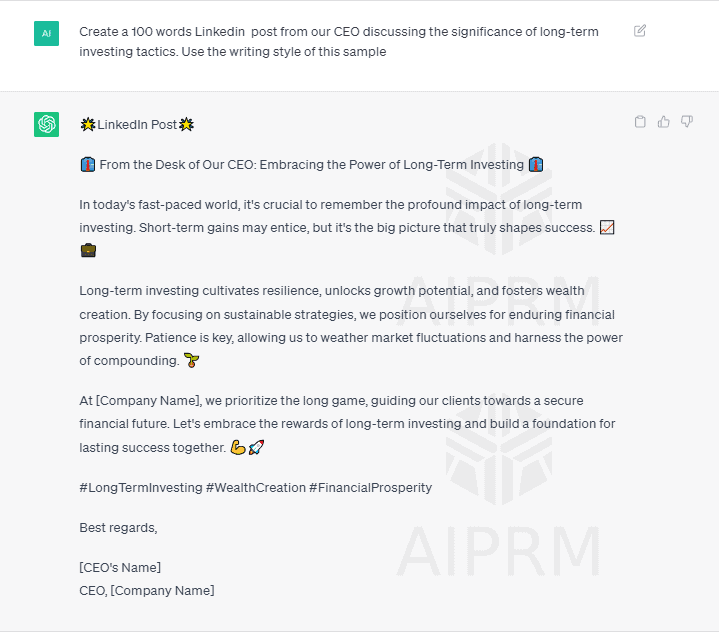 Write a post advertising our new online course. Explain the course in up to 100 words and attract traffic to this link (Insert URL).

Craft a post shedding light on the perks of social media marketing for businesses. The content should be 100 words long or less and include this keyword.

Convert this tweet into a lengthier LinkedIn post. Write content for a target audience of technology CEOs (Add tweet).
ChatGPT Prompts For
Twitter Posts
Create a post about our new product launch in 280 characters and give this URL at the end of the call to action (Describe the Product and Insert the URL).

Generate a tweet of no more than 280 characters promoting the upcoming sale of our product with a limited-time promo code (add product description and insert discount code).

Write a Twitter post explaining the advantages of our service for these people (Mention the target audience).

Convert this Instagram post into a Tweet (Insert Post) no longer than 280 characters.

Generate five Twitter polls about a fitness business. Every poll should respond to an engaging query about good workout practices.
ChatGPT Prompts For
TikTok Posts
Convert this LinkedIn post into a lively TikTok script (Insert post).

Write a catchy, funny script for a 15-second TikTok video about our product.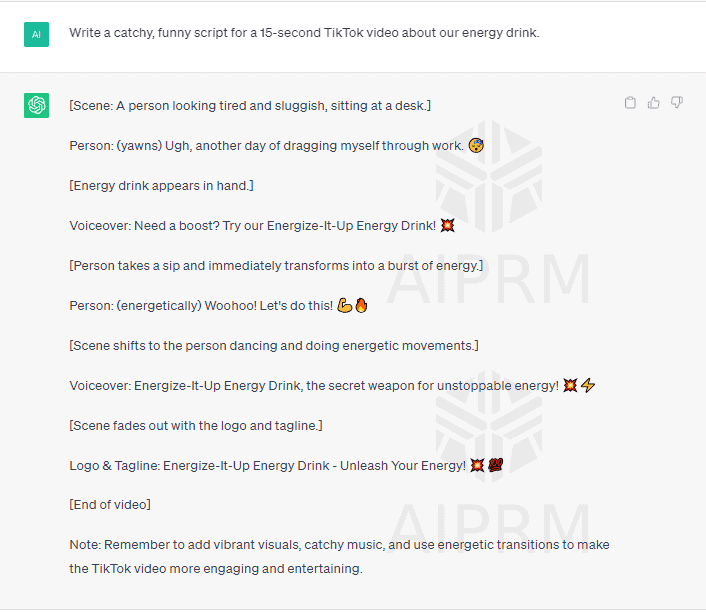 Generate my business bio for TikTok of a maximum of ten words telling about our brand in a fun way.
ChatGPT Prompts For
YouTube Posts
Create 3 title ideas for a YouTube video about this topic (insert topic).

We want to create a 15 second long YouTube video guiding people about setting up an Instagram business account. Include these keywords (Insert Keywords).

I have made a YouTube video with this title (insert title). Give me an up to 4000 words long description of that video optimized with these keywords (insert keywords).
ChatGPT Prompts
For Pinterest Posts
 I need a description for my Pinterest pin that displays the autumn color forecasts of an interior design professional.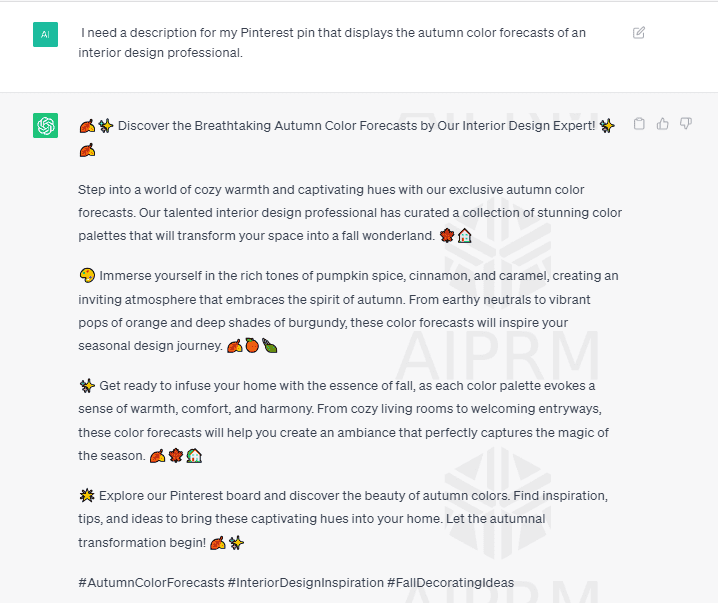 Generate vibrant Pinterest board ideas for my internet marketing agency.
ChatGPT Prompts For Snapchat Posts
I have a mobile juice truck and want to post its picture on Snapchat with a humorous Snapchat AR filter. Give me an idea for that.

Bonus ChatGPT Prompts For Random Social Posts
I want a social media calendar with five weeks of content in the summer season for my local business. Feature these products (List Products).

Condense this social media report for our company's founder. Note that we want to target these results (Insert report) (Insert results).

Generate a buyer avatar for an individual who wants to purchase an electric scooter. Add gender, age, pain points, location, and the social media networks they hang out on.

Produce ten templated answers that respond to these frequently asked questions (Insert FAQ).

We are going to shoot for our social media handles. It will be three hours long and feature these staff members (add member details). It is the brand (insert brand details).

Our customers send hundreds of messages each day. We use a chatbot to give them an automated reply telling them we have gotten their question and will contact them soon. Please create a templated response that we can find in our chatbot. Also, give them this link to visit in the meantime (Insert URL).

Tell me what kind of social media posts will resonate with (the target audience).

Write a response for visitors who enquire about our business hours in our inbox (Insert hours).

I have an eco-friendly sparkling water company that offers only natural flavors and produces all products in UAE. Give me a social media campaign strategy for six months to target this audience (mention the audience) in (mention locations).

Recommend the top social media networks I can use for my pet-sitting company. Also, suggest the type of posts I should create for each social site.

Give me some tips to run a successful social media campaign for my shoe brand.

Can we collaborate to create a couple of ideas for (insert social media site), particularly focused on (insert topic)? I am having a hard time creating content.

I have to show a bi-yearly social media report to my company's CEO. He is like (insert his details). Pretend to be him and tell me what do you like to find in the report.

I want to request an influencer to represent my beauty brand and its products. Write a precise email for it telling them our brand wishes to collaborate on this timeline (insert timeline).

Combine three facts about the new year holidays and explain how my business will celebrate it in 2023 (add details).
Bottom Line
ChatGpt is an incredible AI tool to create killer social media content that elevates your conversions and sparks engagement. However, the key lies in the right prompt with all the necessary knowledge for the tool to carve the best response for you.
Savvy social media marketers leverage ChatGPT to dominate the social media space with engaging posts. Digital Gravity is a social media marketing agency that takes brands to the next level with the power of social media! Do you want to convert your visitors into followers and followers into brand advocates? Contact our team to let us do it for you! 
FAQs
How can I prompt ChatGPT to get the best response?
You should focus on these things while prompting ChatGPT to get the best response:
Provide context 

Use clear language 

Be specific 

Avoid bias

Use keywords 
How can I write the best ChatGPT prompts for social media posts?
You should focus on these aspects while creating a ChatGPT prompt for social media posts:
Recognize your platform and target market 

Mention your business name, products, or services 

Mention the word count you want for the ChatGPT response 
How to write ChatGPT prompts for tweets?
You should describe the type of tweet you want ChatGPT to create. Provide clear and concise details such as hashtag use, tone, call-to-actions, and word count.
How can I get the ideal answers from ChatGPT?
You should be polite but direct while conversing with ChatGPT. The AI tool works better when you assign it a role like "act as a sales guy." You should fine-tune your queries considering ChatGPT's previous answers, provide context, and pay attention to verbs.