Do you know that Bing is the second biggest search engine in the world? It also powers other search engines like Yahoo, AIL, and DuckDuckGo. Till the end of March 2023, Bing accounted for 8.23% of the global search market. The platform has been growing consistently, and this shift in power has sparked a wave of opportunities for SEO experts globally.
Curious about finding out how your website can stand out with SEO for Bing? In this blog, we are going to share with you the best practices for Bing SEO in 2023.
But first let us tell you why Bing SEO is important when Google has the biggest chunk of search traffic in the world, 93.63% to be exact.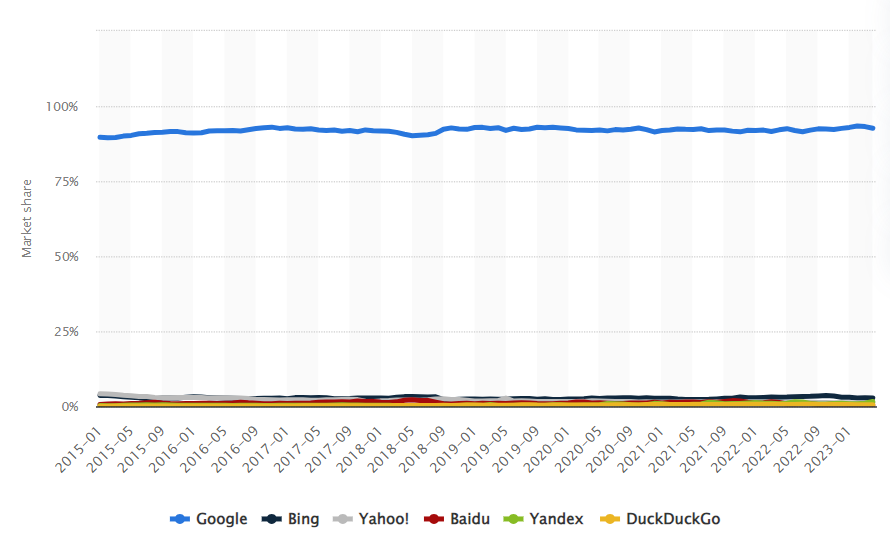 So let's look at some Microsoft Bing statistics to spark your interest in the subject!
Microsoft Bing Statistics
Bing is the second largest search engine after Google
It is available in 234 countries or regions across the world
Bing search is available in 105 languages
More than 100 million users daily use Bing chat
Bing's global search engine market share is 2.81%
Here is an illustration of search market shares of popular search engines worldwide.
As of February 2023, Bing has over 1.1 billion monthly visitors
Bing's user demographics include 67.65% males and 32.35% females
30.70% of Bing's users fall between the age range of 25 to 34 while 22.17% belong to the 18 to 20 age group
900 million+ searches are made daily on Bing
Best Practices for Bing SEO in 2023
1- Backlinks: Quality Trumps Quantity
Bing is a search engine that focuses more on backlink quality than their quantity. Their algorithms reward websites with a couple of quality backlinks from trusted sources more than sites with lots of inbound links from low-quality websites.
Bing favors organic links from relevant websites that attract real consumers to your pages, especially .org, .edu, and .gov links.
When we talk about credible sources, remember that Bing considers a domain's age as a sign of its authenticity.
Needless to say, Bing strongly discourages paid links, reciprocal links, links from hacked sites, link schemes, and other types of spammy links. Otherwise, you may get a penalty from the search engine.
2- Focus on On-Page SEO
You need to be aware of Bing's ranking factors to perform on-page SEO for your website. Here are two of them:
Exact Match Domains: If you are an SEO professional who optimizes websites for Google, you probably understand what we mean by exact match domain. Just conduct a simple search on Google, and you will find knowledge graph results on the top instead of a result that exactly matches the keyword you typed.
We search for the "best air conditioners" on Google and get this result.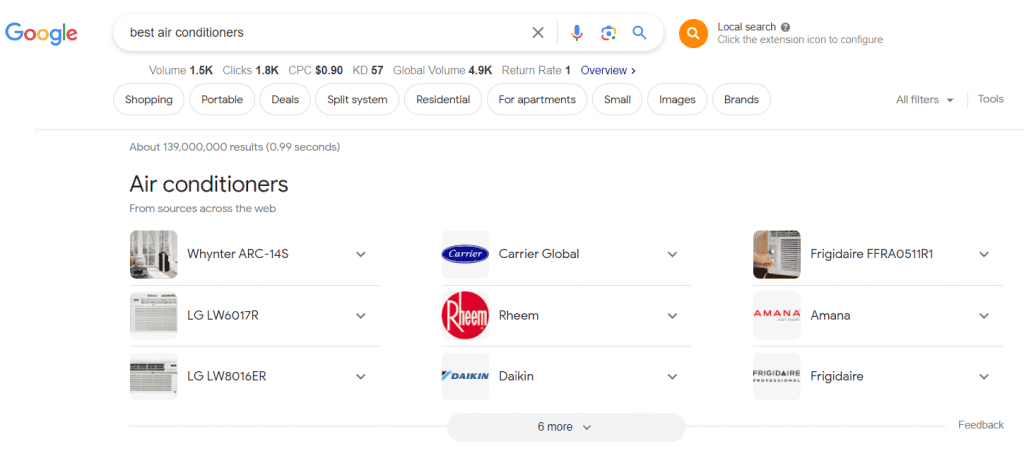 Bing gave this search result as number one for the same keyword "best air conditioners."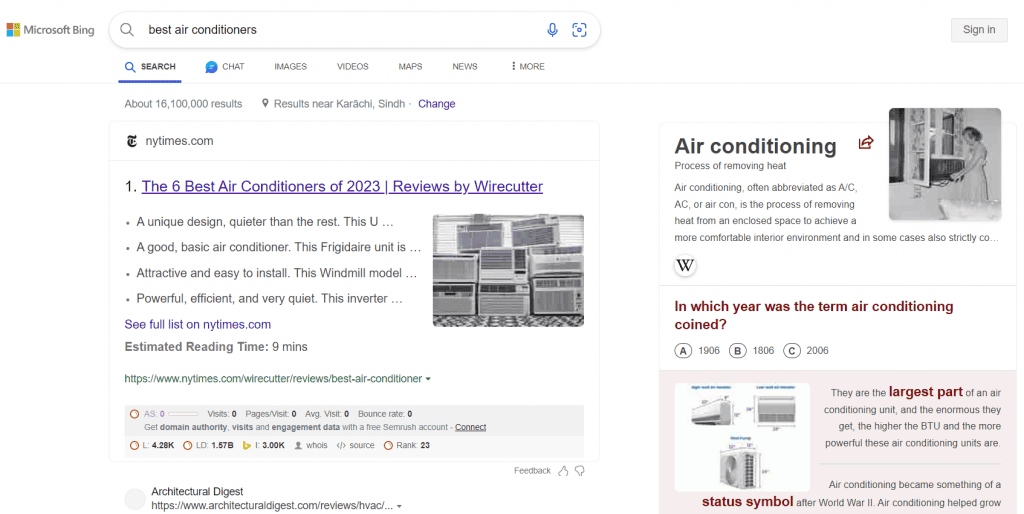 Exact Keyword Usage: Though Google has started giving importance to semantics and context while ranking pages on its search results, Bing still works on exact keyword usage.
So, you should use your exact keyword in main headings, meta descriptions, and alt tags to be more visible on Bing search results. You can get SEO services in Dubai if you want to save time on keyword research and experimentation as SEO professionals can help you rank your keywords on Bing in less time.
3- Bing Favors Quality Content
Bing ranks websites with engaging and original content. It focuses on three aspects of content:
Authority: The content should be credible. Give the author's name and the reference of the information.
Utility: The content should address the searcher's query and provide value to them.
Presentation: The content should be well-formatted and presented, and ads should be recognizable from the content.
Furthermore, Bing favors multimedia and says that its algorithms reward sites based on their visual appearance or the functional capability of users.
It's in contrast with Google, which likes simple content with only text and HTML. Bing may rank websites with flash content higher, but we think it's enough to add pictures and videos to your content.
Relevant images can get your site ranked in Bing's image search results but don't forget to add elaborate alt text to them. A trusted SEO company in Dubai can help you create Bing-friendly content.
Plus, you can utilize schema markup to boost the ranking of your site. It is a method to help search engine figure out your blog and thus offer data-packed search results. Schema markup can help you increase the click-through rate of your pages.
4- Leverage Social Media
Unlike other search engines, Bing considers your social influence as a positive ranking factor. So, Bing checks if people share a page on social media to find if it is popular among the audiences. It means your pages can see a boost in rankings if more people share them on their socials.
But remember, Bing strictly discourages spammy practices that allow people to earn a large number of followers in a very short time.
5- Relevance and Context.
You should also try to understand the intent behind each keyword you use and make sure your content fulfills that intent. Other ingredients to the recipe for high Bing keyword ranking include site speed, good design, and clean navigation.
6- Perform Local SEO for Bing
If you are targeting local keywords, optimize your business listing on Bing Places. After optimization and earning a couple of reviews, your business will surely get ranked for its brand keyword.
Bing probably already lists your company. Your job is to find it, correct the details if needed, authorize your ownership, and hit the publish button.
Tools to Optimize Your Website for Bing
1- Semrush
Semrush is an incredible tool to help monitor Bing's SEO performance for your site. It offers both free and paid versions. You can easily research long-tail low-competition keywords using its free version.
2- Surfer SEO
Surfer SEO is a paid tool that helps you research, scrutinize, optimize, write, and produce SEO blogs quickly. It helps with headings, keywords, phrases, the amount of content you need, and images.
3- SpySERP
It offers a Bing ranking checker tool that automatically recognizes the accurate search position for searched terms and displays the related site ranks.
Bing Rank Checker help website owners find how their site ranks as well as assess and boost their ranking position.
4- Seomator
It's a free Bing SERP tool that enables users to check the rank of their website on the Bing search engine results. Though you can check your website's position in Bing SERPs manually which means entering your keyword in the Bing search bar and assessing the results that you get.
Bing Webmaster Tools also let you check your pages' performance on the platform, including their position in results for particular search queries or terms.
You can also check search engine result pages programmatically using Bing API. Seomator is an accurate rank tracking and SERP checker software with fresh updates every time.
Final Word
Bing SEO is not difficult as there are a variety of tools available to help you research for keywords, monitor ranking and analyze other aspects of SEO on the platform.
If you have a new website, you should spend some time building your website's authority by posting quality informative content, using target keywords and fulfilling their intent, and earning backlinks from credible sources in your niche.
It will take time but always stick to white hat SEO practices approved by Bing itself. Focusing on local SEO and maintaining a strong social presence can help you optimize your website and earn top rank in Bing's search results.
Before we wish you good luck with your Bing SEO success, we would like to introduce our SEO agency in Dubai, Digital Gravity. Search Engine Optimization is our passion. Let us help you get ahead of your competitors in search results, drive quality traffic and boost conversions!
FAQs
1- Is user engagement a strong ranking factor on Bing?
Yes, Bing measures user engagement through a term called 'pogo sticking'. It refers to a user searching, hitting on a link among the results, and bouncing back to the search results. You want to minimize the number of people doing this on your website as it sends a strong signal to Bing that your content is not fulfilling the search intent.
2- Can you name some of the keyword rank tracking tools for Bing?
Some of Bing's rank-tracking tools are Rank Tracker, Ahrefs, Semrush, and SE Ranking.
3- How can I get Bing to crawl and index my pages?
Website owners can submit their pages' URLs to control their crawling and indexing by Bing's bots. You can do that by:
Going to the 'Submit URLs' page under the 'Configure My Site' section in the Bing Webmaster Tools
Or utilizing the 'Submit URL API' method
4- How can keyword position checker tools help in optimizing a website for Bing?
Bing keyword position trackers identify the position of a URL or site in search engines for a specific search term in relevance with other sites for the same keyword.