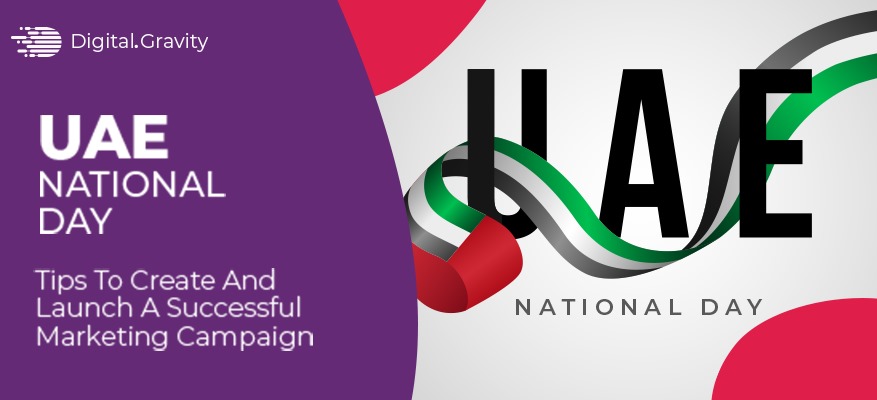 UAE National Day; A Festive Tribute of the unification of seven states and a dazzling annual show throughout the Emirates.
---
On the 2nd of December every year, UAE National Day is celebrated with grandeur, gaiety and patriotic fervour throughout the country. The day actually marks the fateful day when the United Arab Emirates achieved freedom from British rule. To honour the historical prestige of the event and the country's founding fathers, UAE is adorned with colours and festivities on that day. UAE National Day celebrations feature music festivals, parades and political rallies, laser shows, and stunning fireworks.
In this blog, we offer you a glance at the history of the UAE National Day to learn how it got its independence!
Historical Significance of National Day of UAE
The Emirates as it is today, was divided into rival tribes occupying different areas. In 1820, Britain offered safety to the tribal groups in exchange for control over their soil. As the tribal groups were sick of the constant fighting, many of them submitted to allow the British to resolve their conflicts.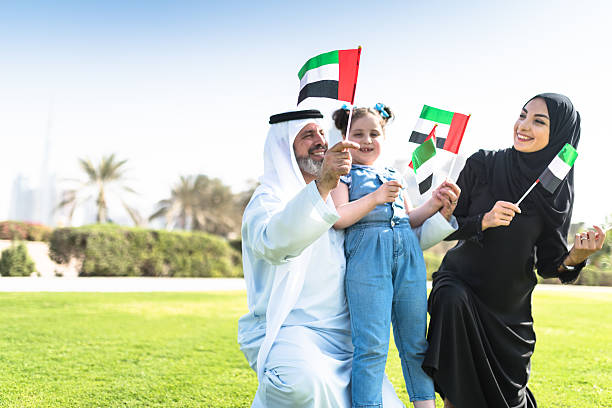 When the United Kingdom left the Emirati lands, the rulers of Dubai, Abu Dhabi, Ajman, Umm al-Quwain, Al-Ain and Sharjah decided to unite. On December 2, 1971, these six emirates declared their freedom and became the United Arab Emirates, which was later joined by Ras Al Khaimah, the seventh emirate.
Unlike other regions' independence which was tainted with blood, UAE's freedom from colonization was obtained without brutality.
UAE's National Day Celebration
The citizens of the United Arab Emirates love their country from the depths of their hearts and commemorate this auspicious day with pride, patriotism and joy. The Dubai city looks like a kaleidoscope of fireworks, hues and festivities as they celebrate UAE's National Day in Dubai.
Here are a few ways to celebrate this joyous day:
Tour The Country
Historic landmarks remind us of our ancestors' struggles for freedom, sovereignty and peace. So what could be a better day than the national day of UAE to tour your land and places of historic significance? This visit will increase your love for your country and your determination to work tirelessly for its greatness.
Host A Party
National Day is a time for us to unite and celebrate our spirit of liberty and self-determination. So, you can throw a party at your place to show your enthusiasm for the national day as people do around the world on their national days.
You and your guests can dress up in traditional attire to pay an ode to your rich heritage and spend some quality time with your country mates.
Manage A Clean-up Activity
National Day is a day to renew our resolve to serve our country that its founding fathers worked hard to free from foreign rule. A clean-up drive can be a super beneficial activity to perform on this day.
It will help offer a valuable channel for your happiness and make the land neat and clean at the same time.
UAE's National Day Fireworks: A Spectacular Event to Enjoy on 2nd December
The number one attraction and the most loved event on 2nd December each year is the National Day Fireworks in Dubai. People are anticipating these mesmerizing shows as the national day in 2023 is fast approaching. These grand spectacles offer a memorable experience for both citizens and tourists.
Fireworks are not just a visual treat as they also denote the country's victorious struggle and its shiny future. In the vivid horizons of Dubai and Abu Dhabi, every burst of shade reflects the nation's solidarity, development and dreams.
The National Day fireworks are a robust declaration of the UAE's dedication to progress and advancement.
UAE National Day Fireworks in Dubai
Dubai is a city of architectural wonders and world-class skyscrapers. UAE National Day fireworks in Dubai are showcased on Dubai's architectural gems and skyscrapers like The Palm Jumeirah, Dubai Festival City and Burj Khalifa on 2nd December transform its skyline.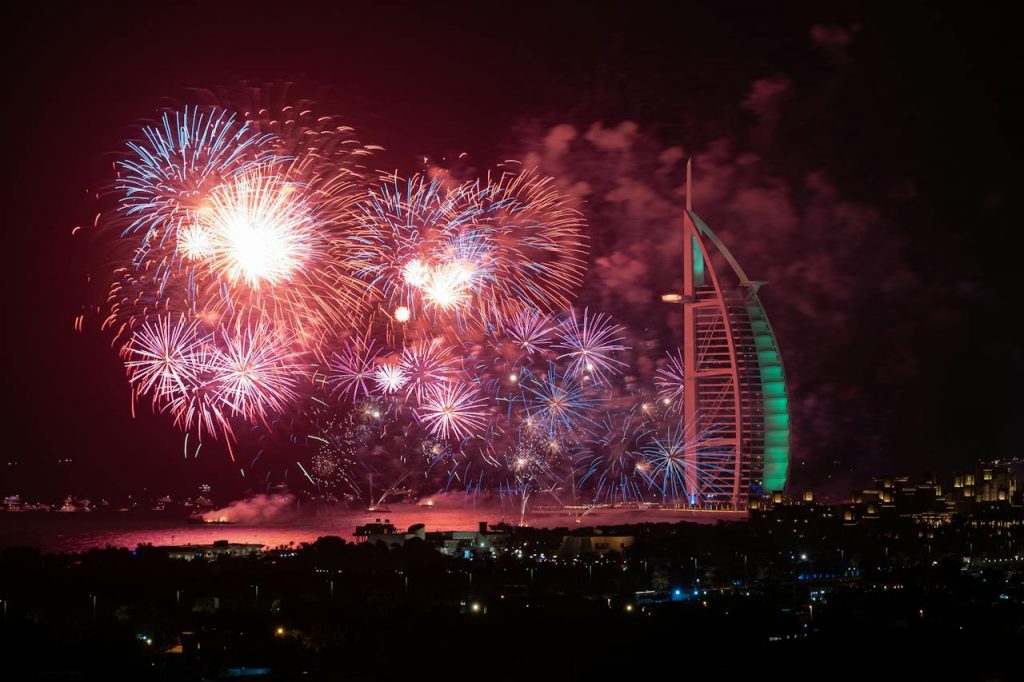 You can expect the world's tallest building Burj Khalifa to transform into a canvas for the majestic pyrotechnic show, coupled with LED displays and music.
The Pointe is another fantastic destination to catch National Day fireworks that are displayed in synchronisation with the Palm's Fountain, making a magical show of art.
This famous tourist attraction will light up with fireworks just like every year that can be viewed from several areas across Dubai.
It is another popular landmark where visitors can enjoy picturesque firework displays and multiple parades while shopping, dining and having fun at the same time on the UAE National Day.
Dubai Festival City offers an extravagant combination of fireworks, light shows and water which can enchant the eyes of the viewers.
La Mer Beachfront is one of the best places to enjoy the iconic National Day Fireworks in Dubai, which makes the city a kaleidoscope of colours each year on the 2nd of December. Plus, you can have a memorable dinner and indulge in beach and other entertainment activities here.
National Day Fireworks in Abu Dhabi
The capital of the Emirate of Abu Dhabi holds stunning fireworks and cultural celebrations to acknowledge the vibrant civilization of the country. Al Maryah Island, Corniche and Yas Island are focal points for these breathtaking shows.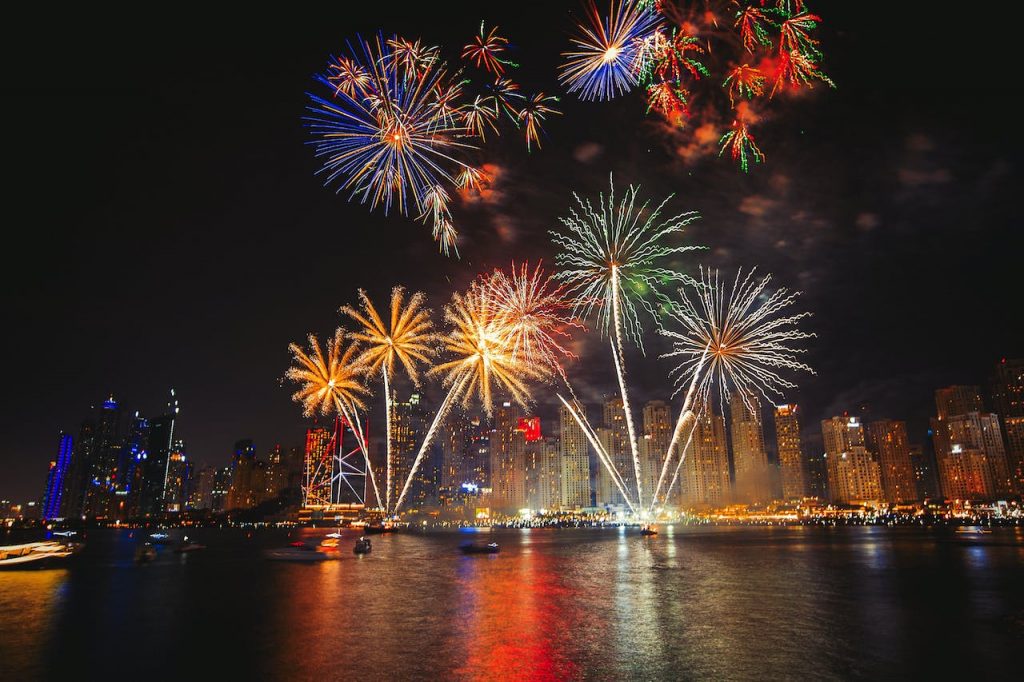 In 2023, you can expect a glorious sight of fireworks at the Corniche coupled with cultural activities and shows.
UAE's national day fireworks on scenic Al Maryah Island will light up the sky on December 2 and 3. Spectators can enjoy the show from one of the restaurants on the Island while enjoying scrumptious food.
Al Maryah Island offers a combination of luxury and culture and the fireworks here are displayed against the background of Abu Dhabi's splendid skyline.
Renowned for its recreational spots, the fireworks here are vivid and fully supplement the island's dynamic environment.
Emirates Palace Mandarin Oriental
This five-star hotel on Corniche will light up in the colours of the UAE's flags. From 3 pm to 6 pm, the fireworks here will be one of the most stunning shows of UAE National Day fireworks in Abu Dhabi and can be seen from the hotel's gardens.
Sheikh Zayed Festival is a fun long-term event that happens every year from November 17 to March 9. The Sheikh Zayed Festival at Al Wathba will become the center of attraction from December 1 to 3, as it will showcase breathtakingly beautiful UAE National Day fireworks,  along with an exhibition of drones blazing the sky.
Final Word
UAE's national day is a lively, happy and purposeful celebration that honors the past, celebrates the present and aspires for the future of the Emirates. On 2nd December, the citizens and residents of the country celebrate their national integrity and show the world the rich heritage and unity of the UAE. Like every year, there is so much to anticipate for UAE's national day in 2023. Residents and tourists can enjoy this exuberant observance of national identity, advancement and harmony.
FAQs
When is the national day in the UAE?
UAE National Day is celebrated on 2nd December throughout the country.
What is UAE's National Day?
UAE national day is celebrated to commemorate the country's freedom from Britain's control and the union of the seven Emirates. UAE declared its independence on 2nd December 1971 which is celebrated on the same date every year since then.
Who ruled the United Arab Emirates before independence?
The British protectorate owned the emirates of Abu Dhabi, Sharjah, Dubai, Ajman, Ras al-Khaimah, Fujairah and Umm al-Qaiwain before 1971.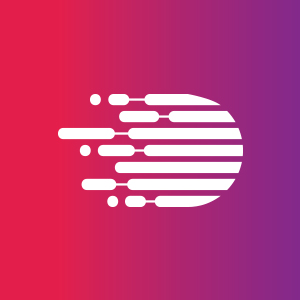 We are a digital agency has experience working with top notch clients. We provide web designs, web application, mobile application and all digital marketing services. We work with individual clients and also agencies.
- admin